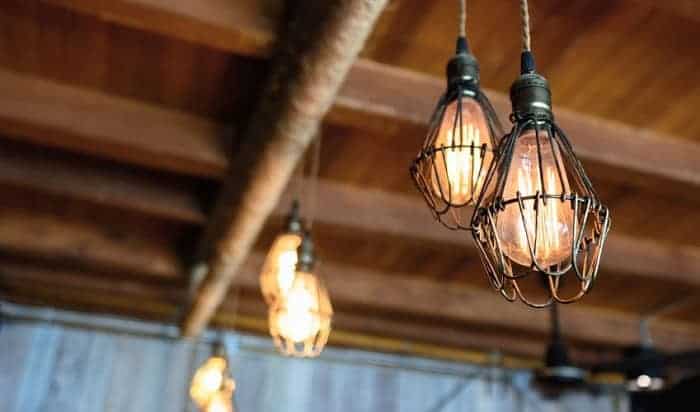 Looking for the best indoor solar lights could be a little tricky, especially if you are not knowledgeable about the most practical or necessary features. Indeed, there are limitless options available, so picking the right one for your needs makes it even more challenging.
For this reason, this article discusses the top-rated indoor solar lights. We have gathered several products so that you can weigh the upsides and downsides of each option. Hence, you can confidently pick the one that matches your requirements.
In the same way, we have included a buying guide section that tackles the essential features or functions that you can look into when purchasing solar-powered lights perfect for indoor applications. You will also be impressed with the benefits they offer.
If you are ready to unveil more about indoor solar lights, then let's get started!
Best Overall
Flyhoom Solar Light Bulbs
✅ Offers two methods of charging
✅ Compact, lightweight yet super bright
✅ Features four modes of brightness
Premium Choice
Lampelc Solar Light Bulbs
✅ Versatile and flexible to use
✅ Guarantees 5-meter light range
✅ Comes with very affordable price
Editor's Choice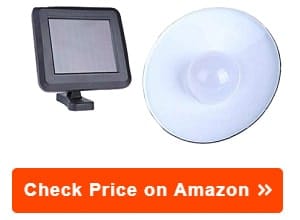 Kyson Solar Powered Light
✅ Straightforward to set up
✅ Contains 4 pieces of bright white LED lights
✅ Simple design and lightweight
Top 9 Indoor Solar Light Reviews
1. Flyhoom Solar Powered Light Bulbs
Searching for solar inside lights that are affordable and perfect for no electricity areas is made easier with this product. The bulbs come in small size, but they could surprisingly produce ample brightness that could run for roughly 15 hours, provided they were sufficiently charged.
You will like its compact, lightweight, and dimmable features too. Further, you can charge these solar lights in two approaches: with the aid of a USB cable or solar panel. They come with an auto-off timer and are known for ensuring long-lasting performance.
Based on consumer reports, many consumers pick this option because it is quite handy and safe to use even when kids are around. These cost-effective solar light bulbs are more excellent sources of ambient illumination than battery-powered lanterns or hand-held flashlights.
The remote control allows users to control the unit from inside when necessary. You can switch them to bright mode to 50% mode. Unquestionably, these are dependable options for ensuring efficient lighting that lasts all night. I love the flashing mode feature since this is useful during emergencies.
With great features and reliable functions, these solar light bulbs are surprisingly one of the most reasonably priced alternatives. They include a hook that makes them effortless to take down or hang anywhere and anytime. ROHS, CE, and FCC approve this product.
While the solar light bulbs can work fine in any weather conditions, please be reminded that these are without waterproof features. Luckily, they work great during blackouts and emergencies, as well as camping.
Pros
Features four modes of brightness
Offers two methods of charging
Compact, lightweight yet super bright
Equipped with an auto-off timer set
Portable solar indoor light that's safe and easy to use
Cons
Should avoid coming in touch with water
To conclude, this product is the real deal. You can enjoy a great purchase without breaking the bank.
2. Lampelc Solar Light Bulbs
These solar light bulbs for inside are one of the most affordable options these days. Many consumers prefer these solar bulbs because they are versatile, flexible, and convenient to use. The package already includes two solar bulbs making it more cost-effective.
You can position the solar panel somewhere to acquire sunlight, and portably hang the solar bulb inside your dwelling place. Each bulb comes with a hook that you can instantly hang on a tree, patio, backpacks, or camping tent. You can also use them for outdoor applications.
Even though being designed to hang, these solar bulbs won't be blown away easily. These are not prone to dropping since they are also built to combat outdoor use, where many elements are loitering. The wire can extend up to three meters, so you won't have difficulty positioning where you need or want them.
These solar bulbs come with standard sizes. Even so, their brightness amounts to 110 lumens with a total of 12 LED beads. The light range is up to five meters. They can withstand rugged weather conditions, which is all thanks to their sturdy built.
The manufacturer used incredibly durable ABS plastic that makes the unit robust enough on rainy and stormy seasons.
You can use them for decorating your residence, or they could be ideal adornments too when you need to host a special occasion. You see, they can be of help in several ways!
For all that, the brightness of these solar light bulbs is at a fixed level. This is the drawback that you need to pay attention to if you prefer adjustable brightness.
Pros
Versatile, convenient, and flexible to use
Kit includes two solar-powered light bulbs
Sturdy built and long-lasting battery life
Guarantees 5-meter light range
Comes with very affordable price
Cons
There's only one level of brightness
In summary, reasonable price, portability, and long-lasting performance are what exactly describe these solar bulbs!
3. Kyson Solar Powered Led Shed Light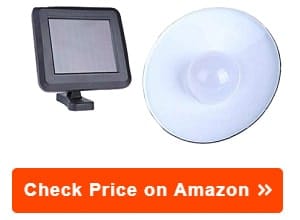 If you wish to get the real value of your hard-earned money when buying indoor garden lights, this brand is considered one of the most trusted and reliable manufacturers. Many consumers like it because it does a great job of lighting up households and gardens. It is lightweight and features a simple arrangement.
This solar-powered LED shed light is smart and innovative. This unit is equipped with a remote control and a pull cord for your convenience. It offers several options on where you wish to install it. This also works exceptionally at night so long as you recharge it fully at daylight.
You will adore this LED wall light's capability to illuminate not only indoor spaces but outdoors too. Hence, you can depend on more added security. Likewise, such a unit works as a stunning accent light to radiate any household, garage, or trees. It is interesting to note that this product is renowned for being among the best in the solar shed lights category.
The brightness that this solar light can cover relies on the scope of your space. You will be stunned by its versatile function. For such reasons, more and more homeowners pick this type even though it is slightly pricer than its competitors.
All the same, this solar LED shed light, available in mini size only, is not recommended for large sheds even though it can produce bright illumination.
Pros
Contains four pieces of bright white LED lights
Straightforward to set up
Includes a remote control and a pull cord
Manufactured by a trusted and reliable brand
Simple design and lightweight
Cons
Not recommended for large sheds
You will never get disappointed purchasing premium quality solar powered lights indoors if you pick these indoor solar lights for shed.
4. GVSHINE HKYH1003 Solar Panel Lighting Kit
Consumers hunting for multipurpose and waterproof solar lights for inside the house can depend on this option. No matter what the weather condition is, such as blackouts and other sorts of emergencies; this alternative is a powerful and efficient off-grid power lighting system.
As for lighting and fast charging, this product can offer you the satisfaction you expect. The kit contains all the necessary accessories to make the installation process a breeze. Even novices won't find the setup process quite challenging. Indeed, it is lightweight and can provide just the right amount of lighting you'll ever need.
If you are particularly environment conscious, there is no need to worry because these LED light bulbs do not pose any threat to the environment and support energy conservation. Their usage is limitless. You can use them where needed. It comes with multiple outlets that allow many LED bulbs to operate simultaneously.
The 5-volt 2A output serves as a universal charge, so you could immediately charge various digital devices. The charge is long-lasting, and all the wires are long enough that makes the unit quite adaptable to different spots. Whether you prefer to use them indoors or outdoors, you will find them as great investments.
This solar panel lighting kit is sometimes unavailable online. So, once you see that it is back on stock, make sure to get one. Don't miss your chance to own good stuff.
Pros
Lightweight, powerful and reliable
Multipurpose and waterproof
Ideal to use for emergencies and power outage
Guarantees bright bulbs and fast-charge ports
Includes complete accessories for installation
As a whole, these solar LED bulbs are perfect for lighting and straightforward to install right out of the package.
5. Kyson Indoor Solar Barn Lights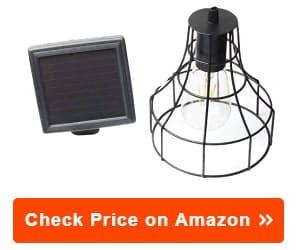 For those planning to purchase solar powered indoor lights, this option by Kyson is worth your time and money. I am surprised by this unit's capability to brightly illuminate the shed at night, even if I only use one solar light. It is so economical that you can save more in the end.
The charging time is nearly 24 hours, but the solar light can run for more than 8 hours. It comes with a remote control but features a classic style, and there is an included pull cord that allows a more convenient usage. If you pay more attention to accent lighting, this product is one of the safest choices.
With this solar light, you can now excellently light your home and garden without having a hard time installing it. Aside from illuminating the shed and trees, this is also ideal for security and aesthetic purposes. You will be delighted to see how this solar-powered LED wall light executes its function.
The product contains a wall mounting kit so you can easily mount the solar panel. This unit offers a more versatile and flexible option of positioning the solar light where desired. If you wish to illuminate indoor and outdoor spaces in a more efficient and environment-friendly approach, this option will guarantee you that!
The price tag of this solar light unit is more expensive than other similar options. While this may not be good news for those short in budget, this is a top-quality product that you can lean on.
Pros
Designed with classical style yet remote controlled
Economical and energy-efficient
Contains wall mounting kit for solar panel mounting
Guarantees impressive accent lighting
Provides 8-hour working time
Cons
Priced higher than other available options
To sum it up, this unit is cost-effective! One light is already sufficient to see everywhere in the shed at nightfall.
6. LUTEC Table Cube Light
Consider solar indoor lights that are functional while protecting your eyes whenever they are used. This option is the perfect choice for that. It is specifically made to help safeguard the eyes from harmful light. In fact, this feature makes this unit ideal for your bedroom, living room, and hallways.
This solar cube light is made with reliable waterproof features; hence, no matter what the weather condition is in your area, this won't affect its functions. There are two options for charging: using solar light or changing the battery.
Moreover, you can delight in different kinds of brightness as this unit offers three lighting modes. There are three steps dimmer that would often provide you the appropriate ambience in combination with adequate autonomy. Whatever your lighting needs are, this can satisfy your requirements.
Apart from all these, while this cube-shaped solar light is fairly bright, it is not disturbing at all. As a matter of fact, you can read your favorite book with it at its highest setting. You will adore its functional and contemporary-looking design on your table, or wherever you position it.
Should you have any concerns regarding this unit, the manufacturer's friendly customer service support will respond to you right away.
This unit does not contain the manufacturer's instructions for assembly. So, at first, you need to figure it out. Luckily, it does not require intricate assembly, as you can do it on your own.
Pros
Designed with three lighting modes
Combats extreme weather conditions
Handy, moveable, made with eye protection feature
Offers two approaches of charging
Nice design and functional
Cons
No installation instructions included
In general, this product is the best bang for the money. It is functional and comes with exquisite design.
7. TechKen Solar Bulbs Lights

These indoor solar light fixtures are a great catch. They are portable and very easy to set up. The kit includes a couple of solar light bulbs with a hook so you can easily hang them where preferred. Its built is so durable that it could fight off harsh weather.
Many homeowners perceived these units as more excellent than flashlights, especially when you wish to see the things around you. Its light range is five meters. Hence, if you prioritize flexibility, convenience, and practicality, this product is an excellent alternative.
As for the size of the LED bulb, it comes with an average size; however, the brightness amounts to 110 Lumens with a total of twelve LED beads. You need to charge the battery for approximately five hours so it could run more efficiently at sunset. This unit is sturdy enough to be utilized for a total of 500,000 hours.
If you go for certified clean light bulbs powered by the sun, these are an ideal pick. They are safe to use and do not pose any risk to the environment. The solar panel can transform the sun's energy into electrical energy, then keep it in the battery. You can also utilize the charged bulb as a mobile illuminating lamp.
Aside from being an outstanding option for indoor lighting, you can also use these units outdoors. The solar panel can be situated in an area to obtain ample sunlight, and you may hang the light bulb inside your dwelling place. The wire is three meters in length, which is long enough to ensure more convenience.
However, these solar panels are smaller in size. In line with this, the connectivity is sufficient but does not seem well shielded from being pulled out from the panel.
Pros
A portable solar indoor light that's easy to install
Five-meter light range
Convenient, flexible, and practical alternative
Offers ample lighting and long-lasting battery life
Environment-friendly and certified clean solar-powered light bulbs
Cons
Solar panels are smaller than others
Lastly, if you opt for all clean light bulbs that are solar-powered, this option is a smart purchase!
8. SUOLERLITE Solar Pendant Light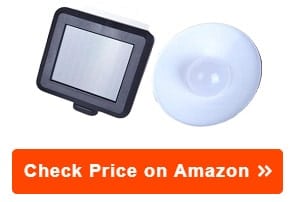 Are you planning to purchase stellar indoor solar lighting that won't waste your time and money? If yes, then check out this unit.
This would be perfect for you since its unique design and solid built could stand the test of harsh weather. Even if it is stormy or rainy outside, you won't need to worry because this option has an IP44 water-resistant rating.
It is small, yet it is safe to use and powerful enough to execute what it was designed for. You can control its function by using a pull chain switch or remote control to make the necessary adjustments.
This is practical to utilize for indoor and outdoor applications. It is built using top-quality stainless steel material that can combat rust and extreme temperature. Though requiring a short charging time of 8 hours (full-charged), it can run for an extended period.
The pendant lights automatically illuminate at twilight and automatically turn off in daylight. You can say goodbye to very costly electric bills because this unit does not require electricity to serve its purpose. It features a three-meter cable from the solar panel to the ceiling mounting kit.
One minor gripe about this solar lamp is the remote control. It works more efficiently only if you are close to the receiver.
Pros
Controlled by a pull chain switch or remote control
Sturdy built and unique design
Comes with IP44 water-resistant rating
Guarantees extended operation and adjustable
Powerful, safe to use, and small
Cons
Remote is not as functional as advertised
Surely, this solar powered indoor lamp is the real deal! It is worth purchasing, considering its high quality.
9. Mlambert Store 2 Pack Solar Lights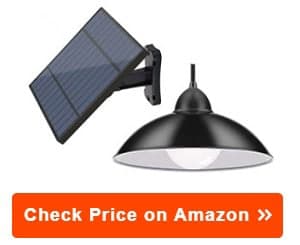 Are you in the hunt for a reliable indoor solar powered lighting? This product made by Mlambert Store is a must-have. Even if you are a novice in installing solar lights indoors, you can enjoy its DIY assembly approach. Since it is solar-powered, it only requires little maintenance.
You don't need to worry whether this solar light can offer long years of service because it comes with incredibly durable built. It is ideal for several different applications, comes with an IP65 waterproof rating, and can perform well even under the harshest weather conditions.
Moreover, it is very flexible and versatile to use as it includes a 5-meter cable from the solar panel to the solar light. This solar light is remote controlled, perfect for both indoor and outdoor use.
You can also adjust the brightness if you like. It is equipped with 12 SMD bright white LEDs that work efficiently, and there are three brightness levels.
Additionally, this unit is designed with a 350-degree rotatable feature, and it does not fail in offering extended hours of working period. You need to expose the solar panel under the sun for seven hours to make it run for over 16 hours at nightfall.
However, the downside you can encounter with this solar light is its incapability to work under the light. So, you need to ensure that you position it somewhere that is completely dark. Otherwise, it won't offer the illumination you expect.
Pros
A breeze to assemble and solar-powered
350-degree rotatable and operates for a long period
Features super durable built
Has 12 SMD LED bulbs to provide bright white light
Brightness adjustable and contains a remote control
Convenient wherever you set it up
Cons
Doesn't work as expected if there's any amount of light
Right to it, this solar light is a worthwhile investment since it saves you almost all electricity bills.
What to Look for When Buying Indoor Solar Lights
If you are planning to invest in indoor solar lights that are reliable and meant to last, then you need to take a minute to review the following buying considerations:
Lumens
This pertains to the gauge of how bright the light is. These could range from one to ten for ambient lighting, up to 1,500 or beyond for security or flood lighting purposes.
Most of the above 150 lumens' lights can roughly offer the brightness of a top-quality headlamp or flashlight. However, it is a bit difficult to figure out the lumens because some manufacturers do not publish their solar light's lumens.
You can just check some customers' feedback regarding the lumens of a particular indoor solar light. Well-informed consumers will frequently evaluate the lumen count, and at the very least, you could obtain some anecdotal proof on whether the solar light of your choice is bright enough or not.
Active Time
This pertains to the length of time the battery would last before it requires recharging. It would rely on both the brightness and size of the light's batteries.
Please be guided that the active period commonly ranges from a few hours up to twelve or beyond. Be reminded that each light is different. So, if you require a solar light that remains active for just a few minutes per day, any available options will do fine.
However, if you opt for a longer active period, you'll want to ensure that your light's battery energy is long enough to manage this. Generally, the manufacturer will indicate the amount of time the battery lasts.
Regardless, search through some product reviews to uncover what real users claim. Often, it could be hours less than what the manufacturer asserts.
Color Temperature
With the emergence of LEDs and their various shades, color temperature becomes an essential factor to look into when buying decorative indoor solar lights. Color temperature is gauged in Kelvins, and it stands for the color quality of a light- with sky blue on the higher end, and orange on the lower end.
The warm orange of match flame comes in approximately 1,700 Kelvins- this is on the extremely low side. On the higher end, a clear blue sky is 15,000 Kelvins. Take note that less expensive LEDs usually fall roughly 6,000 up to 6,500 Kelvins- this is a transparent and whitish-blue color that resembles a daytime.
On the other hand, if you prefer something cozy or a warm incandescent bulb, it is suggested to search for roughly 2,700 up to 3,000 Kelvins. These indoor solar lights are sometimes challenging to find, and these are commonly pricier than options that come with bluish-white lighting.
Other Important Factors to Consider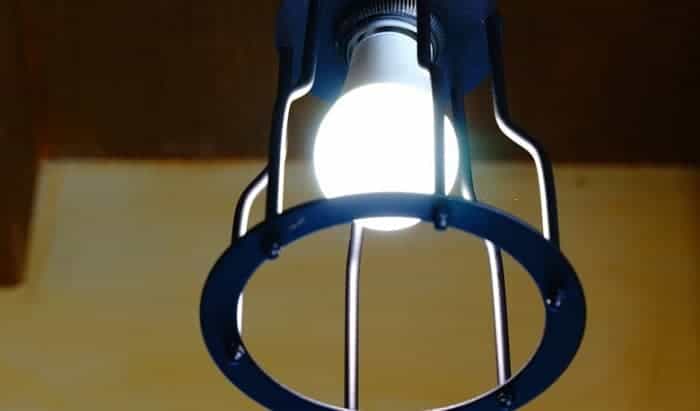 What is an indoor solar light?
Solar lights for indoor use are lightweight and handy. They also make use of solar energy to deliver light to homeowners or in workplaces. Moreover, these are widely utilized and ready for use since they consume less energy, more economical to use in the long run, and commonly have long-lasting lifespans.
Although we commonly utilize electric-generated lights to offer illumination, solar lights for indoors are ideal options to rely on during power outages. They are also excellent for areas that lack electricity. These are practical for a garage, and can be utilized as backup light kits, for a separate shed, or at the side of your home.
Besides, they are perfect for accent lighting and make your ambience cozier and more accessible, particularly at dusk. These are less expensive, stunning, energy-efficient, and environment-friendly alternative lights. Also, they are reliable for security purposes.
Aside from all these, there is no need to buy fuel or batteries to operate indoor solar lights. And, since they are a cinch to assemble, you won't require professional help or an electrician when installing them in the desired spot.
How does it work?
Indoor solar lights work by making use of solar power and converting it into energy. Options that are manufactured with a switch are furnished by solar panels, and this is the one that generates power for your solar illumination indoor.
You can fix the solar panels away from the fixture itself, and it is essential to ensure that they are kept in a place where they could obtain maximum sunlight exposure.
Furthermore, it is crucial to position the solar panel in a spot where it could acquire an ample amount of light. This will have an impact on the solar light's illumination and operational time.
Fundamentally, the more your solar lights acquire sunlight, the greater the light's brightness is, and the longer its working time is. These units are equipped with integral batteries aimed at storing electricity. At dusk, the light fixture uses the stored energy to provide your place with adequate lighting.
What are the different types of indoor solar lights?
Knowing the various kinds of solar light fixtures used for indoors can give you a better idea of what makes each option different.
Let us discover the different forms of solar illumination for indoor lighting:
These are flexible and small lights. They are also referred to as sun tunnels or tubular skylights. An arch is set up on the canopy of your residence to harness an ample amount of sunlight.
As a result, the light reflects down to a metal tube-like framework that is intended to light up the interiors of your household.
This type comes with a very contemporary design that is ideal for adorning the indoors and obtaining excellent accent lighting.
Solar lights that come with independent solar panels
These are widely used. They are assembled independently from the fixture. You can position the solar panel away from the illuminating fixture and to a spot where it's directly exposed to the sun to ensure more efficient charging.
These can be installed using rubber suction for skylights, screws when mounting them into the walls, or by using hooks.
These are ideal options if you prefer boosting the load of natural sunlight that enters your residence- this certainly adds more to the impressive ambience of your home.
Solar skylights are adept at admitting more light to any household compared to regular windows. They do not call for mechanical components or solar panels. What is more, these are a piece of cake to set up even for first-timers.
Why do you need indoor solar lights? (Benefits)
Even though indoor solar lights are not as highly acclaimed as outdoor solar lights, they are becoming prominent nowadays to more and more consumers due to the obvious benefits they can offer.
Here are the benefits of using indoor solar lights:
They are environmentally-friendly.
Devices powered by solar are quite popular these days because countless people are becoming more caring and considerate for the environment. In line with this, solar lights for indoors provide any household with dependable lighting without harming the planet we live in.
Resorting to solar-powered lights reduces carbon footprint, and this significantly helps in preserving the environment.
They are ideal options during power outage and emergencies.
Solar lights for indoors are portable in times of blackouts and emergencies. We can always depend on them when our grid-powered lights are unavailable. You can have peace of mind that you've got a backup light in times of outage. But, see to it that they are fully charged.
 They are energy-efficient.
Indoor solar lights merely require energy from sunlight. Indeed, while some come with options of charging with the aid of a USB cable, indoor solar lights are also capable of charging efficiently under the sun's direct heat.
So long as the battery is fully charged, you can rest assured that you can rely on long-lasting lighting.
In general, they have a long-lasting lifespan.
Options that make use of LEDs are perfect because of their longevity compared to incandescent bulbs. They can guarantee a life expectancy of a total of a hundred thousand hours to provide households with bright lighting for longer hours.
Installation is straightforward, and you can bring indoor solar lights anywhere.
Indoor solar lights are a breeze to set up. These could provide great convenience to homeowners. You can mount them on the walls permanently by screwing them. Alternatively, you may utilize hooks when attaching them in the desired spot. They can be instantly detached so that you can transfer them anywhere you prefer.
 They require little maintenance.
This kind of lighting is deemed as one of the easiest to maintain since it is unnecessary to replace any wiring or set up an outlet for it to be powered. Aside from frequent checkups and cleanups throughout the year, there is not much to work on when indoor solar lights are properly installed.
The bottom line here is that indoor solar light is a more convenient option compared to conventional lights. They are ideal for lighting your home and other spaces without the use of grid-powered electricity.
Hence, it remarkably reduces electricity bills, the expenditures in setting up wires and hiring an electrician for running electricity in specific spots at home or workplace.
Frequently Asked Questions
Who makes the best indoor solar lights?
If you are wondering which manufacturers produce premium quality solar indoor lights, then you've got to do your homework first.
Needless to say, obtaining more insight about a specific brand can significantly help you choose the most appropriate manufacturer that could satisfy your requirements and expectations.
By reading feedback and comments from consumers who have used the product, you can gain useful information on whether the brand of your choice is reliable or not.
Some of the most trusted solar indoor lights manufacturers include the following:
UPONUN
HUPULL
Kyson
Mlambert
TechKen
Can solar powered lights be used indoors?
The answer to this question is yes, but this is as long as the solar panel is positioned where it could acquire adequate sunlight. Even so, please note that indoor solar lighting alternatives are not often appropriate for use as an outdoor solar garden light, because they particularly require weather and waterproof features.
What is the most powerful solar light for indoor use?
The most powerful indoor solar lights are capable of providing unlimited energy sources and a fair amount of illumination without harming the eyes. They are cost-effective, do not pose any risk in the environment, and do not require high maintenance.
They must also withstand rugged weather conditions and be charged more efficiently to provide long-lasting lighting at dusk. It is also vital that powerful indoor solar lights can offer a wide range of styles.
How do you set up and use?
It is unnecessary to utilize extra wirings or special tools when setting up indoor solar lights. Generally, the kits already contain all the necessary things for assembly – battery, power cord, solar panel, and the lamp.
All you need to do is look for the best location to set up your solar-powered lights, and hang the lamp there. Regardless, see to it that you place the solar panel in an area where it could obtain sufficient sunlight for battery charging.
Generally speaking, the indoor solar lights' installation process is a do-it-yourself type of task that can be accomplished in minutes.
Some options function differently and come with distinct features. For instance, an alternative equipped with a motion sensor will automatically light when movement is detected. On the other hand, other options will automatically illuminate at nightfall and turn off in the daytime. So, using them does not need supervision.
Where can I buy it?
You can find the top-rated solar indoor lights in local stores like Home Depot that sell clean energy products such as solar lights designed for outdoor spaces. However, it is more convenient to shop online in marketplaces like Amazon or Walmart. You can shop at once by just a single click of your finger.
In this online shopping site, you can unveil many different options manufactured by world-class brands that offer distinct indoor solar lights. This way, you can easily compare the features of each product.
Amazon can offer you the most outstanding deals, including waterproof solar lights and pocket-friendly prices. Hence, you can enjoy an increased opportunity of discovering the most practical solar lighting as per your preference.
Conclusion
In summary, by reading product reviews and shopping guides on the best indoor solar lights, you will obtain a better idea of what to expect when purchasing this type of eco-friendly energy alternative.
More than that, you can have increased chances of comparing only the most premium quality options without wasting more time and effort browsing a lot of indoor solar lights available today.
Hopefully, you will be able to shop around for the most appropriate lighting solution that best suits your requirements after reading this post. The products we reviewed in this article are some of the top-rated options chosen by countless consumers globally.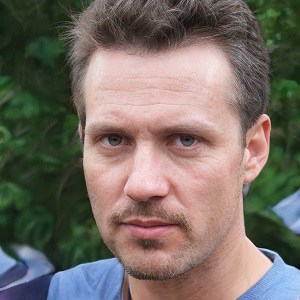 I am Kathleen Miller, staff writer and reviewer of the Avasolar team. Working with the team has been a pleasure for me so far, I hope to bring readers useful information by creating detailed and easy-to-follow contents.