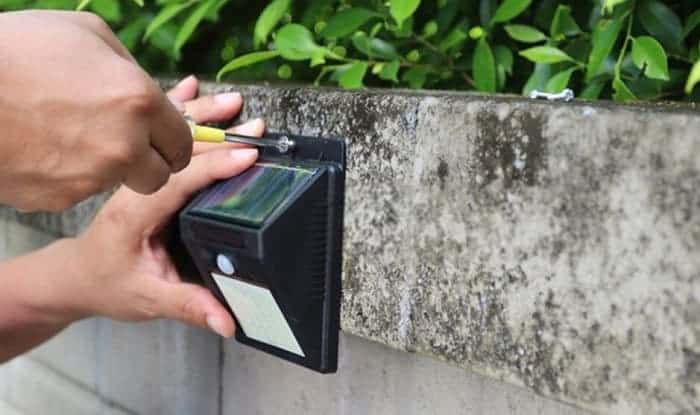 You might be feeling overwhelmed and distracted seeing plenty of solar wall light options sold on the market today. Indeed, you could also be wasting so much time without having a clear idea of the best features and functions to search for when comparing the options available.
The good news is that if you feel like improving your workplace or home walls, you can instantly do so by embossing the best solar wall lights available nowadays. This post highlighted the most essential features that you need to consider when picking one.
In addition to this, we have narrowed down the list of some of the most trusted models that are ideal for bringing elegance and excellent accent lighting into your workplace or home walls. So, there's no need for you to worry because we've got your back.
Honorable Mention
SEZAC Solar Security Lights
✅ IP65 waterproof rating
✅ 2000 mAh rechargeable battery
✅ 3 smart lighting modes
Most Durable
Greluna Solar Wall Lights
✅ A great value for the money
✅ Long-lasting battery power
✅ Easy to install and operate
Best Solar Wall Light Reviews
1. Aootek DG36-04 New Solar Lights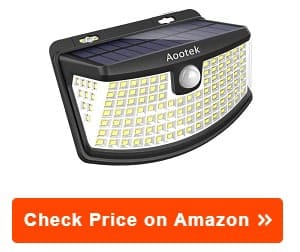 You won't go wrong if you invest in these solar powered wall lights. These solar lighting devices are designed with three optional modes that include the permanent on all night mode, security light mode, and smart brightness control mode.
Likewise, these solar fixtures are equipped with a sensitive PIR motion inductor that could identify motion within up to 8m range.
These solar lights for outdoor use are famous for emitting ultra-bright light. Such premium quality LED lights come with broad-angle illumination that could enhance the lighting utilization. You will adore them for being powerful enough to offer more radiant illumination and a broader detection range compared to other options available today.
Not to mention, these solar-powered lights are engineered with heatproof and IP65 waterproof ratings. Hence, these features make them ideal for outdoor security night light applications.
With a super sturdy and long-lasting build, these solar lighting devices are durable enough to stand the test of harsh weather conditions and extended use.
On the downside, we were wondering why the mode-selecting switch is placed at the rear side of the solar lighting device. We found this a bit inconvenient because when you screw-mount the solar light to a surface, you'll need to unscrew them to adjust the settings.
Pros
Provides brighter illumination and broader detection range
Offers three optional modes
Designed as heatproof with the IP65 waterproof rating
Features a sensitive PIR motion inductor
More durable and perfect option for long-term use
Cons
The mode-selecting switch is situated at the rear side of the solar light.
All things considered, these solar wall lights are the ideal solution to light up all the corners of your home. They are all-weather ready, so they are smart investments to consider!
2. SEZAC Solar Security Lights
If you prefer solar wall lights for gardens designed with three ingenious lighting modes, this option is a good catch. This is a well-improved version that could meet your different illumination needs. The three lighting modes consist of the motion sensor mode, strong light sensor mode, and dim long light mode.
What is more, this solar outdoor wall light is also perfect for accentuating your outdoors. Aside from providing great lighting and security at night, it remarkably improves the overall look of your patio, garden, and other outdoor spaces. Surprisingly, it can cover wide areas and features IP65 waterproof rating that makes it a great lighting solution.
This eco-friendly sun-powered wall light is equipped with a premium quality 2000 mAh rechargeable lithium-ion battery. Hence, the solar light can continuously light up for an extended time to meet the user's day lighting needs. Meanwhile, the solar panels work in daylight to store electricity and illuminate your outdoor spaces at dusk.
On the cons, if there is no sufficient amount of sunlight for days, this solar wall light won't be able to provide adequate illumination at dusk. Well, as you know, this is a common problem for solar-powered lights. Just make sure that they are placed in a spot where they could be exposed to direct sunlight, so they could charge properly.
Pros
Designed with 3 smart lighting modes
Capable of providing bright illumination for a broad area
Equipped with top-quality 2000 mAh rechargeable lithium-ion battery
Features the IP65 waterproof rating
Upgrades the entire appearance of your outdoors
Cons
Performance and run-time largely rely on the amount of sunlight
In summary, this solar wall light is the real deal. It is recommended for lighting up wide areas, so we find it quite ideal not only for aesthetic purposes but also for security purposes.
3. Greluna Solar Wall Lights Outdoor
We decided to buy these solar power outdoor wall lights because they enable us to select from 2 modes- color changing and warm white modes. The color-changing mode is meant for stimulating a festive mood, while the warm white mode is great for daily decoration. These solar lights are also a piece of cake to set up outdoors.
In the same way, these solar-powered wall lights feature a super sturdy build and are designed with weatherproof grade. Since they are weather-resistant, they can endure extreme weather conditions and last long. If the batteries are fully recharged for 6 hours, they could illuminate continuously for about 8 hours.
The best thing about these solar lights is that they light up well and can decorate any outdoor space. Just make sure that their solar panels can absorb direct sunlight to charge sufficiently. This option is a wise purchase since the kit already includes all the hardware required for easy installation.
On the flip side, one solar wall light is only 10 lumens, which means it is not the brightest. Still, we are surprised at how amazing these solar lights are in providing sufficient illumination, security, and safety in our dwelling place at night. We love the warm glow they provide, so these solar lights work great for our application.
Pros
Easy to install and operate
Can be installed in various outdoor spaces
Manufactured with a solid build and weatherproof grade
A great value for the money
Long-lasting battery power
Cons
10 lumens only, so it's not the brightest
Ultimately, this product is worth considering. The solar lights provide a warm glow, not too bright, and just right for our application.
4. Maggift 4 Pack Solar Wall Lantern Outdoor
These solar wall lights with wall mounts come with two superbly bright warm white LEDs that ensure reliable and adequate lighting. They are highly recommended for illuminating various outdoor spaces.
Since these lighting devices are built with durable construction with the IP44 waterproof grade, they are solid enough and tightly sealed to combat all types of weather.
As for the setup process, you can install them in a few minutes, without the need of an electrician. The package contains the mounting kit for walls. You only need to screw these solar wall fixtures into a pole, post, or any wall with the aid of the mounting kit.
These outdoor solar lamps can certainly add more elegance and attractive colors to your home or business place's outdoor areas. Sold at a budget-friendly price tag, you've got nothing to lose, but more to gain once investing in these products.
Powered by the energy coming from the sun, the solar panel collects direct and full sunlight at daylight to charge the battery. The lights could emit sufficient illumination for about 8 hours at sunset.
However, a minor glitch is that they are smaller than expected. Luckily, their small size does not in any way affect the brightness they give off at night.
Pros
Durable and tightly sealed for various weather conditions
Includes superbly bright two warm white LEDs
Plain sailing to set up and operate
Adds more aesthetic appeal and color to different outdoor spaces
Can fit all types of budget
To conclude, if you're in the hunt for a reliable, practical, and reasonably priced solution for outdoor lighting, these solar lighting device options are worth a shot.
5. GIGALUMI 6968 Solar Fence Lights
If you opt for bright solar wall lights, these GIGALUMI solar lights are for you. Just like us, you will also fall in love with the automatic charging feature of these solar lighting devices.
When the switch is turned on, these sun-powered lamps will automatically charge in direct sunlight, and keep the energy from the sun in a huge-capacity battery.
These devices are cost-effective because the package already contains 8 packs of solar lamps, a user guide, 8 tiny bags, 2 screws, and another 2 expansion screws.
If you are very particular with durable construction, these solar fence lights are built with an IP44 waterproof grade, which means they are solid enough to combat various weather conditions.
Is it your first time installing solar devices? If yes, don't worry. These items offer a dual setup process which can be done in a few minutes. Installation is DIY, so no need to spend more on hiring an electrician.
Plus, these outdoor solar lamps can continuously light up your outdoor areas for 6 to 8 hours at night time, provided they are charged for the same duration in the daytime.
For sure, you'll be impressed by the powerful and upgraded lamp beads that will ensure a stunning appeal at night in your outdoor space. You can brightly illuminate your outdoors without the need to spend lavishly on electricity. Best of all, you can do so without harming the environment.
Regardless, we are a bit worried whether these solar lighting devices can truly last long given they are built with plastic material. The plastic material looks sturdy, but we'll probably pay attention to them to see if they are really long-lasting.
Pros
Features automatic charging functions
DIY dual installation method
Comes with a durable build with an IP44 waterproof grade
Cost-effective option as the kit includes all the required hardware
Equipped with powerful and upgraded lamp beads
Cons
Made with plastic material
In a nutshell, these solar-powered wall lamps light up brightly and can transform your outdoor spaces into a very stunning ambiance.
6. Otdair 201111 Solar Wall Outdoor
Are you searching for impressive and reliable solar outdoor wall lighting? Then, you can perfectly meet these requirements if you invest in this product. This solar wall light is built with a well-upgraded and advanced solar panel. You only need to charge the solar light for about 6 hours to enable 8 to 10 hours of non-stop lighting.
Furthermore, these solar outdoor lights will surely look great wherever you install them. Interestingly, there is no need to hire an electrician to set these solar wall lights on your outdoor spaces. These solar lantern lights are built with an automatic on and off feature that activates at night and switches off at daylight on their own.
Built with super durable overall construction, these solar wall lanterns are furnished with premium quality and long-lasting LED bulbs, glass, and stainless steel housing. If you prefer solar lights that could also serve as attractive embellishments to your outdoor areas, these solar wall lights are perfect for that.
On the other hand, please be guided that working and charging hours will vary depending on the weather conditions in your area. Additionally, if you have a limited budget, you might find these solar wall lights a bit more expensive than other similar options. But, you won't get disappointed with them, for sure!
Pros
Rechargeable by well-improved and advanced solar panels
Made with high-quality overall construction
Comes with automatic on and off feature
No wiring required and can be installed literally anywhere
Offers a more modern and classic look
Cons
Priced higher than other available alternatives
Overall, if you are looking for the best solar wall lights that are made with modern and classic design, and can light up reliably; these options are perfect for you.
7. SUNFACE Solar Deck Lights
Sure thing, we all prefer top-quality outdoor wall lights. The delighting news is that these solar wall fixtures are built with useful features that would bring a huge difference in your outdoor lighting.
These solar devices are made with integrated sensors and automated switches. You can sufficiently light up your outdoors without spending more money on electricity.
Apart from these, this model is furnished with a larger solar panel. Its two lighting modes consist of seven altering color lighting modes and the warm lighting mode.
These solar-powered LED lights are ideal for illuminating various corners in your outdoor areas. These solar lighting devices are made using premium quality ABS plastic material, so they seem built to last.
What is more, these devices are less complicated to install. The kit contains the screws needed for installation. And, you don't need to deal with complex wiring. They stay in place without any issue and are solid enough to deal with snow, rain, and other extreme weather conditions.
You'll also be stunned by their capability to beautify your outdoor areas, particularly at night. You won't waste a single cent on these solar wall lights because they are backed up by a 12-month warranty and 3-month money-back guarantee offer.
To be sure, buy these solar decorative wall fixtures online. This is because they are sometimes out of stock in local stores.
Pros
Offers two lighting modes and a larger solar panel
Designed with integrated sensor and automated switch
A cinch to set up and utilize
Crafted using premium quality ABS plastic material
Supported by a 12-month warranty and 3-month money-back guarantee offer
Cons
Sometimes unavailable in local stores
To sum up, you won't have to worry about paying very expensive electric bills since these solar decorative wall lights are reliable, energy-saving, and eco-friendly.
8. Neloodony NSL-TVE-2 Solar Lights Outdoor
Consider reading solar powered outdoor wall lights review and you'll discover that this product is one of the most preferred alternatives.
Many shoppers opt for this item because of its premium quality construction, practical and appealing features, and superb performance. But, it is also a bit pricey compared to other options sold on the market.
Additionally, even if these solar lights are installed outdoors, they can last long. This is because they feature an all-weather-ready design. This conveys that regardless of how bad the weather condition is, they remain safe, functional, and sturdy enough to resist various elements in the surroundings.
These solar wall lights are designed with ingenious light sensors. So, they activate with the aid of a motion sensor at dusk when strangers come close. The IP65 waterproof rating of these solar fixtures makes them durable and able to combat heat, snow, and rain. Plus, you'll love its well-upgraded 125-degree detection range.
Be that as it may, expect a longer recharging time during winter or cloudy days. As you know, this is primarily because the solar panels are having a difficult time due to a lack of sunlight. It also usually takes longer to recharge these solar lighting devices when you use them for the first time.
Well, this is expected when using solar-powered devices.
Pros
Features an all-weather ready design
Engineered with an ingenious light sensor
Designed with an IP65 waterproof rating
Comes with a well-enhanced 125-degree detection range
Perfect option for darker outdoor spaces
Cons
Requires more recharging time during winter or cloudy days, or first use
As a whole, these solar outdoor wall fixtures are highly recommended because of their top-quality workmanship and reliable performance. They're a bit costly but quite useful and practical.
9. Timeflies Solar Wall Lights Outdoor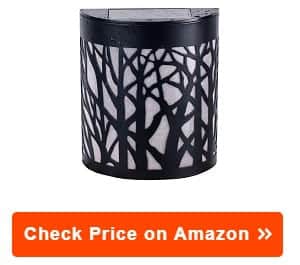 Do you prefer an outside solar wall light that is crafted with a built-in sensor and a long-lasting rechargeable battery? If yes, this product is the best option for your preference.
This solar lighting device comes equipped with a built-in sensor that automatically turns on at sunset, and turns off at sunrise. It's surprising that you can get them at a very pocket-friendly price.
Also, it is engineered with two lighting modes: the 7 color-altering modes and the warm white lighting mode. Since these solar fixtures don't require complicated wiring, installing them is a breeze. We picked this alternative because we are impressed by its super sturdy, wireless, and waterproof design.
Besides, since we need reliable outdoor lighting solutions, we found these solar wall lights great choices because of their durable construction. They are indeed meant for rugged outdoor use because they could resist all kinds of harsh weather conditions. Not only that, but they have also transformed our outdoors into nice-to-behold spots.
Please be guided that you need to position the solar panels in spots where they could absorb a generous amount of sunlight. Otherwise, these solar wall fixtures won't be able to illuminate for an extended period. That said, they're more likely to work shorter than expected.
Pros
Engineered with built-in sensor and long-lasting rechargeable battery
Features a more straightforward installation method
Constructed with two lighting modes
Can resist all kinds of extreme weather conditions
Manufactured with sturdy, wireless, and waterproof design
Cons
Might not ensure extended run time if not fully charged
Lastly, these solar wall lights can dependably throw off an adequate amount of illumination at dusk and are not the ordinary solar lights that you can buy these days. So, these are highly recommended!
10. Home Zone ELI0987V Solar Wall Lights
As you know, one of the best things about the best outdoor solar wall lights is their capability to transform your home or workplace into a more impressive one. These sun-powered wall fixtures can exactly do that for you. They are intended for embellishing and upgrading the overall look of your residence or business area.
These options are easy to install. Even if it is your first time installing solar lighting devices, you won't encounter any struggle provided you follow the user guide. Such solar-powered wall lights are engineered with decorative and sturdy crackle glass housing.
These models are also equipped with a sunset-to-sunrise sensor.
Since they can detect natural light, they keep the lights off in the daytime. At dusk, they automatically light up. Solar lighting devices like this version are practical options since you just allow the sun to do the work with the aid of advanced crystalline solar panels to recharge at daylight and ensure good lighting at sunset.
By having these solar wall lights installed in your outdoors, you can enjoy an elegant and appealing illumination effect at nightfall. Your place remains wonderful to behold, safe and secured as it is furnished with proper lighting.
While these solar wall lights are built with excellent workmanship, we are a bit skeptical about the glass material used on them. They appear thin and frail, so probably if there are extreme weather conditions like a hail storm, we aren't too confident if they could withstand such situations.
Pros
Hassle-free and quick setup method
Manufactured with decorative and durable crackle glass housing
Designed with a sunset-to-sunrise sensor
Highly recommended to elegantly upgrade homes and workplaces
Backed up by a one-year product warranty program
Cons
The glass material seems thin and fragile.
All in all, these solar-powered wall light options serve as a very fascinating decorative piece and dependable night light for various outdoor spaces.
11. BRIMMEL SG601040 Solar Wall Light
What attracted us to purchase these solar wall lights are their long-lasting and energy-efficient features. Apart from these, they can also repel dust, corrosion, and water with an IP44 waterproof rating. These solar lighting devices are suitable for rainy seasons, humid conditions, heavy snow, and other bad weather conditions.
Moreover, these solar-operated wall lights will look wonderful wherever. These alternatives are designed with highly-efficient monocrystalline silicon solar panels as well as batteries that make the solar fixtures work excellently and last for an extended period.
Best of all, these devices offer three user-friendly settings to satisfy the different requirements of users.
You won't get exhausted setting these solar lights up because they are wireless and can ensure a hassle-free setup process. The installation instructions are included in the kit when you buy these items. These outdoor wall sconces are built with high lumens and equipped with LED warm white lights. They light up brightly with 600 lumens.
Furthermore, their auto sunset-to-sunrise photocell function is very convenient. Since they operate on their own, we don't need to look after them every now and then. They don't require maximum maintenance. So, we consider these solar-powered wall lights our saviors!
Meanwhile, if you plan to buy these items in local stores, you might not find them instantly. We have tried looking for them several times in different local stores, but we ended up finding more of them online.
Pros
High lumens with motion sensor
Equipped with monocrystalline silicon solar panel
Features an auto sunset-to-sunrise photocell function
Long-lasting and more energy-efficient
Can resist dust, corrosion, and water
Cons
These models are a bit difficult to find in local stores.
Finally, these solar wall lights for the outdoors come with a variety of options for either motion-activated or continuous illumination through the dusk. You'll love the way they light up at night!
12. Mlambert Solar Lights Outdoor
Unquestionably, these solar outside wall lights are worth purchasing. Such solar lighting devices are so easy to use and are highly recommended for a wide range of applications.
They indeed look real and amazing at night. The flame effect appears wonderful and can add a more unique embellishment to your outdoor wall when darkness comes.
Waterproof and durable, and comes with motion sensor features; these are certified economical alternatives. They are crafted using super quality material and can repel any harsh weather conditions such as icy, heavy rain, snowy, cloudy, etc. These solar wall lights are equipped with highly efficient solar panels and sufficient battery capacity.
If you are like us who wish to upgrade the look of our outdoor areas, invest in these solar-powered wall lights. Since the time we installed them in our outdoor space, they seem to add more appeal and decors to our dull and ordinary-looking patio. We are satisfied seeing them illuminate at night.
More importantly, they also provide us the security and safety we need when sunset comes. On the negative side, these sun-powered wall lights look smaller in person. When we unboxed them, we did not expect to see smaller versions of what we saw in the product's advertisement photo.
Pros
Straightforward to utilize and ideal for a wide array of applications
Features the two-in-one flickering flame design as well as a motion sensor
Equipped with a highly efficient solar panel and sufficient battery capacity
Study enough to endure various weather conditions
Can add more appeal and decorations to your outdoor areas
Cons
They look smaller in person.
In conclusion, these outdoor solar-powered wall lights are excellent for adding a bit of decent light to a lanai
or porch
. We're glad that we got them for our outdoor spaces.
What to Look for When Buying Solar Wall Lights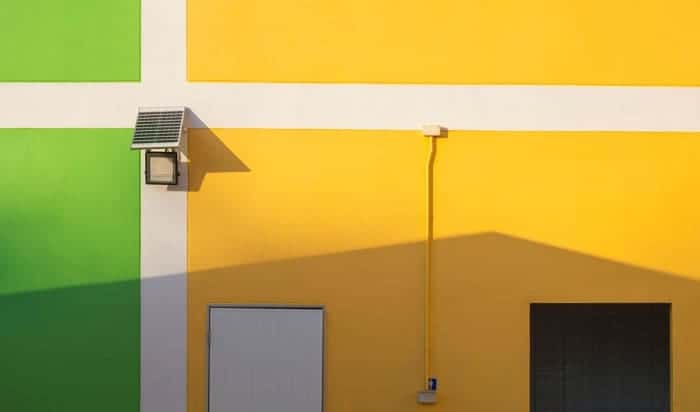 Solar wall lights are an energy-efficient and environmentally-friendly solution to lighten up your residence or workplace. Due to this, such products are becoming broadly renowned among households and business places.
But, since there are numerous options available on the market today; all claiming that they are the best choices, picking the right one for your needs can be tricky.
Therefore, before you spend on a particular solar wall light option, take a closer look at the following buying cues:
Brightness
As you know, solar-powered lights differ in terms of the brightness and intensity of their LED bulbs. Typically, solar wall lights emit brightness identical to a 40-watt bulb. Nonetheless, there are a few versions that emit a more radiant illumination.
Hence, if you prefer white and bright light, particularly for security purposes, it is highly suggested to opt for a model that could provide high lumens output. Take note that solar wall lights commonly provide a warm and soft glow.
Run Time
Solar wall lights work for roughly 8 up to 15 hours, on average. Their run-time usually depends on the model, brand, and the charge the solar-powered light possesses.
If you prefer to utilize it for an extended time, consider positioning the solar wall light in a spot where it will be exposed to direct sunlight for approximately 6 hours.
Take in mind that this is particularly critical if you wish the solar light to last the entire night.
Battery and Solar Panel
The battery and solar panel are the primary parts of any sun-powered light. They are the ones in charge of accumulating, converting, and storing the sun's energy.
Because of this, it is necessary to choose a model that can provide a premium quality solar panel and battery.
Be sure to pick a high-capacity battery that could provide a minimum of 1600 MAH. As you might already know, having a battery with at least this capacity can guarantee an extended run-time.
Sturdy Overall Build
In general, solar-powered lights are positioned outdoors. Therefore, they don't require convoluted wiring, and they are usually hassle-free to set up.
But, since they are meant for outdoor use, they must be durable enough to withstand various outdoor elements and weather conditions.
Usually, solar wall lights are housed in a durable ABS material. See to it that this housing feels solid and can extend to the above proton of the light.
Moreover, make sure that the item is designed as weatherproof and waterproof. This is indicated by the solar wall light's IP rating.
Aesthetic Purposes
Besides being an eco-friendly and less expensive lighting solution to residences and workplaces, solar wall lights could also significantly help upgrade the ambiance and overall look of your home or business place.
Some of them are made with different styles, colors, and designs. So, it is easier to pick the option that perfectly fits and blends your dwelling place or workplace.
Additional Features
Check out the additional features integrated into the solar-powered wall light. Some models are designed with colored bulbs, built with different lighting modes, and some versions are equipped with timers or motion sensors.
Are Solar Wall Lights Any Good
Yes. Solar wall lights are practical investments because they are energy-efficient, safe for users and the environment, and can provide adequate illumination.
Aside from improving the ambiance and the entire look of your place, they are ideal to use for security purposes.
Solar wall lights manufactured by trusted brands are reliable, functional, and long-lasting. Some models are specifically built to combat all kinds of weather conditions. Hence, even if they're installed outdoors, you've got no worries.
Where to Mount Solar Wall Lights
Solar wall lights are smooth sailing to install, care for, and maintain. Since they do not call for any convoluted wiring for installation, you don't need to hire a professional to set them up.
Typically, once purchased, the kit already includes the mounting brackets and screws required for the setup process. So, all you need to do is to follow the instructions on the provided manual.
Conclusion
In general, solar lighting solutions are ideal for lighting up your home or workplace. The best solar wall lights are eco-friendly, energy-saving, and can bring elegance, and appeal to wherever you install them.
We hope that you'll be able to wisely use the product reviews and buying cues we have shared in this post on your next purchase.
Just make sure that you carefully compare the features, upsides, and drawbacks of each option, so you can select which one is perfect for your requirements.
The solar wall light models we have included in this article are among the top-picked and trusted brands at present. So, you are guaranteed a worthwhile investment.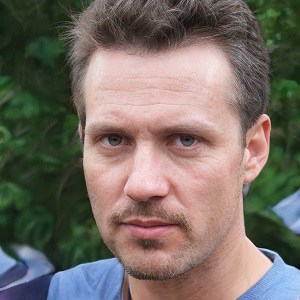 I am Kathleen Miller, staff writer and reviewer of the Avasolar team. Working with the team has been a pleasure for me so far, I hope to bring readers useful information by creating detailed and easy-to-follow contents.