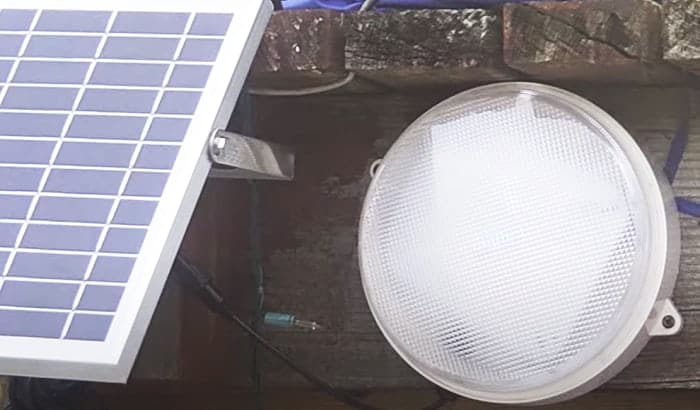 Are you looking for the best solar shed light? Then, you might want to look into our reviews underscoring some of the top-rated picks in the category.
We also included a detailed and comprehensive guide on what to search for in a premium quality solar-powered shed light.
As you probably already know, there are numerous lighting solution options on the market now. This is why it could be tricky to find the right match for your needs and preferences.
If you're not that knowledgeable about the most important features, including quality, efficiency, and the materials used for the construction, we hope that you'll find this article helpful.
We'd like to assist you as you shop for the most appropriate option. So, please feel free to check out the product comparisons and shopping guide below.
Top 14 Solar Shed Light Reviews
1. Woods L-949 Rechargeable Solar Shed Lights
For buyers looking for high-quality solar lighting for shed, this item is worth considering. It is furnished with incredibly bright LED lights that come with an extended lifetime of 100,000 hours. Hence, it is unnecessary to replace the light bulbs often. As you can see, they are not only eco-friendly but also budget-friendly.
Indeed, these solar lights are easy to operate with dual operation modes: half-brightness with 5 LEDs and full brightness with 10 LEDs. Whether you decide to install these solar shed lights at home, workplace, or garage, they will surely satisfy your expectations. You can mount these solar-powered lights on a pole or a wall by up to a 16-feet distance from the solar panel.
If you need to illuminate small areas, this solar lamp version is also good enough to ensure safety and security. They are user-friendly and versatile options with a 16-foot extension cord. Installing them can be a breeze even for beginners. You can set them up instantly where needed.
Plus, these shed lights feature 10 LED bulbs that come with 30 lumens of brightness. As for the build quality, these versions seem to last a long time with proper care and minimal maintenance.
While these solar shed lights work like a charm, they appear more reliable to light up small areas. Hence, if you wish or need to illuminate larger spaces, these models might not be the best fit for your requirement.
Pros
Equipped with long-lasting superbly bright LED lights
Designed with two brightness level settings
Minimal maintenance required
Can be mounted on a pole or a wall with a 16-ft extension cord
Can be easily installed where it's needed the most
Cons
Seem to work ideally for small areas only
All in all, this solar LED shed light model is worth considering if you prefer user-friendly options. They work efficiently and can deliver their promise.
2. Kyson TY0077 Solar Powered Led Shed Light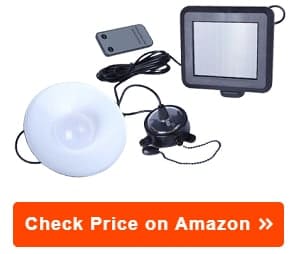 The Kyson solar powered shed light is best to use for illuminating and accentuating indoor and outdoor locations. As you can see, it is built with a simple arrangement and lightweight design. These solar lights are smooth sailing to install and have no trouble fitting several different spaces.
If you prefer options that give off soft light and charges easily, this alternative is perfect for that requirement.
Furthermore, these solar-powered lights are ideal for providing sufficient lighting where needed. Surprisingly, they are small in size, but capable enough to emit generous amounts of light in small locations. You can mount the solar panel in one position, and it rotates.
As for the remote control capability, it works fine for approximately 10 up to 15 feet in distance. If you need to light up your home, trees, and garage, this option is an excellent choice.
Many buyers find this item useful since it can provide adequate light without the need to run electricity. Hence, it does not force you to spend extravagantly. It is also environmentally friendly.
On the downside, the pull cord would have been more useful and practical to use if it was designed as longer than it is. The manufacturer should consider doing a little adjustment to the pull cord. Other than that, this item is a useful device to have for both indoor and outdoor lighting.
Pros
Ideal for lighting up and accentuating indoor and outdoor areas
Compact, money-saving, and environmentally friendly
Features simple arrangement and lightweight design that's easy to install
Can fit in many different spots
Charges easily and provides a soft illumination
Remote control available
Cons
Would have been better if the cord had been longer
Conclusively, these solar power shed lights are better and brighter than expected. They are also a breeze to set up and are certified reliable options.
3. LOZAYI YL008-1 Outdoor Led-Powered Security
This solar powered shed light is engineered with a modern style. The lightweight body and solar panel are designed separately with an on and off switch. The solar panel is rotatable, and this lighting device can guarantee an extended work time. Aside from that, it is furnished with a top-quality integrated lithium battery.
Such a durable shed light with remote control allows users to easily adjust the time and brightness functions. It is also sold at a reasonable price, so it's a great choice for those with a limited budget. Additionally, this item is plain sailing to set up anywhere adequate lighting is needed. You will find this solar light flexible, versatile, and capable of creating a pleasant ambiance.
Take note that this lighting solution needs to be charged for about 7 hours and can operate for roughly 16 hours. Designed with an IP65 waterproof rating, this energy-saving unit can withstand outdoor applications. It is appropriate to use for your garage, landscape, garden, balcony, etc.
On the flip side, please note that if you prefer solar shed lights with motion sensors, this solar-powered LED does not have that feature. So, this means that it does not turn on automatically when a stranger walks by. Fortunately, it can be set to turn on automatically when it gets dusky outside. Consider this minor con before getting this unit.
Pros
Built with a rotatable solar panel and extended work time
Has a reasonable price
Come with IP65 waterproof rating
Eco-friendly and energy-saving option with remote control and lithium battery
Crafted with a durable and lightweight design, auto-on function
Versatile and flexible option that's easy to set up
Cons
Does not come with a motion sensor feature
As a whole, with great features and functions and a pocket-friendly price tag, a solar light for sheds like this item is a smart investment to go for.
4. HULPPRE Solar Lights Indoor & Outdoor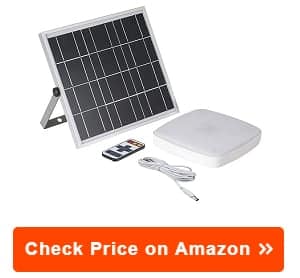 For shoppers fishing for reliable and functional solar light kits for shed, this product is worth a shot. Such a lighting device is practical to utilize for both indoor and outdoor use. It automatically switches on at sunset or you can also utilize the manual switch anytime. The kit contains the solar light, user manual, remote control, and installation screws.
Not to mention, this solar shed light does not fail in lighting up sufficiently and long-lastingly. The brightness it diffuses is adequate to illuminate what needs to be lighted up. Interestingly, this version functions with or without a motion sensor if preferred. The distinctive design of the remote control to set diverse function modes is the reason why it can offer more convenience to users, too.
Fundamentally, once installed in your place, it can beautifully transform the ambiance into a more stunning one. And, the good news is that the brightness of this lighting device won't irritate your eyes. If fully charged, this solar shed light can last for roughly 8 up to 10 hours. It also includes a 16.2ft extendable cord, which is long enough for any application.
On the drawback, users might find the installation and operation instructions vague. The details included there don't clearly explain how to use the remote control and other functions well. So, you'll need to figure out some settings before you can get started. Maybe watching solar-powered LED installation videos can help, too.
Pros
Automatically turn on at sunset or manual switch anytime
Useful for both indoor and outdoor uses, accessories included
Illuminates adequately and long-lastingly
Manufactured with a 16.2ft long extendable cord and a remote control
Works with or without motion sensor if preferred
Not irritating to the eyes
In summary, this shed solar light is a good catch. Engineered with amazing and practical features and efficiency at executing its job, you won't regret investing in one.
5. Kyson Indoor Solar Barn Lights
Do you need easy-to-use and convenient solar powered lights for sheds? If so, this solar-powered lighting device is an outstanding option. Many homeowners who have used it find it excellent in lighting up outdoor spots to increase the security in the area. You can also use it for indoor lighting.
Also, once purchased, it already includes a wall mounting kit for affixing the solar panel. It is also equipped with a pull cord and remote control to ensure more effortless and convenient use. Charging time for this unit might require nearly 24 hours to guarantee eight hours of reliable work time.
If you wish to light up your garden, home, and trees, this solar shed light can also serve as an accent light. In case the light bulb needs a replacement, you can utilize a 3Volt low-voltage bulb with an E27 socket.
On the other hand, compared to other LED technology options available, this solar shed light is slightly expensive. But, looking closely at its beneficial and convenient features, paying a bit more is a smart decision that you would not regret in the long run.
Pros
Equipped with a pull cord and remote control for easier and more convenient use
Works excellently in lighting up outdoor areas to heighten security
Includes a wall mounting kit for affixing the solar panel
Work time amounts to approximately 8 hours
Can serve as an accent light to brighten up your home, garage, and trees
Replaceable light bulb
Cons
A bit more pricey than other similar options
To conclude, this solar lighting device for sheds is the best bang for the money even if it is a bit costly. Designed with useful features and functions, it can make a big difference wherever installed.
6. AGPTEK SY-SYDJ032 Solar Pendant Lights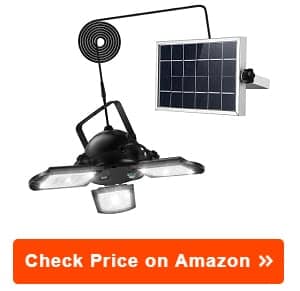 Have you found the right solar powered lighting for shed yet? You won't go wrong if you invest in this solar lighting unit. It is manufactured with super durable and powerful LEDs that can last all night on sunny days, provided they're fully charged. Please note that it could work for roughly 6 hours only on gloomy days.
Because the light's built with an automatic mode and remote-control functions, it does not work only at dusk, but also at daylight. The coverage of the LED lamp is 80% larger compared to other bulbs, thanks to the unique three-leaf style. You can adjust the solar panel's angle to tilt in the manner you prefer, and first-time installers of solar lights will find this version a piece of cake to set up.
It comes with a 16.5 feet pull cord that is enough to route almost anywhere. Since it is designed with an adjustable timer and brightness, users can enjoy multiple settings for setting timers and dimming the light. Such features are quite beneficial because you can save more on your electrical consumption. This solar shed light is second-to-none in terms of adequately illuminating dusky spots.
There's no question as to how functional this solar lighting device is. Nonetheless, it would be better if the remote controller had a longer range. To enable the remote controller to work, you will need to get closer to the place where the light is. You see, this is a little inconvenient on your part.
Pros
Features remote control and automatic mode
Built with sturdy and powerful LEDs
Painless setup method with a 16.5-feet long cord
Crafted with adjustable timer and brightness and an adjustable panel
Designed with an impressive three-leaf style
Cons
Minor gripe with the remote controller
In a nutshell, if you prefer to satisfactorily light up outdoor and dark areas without spending lavishly, this solar lighting device is the real deal.
7. Mudder Solar Lights Outdoor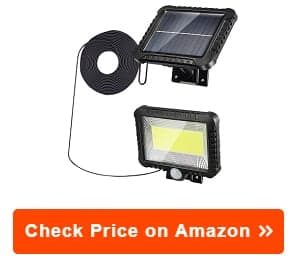 For homeowners planning to purchase dependable and functional shed lighting devices, this item is worth a try. The light's body, solar panel, and outdoor solar light are all designed separately. The rotatable and bigger solar panel can convert as much as 20% of sunlight to electricity. Hence, there's no need to use batteries for a dusk security light.
Engineered with a smart PIR motion sensor inductor, the light automatically illuminates when someone arrives and switches off automatically when someone leaves. This feature can also switch on the light in times of darkness. The sensing distance can be as remote as 23 feet. The kit contains 100 white LEDs that work as superbly bright security lights.
What makes the best solar shed lights like this item a smart purchase is that they're intended to provide broader and brighter outdoor solar lighting. And, since it comes with an IP65 waterproof rating, it is all set no matter what type of weather conditions there are outdoors. This is also equipped with large-capacity 2400mAh lithium batteries.
Since this solar light is crafted with superbly strong ABS plastic material and polysilicon solar panels, it can greatly help optimize sunlight conversion into electricity. What's more, this version is sturdier compared to other outdoor solar light options.
For all that, the minor glitch of this solar shed light is that the covering of the solar panel seems to be susceptible to getting scratched. Luckily, this flaw does not in any way affect the manner in which the solar panel executes its function.
Pros
Built with intelligent PIR motion sensor inductor
23 feet of sensing distance
Comes with an IP65 waterproof rating, sturdy ABS plastic and polysilicon
Furnished with a rotatable and bigger solar panel
Equipped with large-capacity 2400mAh lithium batteries
Ensures broader and brighter outdoor solar lighting
Cons
The solar panel's covering appears to be prone to scratches
To wrap up, this is one of the
top-rated solar shed lights
for buyers who prefer broader and brighter outdoor solar lighting for their homes and workplaces.
8. KUFUNG STL-WWL-A Solar Pendant Light
Certainly, all homeowners wish to cut down their electricity bills. The delightful news is that this solar shed light kit can help you save more. The package contains all the required mounting hardware for the solar panel. It also includes 60 bright LEDs with a maximum brightness of 800 lumens.
Such an option merely calls for minimal maintenance. This is a practical and convenient alternative because it automatically works at night, and automatically turns off and charges at daylight. It is not burdensome to set up where necessary or wanted. It also comes with a 16.5-feet long cord.
In like manner, the three-leaf design can be adjusted to distinct angles. Hence, this allows users to direct the light exactly where it's required. If you wish to light up certain spots at home, or in the workplace, this solar light can work better than conventional downlighting.
This LED light is also designed with diverse timing modes: 6H/4H/2H. Please remember that it is critical to position the panel in an area where it could absorb direct sunlight. Additionally, to fully charge the lighting device, it will take roughly 8 hours.
All the same, many users find the remote controller somewhat fragile. It appears slightly flimsy and seems not built for long-lasting use.
Pros
Contains 60 bright LEDs with a maximum brightness of 800 lumens
Automatically works at night and automatically turns off and charges at daylight
Uncomplicated to set up with a 16.5-feet long cord
The kit includes all the required mounting hardware for the solar panel
Helps minimize electricity expenses
Adjustable three-leaf design and three timing modes
Cons
The remote controller is a bit flimsy
All factors looked into, this solar shed light can remarkably help users reduce their electricity costs. This item is a certified good value bright solar lighting device.
9. Jior 1T2 Solar Pendant Lights Indoor
This interior shed lighting is built with a double head and a single battery design. The solar panel is positioned outdoors. Meanwhile, the solar lamp is manufactured with two additional 118-inch cables. The kit includes 16 excellently bright LED lights that could light up a large spot.
Since it is equipped with an upgraded solar panel, the device can illuminate for about 10 hours. Designed specifically as an indoor solar shed light, it is ideal to set up at the front door and other indoor areas. It does not require electricity to work, so homeowners can enjoy great illumination without the need to spend more money.
Similarly, the built-in protection circuit and actual capacity are practical because they could prolong the life of the battery. Users can also instantly adjust the direction of light to make various indoor spots brimmed with sufficient illumination. You can select between warm LED light and white LED light.
This solar-powered pendant light is crafted with a distinctive IP65 waterproof design. Therefore, it is sturdy enough to repel harsh weather conditions. Interestingly, this solar energy alternative is more excellent and durable compared to other less waterproof-rated lighting devices. You can install it instantly wherever preferred and needed.
Regardless, shoppers who are short on a budget might find this item not pocket-friendly because it is more expensive than other available alternatives.
Pros
Integrated protection circuit and actual capacity can extend battery lifespan
Ideal adornment for indoor areas, no electricity needed
Contains incredibly bright 16 LED lights and an upgraded solar panel
A cinch to install and rated with IP65 waterproof feature
Features double head with a single battery style, warm and white LED lights
The direction of light can be changed
Cons
Sold at an expensive cost
Finally, if you wish to reliably light up your indoor areas at home or in the workplace, this item can work well for your requirements.
10. AOZBZ Solar Power Wall Light
Do you prefer lights for sheds without power? If yes, this product is worth checking out. The detachable solar-powered lights can be set up anywhere needed or wanted. This is because the split type design and 16-feet electric wire allow users to do so. As you can see, this design does not restrict the use of a solar lighting device.
It is worth mentioning that this product is a famous option because it is manufactured with eco-friendly, low-carbon, and cost-effective design and function. Furthermore, it is reliable to use for multiple locations. You can install it where necessary or wanted.
Also, since it is designed with weather-proof and heat-resistant features, you don't have to worry even if it is installed outdoors. The intelligent PIR motion sensor is a very practical and convenient feature. The solar lighting device switches on automatically when someone comes to the place where it's installed.
Note that you need to charge the solar light for about 6 hours in the daytime to enable it to work for approximately 10 hours at sunset. The 56 LEDs are so bright that they could outstandingly illuminate any area to heighten security.
While there is no doubt that this solar power wall light is useful, many users have uncovered some minor defects in the connection plug. There have been claims that the plug-in does not stay connected.
Pros
Built with eco-friendly, low-carbon, and cost-effective design and function
Efficiently works on multiple areas
Features an intelligent PIR motion sensor, weatherproof and heat-resistant
Detachable solar lights and separate solar panel
Bright enough to ensure outstanding lighting for security purposes
Cons
Issues with the connection plug-in
To sum things up, this solar-operated shed light is a first-rate alternative. It is designed with unique and useful features and can work efficiently for many different purposes.
11. Tomshine Outdoor Solar Lights
The next time you visit the nearest home depot store in your area, make sure to give this outdoor pendant light a closer look. Surely, you want to greatly reduce your electricity expenses. And, to do so, you can have this solar shed light installed in a few minutes. It will certainly look impressive wherever you set it up, and it will work efficiently for different purposes.
Moreover, this version is crafted with a laminated polysilicon solar panel. It is also furnished with an 18650 lithium battery that requires charging under direct sunlight. The battery is built with premium quality and can guarantee an extended lifespan. This solar lighting unit is user-friendly and delivers its promises.
Users won't have problems using this solar light for indoor applications. It comes with a 16-feet wire that allows you to affix the solar panel in sunny areas and set up the light anywhere you prefer. It has a remote controller that allows you to set the timer and adjust the lighting. This LED fixture also has a switch to switch the solar panel on and off.
The 12 white LEDs illuminate automatically at dusk. Users are provided with adequate lighting throughout the night so long as the battery is fully charged for about 6 to 8 hours in the daylight. This solar pendant light is also useful as decoration, house lighting, and for various activities; however, it seems incapable of enduring harsh outdoor conditions.
Pros
Works automatically at night
Easy to install with the 16-feet wire
Reliable for indoor use, whether it's decorating or other activities
Has a remote controller and switch functions
Equipped with a 18650 lithium battery and a laminated polysilicon solar panel
Cons
Incapable of withstanding terrible outdoor conditions
In conclusion, this decent quality shed lamp is a good catch. It's perfect for many different purposes yet it does not force you to spend a fortune.
12. NACINIC 120 Solar Lights Outdoor
Are you planning to replace your reactor solar powered shed light? If yes, this affordable product might be the perfect match for you. The kit contains 120 upgraded COB lights that emit broader and brighter outdoor solar lighting wherever installed.
Besides, this solar lighting unit can discern even the slightest movement up to 23 feet within a 120-degrees angle. This way, this solar light can ward off burglars from invading your place at dusk and stealing your property. This product is excellent to position in locations that have no power outlet.
Manufactured with triple optional lighting modes, this solar shed light works automatically at sunset, and automatically turns off at sunrise. The optional lighting modes include security mode, always-on mode, and dimmable sensor control. Essentially, the always-on mode keeps the light on at dusk and at minimum brightness for about six hours with or without discerning movement.
Additionally, this device is also a time and energy-saver. It comes with an IP65 waterproof grade, and it is great value for the money. This isn't a risky investment because it is backed up by a 12-month replacement warranty and a 30-day money-back guarantee offer. The COB light is built with an upgraded design and outfitted with a large-capacity 2400mAh battery.
On the negative side, this
solar floodlight
is too sensitive. When a car goes past, this solar light triggers even though the PIR motion sensor is not facing the main road. This could sometimes be irksome and cause the battery to drain quite fast.
Pros
Detects motion up to 23 feet and within 120-degree angles
For areas with no power outlets
Outfitted with a larger-capacity 2400mAh battery and upgraded COB lights
Designed with triple lighting mode options and automatic operation
IP65 waterproof grade, time and energy saver
A 12-month replacement warranty and a 30-day money-back guarantee offer
Cons
Too sensitive, which can affect the battery
All in all, these COB LEDs are softer and brighter, emit superior quality rays of light, and consume less power than previous LED technologies.
13. YiaMia Solar Lights Outdoor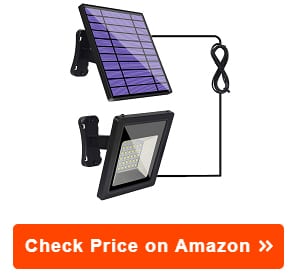 This IP65 waterproof solar pendant light kit is built with superbly sturdy ABS plastic material. Therefore, it can stand the rigorous test of rugged weather conditions. This item is appropriate for adorning and lighting up indoor and outdoor applications. It works automatically without using electricity.
By using the remote control, you can easily modify the time and brightness settings. The solar panel can be adjusted to 180-degrees. Please note that the solar panel should be placed in a spot where it could efficiently take in direct sunlight. It's good to note that this item is more heavy-duty compared to other less waterproof-rated solar panel lights.
The well-improved polycrystalline silicon solar panel significantly absorbs the ray of the sun and produces energy for the solar light. It converts up to 20% of the sun into electric energy that guarantees extended standby time. The solar panel comes with integrated two pieces 2200mah lithium batteries and super-bright 30 LEDs that are great for reducing electricity bills.
Also, it's a safe investment since it offers a two-year after-sale service. Unfortunately, the panel can solely rotate in two directions. Hence, it can only be tilted front or back, and not side to side. This is why it is slightly strenuous to angle the panel so that it could precisely face the sunlight.
Pros
180-degree adjustable polycrystalline silicon solar panel
Electricity's not necessary
Made using durable ABS plastic material and IP65 waterproof design
Comes with excellently bright 30 LEDs and 2 pcs 2200mah lithium batteries
Two years of after-sales service
Highly recommended for illuminating and decorating indoor and outdoor areas
Time and brightness settings are adjustable
Cons
The panel can only rotate in two directions.
Chiefly, for homeowners who seriously need solar lighting solutions that are dependable for illuminating and securing indoor and outdoor areas, this product is a must-try.
14. Kyson Indoor Solar Lights for Shed
For those who prefer easy-to-install solar shed lighting kits that are perfect for diverse uses, this barn light is a reasonable investment. It is built with two-in-one wall lights, wherein each light source can guarantee bright illumination that heightens your safety when you walk in dusky areas. This version is also outfitted with a 5500MAH lithium-ion rechargeable battery.
Provided that the solar corridor light is fully charged, it can ensure roughly 8 to 10 hours of continuous illumination from sunset to sunrise. The solar panel can swivel for 180 degrees, so adjusting the angle for the best sunlight exposure is a breeze. It's less complicated to set up even for novices, and it's great for several different uses. The installation method can be done in no time.
If you want a shed light that enables you to utilize it at daylight and can function as a sunset-to-sunrise lighting device, this alternative can work like a charm. Its IP65 waterproof rating makes it tough enough to endure terrible conditions outdoors. This helps ensure long-lasting use and the sustainability of outdoor lighting.
However, many users who have used this corridor wall light were initially surprised to see it. It appears smaller than expected in person. So, it might not be for lighting up larger spots.
Pros
Built durably with IP65 waterproof grade and lithium-ion battery
Painless installation process and multiple applications
Allows indoor use at daytime or sunset-to-sunrise use
Features 2-in-1 bright LED shed lights and an adjustable solar panel
Ensures extended usage and stability of outdoor illumination
All things examined, this solar-powered shed light is a smoking deal. Crafted with stellar features and workable functions, this LED shed fixture is a great addition to your home or at the workplace.
What to Look for When Buying Solar Shed Lights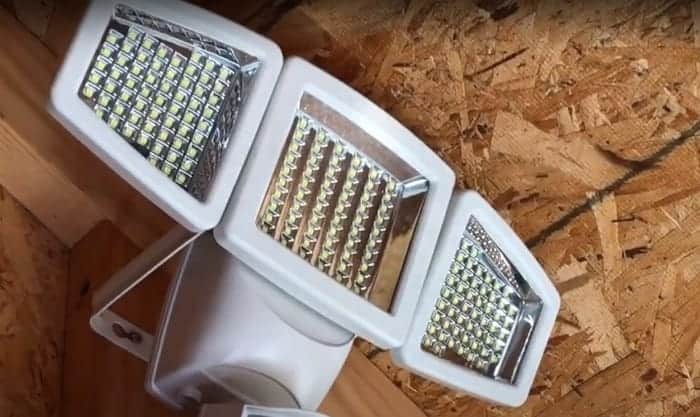 Here are some of the buying factors people need to bear in mind when buying a LED solar shed light:
The type of light you'll require will largely depend on the work you intend to do in the shed.
So, if you prefer to get a light to keep the shed well illuminated, you will need to buy a medium type of light.
Meanwhile, if you intend to work there, a bright light is necessary. When estimating the amount of light you will need, it is important to look at the lumens. This is because the total amount of visible light that's generated is gauged in lumens.
Take note that the higher the number of lumens is, the more light is generated. I recommend getting a shed light with 150 up to 300 lumens. I often use different keywords like "solar shed light screwfix" to find all options on various sites.
If the shed is large, a bigger LED light fixture will be required. On the other hand, you can go for solar light kits that are more compact if your shed is small.
Durability and Safety of the LED Solar Shed Light
It is strongly suggested to research the most trusted brands before purchasing shed solar lights. This is because trusted brands generally manufacture high-quality products.
If the LED lights are prone to get easily damaged, this could be hazardous for everyone around. This is why you need to ensure that the solar lighting device you pick is made with premium quality and long-lasting materials.
Select the type of solar panel that best fits the kind of weather in your location. If your current location gets plenty of gloomy days, go for options that come with a larger photovoltaic panel. This is great for more superb solar energy conversion.
Indeed, the solar panels could be wired to a battery storage system. This will power the LED shed light. Also, consider that the battery size will rely on the number of lumens you'll require for the shed lighting system.
Work Time and Charging Hours
The number of hours required to fully recharge the batteries is a critical buying factor as well. A few options need bright sunlight to fully charge, while others are fine to charge despite gloomy days.
Most shed lights turn on automatically at night time and automatically turn off at daybreak. Take into consideration that the operation hours would rely on the battery capacity.
The latest and more advanced generation of batteries is powerful and more capable of holding a charge longer, so you can save more on energy costs.
We all want to ensure that we get the real value of our hard-earned money whenever we shop. So, solar shed light options that are supported by product warranties are smart choices because our investment is protected.
There are limitless options out there, but not all of them offer money-back guarantees, refunds, or product replacements. Choose reputable brands because they generally offer warranties that would help buyers get the needed help in case there is a problem with their purchase.
How to Install and Set Up the Lights in Your Shed
Here are the steps to follow when installing shed lights:
Carefully consider the location where you need or prefer to set up the shed light.
Check out the length of the extension cord when making the decision.
It is important to install the solar panel outside the garage or shed. Keep in mind that the ideal position to set up the solar panel is the roof or the exterior wall.
Carefully drill a hole through the roof or wall of your shed if the extension cord is not long enough.
Consider applying a rubber seal or a sealant on the location where you set up your barn light. This can protect your wall against water.
Afterward, just pass the extension cord through the drilled hole.
Then, you can start setting up the solar-powered shed light.
Refer to the user manual regarding the charging time on the lighting device's initial usage.
Finally, switch the light on at evening time. You can do so by either using a remote controller or through manual operation.
How Many Lights Do I Need for My Shed
You can use a measurement called lux to determine how many lights you need. Lux is the amount of illumination provided by 1 lumen in a 1 sqm area. Just measure your shed and look up the lux number recommended for your purpose.
Reading spots usually need 300 lux, for example. Hence, if you want to use your 10m2 shed for reading, you'll need 10 x 300 = 3000 lumens.
How Many Hours Will Solar Shed Lights Stay on
We uncovered that the time range a solar-powered light could work on a full charge commonly varies by a particular brand or option.
Even so, the overall range for all types of solar lighting is roughly 4 up to 12 hours with a total average of 8 and a half hour of lighting operation on a full charge.
Can These Lights Be Used for a Chicken Coop
Yes. Shed lights can be used for chicken coops too. Since they are solar-operated, they are outstanding environmentally-friendly alternatives to conventional wired lights. Shed lights are serviceable to extend chicken's egg production.
Therefore, they allow users to continue harvesting farm-fresh eggs during the coldest seasons of the year.
Conclusion
Ultimately, there are so many solar shed light models available on the market today. Sometimes, it is overwhelming and confusing given there are lots of alternatives to select from.
Please make sure to go over the product comparisons thoroughly using the guide we have provided. Carefully study the vital factors such as durability, functionality, warranty, and quality before making the final purchasing decision.
Again, don't forget to think through the level of illumination, the size of your shed, and the number of lumens needed for sufficient brightness. All these factors will help you find the best solar shed light for yourself.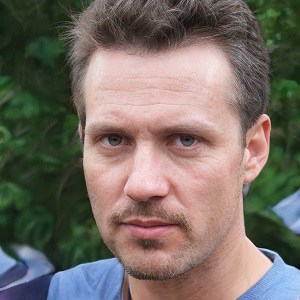 I am Kathleen Miller, staff writer and reviewer of the Avasolar team. Working with the team has been a pleasure for me so far, I hope to bring readers useful information by creating detailed and easy-to-follow contents.