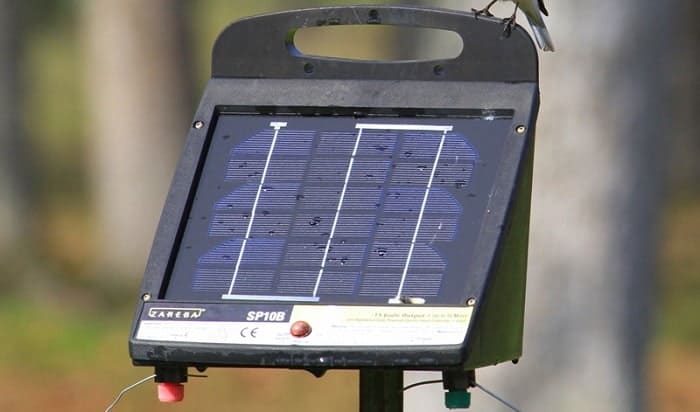 These days, installing electric fences is a beneficial approach to keeping farm animals within your property. Besides, such tools are a practical security solution as they can block potential invaders. The only minor gripe about electric fence chargers is that they can be a problem when electricity is unavailable.
For example, it is unworkable to install electric fence chargers if your property location does not come with readily available AC power outlets for charging. Indeed, it'll be impossible to benefit from their security functions in case of power outages.
Due to this, investing in the best solar fence charger can be the solution. This device can ensure that your fence won't run out of power supply. It is cost-efficient and could help you save more energy and money over time. But, with lots of available options out there, buying the correct version for your needs can be tricky.
So, when picking the suitable solar fence charger for yourself, be sure to consider the three main buying factors:
It is substantial to consider what kind of fence you'll be charging with electricity. Your options include polywire, aluminum fence wire, polytape, and polyrope.
For you to ensure sufficient coverage for your property, you'll need to measure out the land, specifically in mileage. This will help you know the length your electric fence will need to cover.
The formula for getting your solar-powered fence charger's range capacity is: Range Rating = The length of the Fence multiplied by The Number of Wires multiplied by 2.
The types of animals you plan to contain or keep out will require different levels of voltage.
We'll walk you through what you need to uncover when choosing a suitable solar-powered fence charger in this post. In addition, we have listed some of the most top-rated solar fence chargers presently out in the market.
Hopefully, the buying guide that we also shared in this article can help you choose the best option for your requirements.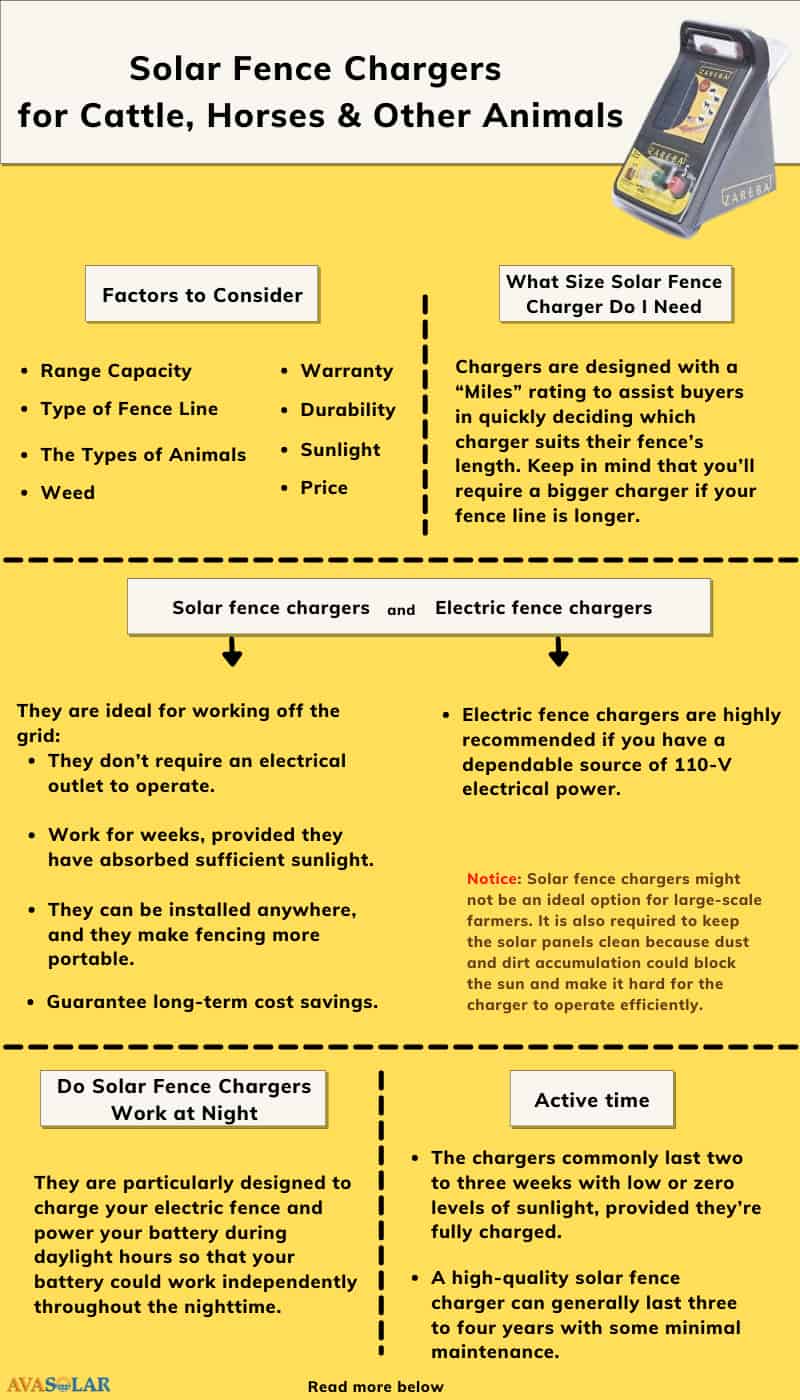 Best Overall
Zareba ESP5M-Z
✅ Ideal for containing horses
✅ Works up to two weeks
✅ Built with a 360-degree rotation function
Premium Choice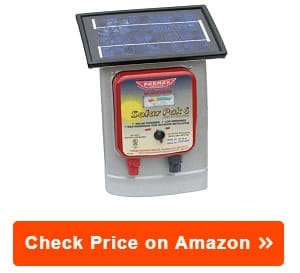 Parmak DF-SP-LI
✅ Portable & compact
✅ Top-quality battery pack, meter, and solar panels
✅ Allows painless setup method
Editor's Pick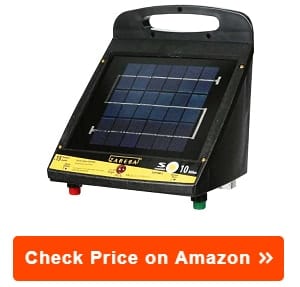 Zareba ESP10M-Z
✅ 2 weeks of operation without sunlight
✅ For short-haired animals
✅ Affordable
Top 9 Solar Fence Charger Reviews
1. Zareba ESP5M-Z Solar Low Impedance Electric Fence Charger
For buyers looking to invest in a solar electric fence charger for horses, this product is worth a try. We chose this item because it is best for powering up to five miles of electrical fencing.
It's our first time using a device like this, but luckily, mounting it on the wall or fence is done smoothly. It's nice that we don't need to worry about paying steep electric bills as this version is cost and energy-efficient.
What's more, we bought this option because, according to countless solar electric fence charger reviews, this brand is one of the most trusted ones. Surprisingly, it is adept at operating for up to two weeks, even without much sunlight. The kit includes built-in mounting brackets intended for round wood posts, Y posts, and T posts.
Best of all, you can track the status of your fence by looking at the "FENCE OK" light. You will know if your fence is up and running if the light is active. We like this feature because it enables us to do some instant spot checks on our fence. Likewise, it indicates when the solar energy is flowing from the internal storage battery.
Chiefly, this electric fence energizer is ideal for our property's remote spots to efficiently power up our fence lines. Since this device is built with a 360-degree rotation function, you can rotate the charger on T posts to face the sunlight. On the flip side, the instruction for this fence charger is not novice-friendly.
Pros
It is ideal for containing horses
Works up to two weeks without sunlight
Effortless to affix on walls and fences
Powers up to 5 miles of electric fencing
Built with a 360-degree rotation function, status light, and brackets
From a reputable brand
Cons
Instruction's not for newbies
Overall, this solar electric fence charger is reliable when it comes to powering up our fence lines up to five miles. It is also plain sailing to install and helps you save more on energy bills.
2. Parmak DF-SP-LI Solar Electric Fence Charger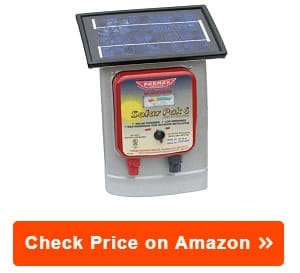 Parmak solar fence chargers are some of the most recommendable options to date. Aside from the low-impedance appearance of this energizer, there are plenty of features to love about it.
At first glance, it looks simple and basic, but this device can stretch for an extensive range of up to 25 miles. This makes it the right version for smaller fields and large land enclosures with fences needing several electrical wirings.
You can easily install this fence energizer on T posts. The solar panels are constructed with advanced technology to produce more than 42% battery charger power. Since it is equipped with an efficient battery, the charger can last up to 21 days without sufficient sunlight exposure.
This device's integrated analog performance test meter allows us to track the energizer's performance, such as battery charge and fence voltage output levels.
We ended up buying this product because we prefer portable, compact, lightweight options. The lightweight design of this solar fence charger makes it ideal for transferring it from one place to another.
Also, its water and weatherproof design makes it solid enough to combat inclement weather conditions and other dangerous outdoor elements. In that aspect, you can see that durability and longevity are guaranteed.
Moreover, its voltage reaches 9000. This solar fence charger can produce as much as 1.6 joules; in addition, it's highly recommended for fencing small to medium-sized animals. We also find it helpful in deterring similarly-sized predators. On the downside, this item is not the best option to use for large animals.
Pros
Portable, compact, low impedance, lightweight, and weatherproof
Long-range capacity up to 25 miles
Allows painless setup method
Highly recommended for small and mid-sized animals
Equipped with top-quality battery pack, meter, and solar panels 9000V and 1.6 joules
Cons
Not the best option to use for large animals
In a nutshell, this solar powered electric fence charger is a top option for a feature-rich energizer to utilize for mid-sized animals.
3. Zareba ESP10M-Z 10-Mile Solar Electric Fence Charger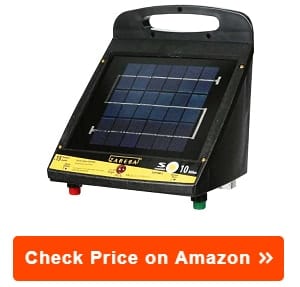 According to uncountable solar powered fence charger reviews, Zareba is a renowned brand for manufacturing premium quality solar-powered fence energizers.
And, we are satisfied with how this solar-powered low impedance electric fence charger works for our application. We can rely on it as it works well for up to two weeks without adequate sunlight. This model is specifically designed to power up to ten miles of electric fencing.
This unit comes with an output of 0.15 joules, and it is perfect for warding off short-haired animals. This solar electric fence charger is protected with a durable housing that is quickly affixed to outdoor walls or fences. This device is also safe to use with different types of lines or wires, including polyrope, polywire, polytape, aluminum, and steel wires.
Since I needed a solar fence charger for small enclosures and applications, this option is one of the best choices. It also comes with built-in mounting brackets that enable you to install the device on round wood posts, Y posts, and T posts. Fortunately, compared to other solar products, this item is affordable, so it's ideal for those with a limited budget.
Such an easy-to-install solar fence energizer is crafted with an "at a glance" indicator that flashes red to indicate that the fence is charged up. On the downside, the seller could do a better job at cushioning the product for delivery.
Pros
Features low impedance technology and two weeks of operation without sunlight
For short-haired animals
Affordable; protected with a super sturdy housing
Allows easy and quick mounting process with brackets
Designed with an indicator indicating when the fence is charged
Safe to use with different types of lines or wires and 10-mile fences
Cons
Cushioning for delivery could be better
In summary, this Zareba solar fence charger won't disappoint users in powering up to ten miles of electric fencing for small enclosures and applications. It's not so expensive yet packed with valuable features.
4. Parmak MAG-12-SP Solar Electric Fence Charger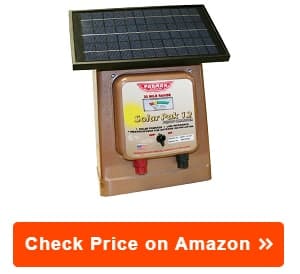 This solar powered fence charger for cattle is one of the top options for buyers who plan to use it for huge fields. The solar panel affixed to this unit produces power from the sun and keeps the energy in the low impedance 12Volt rechargeable battery.
We are pleased with how this solar fence energizer charges a fence that measures up to 30 miles. Installing it is a cinch.
Since we wanted a more powerful device that wouldn't fail in powering up our fences, this model is the most recommended alternative for our requirements.
It is engineered with a built-in performance meter. This meter is an excellent help because it allows us to discern any charging problem that might emerge. The low impedance battery guarantees that current is not wasted on greenery.
Likewise, we find this solar fence charger capable enough since it can produce energy for a maximum of 14 days without much sunlight. This device is also a practical option because it provides portability and features a weatherproof build. We highly regard this solar charger as beneficial for users who own large pastures because it can cater to large-sized animals like horses and bears.
We have just recently purchased this solar fence charger, and so far, it has worked excellently for its purpose. Anyhow, we have read some customer reviews claiming that this device is not built to last. This is contrary to the product description. Hopefully, we won't encounter the same problem in the future.
Pros
Low impedance for optimal power
Highly recommended for huge fields and big animals
Easy to install
Designed with an integrated performance meter
Generates energy for a maximum of 14 days without much sunlight
Features a portable and weatherproof construction
Cons
Some customer reviews claimed that this unit is not built to last
Right to it, this solar-powered fence energizer is a worthwhile investment for large pasture owners. It is portable and powerful enough to cater to large animals.
5. Zareba ESP2M-Z Solar Electric Fence Charger
The delightful news is that buying the right solar electric fence charger does not cost an arm and a leg. In particular, this solar fence charger is highly recommended for buyers looking to cater to small pets and animals. What's more, it's the ideal solar fence energizer that anyone could use for small areas measuring two miles.
This unit is a practical alternative since it's compatible with an array of wire styles like aluminum or steel wire and weed-free fences. When it comes to ease of installation and portability, this lightweight solar-powered electric fence charger is a piece of cake to install and comes with a built-in handle.
The battery it comes with is not prone to depleting quickly; this is all thanks to its low impedance design. It is not as expensive as other similar products, but, surprisingly, this unit is manufactured using top-quality materials.
In addition, this solar-powered charger is engineered with a built-in mount that is suitable for wood posts, flat surfaces, Y posts, and T posts. Once purchased, this item already includes the 4V battery. It also comes with an "OK" light indicator that tells users the charger is working efficiently.
With this eco-friendly device, we can forget about shorts when the fence is in contact with weeds. This is a great safety feature that is beneficial for users.
On the other hand, the 0.04-joule output it offers is regarded as a small output that is ideal only for catering to small animals such as rabbits, cats, dogs, and chickens.
Pros
Appropriate to use for small areas, containing small animals and pets
Compatible with many wire styles
Not as expensive as other brands
Features a low impedance design with a light indicator, a battery, and a mount
Manufactured using high-quality materials and anti-shorts feature
Portable, lightweight, and easy to install
Cons
Only provides a small output
On the whole, this cost-effective, eco-friendly, and durable solar electric fence charger is a first-rate product. It's guaranteed to execute the job of assisting its owner to contain small animals.
6. Gallagher G345404 S40 Solar Electric Fence Charger
This heavy-duty solar electric fence charger for cattle is ideal for a 25-mile range and capable enough to cover 30 to 80 acres of land. If you intend to use it for multiline perimeter fences, you could still obtain a wide range of 5 miles.
We especially like its adjustable power settings. We can set the unit at a rapid pulse at daylight and night time. If you want, you could also select minimized pulse rates for overnight use when your pets are less active.
This device comes with an output of 0.26 joules. The energy that this solar fence charger generates is sufficient to handle small to mid-sized animals like bulls, cattle, horses, and pigs. As for the length of battery capacity, it can sustain our fence's power for up to 3 weeks without much sun exposure.
Since we prefer a fence energizer that is durable enough to tolerate rugged weather conditions, this version seems to be the perfect choice for us. This portable solar fence charger for cattle is designed with a convenient carry handle and a built-in lightning shield.
Whether we plan to contain livestock or need to keep away intruders, this solar fence energizer can execute its job well. We also noticed that it is excellent for rotational grazing.
We consider this unit more than enough for our needs. Nonetheless, if you are short on budget, this item costs considerably more than other available options on the market. In our opinion, the practical and distinctive features of the device justify its relatively expensive price point.
Pros
Covers a wide range of 25 miles and 5 miles of multi-line fences
Designed with an extended battery capacity
Highly recommended for small to mid-sized animals and rotational grazing
Features a heavy-duty, portable design with a lightning shield and a handle
Engineered with easy-to-adjust power settings
Cons
Comparatively costly price point
On the button, this option is the best bang for our bucks, especially since durability, quality, and performance are what we look for.
7. Silver Streak Solar12 Solar Fence Charger
This silver streak solar fence charger is superb at activating 1 to 100 acres of fence. Such a powerful unit is unique compared to other versions because the battery is not built inside the device. It is compatible with a 12V battery and ideal for areas without AC power. For buyers looking to invest in solid and durable fence chargers, this device is worth inspecting.
Additionally, this is a great solar fence energizer because it could guarantee the most outstanding lightning protection. You probably know that lightning is one of the elements that could bring about damage to solar powered fence chargers; fortunately, this device can efficiently protect itself against lightning.
Since the time we installed this unit, we didn't have to worry about approaching storms. The kit includes a 5J-lightning fuse and lightning diverter.
Primarily, we find this fence charger dependable when it comes to containing large animals within an enclosed area. As mentioned, this unit does not come with an integrated battery; but it is easy to connect to a 12V battery.
We are amazed by the low impedance design as it remarkably lessens the possibility of depleting batteries. You can affix this solar fence charger using a T post mounting bracket.
Some buyers have noted that this option doesn't produce two joules as described. Regardless of the output, I still find this item reliable, so this is not a problem for me.
Pros
Powers up to 100 acres of fence
Features a durable and solid design; works with 12V batteries
Can contain large animals
Includes 5J-lightning fuse and lightning diverter
Reduces battery depletions
Mountable to T posts
Cons
Information on the output seems to be incorrect
In conclusion, this solar-powered fence energizer is excellent at keeping out or containing large animals; plus, it's best for maximum lighting protection.
8. Premier 113300 Solar Fence Energizer
Many people regard this option as the best solar fence charger for horses because it is primarily utilized for keeping horses, poultry, cattle, sheep, and goats. We are pleased with this investment because it became easier for us to protect our animals against coyotes, bears, foxes, and stray dogs.
Such an all-in-one portable solar-powered fence charger is all set to charge up our fence or netting. This 0.60-joule model comes with a step-in ground stake that provides ample support to the device.
Additionally, this device is built with an adjustable solar panel to allow for seasonal light availability. It is also equipped with a large-capacity battery to ensure extended life, especially during lengthy periods of low sunlight conditions.
This fence charger features IntelliShock technology for more efficiency. It is also designed with a visible on and off light that comes with a low battery indicator.
Please note that you can utilize this device with solar power or an alternative 110-Volt power source. The flexibility of use is quite a beneficial factor for users.
Since the whole kit comes with a UV-treated polycarbonate casing, it is not prone to rust formation. The sturdy overall build of this item is undoubtedly admirable.
I should note that the manufacturer does not provide warranty for deterioration caused by floods. As a result, users should turn the device off and store it somewhere safe when there's potential for severe water damage.
Pros
Step-in ground stake and 110V power source support
Equipped with an incredibly sturdy case for protection
Features an IntelliShock technology for more efficiency
Outfitted with an adjustable solar panel for seasonal light availability
For protecting farm animals
Large-capacity battery and an on-and-off light with a low battery indicator
To sum things up, this unit is a perfect choice for anyone looking for a solar-powered fence energizer that is built to last and outfitted with an easy-to-adjust solar panel.
9. Fence Master Solar 12 Volt Battery Fence Charger
For shoppers planning to buy a tractor supply solar fence charger, this device is a good alternative to Tractor Supply's models. This version is deemed one of the most high-end solar-powered fence chargers because it is supreme in powering up to 6 miles. What is more impressive about this solar charging device is that it is adept at delivering high voltage shocks that could avert but not harm your animals.
Chiefly, the output of this solar fence energizer is 12000V at the source and 5000V at 3 miles. No wonder why this alternative is also an ideal pick for blocking predators. Although the maximum power comes from a bulky transformer, we don't have to be troubled about the device using up too much space. This solar device functions excellently with single or multiple-wired fences.
We consider ourselves fortunate for investing in this reliable solar fence energizer. So far, it has not failed our expectations in terms of containing various livestock. For a fact, this fence charger exceeded our expectations.
This is worth considering for customers searching for a device that can guarantee high voltage shocks and low current spikes. It is powerful enough, yet it is a very safe option. The low impedance design of this model significantly helps in averting power loss due to dense greenery and shorts. This is one of the first chargers we purchased, and we're grateful that we made the right choice for our farm requirements.
Overall, we have no complaints so far when it comes to this device. It is one of a kind.
Pros
Helps effectively deter animals but not harm them
Low impedance design averts power loss due to dense greenery and shorts
Works wonders with single and multiple-wired fences
Reliable option for charging up to six miles
Suitable for blocking predators
Doesn't take up much space; high voltage shocks and low current spikes
With certainty, this solar fence charger is heavy-duty enough to endure whatever the weather throws at it. We highly consider this unit a must-have for our farm life.
What to Look for When Buying Solar Fence Chargers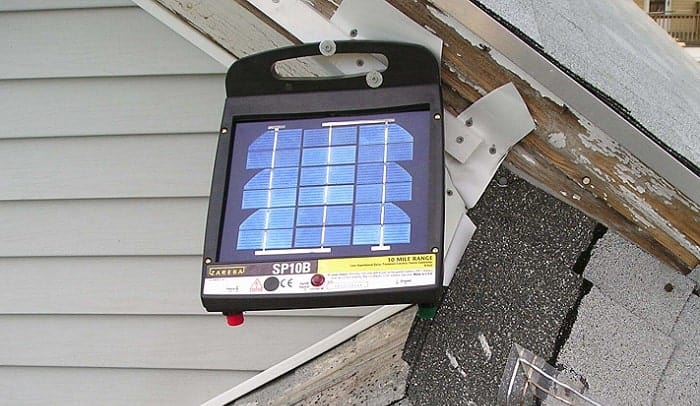 You need to consider several factors when looking to power your electric fence using solar energy. Some of the buying considerations you need to look through include the following:
While this appears to be a given, it is undeniably one of the most critical factors to consider. Indeed, it'll be useless to find the appropriate solar fence charger for the type of animal you have and your budget if the coverage is not enough for your requirements.
Solar-powered fence chargers are particularly engineered to work for a particular range. This is why you must be knowledgeable about the length of wires on your fence. Knowing this value is beneficial in choosing a charger with a range capacity needed for your fence.
Remember that picking a lower range capacity than what you need could mean that your fence charge would work insufficiently in the long run. Indeed, it connotes that you will obtain minimal performance across the fence.
The universal formula for figuring out the range capacity of your solar fence charger is: Range Rating = length of the Fence x the Number of Wires x 2.
It is essential to look into what kind of fence you will be charging with electricity. There are several options such as polywire, aluminum fence wire, polytape, and polyrope.
Note that if you are utilizing polytape/polywire/polyrope, the power output of your solar-powered electric fence charger is expected to decrease by as much as half.
Depending on what kind of animals you are looking to keep out or contain, you'll call for a very distinct level of voltage. Note that this isn't often about the size. Short-haired and large-sized animals can usually be contained with the same voltage necessary to contain medium-sized animals.
Some brands have guides that specify voltage requirements for different kinds of animals. It'll be wise for you to check out these resources before buying anything.
The more weed your fence has, the harder your charger will have to work. Shoppers should check out low-impedance charging devices, which can detect weeds and adjust their voltage accordingly.
It's important to check a product to see if it comes with a warranty. This type of policy ensures users can get the most out of their purchase and seek help from the manufacturer in case the solar charger malfunctions.
Since solar fence chargers are often used outdoors, they should be made with sturdy materials to ensure longevity. When searching for your charger, look for features like a water-resistant or waterproof design and lightning protection. The latter is especially important if you put your charger on a metal post.
Some options can be adjusted for optimal solar absorption. These are nice to have, especially if you live in cloudy areas. In addition, look for chargers that can keep working for up to three weeks without sunlight; this feature can be beneficial during winter.
Like it or not, price limits what you can and cannot buy. Come up with a budget for your solar fence charger, as it'll help you narrow down your choices.
New models of solar fence chargers are usually low impedance. These types are a bit more expensive than their older counterparts — solid state fence chargers.
What Size Solar Fence Charger Do I Need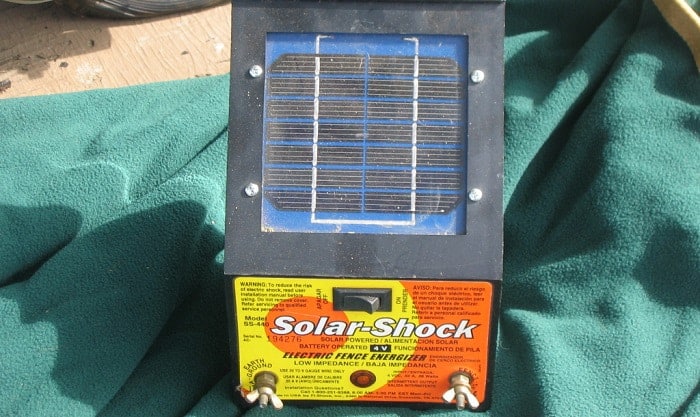 Generally speaking, chargers are designed with a "Miles" rating to assist buyers in quickly deciding which charger suits their fence's length. Keep in mind that you'll require a bigger charger if your fence line is longer.
For instance, if you have three miles of fence line with four lines of polywire, you have twelve miles of fencing material to charge up. So, to make things less complex, you can search for charger alternatives that are rated with a single-wire or multi-wire distance.
Is Solar or Electric Fence Charger Better
The answer to this question largely depends on your requirements. But, to somehow get an idea of which version is correct for you, it helps if you'll check out the upsides and downsides of each option.
Solar fence chargers are ideal for working off the grid as they don't require an electrical outlet to operate, and they can work for weeks, provided they have absorbed sufficient sunlight. They can be installed anywhere, and they make fencing more portable since you can move the entire fence from one spot to another.
Compared to electric fence chargers, solar-powered fence chargers can guarantee long-term cost savings because you won't have electric bills to pay for. However, solar fence chargers might not be an ideal option for large-scale farmers. It is also required to keep the solar panels clean because dust and dirt accumulation could block the sun and make it hard for the charger to operate efficiently.
On the other hand, electric fence chargers are highly recommended if you have a dependable source of 110-V electrical power. In general, such devices provide the most outstanding output of all chargers. These chargers are also utilized in permanent electric fence systems at present.
Do Solar Fence Chargers Work at Night
Yes. Solar-powered fence energizers are equipped with solar panels. They are particularly designed to charge your electric fence and power your battery during daylight hours so that your battery could work independently throughout the nighttime.
How Long Do Solar Fence Chargers Last
Solar-powered fence chargers commonly last two to three weeks with low or zero levels of sunlight, provided they're fully charged. If they absorb adequate sunlight throughout the week, these devices can completely operate on solar energy.
In addition, a high-quality solar fence charger can generally last three to four years with some minimal maintenance.
Conclusion
Ultimately, fence chargers are security essentials, particularly for farm owners with animals to safeguard and contain within their property. Using the best solar fence charger can save money in the long run. Yes, you'll need to spend more at first, but the best thing about investing in these devices is that you'll enjoy free energy for a long time.
As previously mentioned, conventional electric fence chargers can be costly to maintain. Meanwhile, solar fence chargers are practical and cost-efficient options. We hope that you can find a suitable solar fence charger using the buying guide we shared in this article.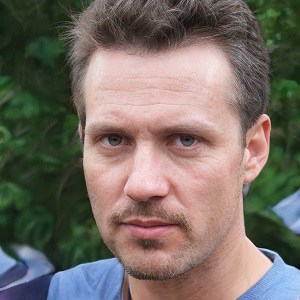 I am Kathleen Miller, staff writer and reviewer of the Avasolar team. Working with the team has been a pleasure for me so far, I hope to bring readers useful information by creating detailed and easy-to-follow contents.