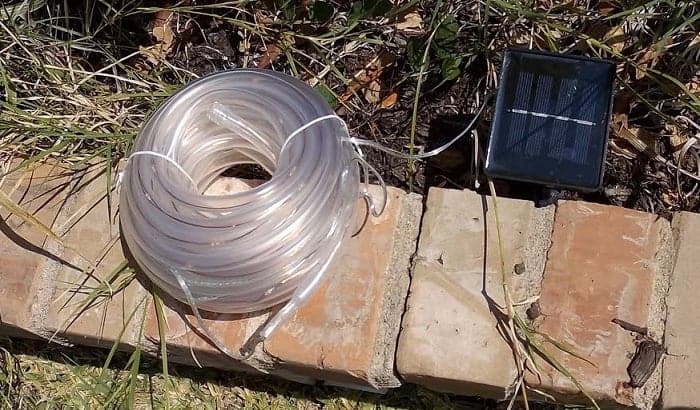 Did you know that one of the most cost-effective ways to adorn indoor and outdoor spaces is to use the best solar rope lights? Yes, you heard that right!
These solar devices can offer cozy and beautiful lighting that could accentuate your decors or illuminate the way to your outdoor areas. That's what makes them useful investments for homeowners.
Having rope solar lights installed is ideal and practical for holiday adornments and other various occasions. Aside from their safety of use, these solar rope fixtures are energy-saving.
In this post, we have collected some of the most top-picked solar rope lights available today, which may suit your needs.
Our purpose is to provide you with some buying guides and other related insight when weighing your options. Hopefully, this article can help you end up with a well-thought-of shopping decision.
Best Overall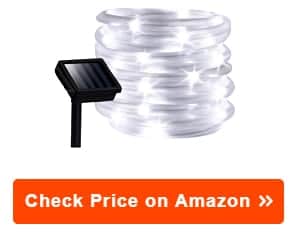 GIGALUMI Solar Rope Lights
✅ Safe for multiple purposes
✅ Foldable and flexible
✅ Can withstand all types of weather
Best Value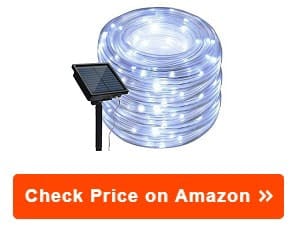 IMAGE Solar Rope Lights
✅ Come with detachable design
✅ Ensure safety voltage operation
✅ Equipped with a powerful battery
Editor's Pick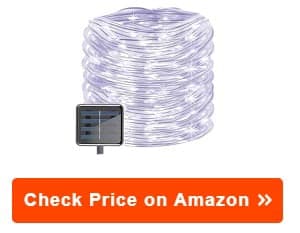 Aluvee Solar Rope String Light
✅ Durable solar panel with built-in battery
✅ Can be molded to different shapes
✅ Supported by after-sale warranty
Top 5 Solar Rope Light Reviews
1. GIGALUMI 6958 Outdoor Solar Rope Lights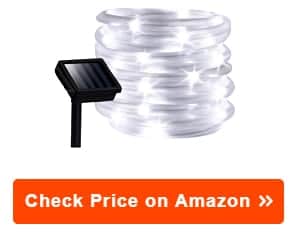 For those who'd like to purchase solar powered outdoor rope lights that are ideal for adornment, foldable, and flexible to use, these options are a must-try. Without any doubt, they are perfect for adding a cheerful glow to your outdoor areas- whether at home or in commercial places.
They can serve several different purposes. These solar devices are also designed with low working voltage, so they are risk-free investments you can buy. Even when there are kids around, you'll be worry-free. As for usefulness and safety, these are exceptional!
If you want to add lovely fairy lights that could satisfy your needs, these outdoor solar rope lights won't dismay you. The solar panel transforms the sun's energy into electrical energy kept in the rechargeable battery after you turn the unit on. The solar lights operate automatically.
In the same way, you'll prefer this string light as it is designed with eight lighting modes that come with an exceptional memory function. You only need to press the "mode" to select the specific lighting mode.
For sure, you'll enjoy the sparkling lights once the lights began to work. The memory chip would save a record of the last mode you utilized. You can make your garden sparkle at dusk.
These waterproof tube lights can endure any type of weather condition. Even if there is heavy snow, wind, and rain, you'll have no trouble dealing with it. Such solar lighting systems are broadly compatible with indoor and outdoor conditions. Decorating residential and commercial places are made easier and more impressive.
These string rope lights are a bit stiff until warmed for flexibility. Luckily, this isn't a significant problem to deal with since they automatically become flexible once warmed. Just don't feel disappointed right away, as this won't be a long-term concern.
Pros
Foldable, flexible and ideal adornment
Can withstand all types of weather
Add upbeat glow for outdoor spaces
Feature eight lighting modes with excellent memory function
Safe for multiple purposes
Cons
The ropes may be a little stiff until warmed
You won't have any regrets if you invest in these solar rope lights for garden. If you value usefulness and safety, these are second to none.
2. IMAGE 8 Modes Solar Rope Lights String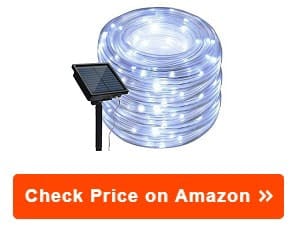 Residential and commercial property owners who plan to add reliable solar rope lighting at their outdoor spaces will find these products smart investments. This brand is famous for manufacturing high-quality string outdoor lights.
In particular, these models are equipped with a powerful 2400mAh battery that can deliver brighter illumination for an extended period. In short, you can depend on the battery's longevity to perform outstandingly for several years. Unlike other available options, you'll adore this model's detachable design that offers more convenience.
Furthermore, this solar-powered lighting system offers a safe voltage operation. That means that it can work outdoors without worrying about short circuit problems when exposed to various weather elements. Indeed, the solar panel is also built larger with higher density. This version is ideal for illuminating larger areas.
You can now add cozy and accent lighting to larger outdoor areas without ruining your budget. These rope lights are energy-saving and eco-friendly too. They also come with eight flashing modes that you can instantly alter based on what you prefer – according to your mood or style.
To do so, you only need to look for the switch-mode buttons at the back of the solar panel. These solar devices seem to be the solution to decorate according to your unique style.
Surely, if you wish to mold these outdoor solar rope lights to your preferred style, your creativity will certainly be unleashed. These versions are highly recommended for transforming an ordinary-looking outdoor area into a cozier and stunning spot where you can hold your special events, or simply to relax and unwind.
On the other hand, if you prefer shorter models, these options might not fit that requirement. Such items are 78.7 feet, which makes them long enough for broader outdoor areas.
Pros
Come with detachable design
Equipped with a powerful battery
Designed with eight flashing modes
Ensure safety voltage operation
Recommended for rugged outdoor applications
Cons
Not ideal for buyers searching for shorter LED rope solar lights
Lastly, these battery LED rope lights are fabulous holiday decorations and value for the money! They can operate without any interruption for a long time, and they are energy-saving.
3. Aluvee Solar Rope String Light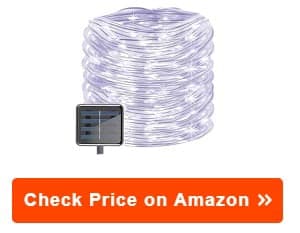 Do you enjoy sparkling and colorful lighting? If yes, then these solar power rope lights can deliver wonderful lighting effects in your outdoor spaces. You can now delight in festive lighting even when it is not the Christmas season. String light like this version can be set up in different indoor and outdoor applications.
Such units are comprised of a hundred lights that come in nine colors. The LEDs are connected and securely encased in a clear PVC tube that makes them appear like hanging on a chain. Hence, they can serve as a stunning adornment for different events, or when you simply want to transform an ordinary day into a special one.
If you're fond of swimming, these LED lights are safe to use and can be your reliable light source underwater since they are designed as waterproof. These items are also built to be as flexible as rubber. So, this attribute is ideal if you wish to set up some glowing accents to your outdoor decors.
They are easy to mold according to desired shapes. You can fold these string lights and design them in your balcony, staircase, garden, furniture, or wherever preferred. Additionally, these versions are made with power saving mode, so you'll have no worries about rising electricity bills.
These rope lights are constructed with two switch buttons: flashing and steady on mode, and the auto power on and off feature. The solar lights run automatically at night and turn off at sunrise. You'll also find the after-sale warranty a great perk in the event you encounter some issues with your purchase.
One minor gripe of this model is the need to charge it for two to three days before using it for the first time. But, after the first usage, you can follow the usual 6 to 8 hours charging time.
Pros
Performs outstandingly even underwater
Can be molded to different shapes
Designed with flash mode and steady on mode
Supported by after-sale warranty
Durable solar panel with built-in battery
Cons
Initially requires 2 to 3 days charging before first use
In summary, these solar string lights are top of the line for being cost-saving and a wide range of applications.
4. SOCO Solar Rope String Lights
It is practical to buy solar powered rope lights that can serve many different purposes. Fortunately, this item can help you achieve that requirement. Besides, they are easy to install and operate even for novices. You don't need to deal with convoluted wires and no need to spend on batteries.
Not to mention, if you are eco-conscious and don't wish to add more pollution and threats to the environment, these string lights are eco-friendly. Since their primary power source is sunlight, there is no need to use electricity. Thus, you can save money and reduce electricity bills at the same time.
Additionally, you can decide where to install them. Rest assured that you can convert the atmosphere into a more welcoming and cheerful one. These string solar-powered lights are designed with dual working modes. These include the flashing and steady on mode, while the other is the on and off power button.
Essentially, if your purpose is to create a more colorful and joyful ambient to a dull-looking spot, these solar lights will help you create a significant transformation. Best of all, they come with low working voltage, which means that these are safe to use if you have kids and pets at home.
As for the price, these products can be considered as one of the affordable options available. It is surprising to encounter solar lights that are of decent quality, energy-efficient yet aren't priced expensively. So, if you are short on budget, you may check them out.
The drawback that you may observe once you have these string lights installed is their capability to stay lit for only a few hours. This isn't expected as the product description states that these solar-powered devices can ensure an extended working time.
Pros
Serve different purposes
Easy to operate
Excellent energy-efficient alternative
Recharged by solar panel under sun exposure
No battery and wiring required
Cons
Appear to stay lit only for a few hours
In a nutshell, these LED string lights are the ideal solution for those who want to transform a run-of-the-mill place – whether at home or for commercial properties.
5. Lychee 042-016 Solar Rope Lights Outdoor
You couldn't be more satisfied with these white solar rope lights. If you want long-standing work time and bright illumination, these items are a practical choice for you.
Don't let their cheap price tag fool you- they last well at dusk and are multifunctional. It is surprising to encounter quality products that are not priced expensively.
These string lights are easy to set up. You can place them wherever you desire. They would make a gorgeous embellishment during special gatherings as well. Adding great scenery to your place is no longer impossible and can be done in a quick and economical way.
Such products are energy-efficient, helping you save on electricity bills, not requiring batteries, and being environmentally-friendly.
These solar-powered rope lights are built with a superiorly radiant solar panel. Moreover, each solar panel comes with a built-in Li-ion battery. They are made with a clear and durable PVC tube that can guarantee more excellent transmittance than yellow and hard tubes.
To ensure practicality and exceptional waterproofing function, these items are designed with an IP65 waterproof grade. So, they can withstand extreme heat, wind, rain, and snow. You can use them for both indoor and outdoor applications.
With eight lighting modes and a mode switch, it is easier to make these solar string lights remain steady or flashing depending on your preference. These are appropriate to use for outdoor occasion adornment or lighting at dusk.
Even so, it would have been better if these string lights are bigger. It was unexpected to see them smaller than the photo advertisement. But, when it comes to delivering their purpose, they are superb.
Pros
Easy to install
Water-resistant and practical to use
Eco-friendly and energy-efficient
Extended work time
Light up brightly than others
To wrap up, these solar-powered rope lights are engineered with quality in mind. They are reliable investments as they last for an extended time without expensive costs.
What to Look for When Buying Solar Rope Lights
With plenty of available options when it comes to solar rope lighting systems today, searching for the right model for your needs can be tricky.
That's why it is advisable to contemplate the following buying guides before making the final buying decision:
Is it for indoor or outdoor application?
Decide where you plan to use the solar lights. If you intend to use them for outdoor spaces, it is essential to buy models with a superb weatherproof and waterproof rating.
Moreover, inspect if the products are made with durable materials that could endure rugged outdoor use. Of course, you want to be worry-free even when there is heavy rain, wind, or snow.
In general, choose versions that could manage the current climate or frequent weather conditions in your area. Rope lights that contain a charger are a better option if the sun in your location is not adequate to recharge the batteries of the solar-powered lights efficiently.
Why are you buying a solar rope light? What's your purpose?
Do you plan to embellish an entire location? Or, do you want to set up actual lighting? If your purpose is simply to adorn your space, you may wish to consider options that are for decorative purposes.
However, if you need lighting that could deliver superb brightness, it is highly suggested to look for alternatives that are designed to provide excellent solar lighting at night.
How much are you willing to spend?
You can avoid purchasing a product that exceeds your budget if you're going to compare the prices of your options. If you have a set budget for a solar rope light, then you can easily narrow down your choices. You can focus on the options that are within your budget.
Bear in mind that one significant factor affecting the price is the number of LED lights in the rope. Take note that the higher the number could also imply a more expensive item.
Meanwhile, another factor that affects the price is the quality of the materials utilized in manufacturing the solar lights. Some models are sold at lower prices since their materials are not that sturdy or ideal for long-term usage.
By reading some customers' reviews, you can uncover if the product you plan to purchase is worth the money. Regardless, you don't need to worry since many affordable yet quality options are waiting for you.
Length of the Rope Lights
Solar-powered rope lights are available at distinct lengths. It would be helpful to choose a product based on how big the area you intend to set up the rope lights.
There are models designed with varying lengths that are commonly gauged in foot. Pick among these choices based on how big the area you intend to set up the string lighting solution.
One more time, you may want to check out a few buying factors such as the indoor or outdoor applications, the purpose of use, budget, and length of the rope lights.
By examining these essential shopping considerations when it comes to rope solar lighting systems, you can end up with a more confident final buying decision.
Other Important Factors to Consider
What is a solar rope light?
Please note that solar rope lights are not the typical type of deck or garden lights. These solar-powered devices do not light brightly as other outdoor types of lights.
The reason behind this is because they are intended explicitly for illuminating and embellishing your paths. They are designed with a solar panel and built-in battery and need to be charged at daytime to allow the solar lights to operate for at least 8 hours.
Be reminded that the work time of solar-powered rope lights will depend on the unit's charging efficiency and the weather condition. If you adore lovely stuff, these items are great investments for your home or workplace.
Besides, these solar fixtures are commonly used for different occasions too. They are energy-efficient, merely require low maintenance, and are easy to install.
How does it work?
This solar device is a kind of photovoltaic module that operates by accumulating the sun's energy; after that, it keeps the power in the unit's batteries.
To recap, the solar rope lights round up sufficient energy at daylight for it to operate more efficiently at dusk. These items are LED bulbs that are strung along a rope. They utilize the sun's energy to illuminate at night. In general, they are practical for adorning indoor and outdoor areas as they are not super bright.
They operate similarly to standard holiday lights; however, these solar-powered LED rope lights are made with more excellent features. They don't require electricity and have smart features such as automatic operation mode. So, they don't need frequent supervision.
Since they are built with exceptional waterproof features and are generally encased in PVC tube cover, they can endure rugged weather conditions. Hence, you are at peace, even if they are exposed to rain, snow, and wind.
Having them around can guarantee that your place will have a more economical and reliable rope lighting system that you could set up anywhere when necessary.
What are the different types of solar rope lights?
As for the various forms of rope solar lighting systems, it is essential to look into the kinds of solar rope lights before purchasing one. That is for you to compare the available alternatives wisely. There are not plenty of solar-powered LED light types since these solar devices are fundamentally identical.
Anyhow, the distinctness would probably depend on the model, brand, and the number of LED lights contained. For example, there are options with merely a hundred light bulbs, while some other versions have 200 light bulbs.
Hence, the decision is yours to make in terms of the number of light bulbs you prefer or require for your indoor or outdoor use. You can find a broad array of options that offer buyers the opportunity to select the number of LED light bulbs contained in the solar-powered rope lighting system.
Why do you need solar rope lights? (Benefits)
Sure thing, before getting the right solar rope lights, it is a must to think through the benefits of having these solar devices installed in your home or the workplace.
Let us find out some of the perks that we can enjoy if we set up the right rope solar lighting system:
Ideal for adorning indoor and outdoor areas
Regardless of your purpose of use, these solar lighting systems will work best for your needs. They are adept at transforming any place into a more stunning view without putting in much effort.
However, if you'd like to exhibit some of your creativity skills, you could form the lights according to your style. Most models are bendable, or you can shape them in desired forms.
100 and 200 Light Bulbs Options
You can select the length you prefer for your rope lighting system. The more light bulbs also denote a longer rope.
Remember that the number of LED lights would rely on how many of these lights you prefer.
Help keep insects and bugs away
These types of solar-operated lights do not brightly light up, so they won't, in any way, lure insects in your place.
You can freely embellish your indoor and outdoor spaces without the need to worry about annoying little creatures to invade your place.
Generally speaking, buying a solar rope light won't ruin your budget. You can find so many models that are priced reasonably, yet the quality is excellent.
Can offer an impressive and cozy atmosphere
It cannot be denied that one of the main reasons why a lot of shoppers invest in the top-notch solar rope lights is because these items are superb at adding aesthetic appeal to any location.
What is more, they are cozy enough to transform the atmosphere into a cozier spot where you intend to hold special events. These solar devices are built with distinct modes for buyers to set their preferred ambience or mood for a particular occasion.
Solar-operated rope lights make use of clean energy since they don't consume electricity to run. They purely accumulate energy from the sun before they save the stored power in the batteries and illuminate at nighttime.
Thus, if you don't want to add more pollution and hazard to the environment, these solar devices are great alternatives. The eco-friendly and energy-saving attributes make them worthwhile investments for the long term.
These rope solar-operated lights operate without much supervision. They automatically work on their own during the daytime and at night. So, these units are practical options for busy people. Some versions are even built with unique features to make it more convenient for users.
Rope lights are designed with plenty of colors- whether you prefer simple- colored models or multicolored ones, there is a perfect match for your unique style.
Hence, depending on the aesthetics you are searching for, it becomes easier to mix and match the solar fixtures that would precisely fit your requirements.
Frequently Asked Questions
Who makes the top-quality solar rope lights?
We are always advised that we've got to trust brands that have been trusted by countless consumers globally, not to end up purchasing the wrong product. But, if you are not insightful about the most credible brands that manufacture high-quality solar rope lights, it is highly suggested to do some research.
Needless to say, if the product is from a reputable brand, you are guaranteed to be in good hands. It is true that trusted brands commonly sell products that are priced slightly higher than their competitors. But if you are after the quality, performance, and long-lasting service, there is no reason for you to have second thoughts about spending a little upfront.
Here are a few of the solar rope light makers that won't disappoint you:
Ecohut
Homestarry
IMAGE
GIGALUMI
Aluvee
FUNIAO
Can you cut solar rope lights?
Unfortunately, not all rope solar-powered lights are capable of being cut. Some models are designed as fixed, which means that they must not be cut.
However, it is critical to carefully read the manufacturer's instructions to make certain that the rope lights are okay to be cut or not. This is necessary to prevent any sort of damages from occurring.
Meanwhile, if the rope solar lights can be cut, see to it to follow the instructions on cutting these solar devices.
Do LED rope lights get hot?
The good news is that there is no reason for you to worry if LED rope lights are prone to overheating. These solar devices are safe to use because, unlike incandescent rope light, they utilize a totally distinct silicon-based technology that does not generate any heat while in use.
How to set up?
Rope solar-powered lights are no sweat to set up. You can install them just like when installing Christmas lights or other types of electric-operated fixtures.
All you need to do is to form or hang them to any design you prefer, and that's it. You don't even need to ask any assistance from an electrician. The assembly process is a DIY project.
But, you need to ensure that the solar panel is directly exposed to sunlight to allow more efficient charging.
See to it that you do not situate the solar panels in a spot where it is shady or under a tree. Just follow the user manual to accomplish the job without any problem.
Where can I buy it?
Are you planning to buy the best solar rope lights? If yes, don't worry; these solar devices are often available in various home supplies stores. You can also look for them at Walmart, Home Depot, and other local stores.
However, if you find shopping online more convenient, the best and trusted site to refer to is Amazon. In this online shopping site, you can find various brands and the most affordable deals. Just keep browsing and read some customer reviews to learn more about the options.
At Amazon, you can have the chance to check out limitless alternatives, unlike when merely shopping in local stores. More importantly, you can even avail of their special discounts, promos, and other freebies.
How long does it take for solar-operated rope lights to charge? How long will the solar lights last?
Some models may require between 6 to 8 hours of charging, while other versions may take longer. Be reminded that the duration of charging will rely on the specific instructions of the manufacturer. Hence, it is necessary to carefully examine this so you can figure out.
As for the solar lighting system's longevity, it is difficult to indicate the length of time the solar devices will last. Generally speaking, this could rely on the quality of the materials utilized and the level of usage.
Can you replace solar batteries?
Definitely, yes! It is not complicated to replace solar batteries. However, you must search for the appropriate replacement battery to ensure correct operation.
When replacing old solar batteries, all you have to do is track down the old battery and remove it. Afterwards, replace it with the newly bought battery.
Conclusion
Ultimately, this post intends to help you choose the best solar rope lights that could deliver premium quality lighting solutions for your requirements.
The products we reviewed here are mostly ideal for adorning indoor and outdoor spaces. They are also practical in providing sufficient illumination and ensuring safety at home and in the workplace.
As you can see, each product comes with unique features and functions. The reviews, FAQs, and shopping guides we have gathered aim to provide you with the necessary information.
So, we hope that you will be able to intelligently weigh your options to come up with a very confident final buying decision.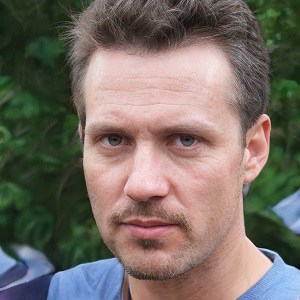 I am Kathleen Miller, staff writer and reviewer of the Avasolar team. Working with the team has been a pleasure for me so far, I hope to bring readers useful information by creating detailed and easy-to-follow contents.