Outdoor spotlights can do wonders for landscaping and the exterior of your house.
They provide security and peace of mind by helping you see everything when you look outside. They make it safer to walk around at night too. You can even elevate the visual aesthetic of an open area or backyard just with a light fixture.
But not all spotlights are created equal. Some are better for the environment and can even save you lots of money, like solar-powered ones. If you want to make a responsible purchase, look for the best outdoor solar spotlights you can find.
Whether it's solar spotlights for yard or pool placement or just a couple of solar panels to add a touch of beauty and style to your home's exterior, lights powered by solar energy will make a huge difference. Check out some of the best and brightest solar spot lights on this list.
Best Overall
InnoGear Outdoor Solar Lights
✅ The solar panel is rotatable to 180°
✅ Resistant to extreme weather conditions
✅ Lighting angle can be adjusted up to 90°
Honorable Mention
URPOWER Outdoor Solar Lights
✅ The lights can move to 90° angles
✅ Dusk-to-dawn sensor
✅ Offers 200 lumens
Most Feature Rich
Linkind Solar Spotlights
✅ Bright at 650 lumens
✅ ABS material
✅ Waterproof IP67
Top 13 Outdoor Solar Spotlight Reviews
1. InnoGear Outdoor Solar Lights
If you want bang for your buck, check out these solar lights by InnoGear. You get four lights with solar panels, so it provides great value for money.
You can adjust these lights up to a 90° angle, making them good solar spotlights for trees and other plants you want to focus on in your yard. You can also rotate the solar panel to 180°, allowing it to absorb energy wherever the sunlight is directed.
The solar panels are made of monocrystalline silicon, so they're of top-notch quality. They have a high energy conversion rate, charging fully in just eight hours.
These spotlights give off a focused ray of luminescence, making them great yard lights to emphasize your favorite item, whether it's a shrub or a sculpture. You can choose between two lighting modes—low and high brightness, according to what you deem best for your space.
Worried about extreme weather? No need to. These lights are resistant to harsh weather conditions, withstanding both super hot and cold climates.
However, know that these solar lights are limited in movement. Both the spotlights and the panels can only swivel vertically and not on a horizontal plane.
Pros
Lighting angle can be adjusted up to 90°
The solar panel is rotatable to 180°
Its monocrystalline silicon panels have a high energy conservation rate
Can give off a focused ray of light to showcase key items
You can choose between low and high brightness modes
Resistant to extreme weather conditions
Cons
The spotlights and panels can only swivel vertically, not horizontally
If you have a fancy flag or painting you want to showcase in your yard or porch, you can check out this solar LED spot light pack. It's a great way to highlight your favorite items in your outdoor space. Plus, its fast energy conversion rate can't hurt!
2. URPOWER Outdoor Solar Lights
These URPOWER solar lights emanate up to 200 lumens. It's not as bright as other high-powered lights out there, but the moderate light brings a sense of comfort since it's never blinding.
They come in two lighting modes—low lighting and high-brightness lighting. Just choose whichever better showcases the beauty of your garden or pathway.
Looking for a way to minimize your electricity bill? These lights have got your back. The solar panels charge a lot faster than the usual because they're large and wide, which means they absorb more energy.
The panels can also be adjusted to up to 180°, allowing for max energy absorption at any direction. Meanwhile, the lights can move to 90° angles.
There's a convenient dusk-to-dawn feature that allows automatic lighting at night, so you don't have to switch on your spotlights manually.
If you're in the market for a warmer light that will complement your home, you may not find it in this URPOWER set. The lights are a stark white, so only purchase these if you're interested in neutral lighting.
Pros
Offers 200 lumens for a moderate light that isn't too blinding
Comes in low and high brightness settings
The solar panels are quite large and wide, allowing for faster charging
The panels can be adjusted to 180°
The lights can move to 90° angles
Has a dusk-to-dawn sensor that allows automatic lighting
Cons
The light is a stark white and isn't as flattering as a warm light
For simple and fuss-free lighting that works like a charm, these URPOWER lights are a no-brainer. They offer comfortable brightness while allowing maximum energy-saving because of huge, adjustable solar panels.
3. Linkind 16-LED Solar Landscape Spotlights
If you're looking for a super bright set of spotlights that will illuminate your yard or home's exterior to your heart's content, you would not be disappointed by these lights from Linkind.
These lights are made up of 16 LED lamp beads, which is more than you get from the average spotlight. They emit 650 lumens, making the light extremely bright. You can select the low light mode that lasts 12 hours or the high light mode that lasts six.
You can easily adjust where your spotlight is facing because you can move it up to 90° vertically and 180° horizontally. That means you can make it face essentially anywhere you please.
These lights are designed with durable and high-quality IP67 ABS material, which is waterproof and can withstand extreme weather conditions. The material isn't prone to discoloration, so your lights will look brand new for a long time.
To work, the spotlights use a rechargeable battery, which gives you up to 30,000 hours of use.
There's only one issue with these lights—they automatically reset to a low brightness state at the start of each day. That means if you want to continuously have super bright lights day-to-day, you'll need to manually set up the lighting mode each night.
Pros
Made up of 16 LED lamp beads to be bright at 650 lumens
Has low and high light modes to choose between
You can adjust its positioning by up to 90° vertically and 180° horizontally
Waterproof IP67 ABS material isn't prone to discoloration
Uses a rechargeable battery, allowing for 30,000 hours of use
Cons
The brightness resets to low automatically every day
These Linkind spotlights have got everything you need in top-class spotlights. They're durable; their position can be customized in different angles, and they shine extremely bright!
4. FALOVE Outdoor Solar Spotlight
Many spotlights look bulky and take up too much space, especially if they're square or rectangular. This FALOVE spotlight has a sleek and minimalist design to keep your yard looking exquisite as it lights it up.
It has adjustable angles for the light itself and the solar panel hanging above it. The lithium ion battery soaks up energy from the sun, only taking 5-6 hours during the day to charge fully. The battery is rechargeable, too, so you can use it every day.
The material used to fashion this light is heat proof and waterproof. It's made to withstand tricky and extreme weather conditions, be it the heat of summer or the dead of winter.
It comes in two working modes to choose from: low and high brightness, depending on your lighting needs.
But if you're looking for a light to keep your outdoor space illuminated from dusk till dawn, you might not enjoy this light. Even when fully charged, it may not last an entire night. Try sticking with the lowest of the lighting modes to extend the battery life every night.
Pros
Sleek and simple design that doesn't look bulky like other spotlights
Adjustable angles for both the light and the solar panel
Has a rechargeable battery that only takes 5-6 hours to fully charge
Heat Proof and waterproof so that you can use it in any season or weather
You can choose between two lighting modes—low and high brightness
Cons
A full charge can sometimes not last one whole night
If you want a sleek and chic light that doesn't look bulky and overly space-consuming in your yard, check out this one by FALOVE. It's aesthetically pleasing, adjustable in angle, and withstands tough conditions.
5. Claoner 32-LED Wireless Landscape Spotlights
Looking for spotlights that are super bright but won't compromise on quality? These Claoner lights might be just what you're looking for. They emit 1,200 lumens, allowing you to enjoy the brightest lights possible.
The solar panels are made with polycrystalline silicon, which is durable and heavy-duty. The panels absorb energy from the sun, converting 20% of sunlight into stored energy. It's a great way to save your electricity bill.
You can adjust your light and panel positions at a wide degree—up to 180° for the spotlight and 90° for the panel, perfect for customization.
Speaking of customization, this spotlight allows for low, medium, and high light modes. It's fantastic for getting that exact brightness you want.
The lights are designed with waterproof-grade and heat proof material, so you can count on them to be resilient against overly hot and cold climates.
However, if you're a newbie at assembling and installing solar lights, you may not enjoy these. They require at least some experience to install since they're not easy to put together, what with the multiple screws and knobs.
Pros
Emits up to 1,200 lumens for the brightest light possible
Polycrystalline silicon solar panels absorb sunlight energy at a high rate
180° adjustment range for the light and 90° for the solar panel
Comes in three different brightness levels—low, medium, and high
Designed with waterproof-grade and heat proof material
Cons
Not as easy to install as other spotlights
The fact that these Claoner lights emit 1,200 lumens is a testament to how bright they can shine upon your yard and home at night. Check them out if you want a high-quality and illuminating spotlight.
6. Nekteck 10-LED Outdoor Solar Landscape Lights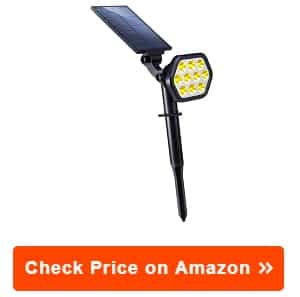 These landscape solar lights by Nekteck boast a total of 10 LEDs and a sleek solar panel hanging from above. The light can emanate up to 260 lumens, allowing for fairly bright light.
The spotlights themselves can be adjusted to 180°, while the solar panels up top can go up to 90° in adjustments, allowing for more energy absorption and conservation.
Save energy automatically when the sun's up with these spotlights' automatic day-to-night motion sensor. They bask in solar energy during the day while switching on without prompt at night.
The lights are made with IP66-rated plastic. This type of material is waterproof, allowing your lights to survive even the toughest and coldest weather conditions.
Installing these lights is easy and hassle-free, and you can do it yourself in a matter of minutes. They can be installed on the ground of your yard or even mounted on the wall outside your house.
But to be transparent, you should know that these lights' battery life may not go on as long as that of others. I've noticed that these spotlights sometimes go off before sunrise.
Pros
Boasts a total of 10 LEDs that emanate 260 lumens in output
The lights can be adjusted to 180°, while the solar panel can go up to 90°
Sensor automatically saves energy during the day and switches on at night
Waterproof technology allows it to endure tough weather conditions
Hassle-free installation either on the ground or on your wall
Cons
Battery life is not so long, so your lights may go off before sunrise
If you're not a fan of strong, super-bright lights but still want some spotlights of durable, excellent quality, try out these Nekteck solar lights.
7. APONUO RGB Solar Spotlights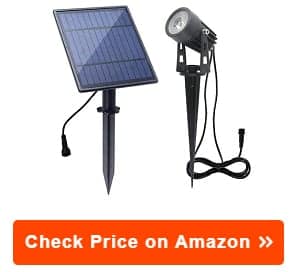 Solar lights aren't merely for lighting up your home—they're for adding beauty too. Try out these RGB spotlights by APONUO to add some captivating color to your home.
These lights cast a gorgeous, colorful light onto your outdoor space, creating a pretty lively atmosphere and mood. You can choose between two modes of light: one with a fixed color and another where the colors change automatically.
When fully charged under sunlight, your lights can work for 8-12 hours at night. It's a brilliant and creative way to showcase your home's exterior, trees, sculptures, and more all night long. What better way to show off the beauty of your garden?
The lights are waterproof, so you don't have to worry about them breaking or shattering when it rains hard. This feature helps extend their lifespan, so you can get more out of your purchase.
However, be ready to deal with lots of long wires to connect your solar lights to the panel. You may want to tie up the wires if you have children running around, so they don't trip on them.
Pros
Casts a colorful light on your outdoor space for a livelier atmosphere
Can choose between two modes— fixed color and changing colors
Works for 8-12 hours each night when fully charged
A creative way to showcase trees and sculptures in the garden
Waterproof, so your lights won't break in bad weather
Cons
You must deal with lots of wires to connect the solar lights to the panel
These APONUO lights are a fabulous touch to a dull, dreary garden. Use these colorful lights to make your outdoor nook more fashionable and vibrant at night.
8. ROSHWEY Solar Outdoor Spotlights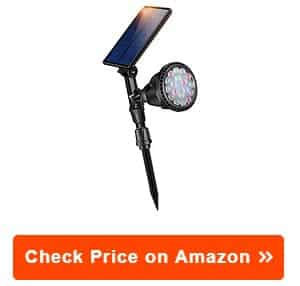 Thinking of decorating and livening up your yard with something unique, like colorful solar lights? These ROSHWEY ones allow you to light up your space with seven different colors to catch anyone's eye.
Each spotlight is made up of 18 LED lighting beads. This high-powered light allows for high brightness levels and the utmost clarity even if the colors change.
Function wise, the lights work for up to 10 hours when used on a fully charged battery. That means you can count on them to stay up all night.
You can also rotate the lights up to 120°, allowing great customization of where you want your lights to point.
They come with a long pole, making it super easy to mount them on the ground. The poles are tall, so you don't have to worry about them only lighting up the grass!
My only issue with these lights is that it takes a lot to charge these models fully. You'll need to expose the lights to super bright sunlight during the day. They also need a long time to charge, about 12 hours for a full battery.
Pros
Can illuminate your yard or outdoor space in seven different colors
Each spotlight is made with 18 LED lighting beads for high brightness
Works for up to 10 hours when working on a fully-charged battery
The lights can rotate up to 120° horizontally for customization
Comes with a long pole that makes it easier to mount on the ground
The poles are long enough to not be covered by grass
Cons
Requires bright sunlight and a long amount of time to charge fully
Add some color to your life by sprucing up your yard with these decorative lights from ROSHWEY. Make your home the talk of the town with bright, colorful lights that are easy to install.
9. Biling Outdoor Solar Landscape Lights
These spotlights by Biling are made with 12 LED bulbs. The lighting beads efficiently light up your yard in a moderately bright manner that isn't too stark and blinding.
They have a built-in motion sensor that signals the lights to automatically switch on when the environment is getting too dark.
If you're worried about harsh weather breaking your lights, don't fret! These spotlights are made with ABS material with IP67 technology to make them waterproof. It's perfect for rainy or frosty weather.
You can choose between two brightness modes. The low mode can last 10-15 hours, while the high brightness goes on for 8-10 hours. Either way, they'll last you all night long.
These lights are versatile because you can install them in two different ways. They're easy to set up on the ground in firm soil and onto your house's wall.
If you're on the lookout for the solar spot lights, you might want to consider these models by Biling as a top candidate. It offers bright luminosity, a sturdy and high-quality make, and customizable brightness levels.
Pros
Made with 12 LED bulbs that efficiently light up your yard brightly
Has a built-in sensor to make it automatically switch on when it's dark
Created with IP67 technology that keeps it sturdy even in bad weather
It has two lighting modes—low for 10-15 hours and high for 8-10 hours
Versatile because you can install it in soil or on the wall
Cons
Charging doesn't work well in balconies or shaded areas
If you're on the lookout for the top-tier solar spot lights, you might want to consider these models by Biling as a top candidate. It offers bright luminosity, a sturdy and high-quality make, and customizable brightness levels.
10. JSOT Color-Changing Solar Spotlights
These JSOT lights offer vivid color and gorgeous brightness without compromising quality. Each light is crafted with 18 LED beads. Together, these bulbs emit an impressive 600 lumens of luminescence.
They display seven colors in total, allowing you to creatively show off your gardens in an eye-catching manner.
You can even rotate the lights to 360°, according to where you want each color to point at. This feature offers great flexibility as you decorate your outdoor space.
Don't worry about manually charging these lights. They automatically charge under the sun in the daytime. At night, they light up automatically and last up to 10 hours, brightening up your gorgeous home exterior, lawn, garden, or pathway.
The lights are waterproof, thanks to IP65 technology that allows them to be strong and sturdy against the elements, even when they have to deal with extreme weather.
If you're buying this for the white light color, be warned. The light doesn't come off as much "white" as it does blue-ish in tone. I suggest that you only purchase these lights if you're in it for the colorfulness.
Pros
Crafted with 18 LED bulbs, emitting 600 lumens of brightness
Displays seven different colors of light to help show off your gardens
The lights are adjustable to 360°, allowing for flexibility and customization
Waterproof thanks to IP65 technology, making it sturdy against the elements
Automatically charges during the day and lights up for 10 hours at night
Cons
The "white" light option comes off as blue instead
With these JSOT Led waterproof solar spotlights, you get color and brightness all in one. They may be the top-rated outdoor solar lights if you're looking for a colorful variety for your trees and garden.
11. Brightown Solar Spotlights
If you're looking for lights that won't strain the eyes, these 30-lumen solar spotlights by Brightown may do just the trick. The light that emanates from these spotlights is bright, but the color is a natural white that's safe and friendly to the eye.
To make sure your lights' panels absorb as much sunlight as possible, manually position them in whatever direction the sun's at. These panels can move to 180°.
The rechargeable battery's life is quite long. The brand even claims that you can use these lights up to 1,000 times.
They're very easy to mount on the ground, so if you're a newbie at lighting, don't fret. You won't need to call up professionals to set these up for you. You can have it all done in minutes.
These lights are perfect for sprucing up your pool area and lawn to make them look sleek and well-lit, especially if you're having guests over.
One weakness of these spotlights is their delivery. Some customers have received defective lights, which they returned and got replacement for.
Pros
The lights are a bright natural white that's friendly to the eye
You can manually position the panels to 180° to absorb sunlight better
The rechargeable battery life is enough to be used 1,000 times
Easy to mount into the ground, so you don't have to call up a professional
Perfect for making your pool and lawn area look more well-lit
Cons
Some customers received defective lights
Use these Brightown lights on the ground in your patio, pool, or lawn area. They're bright enough to keep your house well-lit but not strong enough to hurt the eyes.
12. APONUO 2W LED Outdoor Solar Spotlights
Each of these APONUO spotlights puts out 150 lumens of brightness, which is just enough to showcase your favorite garden areas without it being too stark and straining to your eyes.
The light model is warm, which is universally flattering and aesthetically pleasing. It's a fantastic way to make your house look more chic, modern, and homey.
There's a 33ft cable that connects your lights to the solar panel. That means you can change up wherever you want to place your lights, since it doesn't matter where they are as long as your solar panel is exposed to direct sunlight.
And because the cable is so long, you can move your lights around comfortably without tugging on any wiring on the ground.
If you live in an area prone to storms and snow, don't worry about your lights. They're made with IP65 technology, so they're as waterproof as they come. That means they won't break under the pressure of extreme cold.
This light's package comes with screws for you to mount it on your walls without buying extra tools. It's a small thing, but a very convenient addition.
Just make sure your wires aren't all over the place so that no one trips, especially if you live with children or the elderly.
Pros
Each light puts out 150 lumens, bright enough to showcase your garden
Has a warm light, which is flattering and aesthetically pleasing
The cable is 33ft long, so you can move your lights around comfortably
The lights are IP65 waterproof, so they can withstand harsh weather
Includes screws so you can mount it on your wall without buying tools
Cons
It's easy to trip over the wires, since there will be many of them
A warm light is perfect for any setting, so it only makes sense that you try out these APONUO
solar lights for your driveway
or garden area. They're bright, waterproof, and easy to install too!
13. YINGHAO Outdoor Solar Lights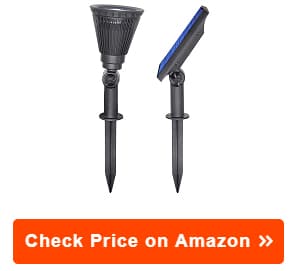 One of these YINGHAO solar spotlights can illuminate about 15-20 meters of outdoor space, so it's a terrific option if you want to light up big areas or objects at a distance.
The lights are designed with a darkness sensor that adapts to the brightness of your environment. If it senses that the atmosphere is still bright in the daytime, it won't turn on.
When fully charged during the day, your lights can last up to eight hours throughout the night without a flicker. It's a good amount of time to ensure your outdoor area is lit up for most of the night.
There's a cord that attaches your lights to the solar panel. This cord is three meters long, so you can keep your light at a comfortable distance from the panel.
It is super easy to install and requires no additional tools to set up. All you have to do is mount your lights on the ground or a wall. You'll be done in minutes.
However, know that the battery life of these lights isn't as long as others. You may need to replace the batteries in under a year.
Pros
One spotlight illuminates about 15-20 meters of outdoor space
Your lights won't turn on when it's bright outside
Lasts up to eight hours per night as long as your battery is fully charged
The cord that attaches the light to the panel is three meters long
Easy installation doesn't require additional tools
Cons
You'll need to replace the batteries every year
If you're looking for one of the 
best outdoor solar spotlights
to shine on your favorite spots in your yard or garden, check out this YINGHAO solar light. You can use it to light up big areas or as a beam for sculptures and flags.
What to Look for When Buying Outdoor Solar Spotlights
Has a high brightness level that can illuminate your yard and other outdoor spaces
The main point of installing solar powered spotlights outdoors is to illuminate areas outside your home, whether it's to put a beautiful garden center-stage or to add security to your lawn. So, when purchasing your solar panels and lights, ensure that they have a high brightness level.
If you settle for a product with a weak number of lumens, you risk not being able to light up your outdoor space. Spotlights with lower brightness can only create a dim effect without the luminosity you had been hoping for.
Features adjustable brightness settings to allow you control of the luminosity
Sometimes, lights can feel too bright or too dim. Look for high lumen solar spot lights that have brightness lighting modes you can adjust according to your preference. That way, you can enjoy super bright lights but enjoy a tamer glare when it gets too much.
Automatically detect how bright the environment is and adapts by lighting up
Solar light products charge during the day to emanate light when it's dark. But sometimes, it's hard to keep track of switching your lights on and off.
To solve this problem, make sure that the spotlights you purchase can automatically detect whether it's dark out so that they can switch on without your help.
Quick and easy to install without the help of a professional
The installation process should be simple and shouldn't take more than an hour to complete. Look for high-quality lights that are also easy to mount so that you don't have to be bothered with calling up an electrician to get it sorted for you.
How Do I Install the Solar Spotlights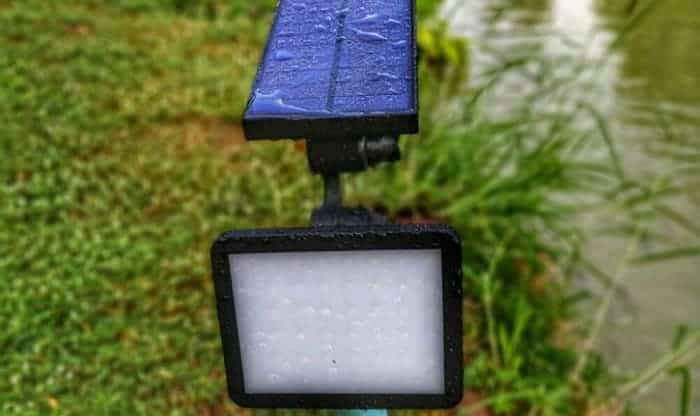 You can install your solar garden spot light in many ways, depending on your need for them. If you want to light up your house, you can mount them on the wall. To light up your garden, you can install them with stakes on the lower ground or attach longer legs for higher lighting.
These lights are usually very easy to install and hardly ever need the help of a professional to get them ready to use. Just follow the instructions on the manual your spotlights come with, and you'll be golden.
To make things a bit easier, make sure your lights are charged before you install them. That way, you can test out how the light works and if they emanate the brightness in the spot you had envisioned. Adjustments can come later on.
How Bright is a 100 Lumens
Solar powered spot lights with 100 lumens is equal to a light with 20 watts, which is enough to light up a small to medium-sized bedroom. While they're not bright enough to light up a huge space (like a full yard), 100 lumen solar spot lights can work perfectly fine for decent-sized hallways and porches.
Can I Leave My Solar Spotlights Out in the Rain or Snow
If your spot lights are waterproof, then there's a high chance you can leave them out in heavy rains. However, you should think about uninstalling lower ground lights in the soil and taking them inside when there are heavy floods. You can reinstall them later.
You should also pay attention to what kind of glass your lights are crafted with. Some types of glass can crack and break in extremely cold temperatures, like during thunderstorms. Make sure you get your lights out of the way if there are any impending snow days.
Conclusion
And there you have it—the top-rated solar landscape spotlights on our radar. Using solar energy to add some light in your outdoor areas at home or your place of business is terrific not only for your energy bill and the aesthetic design of your area, but also the environment.
So don't wait until the next time you redecorate—purchase the best outdoor solar spotlights for your yard, field, pool, and any landscaping project today. It's the finishing touch you've been looking for to light the place up. The best part is that you're lowering your carbon footprint.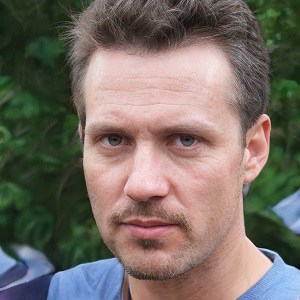 I am Kathleen Miller, staff writer and reviewer of the Avasolar team. Working with the team has been a pleasure for me so far, I hope to bring readers useful information by creating detailed and easy-to-follow contents.