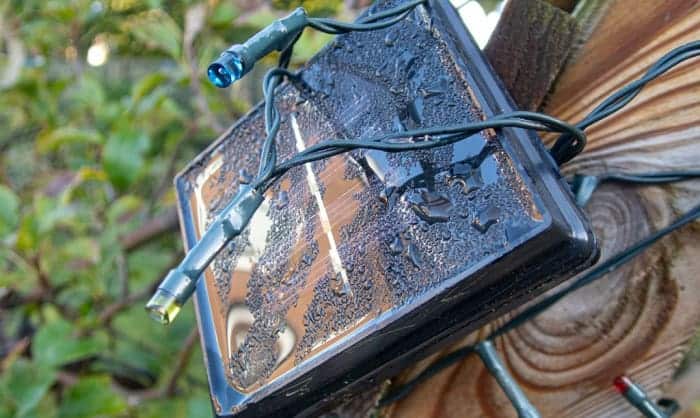 Most homeowners and shoppers agree that the best solar string lights are versatile, functional, and eco-friendly. Besides lighting up and decorating our surroundings, they are practical because they help reduce our electric expenses.
Solar powered string lights can be installed anywhere needed and preferred. On top of that, such solar lighting devices are commonly less expensive and can be a dependable energy source.
We have compiled diverse solar string light options below. Consider checking out the critical features, advantages, and disadvantages of each product reviewed so that you can pick the suitable model for your application.
Best Overall
Brightech BJ-4TZ9-8ISY
✅ 3-year warranty offer
✅ Weatherproof
✅ Long-lasting LED bulbs
Premium Choice
Brightown Solar String Lights
✅ IP65 waterproof grade
✅ 8 multifunctional lighting modes
✅ 800mAh rechargeable battery
Editor's Pick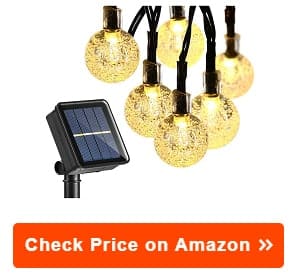 Joomer Solar String Lights
✅ Comes with a 6.5-feet lead cable
✅ Built with 8 different modes
✅ Designed with a light sensor
Top 14 Solar String Light Reviews
1. Brightech BJ-4TZ9-8ISY Outdoor String Lights
Brightech solar string lights provide warm and cozy illumination all year round. So, if you want to save more on your energy costs, these solar fixtures can help you do that. Plus, you'll be impressed by the classy and vintage style of these solar string lights. They can transform the surrounding into a nice-to-behold one.
Lighting systems manufactured by Brightech are built with Weather Tite technology to withstand snow, rain, and heat up to 122-degrees Fahrenheit. All the solar light bulbs are crafted with shatterproof plastic that could endure up to 50 MPH of wind speed. Such features make them ideal to purchase for your outdoor applications.
The Brightech Ambience Pro light bulbs switch on automatically during sunset, and they are not complicated to set up wherever preferred and needed. See to it that the switch button at the rear section of the solar panel is turned on while charging. This is required for the photocell to light up the solar bulb automatically.
It's good to note that each solar bulb is designed with a long-lasting lifespan. This product is a risk-free investment since it is supported by 3 years of warranty. On the downside, the kit only includes a total of 12 solar-powered light bulbs. Hence, if you intend to install them in a larger area, they might not be enough to cover the entire space.
Pros
Equipped with long-lasting LED bulbs
Switches on automatically at sunset
Uncomplicated to set up
Built with shatterproof and weatherproof features
Features a classy and vintage style for a cozy and stunning ambiance
Backed up by a 3-year warranty offer
Cons
Only comes with 12 solar light bulbs
Overall, if you currently require sufficient lighting for your general space, home, or workplace, you won't find a more stunning, brighter, and reliable alternative than Brightech Ambience Pro solar string lights.
2. Brightown Outdoor Solar String Lights
These warm white solar patio string lights are wise purchases because they are engineered with practical functions. They feature an integrated 800mAh rechargeable battery and a 180-degree monocrystalline silicon solar panel that's rotatable. You can recharge this solar lighting unit without wires and sockets. And, they illuminate automatically for eight to ten hours at dusk.
Recommended to be used for various applications, these crystal globe LED lights are smooth sailing to set up, eco-friendly, and help users reduce their electricity bill. These are solid and safe to utilize for various outdoor uses since they are designed with an IP65 waterproof grade. These models are surprisingly sold at a very affordable price.
Best of all, this solar LED string bulb set features 8 multifunctional lighting modes. The radiant and lovely lighting modes include chasing flash, steady on, waves, slow fade, sequential, twinkle flash, combination, and gradual. As you can see, such lighting modes can satisfy all your requirements.
Such solar fairy lights can create a warm and soothing environment wherever installed. Everyone will certainly enjoy a fun-filled night shared with loved ones or friends. For all that, these solar string lights do not emit superbly bright light. So, if your purpose is to secure your outdoor location, these solar bulbs might not work efficiently for that.
Pros
Manufactured with an IP65 waterproof grade
Energy-saving, environmentally-friendly, and easy to install
Recommended for a wide range of applications
Features 8 multifunctional lighting modes and automatic illumination when dark
A 800mAh rechargeable battery and a rotatable monocrystalline solar panel
No sockets or wires needed for recharging
Cons
Not designed to heighten the security in outdoor areas
By and large, these solar LED string lights are king. They are certified energy-efficient, highly multifunctional, and ideal for accentuating various outdoor spots.
3. Joomer Solar String Lights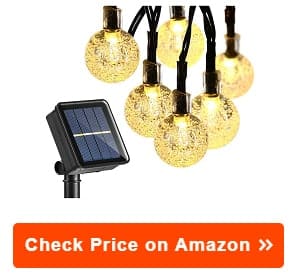 For homeowners who prefer solar powered outdoor string lights that come with upgraded solar panels, this version is an ideal choice. It is also furnished with a well-improved integrated 1000mAh battery. What's more, the eight different modes are meant to meet the diverse requirements of users.
The upgraded features make these patio lights capable of ensuring more extended work time than other regular solar-powered globe lights. These solar string lights work automatically since they're built with a light sensor. You don't need to replace the battery, and there'll be no more steep electric bills to worry about.
Moreover, a 6.5-feet lead cable is also included in the kit. But, what makes this item a better option is its second-to-none memory function and waterproof features. Such solar-powered string lights can fight off various weather conditions. The integrated memory chip does a wonderful job of restoring the last mode setting, so it is unnecessary to reset the modes every day.
It is essential to charge these solar globe lights for eight hours so that they could work for approximately 13 hours. The decorative solar lights work like a charm in creating a lovely atmosphere and beautiful adornment wherever installed.
Nonetheless, if you prefer lighting systems that can light up extremely brightly, you might not achieve that goal if you install these solar string lights. They illuminate decently, but not too brightly.
Pros
Designed with memory function and waterproof features
Built with eight different modes
Designed with a light sensor, upgraded built-in battery and solar panels
Comes with a 6.5-feet lead cable
No need to replace batteries or worry about electric bills
Can light up for 13 hours if fully charged
All in all, if you wish to save more on your electric bills, own reliable and functional solar energy string lights, this product is worth a try.
4. Irecey Solar String Lights
Are you wondering how to embellish and illuminate your outdoor areas using first-rate solar string lights for yard? If so, you can give these solar string lights a shot. Many users prefer this option because the solar LED bulbs light up beautifully and sufficiently. There are eight distinct working modes that you can choose from.
Furthermore, these solar fixtures are crafted with a longer-lasting and superbly sturdy 1200mAh rechargeable battery. More importantly, you won't have a tough time installing these solar LED bulbs where preferred and necessary because they are user-friendly. They can transform ordinary days and various occasions into more fun-filled and inviting ones.
Besides, you can install these solar-powered string lights set around the trees, yard, garden, and other outdoor areas. You can beautifully embellish the outdoor spot that you want to transform. These are designed as waterproof, making them safe to use for both indoor and outdoor purposes. This item offers a 12-month free new replacement and money back program as well.
Please note that it is necessary to position these solar lights under intense sunlight for two days. This is to allow them to charge fully before their first use. Also, take note that the solar panel charges only when the switch is on. So, you had better check the panel first before charging.
Pros
Allows users to enjoy eight different working modes
Built with longer-lasting and durable 1200mAh rechargeable battery
Waterproof and user-friendly
Offers a 12-month free new replacement and money back program
Highly recommended for ordinary days and special occasions
Cons
Requires two days of charging before its first use
To wrap up, you will find this solar lights set a smart investment when it comes to adorning and lighting up diverse indoor and outdoor areas.
5. Sunlitec B405 Solar String Lights
If durable indoor and outdoor LED solar string lights are what you are fishing for, this product might be the right bet for your needs. The kit contains 25 premium quality LED solar balls that are meant to shield the light from damage and rainwater. The solar bulbs are sturdy enough to last for 50,000 hours.
You can fully delight in an adorable variety of lightning modes that are particularly made to relax you. These solar string lights can make the evening more dazzling and fun-filled. Hence, your special events can be cozier, warmer, and welcoming for every guest.
Built with two charging methods, this solar lighting device is also equipped with a USB charging port and a 3w/5v solar panel. Thus, users can select from dual charging options: 4 hours for the USB charger and 8 hours charging for the solar panel. This solar fixture is also furnished with a 2000mAh/3.7v Lithium-ion battery.
Luckily, you don't need to spend a lot on these solar bulbs as they are sold at a reasonable price tag. The manufacturer also offers a 1-year warranty, but please note that the warranty does not include the bulbs. You can directly contact the seller for any issues regarding the product purchased.
Notwithstanding, you will need to buy a micro USB cord because this is not included in the kit once purchased. Other than that, this product is worth considering.
Pros
Built with two charging methods and a li-ion battery
Contains 25 decorative LED balls with a long-lasting lifespan
Can provide a fantastic variety of lighting modes
Great option for various indoor and outdoor purposes
Supported by a one-year warranty program
Reasonable price tag
Cons
Does not come with a micro USB cord
As a whole, for buyers looking for dependable and cozy lighting, this solar string light alternative can be the perfect companion you've long been searching for.
6. KeShi Solar Star String Lights
Famous as warm white solar-powered string lights that are ideal for outdoor uses, these items are a nice addition to your home or workplace. They are energy-efficient; do not necessitate electricity, outlets, and wirings. All you need is to ensure that the solar panel is set up beneath direct sunlight to charge fully. Once fully charged, these LED solar bulbs can illuminate for about eight to twelve hours.
You'll fall in love with these twinkle fairy lights set because they are crafted with a durable battery that can guarantee an extended lifetime. The LED star lights also come with a longer rope that measures 40 feet. The different 8 working modes allow users to delight in diverse lighting effects that could create entertaining, soothing, and stunning surroundings.
Also, these solar string lights are designed with heatproof features and come with an IP65 waterproof rating. Such practical features make these solar star string lights ideal for outdoor landscapes, gardens, backyard, and Christmas trees. As for the price, these items are pocket-friendly, so buyers who prefer less expensive alternatives can take a closer look at these options.
On the downside, these star LED lights are a little small, so it's difficult to see their shape from afar. Fortunately, they come with a 2-year product replacement and a 30-day money-back guarantee offer.
Pros
Energy-efficient, does not require electricity, outlets, and wiring
Engineered with extended battery life and eight different working modes
Designed with heatproof features and an IP65 waterproof rating
Offers a 2-year product replacement and a 30-day money-back guarantee
Has a 40-feet rope
Not hard on your budget
Cons
Small size makes it hard to see the star shape from afar
Generally speaking, these star-designed solar LED string lights can create a unique ambiance wherever set up.
7. SUNAPEX Solar String Lights Outdoor
These vintage-looking solar string bulb lights are popular for shoppers who prefer soft amber illumination. These solar bulbs are reliable when it comes to forming a refreshing and romantic party vibe. This is why they are highly recommended for patios, gazebos, and porches. They are a 1-watt LED, so they are energy-saving.
Since these solar lighting units are solar-operated, waterproof, and shatterproof, they are more durable compared to conventional glass bulbs. Indeed, they are also built with flexible and sturdy rubber strands that come with plastic. Their waterproof feature makes them strong enough to tolerate bad weather conditions outdoors.
Not to mention, many homeowners prefer this version because they work automatically, which means you don't have to check them often. Since they require minimal maintenance, they are ideal for busy people.
For sure, you will be impressed by their diverse lighting modes. You can pick from pulsating, quick flash, slow flash, and steady light. As you can see, such distinct lighting modes make special events more entertaining and amusing.
On the weak point, this product is priced higher compared to other similar products in the market. So, if you are slightly short on budget, you might find this item unappealing. Its 5-year warranty offer is a great program that you can look into, though.
Pros
Solar-operated, energy-saving, waterproof, and shatterproof
Works automatically and requires minimal maintenance
Allows users to take pleasure in four different lighting modes
Gives off soft amber illumination
Supported by a 5-year product warranty
Cons
Price point is high compared to other similar options
These solar LED string bulbs are a bit costly. However, they are built with useful features and capable of working with many functions, so they are still cost-effective alternatives.
8. MagicPro Solar String Lights
Shoppers who prefer top-quality solar string garden lights will surely find this item a great purchase to go for. They are designed as wireless, shatterproof, and waterproof. As a result, they are sturdy enough to resist terrible weather conditions. Equipped with a longer string that measures 13.6m, the solar bulbs can ensure brighter and broader lights in the entire garden.
The kit contains 15 LED light bulbs that are beneficial in illuminating and adorning various outdoor spots. Regardless of the occasion, these solar LED string lights can transform the event and location into a more special and cozier ambiance since they are built with 4 lighting modes. You can also hang them on a camp tent, trees, posts, gates, and they can serve as Christmas lights, too.
The pulsating, quick flash, slow flash, and steady illumination that these solar string lights provide are so impressive to watch. Since their source of energy comes from the sun, they do not add up to your electricity consumption. The bright LED bulbs light up for about eight hours. The work time varies depending on the location, intensity of sunlight, and weather conditions in your area.
Additionally, these useful and flexible LED string lights are IPX5 waterproof rated. This means that they are durable and safe to install outdoors. This solar string light model was advertised as shatterproof as well. There is no question that the bulbs look durable, but surprisingly they appear to be slightly vulnerable to strong winds.
Pros
About eight hours of work time
Wireless, shatterproof, and IPX5 waterproof grade
Useful, flexible, and economical
Illuminates and adorns outdoor spaces beautifully
Designed with four lighting modes and a long string
Cons
Vulnerable to strong winds
To conclude, these solar lights are the real deal. They look fantastic and capable enough to give off the right amount of ambient lighting.
9. PERFECTDAY Solar String Lights
For people who plan to install solar string lights outdoor that can guarantee a more sustainable light source, this product is a worthwhile investment. They could significantly reduce your household's electricity bill and also minimize your carbon footprint. These are premium quality solar-powered LED bulbs that are better alternatives compared to traditional bulbs.
Since you can select from four different lighting modes, you can customize your outdoor spaces with these solar string bulbs. Enjoy the slow flash and pulsating lighting modes to create a romantic ambiance, and use the flash and steady modes for special events. They can ensure a timeless adornment in various outdoor spaces.
Constructed with a solar panel that is equipped with a 4500 mAH battery, these solar lights have an extended lifespan amounting to over 50,000 hours. You need to charge the panel under intense sunlight for about 5 hours. You see, if long-lasting lights are what you want, this product won't disappoint you.
Many buyers pick these solar string fixtures because they can be customized when you want to enhance the overall look of your landscapes and other outdoor areas. On the flip side, these solar string lights give off warm white illumination, not amber like in the photos.
Pros
Can deliver a more sustainable light source
Built with a solar panel equipped with a 4500 mAH battery
Over 50000 hours of lifespan
Features 4 varieties of lighting modes
Helps enhance the aesthetics of landscapes and outdoor areas
Cons
The lighting is warm white, not amber like in the photos
Without any doubt, these solar lights are the perfect options if you wish to transform your landscapes and outdoor spaces into a delightful and well-lit haven.
10. Brightown Outdoor Solar String Lights
For shoppers who need premium quality solar string lights for patio, these solar lighting units are worth buying. You won't waste any single cent because they are friendly to the planet we live on, and they can guarantee long-lasting service and performance.
More importantly, even if you're a beginner, you can install them without any serious hassle.
Such fairy lights contain a long string measuring 72 feet. Meanwhile, the bright LED bulbs are built with flexible and thin wires. They are dependable in emitting a warm white soft glow.
Interestingly, you can instantly form shapes you prefer by wrapping them around patios, gardens, balconies, yards, etc. You can decorate anywhere without using dangerous extension cords.
Many users who have used these solar bulbs were impressed by their on & off switches and the eight distinct lighting mode functions. You can pick from the 8 lovely, brilliant and radiant lighting modes that could instantly transform the ambiance in no time. Ordinary days and various events will be extra special, too.
What's more, these solar string lights can be safely installed outdoors. It is all thanks to their IP66 waterproof grade. Although they're smaller than I expected, the size doesn't affect their function. I love having them in my garden.
Pros
Environmentally-friendly and long-lasting alternative
Ideal for a broad array of applications
Features eight lighting modes with on & off power switches
A breeze to install and comes with IP66 waterproof grade
Allows users to create the shapes they prefer
No extension cords
Primarily, these solar fixtures are one of the best deals available. They are loaded with unique features and can excellently execute their purpose.
11. Minetom S14 Solar String Lights
The best outdoor solar string lights, like these, are safe to use and are meant to help you save more on your energy costs. If you invest in these solar lights, you can enjoy a romantic atmosphere and soft glow when they start operating. The bulbs are not prone to overheating and can remain cool even after being used for an extended time.
The plastic bulb casing is super sturdy and shatterproof. Indeed, these bistro lights utilized commercial-grade wire and heavy-duty WeatherTite technology that make them strong enough to withstand terrible weather conditions. The four different lighting modes are intended to create a cheerful and cozy environment wherever installed.
Such solar string bulbs work automatically on their own. Hence, they are not high maintenance, to begin with. You can charge them by using a USB cable or under direct sunlight. These solar lighting units are furnished with highly efficient 3.7v 1800ma rechargeable batteries and a 180-degree easy-to-adjust solar panel. If fully-charged, they can operate for approximately 8 hours.
Anyhow, these solar string lights merely give off a soft illumination. This means that they won't work efficiently as work lights for important tasks.
Pros
Designed with automatic activation functions and two charging methods
Crafted with sturdy commercial-grade wire and WeatherTite technology
Provides different lighting modes for a livelier ambiance
Safe to utilize and energy-efficient
Shatterproof casing that is resistant to overheating
180-degree solar panel and highly-efficient 3.7v 1800ma rechargeable batteries
Cons
Not bright enough for important tasks like work
Briefly, these top selling solar string lights are incredibly durable and capable of performing way better than you can ever expect for the price.
12. OxyLED Solar LED String Lights Outdoor
Are you planning to buy solar powered LED string lights that are appropriate for indoor and outdoor use? Then, this version might be the perfect choice for your application. You can either install it in any outdoor area or hang it on the wall. They can be charged in two ways — via USB cable and under direct sunlight.
Also, these solar string lights will do the work for you because they are designed with automatic operation as well. They illuminate on their own at night, turn off and charge in the morning. If you plan to use them for special occasions like weddings, parties, and other special events, they won't fail to provide you with sufficient illumination and décor.
You can select from four unique lighting modes, including burst flash, quick flash, slow flash, and "always-on" lighting. These solar bulbs are outfitted with a hanging hook and 33-feet wiring. Rated heatproof with an IP44 waterproof grade, these solar-powered bulbs are all set for different kinds of weather conditions.
Plus, these energy-saving and replaceable light bulbs can help you save more money over time. Compared with tungsten bulbs, they work more efficiently and do not consume electricity. However, one of the glitches that you might worry about is that they are too thin. Hence, you need to handle them with extra care as the bulbs seem slightly delicate.
Pros
Indoor and outdoor applications
Allows USB and solar charging options
Offers users four different lighting modes to select from
Features automatic operation function
Energy-saving and replaceable light bulbs
Heatproof with IP44 waterproof grade
Cons
The light bulbs are too thin
Do you love having a wedding party and fun-filled bonding moments with family friends? If yes, these solar string lights are the best companion to make those moments even more memorable.
13. Mr. Beams 2W S14 Bulb Solar LED
For shoppers planning to get decorative solar fixtures, you can buy these solar string lights Costco offers. They are a wonderful addition to your place because they could provide soft ambiance illumination for outdoor spaces. Interestingly, you won't have difficulties setting these solar bulbs up because they are a breeze to install without nearby outlets.
In like manner, these S14 solar bulbs are highly recommended for homeowners who wish to create a timeless illumination style for daily use, adorn a Christmas tree, and host special events. They are reliable in providing a warm ambiance wherever installed. If fully-charged, these solar lights can guarantee users eight hours of consistent decorative illumination.
Since they are outfitted with an easy-to-install solar panel, they can provide you with better charging performance. Aside from these, the different lighting modes are plain sailing to use. You can even completely turn them off if necessary. The light is just sufficient to form a soft illumination without a glaring effect on the eyes.
Meanwhile, if you prefer LED lights that are exceptionally bright and can heighten the security in outdoor areas, this version is not the best option. It seems exceptional for decorative purposes but not bright enough to be utilized as a path light.
Pros
Outfitted with an easy-to-install solar panel for better charging
Provides soft ambiance illumination for outdoor spaces
Not glaring to the eyes
The different modes are plain sailing to use
Helps form timeless lighting for daily use and special occasions
No hassle installation process
Cons
Might be ideal only for decorating purpose as they are not very bright
With certainty, if you dream of solar string lights that can provide you with a warm feel and can enhance the aesthetics of your outdoors, this item won't fail to deliver you that.
14. WERTIOO Solar String Lights
Are you presently looking for affordable yet reliable outdoor LED string lights? If yes, you don't need to waste more time researching because this option might be what you're searching for. These solar string lights are user-friendly even for beginners. They are a cinch to set up and operate. Sure thing, they will look stunning wherever installed.
These solar lighting units are rated with an IP65 waterproof function. So, this means that even if you install them outdoors, they will work just fine. Even if it is snowy or rainy outside, these solar string lights won't fail to provide you with a sustainable power source at dusk.
Just like other solar fixtures, this version is designed with environmental protection and energy-efficient features. So, you can avoid paying higher electricity bills and harming the environment we live in. These lights can make outdoor spaces a great sanctuary to enjoy with loved ones and close buddies.
What sets these solar string bulbs apart from others is that they can cater to many different lighting needs. The lighting modes to select from include slow fade, waves, twinkle/flash, slogs, chasing/flash, steady on, and sequential. Since the bulb is created by linking soft and thin copper wires, you can bend this item into diverse shapes.
Nevertheless, the minor gripe you can encounter with these solar string lights is the color. If you look at them closely, they do not emit warm white lighting. The lighting color is close to amber.
Pros
Works efficiently even under snowy and rainy conditions
Ensures painless installation process
A great value for the money
Can cater to different lighting requirements
Features environmental protection and energy-saving design
Bendable into different shapes
Chiefly, these solar string bulbs are economical investments to consider. They are affordable yet they are built with amazing features.
What to Look for When Buying Solar String Lights
Apart from reading lots of consumer reports, also take note of the following buying tips to get the top-rated solar string lights:
Solar Power Specifications
Check out the specs of the rechargeable battery and the solar panel. Take note that the PV module's current output is quite critical because this indicates the amount of energy the solar panel should be able to produce per hour.
Consider checking specs like dual charging options, the period it takes to charge fully, and power backup.
Also, solar panels can come as Monocrystalline and Polycrystalline. The former is more excellent than the latter in many aspects. However, expect its price to be much higher.
This one is linked to the number of LED bulbs that are components of the product. It also relates to the string's length and the distance between solar bulbs.
Such factors would aid you in determining how to illuminate your place. Moreover, it will also determine how much area will be covered with those solar string lights.
You can also tell whether or not you'll require buying one or more strings for your applications.
Other factors to be considered include the terms of product warranty and lighting modes.
Surely, a steady glow would sometimes make special occasions look ordinary and uninteresting. So, you can choose options that are designed with multiple lighting modes.
String lights that have multiple lighting modes are better options to make special events look even more welcoming and lively. Moreover, they could instantly transform an ordinary mood into a romantic, cozy, and warm one. Some options are capable of providing flashing, fading, or twinkling effects.
Durability of the solar-operated string lights
If you intend to use the string lights outdoors, they must be sturdy enough to stand the test of inclement weather conditions.
In other words, they must be durable enough to function without any trouble even though it's windy, snowy, or rainy outside. Check if the product you're buying is waterproof, shatterproof, heatproof, and shockproof.
Check out for the solar dock lights guide if you need. Also, a guide for solar post lights here to find the right choice.
How Do I Install Solar String Lights
Various types of solar string lights can be installed by utilizing a screw-in hook. Meanwhile, other models can be installed using staples. Bistro lights generally operate with a guide wire to light up large distances.
And, since the string lights are solar-operated, they come with a fastened solar panel that should be installed in areas where it could absorb more sunlight. The solar panel can either be screwed on the wall or through the ground stake.
Will the Lights Be Affected By Bad Weather
The sturdiness of solar fixtures will affect how much terrible weather your solar string lights can endure.
Plus, heavy amounts of snow, wind, and rain can hinder the solar panels from absorbing sufficient sunlight, which significantly minimizes their efficiency.
How Long Do Solar-Powered String Lights Last
The amount of time solar-operated string lights last will largely depend on either their solar panel or the type of battery they are equipped with. The LED lights utilized are graded for a minimum of ten years.
As you can see, solar fixtures are barely an issue. You can make these solar lighting devices workable for a longer period by changing the type of battery.
Generally, the battery is the issue. Solar-powered batteries can last anywhere between two to five years. Regardless, you can't do anything about the solar panels.
Conclusion
To sum things up, the best solar string lights can serve as practical solutions for various indoor and outdoor uses. They are versatile, economical, reliable, and do not require any electric outlets nearby to start working.
Such solar-powered fixtures can illuminate and adorn the surroundings, and can also make ordinary days and special occasions become even more special for everyone.
With plenty of trusted solar-powered string light brands available on the market today, there will surely be a perfect solar string light version out there for you.
Hopefully, by carefully studying the product reviews aforementioned, you can smartly pick the right match for your requirements.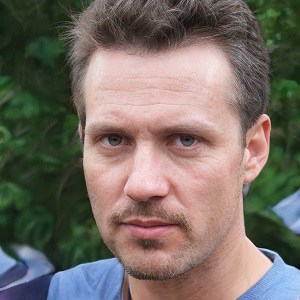 I am Kathleen Miller, staff writer and reviewer of the Avasolar team. Working with the team has been a pleasure for me so far, I hope to bring readers useful information by creating detailed and easy-to-follow contents.