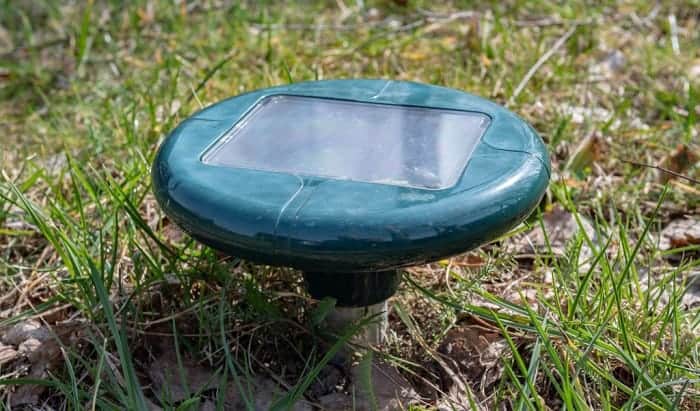 When it comes to our lawn, we want to have the best one out there. A good lawn can surely attract the attention of anyone passing by your house. Plus, it can increase the overall value of your house, be it in the front or back yard.
That is why I looked for the best solar pest repeller in the market. Pests, especially small rodents that like to burrow, can sometimes be factors that can destroy our lawn. They can also damage your garden as they can eat your plants or yield if you're planting vegetables.
With my solar powered pest repeller reviews, you will be able to find a suitable device that will protect your lawn and garden from pesky critters. But before all that, you should know first what to look for with these devices.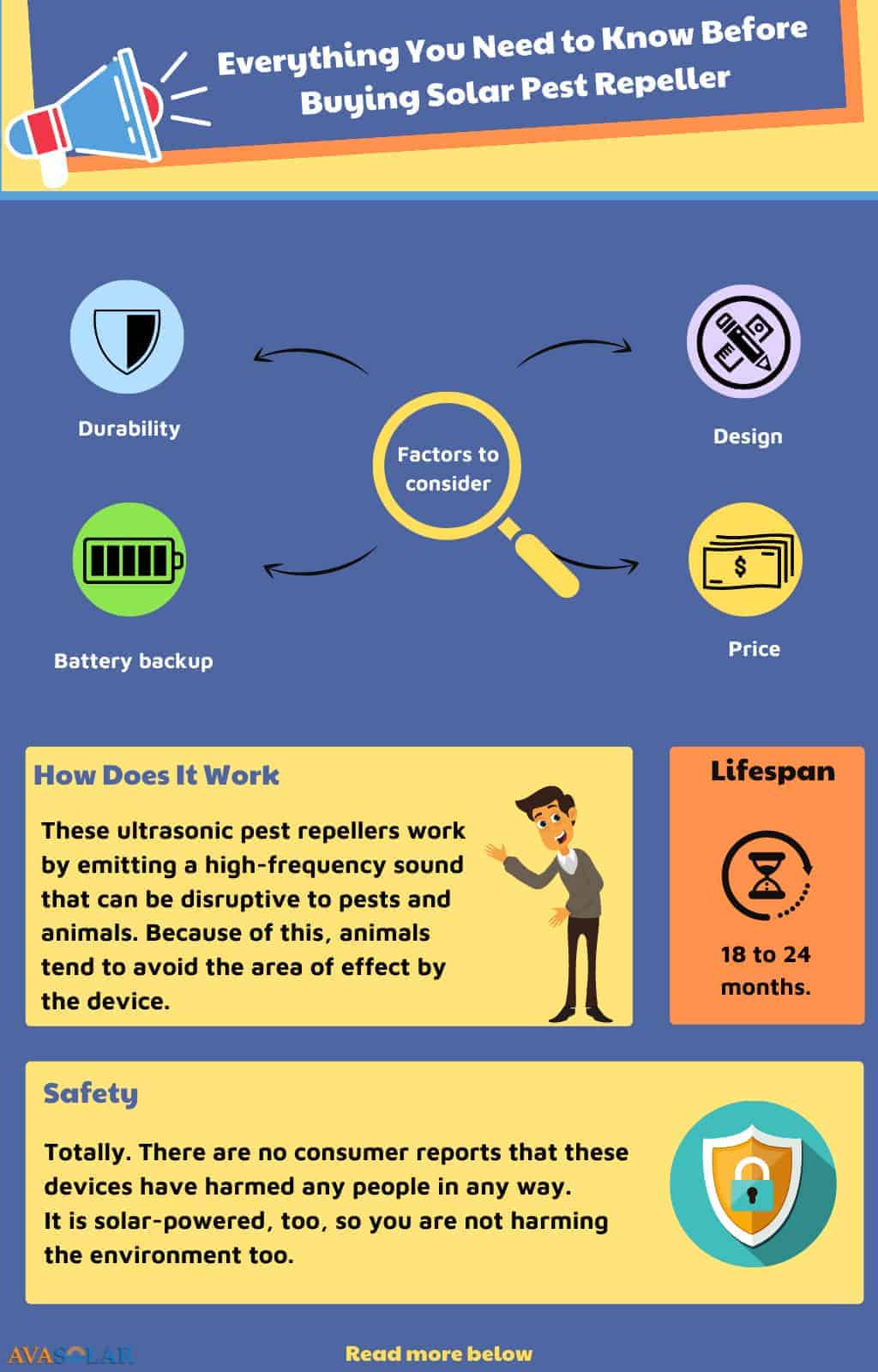 Best Overall
NIKAND Solar Powered Deterrent
✅ Does not generate loud
✅ Contains no harmful materials
✅ Waterproof pest repellent
Premium Choice
Livin' Solar Pest Repeller Stakes
✅ Durable against any type of weather
✅ Contains no toxic chemicals
✅ Pets are not bothered by the noise it makes
Editor's Pick
Amerfist Solar Animal Repeller
✅ 110-degree angle within 20-25 yards
✅ Waterproof
✅ No harmful chemicals
Top 6 Solar Ultrasonic Pest Repeller Reviews
1. NIKAND Solar Powered Sonic Deterrent
When I was looking for the top-rated solar pest repeller in the market, I came upon the Nikand Solar Mole Repellent, and when I did, I knew it was the perfect fit. It was effortless to use as I only needed to poke a hole in my lawn and garden before sticking it in. I used a metal rod when I poked my lawn, but you can also use a stick.
I like that it's not that loud for it to scare any pesky rodents away. Loud noises can be annoying, and I don't want to hear any ultrasonic animal repellent when I'm drinking my coffee in the morning.
For the sonic animal repeller to be effective, you have to plant them within every 96 feet of each other, but I like to put them much closer than what is in the instructions to ensure that pests don't get close.
My kid's safety is also very important to me. That is why I was so relieved to have known that Nikand is 100% safe around children.
The Nikand solar powered repellent also has built-in batteries, and because it's solar-powered, I can leave it in my lawn and garden 24/7. It is also waterproof, so no need to worry if it's going to rain or if we are going to water our lawn or garden.
But the downside of the Nikand solar mole repellent is that it is not effective for all soil types as I got the best results in moist clay soil, but not so much in sandy or peat.
Pros
Does not generate loud and annoying sounds
Effective when planted within every 96 feet of each other
Contains no harmful materials or effect for kids and pets
A solar-powered device to save energy
Waterproof pest repellent for outdoor uses
Cons
Ground penetration is effective for moist clay soil but not for sand and peat
Overall, the Nikand is a good solar-powered animal repeller for anyone with a fairly large front or backyard and has moist clay soils.
2. Livin' Well Solar Ultrasonic Pest Repeller Stakes
I found the Livin' Well solar pest repeller as I looked for something almost similar to the Nikand solar mole repellant. The range between devices can be about 80 from each other, which is good if you have a fairly large yard.
Even though these sonic animal repellers look like stakes, it's not advisable that you directly stick them to the ground or else they might break. I used a metal rod to poke a hole in the ground when I planted the devices in my yard.
It is also non-toxic, so innocent animals like our dogs cannot get poisoned or anything. The sound also does not bother them, which is nice since it is the moles that I want to get rid of, not my dogs.
Livin' Well, solar repeller stakes also work 24/7, so day and night, I do not have to worry about moles or any digging rodents. I also tried using them on some very noisy frogs, and wouldn't you know it. The frogs went away.
They are also weather-resistant, making them waterproof, meaning I can put them in my garden to deter any rodents that may eat my plants.
However, the only problem with the Livin Well Solar repeller is that squirrels are not afraid of them. I sometimes feed the birds that visit my house, and squirrels chase them off because they want all the bird seeds for themselves. I have to use something else to get rid of the squirrels.
Pros
It is durable against any type of weather
Contains no toxic chemicals that can be harmful to kids and pets
You can leave it on your lawn 24/7 with no intervention
Pets are not bothered by the noise it makes
Cons
Squirrels just ignore it and are not bothered
The Livin Well solar repeller is a good deterrent for burrowing rodents like moles, chipmunks and voles, so they are a must, especially if you are someone who likes to have an award-winning lawn.
3. Amerfist Solar Animal Repeller
Safe to say that because of this outdoor ultrasonic pest repeller, rabbits that want to eat my plants, and the neighborhood cats wanting to use my garden as a litter box have finally never come back. Felt sorry for my dogs since it also works on them, but my garden is really off-limits.
The device can detect movement at a 110-degree angle within 20-25 yards, so any animal that goes near is sure to get scared by the loud noise.
Since it only uses sound, it does not burden my conscience since there is no animal cruelty. My pests are also secured from harm though they got pretty scared when they got too close.
It is also nice that I can just leave the device in my garden to soak up some solar energy, but if you have problems charging it entirely because of a cloudy day, do not worry. You can also charge it with the USB cable that comes with the device to charge it fully.
I also do not worry when it suddenly rains since this ultrasonic pest repeller is also waterproof. I can even water it along with my plants.
When we run out of space to put more of this device, we do not have to worry. Aside from the ground, we can also mount it on a wall or a fence.
The only downside we can get, despite the good results, is it can be annoying when an animal triggers the sound. But to me, it was just okay, as long as no unwanted animals touched my garden.
Pros
Waterproof and able to withstand the rain
Detect movement at a 110-degree angle within 20-25 yards
Can be mounted not only in soil but also on walls and fences
No harmful chemicals are used by the device
Allows charging with the USB cable charger
Cons
The sound can be annoying when the motion sensor triggers
To me, the Amerfist solar repeller is a good option to deter any animals that are maybe bothering or destroying our lawn or garden.
4. FAYINWBO Solar Ultrasonic Animal Repeller
This solar-powered animal repeller is intended for larger animals too, so I had to put it again in my garden since I do not want even my pets to come near it. I was surprised by this product since it can easily detect slow-moving objects at a 110-degree angle at a distance of 30 feet.
I always turn the sensitivity of the motion detectors to a high level, but if any user does not want to, they can always lower them. But I would advise against it since it also lowers the effectiveness. Also, low sensitivity could make small critters get past the ultrasonic animal repellent.
The device is also solar-powered, but you can always charge with the USB cable provided. It will be fully charged in about 6 hours.
We do not have to worry about the rain, too, since the device is waterproof. I do not even have to remove it from my garden every time I water plants.
I also like the fact that I am not harming animals in the process of getting rid of them since this repellent is only using lights and sounds and not chemicals or any physical harm.
Beyond that, it does not have any built-in batteries, so if ever you are going the change the batteries, be sure to buy rechargeable ones, not regular ones.
Pros
It can detect slow-moving objects
Chargeable with the USB cable provided
You can adjust the sensitivity of motion detectors
Waterproof and will work rain or shine
Non-toxic and no animal cruelty is done to the animals
Cons
It does not have built-in batteries
Overall, this product is good at scaring away large animals, so people in an area where there are wild boars or deers would scare them away.
5. Nikand Gopher Repellent Ultrasonic Solar Powered
Another product of the Nikand brand that I found available in the market was their ultrasonic gopher repellent. It works the same as their mole solar-powered animal repeller as I can still put them at a distance of about 96 feet between devices and still get some promising results.
The Nikand gopher repellent is also easy to use as you will only need to poke your lawn with a metal rod or stick. I used a metal rod when I was planting the devices on my lawn. It may look like a stake, but I do not recommend that you stick it directly to the ground because it might get broken.
The device is non-toxic, so no accident can happen to my dogs if they ever get curious and meddle with the device. This also makes it environmentally friendly.
My dogs are also not bothered by the device, which is good since it's the moles, gophers, etc., that I want to get rid of, not them.
It's waterproof too, so I can just leave it on my lawn even when it rains. It will also not rust easily, meaning I can use it for a long time.
The only downside is if something interferes with the device, like an underground pipe, it will not work correctly.
Pros
Effective even when the devices are 96 feet from each other
Non-toxic and is safe for the environment and innocent animals
Cannot be damaged by water
Rustproof and will last for a long time
Will does not bother our dogs or other pets
Cons
Cannot work properly if there is an obstacle blocking its way
The Nikand Gopher repellent is a suitable device for us to deter burrowing rodents in our lawn. And for any homeowners with a big area, using multiple devices would be great.
6. Lulu Home Ultrasonic Animal Repeller
So when I wanted to use this product, I had to figure out where to test it since it might scare away my dogs. Hence, I decided to put it in my garden because I do not want animals to get near it. Plus, I wanted to shoo away the rabbits that wanted to eat my plants and the neighborhood cats that used my garden as a litter box.
Because it just uses sounds and lights to get rid of animals, it does not burden my conscience as it assures me that I will not harm them in any way. It also means that there are no chemicals involved, which makes it friendly to the environment.
The changing weather is no problem also as this ultrasonic pest repeller is durable and will work rain or shine.
There are five modes to choose from in this device for different animals, from small to large. I used the mode for large animals since it's not only rabbits and cats that I want to keep away from my garden but also my big dogs.
Batteries will not be drained easily, too, since the PIR detects animal motion first before it triggers, so it is not a constant alarm.
Though this device is solar-powered, it also has a USB charging cable, which is good since I noticed that it could not fully be charged when it's just under the sun, but it prolongs battery life nonetheless.
Pros
Deter animals away without harming them in the process
Can withstand the weather, rain or shine
USB cable used for quick charging
Has five modes for you to choose from
No complicated instructions to follow
Cons
Cannot fully charge if you only use the sun to charge it
Overall the Lulu solar animal repeller is a good animal deterrent, especially if you have large animals that may come into your lawn or garden.
What to Look for When Buying Solar Pest Repellers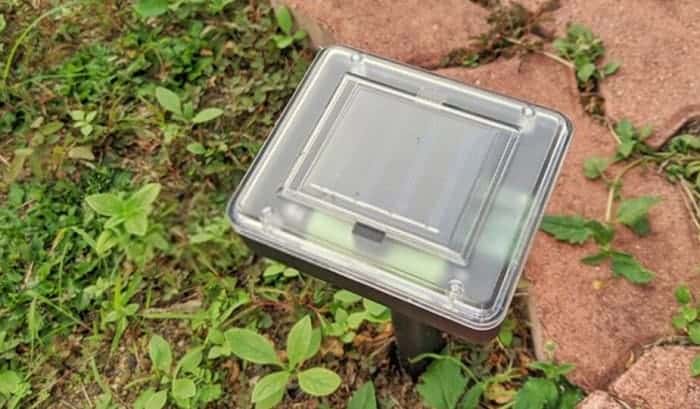 Whenever we want to buy something, we first need to know what qualities a product needs. That is why I sometimes read the buyer's guide to know what product will suit my needs. The same goes for outdoor ultrasonic pest repellers. So here are the main qualities you should look for.
Durability
For most of its lifetime, a solar-powered animal repeller is going to be outside your house. So you need to make sure that it will withstand most of anything that mother nature throws at it. Of course, the major thing will be if it's waterproof.
Waterproof means if you are sleeping or are somewhere away from your home, you do not have to worry about the device when it starts to rain.
Design
You will also need to consider the design of your device since it will dictate how well it will work on your end. If it is poorly designed, then it might not be able to function properly.
So you have to compare the design of each product so you will find something that will fit your needs.
Battery backup
Since it is solar-powered, the batteries of the repellers are going to be rechargeable. So the only thing you are going to choose from is whether you are going for built-in batteries or not.
If you choose a device with no built-in batteries, be sure to know what rechargeable batteries you should get, or else the device might not work.
Price
This might be obvious, but it is still a good reminder. Prices vary for solar repellers since extra features can be expensive. But its extra features can also mean that it becomes more effective. So before you buy, think about what features you need and what you don't.
Now that you know what to look for when buying a solar pest repeller, here are some of the best I have found in the market in these ultrasonic animal repeller reviews. And let me tell you, they are different from your typical electromagnetic pest repeller like the brison ultrasonic pest repeller or maxmoxie pest repeller.
How Does a Solar Ultrasonic Pest Repeller Work
To put it simply, these ultrasonic pest repellers work by emitting a high-frequency sound that can be disruptive to pests and animals. The effects vary, but it is said that it causes a physiological response that makes them run around crazy, and prolong exposure can lead to seizures. Because of this, animals tend to avoid the area of effect by the device.
It may sound like you are trying to harm them, but it is not the case since they are not held nor forced to listen to the device. They can just go away so the device will not reach them. So do not worry; you are not doing any animal cruelty.
How Long Do Ultrasonic Pest Repellers Last
It just depends on how you use the device, the place you put it, and the overall quality of the product you buy. But generally speaking, a solar ultrasonic pest repeller will last for at least 18 to 24 months.
If you are worried about yours getting broken fast, ask the seller if they have warranties or refunds.
Whether Using a Solar Ultrasonic Pest Repeller Safe
Totally. There are no consumer reports that these devices have harmed any people in any way.
There are also no chemicals when you use a solar ultrasonic pest repeller to deter unwanted animals from invading your lawn. It is solar-powered, too, so you are not harming the environment too.
If you are also looking for other outdoor solar products, you may also be interested in a solar oven and outdoor solar showers. Or unfortunately, your car battery suddenly runs out of power during a picnic, one option worth considering is to use a solar battery maintainer.
Conclusion
Most of the pest deterrents in the market use chemicals or do physical harm in the process of keeping unwanted animals away in our private space. But if you are following the trend today, you would see that most products are now environmentally friendly.
With that being said, let this solar pest repeller review help you in choosing the best solar pest repeller in the market that will fit your needs.
Plus, animal cruelty is not a good image for anyone to have. Most of the pesky critters that come to your space are just trying to find food. That is why if you want a clear conscience, using solar pest repellers would be a good option.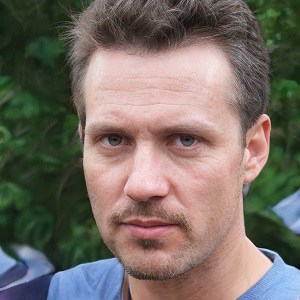 I am Kathleen Miller, staff writer and reviewer of the Avasolar team. Working with the team has been a pleasure for me so far, I hope to bring readers useful information by creating detailed and easy-to-follow contents.