Undoubtedly, camping is a pretty relaxing way to escape from the hustle and bustle of city life. However, it won't be as soothing and enjoyable without bringing the right gear with you. The list of essential gears you need to bring is endless, but among the must-have items you'll need to prepare are the best solar camping lanterns.
Most solar camping lanterns will provide you with the option to illuminate your camping tent, and at the same time, serve as a handy emergency light when no power source is available. Since there are so many available solar camping lanterns sold nowadays, choosing the right match for your style and needs can be challenging.
When purchasing the right solar lanterns, make sure that you check out the following features:
Charging Modes: While a camping light needs to get powered by the sun, having other charging methods like car plug-in, DC, hand-crank dynamo, and USB port are preferable. The reason for this is to heighten the dependability of the camping lantern. Keep in mind that the more charging options available, the more excellent the solar camping lantern will be.
Weight and Packed Size: If you intend to use the solar lantern for camping, it's practical to go for light, small, and compact options. This way, they're ideal for various outdoor adventures like backpacking.
Lighting Modes: The specifications of the product you choose will usually indicate the lighting modes. One of these specs includes the lumen output of the solar camping lantern under each lighting mode.
Please note that cool or warm light colors can affect your perception of brightness. Hence, choosing according to the color and lumens of the light is strongly suggested.
We'll cover some of top tier solar lanterns in this buying guide and provide you with some valuable shopping considerations.
Best Overall
MPOWERD Outdoor Solar Inflatable Light
✅ Waterproof and portable
✅ Lightweight
✅ Easy to use
Premium Choice
LuminAID Solar Inflatable Lanterns
✅ Affordable
✅ Lightweight
✅ Convenient carrying
Editor's Pick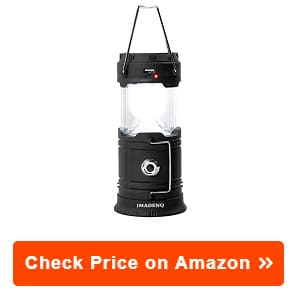 JMADENQ Camping Lantern
✅ Lightweight
✅ 2-in-1 flashlight and lantern design
✅ Provides sufficient brightness
The 8 Solar Powered Camping Lantern Reviews
1. MPOWERD Luci Outdoor Solar Inflatable Light
Without any doubt, Luci solar lanterns are famous for their features. In particular, this solar inflatable light is designed with a top-quality integrated 1000 mAh rechargeable li-ion battery. We find this item ideal for our frequent outdoor adventures because it's jam-packed with helpful features. It comes with 75 lumens, and one charge can extend for about 24 hours.
Undoubtedly, going on camping adventures is more convenient with this lightweight, compact and reliable-to-use solar lantern. We don't find ourselves worried in campsites no matter how dusky the atmosphere is because this item diffuses superb and extended brightness. It's also easy to use, and positioning where we need it the most is not a struggle, so backpackers will find it a must-have.
Campers searching for waterproof and portable solar lanterns will find this version a great purchase. We love how adept it is in serving several different functions; it's always all set for outdoor adventures. Carrying it with us is not a burden; it's handy and easy to store.
Since it can tolerate about 150 pounds of pressure, graded with an IP67 waterproof rating, and designed with a collapsible feature, we're pretty sure that we made a perfect choice.
On the drawback, the buttons are on the side instead of the middle, so it's harder to find them in the dark. Still, this isn't a severe deal breaker for us to give up on this irresistible solar camping lantern.
Pros
Waterproof and portable
Collapsible and can withstand pressure, always ready for adventures
Emits long-lasting and superb brightness
Easy to use and position anywhere needed
Lightweight, compact, and reliable to use
Cons
The buttons are on the side
Overall, multifunctional solar camping lights are certainly wise investments. Though a little costly, this product delights us because we don't need to deal with darkness in the wilderness anymore.
2. LuminAID Solar Inflatable Lanterns
Shoppers fishing for a reasonably priced, waterproof, compact, and collapsible solar lantern will find this product a good deal. It's a smart choice considering it's specifically made for both indoor and outdoor applications. Designed with multiple brightness settings that include the SOS emergency flashing, solar camp lanterns like this one execute an exceptional job.
Fundamentally, setting it up is no sweat; it offers dual recharging modes, and its premium quality battery can extend roughly 24 hours when fully charged. Additionally, since it's lightweight, dustproof, and shatterproof, we are confident that it's built to last. It's designed with a top strap that allows you to easily carry it or hang it on backpacks, trees, and camping tents.
Chiefly, buyers who prefer solar lanterns that are exceptionally crafted for outdoor activities, emergency preparedness, fishing, hiking, and camping will find this the perfect choice. It does not require extra batteries, and it's entirely safe for use even when young kids are around. We like this solar lantern because we can instantly attach it to our backpacks during day hikes and when we roam around.
You can quickly inflate it when it's time to illuminate the campsite, and its functionality and convenience of use make it a significant investment worth considering.
Notwithstanding, I wish it were possible to pick the light intensity without having to go through all the modes. But overall, this solar camping lantern does its job well for our applications.
Pros
Highly recommended for both indoor and outdoor applications
Designed with multiple brightness settings
Affordable, equipped with a high-quality and long-lasting battery
Allows easy and more convenient carrying and hanging
Lightweight, collapsible, and compact design
Cons
Setting the light intensity requires going through all modes
In a nutshell, this solar light for camping is offered at a pocket-friendly price point for most budgets. Built with valuable features, it indeed brings a massive difference to our camping adventures.
3. JMADENQ Camping Lantern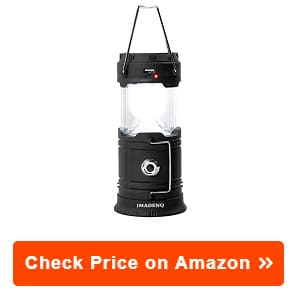 This solar lantern for camping is undoubtedly a delightful treat for value lovers. As a rechargeable USB and solar power device, it allows us to charge it through a USB port or the sun's energy.
It can consistently supply bright light for approximately 5 to 6 hours after being fully charged. Designed as an emergency backup phone charger, it can charge USB-powered devices and mobile phones when necessary.
Generally speaking, campers opting for an easy-to-use and versatile solar lantern will love this version. Its 2-in-1 flashlight and lantern design is impressive; we surely appreciate its side switch and foldable design.
You can take it away with the stainless steel handle, or hang it on a camping tent. We consider this solar camping lantern our savior during emergencies, storms, and power interruptions.
Best of all, the pleasant light it emits is bright enough to satisfy our applications. We especially appreciate this solar camping lamp whenever we go fishing, camping, and reading.
Even when emergencies strike while we're in the wilderness, this little yet powerful lighting device keeps us calm and worry-free. Built with a solid plastic ABS casing and durable body, it's more lightweight than it looks.
Its portable and compact design is a plus because we can save space, and it's not a bother to carry with us in the wilderness. Buyers who want a solar camping lantern that can guarantee ample running time will find this item the perfect match for their preference. On the weak point, it is not designed with overcharge protection.
Pros
Provides sufficient brightness and ample running time
Lightweight, easy to use, compact, portable, and foldable
Works as a reliable emergency backup phone charger
Features 2-in-1 flashlight and lantern design and 2 charging methods
Manufactured with incredibly robust body, a handle & a side switch
Cons
Not designed with overcharge protection
On the whole, this solar lantern flashlight is the best bang for our bucks. It's versatile, durable, and powerful enough to deliver its claims.
4. AGPTEK Solar Lantern
Since we prefer using solar lights, we made sure that we use a high-quality solar lantern that is eco-friendly and energy-efficient. What caught our attention is this product's capability to provide reliable performance despite emergencies.
Backpackers who prefer a solar-powered lantern that can also serve as a superbly bright camping work light will be amazed by this model. Featuring five charging modes, it allows us to pick what fits our situation and requirements.
It's beneficial to use a solar lantern that uses green energy. Designed with a USB output, this device is quite functional in charging mobile devices and other gadgets. Engineered with polysilicon solar panels, it lights up brighter compared to its competitors. This is why we consider this option as the brightest solar lantern. It also guarantees low energy consumption and ample lighting that can last long.
With 36 rechargeable LEDs, you won't be surprised why this version is an energy-saver. You can select from the dual brightness modes: bright mode and super bright mode. It's worth noting that this brand is dedicated to providing incredibly sturdy and premium quality solar lighting products.
This item is a foolproof choice for buyers who prefer a dependable, clean energy product that's mainly designed for hiking, camping, and picnics. Anyhow, the major downside we have encountered on this solar LED camping lantern is that it is not the most compact option sold on the market at present.
Pros
Features dual brightness modes and five charging modes
Designed with a USB output
Eco-friendly, energy-saving, and long-lasting
Practical to use for emergencies and outdoor activities
Can serve as a super bright camping work light
Cons
Not the most compact option available
As a whole, for buyers wanting to invest in solar rechargeable lanterns that can ensure low energy consumption and reliable lighting performance, this item is undoubtedly worth a try.
5. TANSOREN USB Rechargeable Camping Lantern
Engineered with three types of power supply modes, this light gets power through a 3 AA battery, 5-Volt DC USB charging, and solar power. The red light situated beside the DC input turns bright to indicate that it's charging. Such lantern features intend to ensure that users don't run out of light supply anytime. Campers looking for collapsible, waterproof, and energy-saving versions will find this tiny lantern a real deal.
Likewise, it is famous for being one of the brightest camping lantern options. The kit contains three individual COB strip LEDs that come with an extended lifetime. It comes with a 360-degree lustrous light while conserving energy. As for portability, it allows you to pull the handles up and push in to modify the light, and it's convenient to bring anywhere.
The emergency backup Android charger is an exceptional feature as well. The USB port enables you to charge different Android USB gadgets and your Android phone.
Aside from this, it is built with a magnetic base, wherein the four magnets are situated on the lantern's bottom portion. This guarantees robust support and freeing our hands for executing tasks that occupy two hands.
Backpackers who are into multifunctional and collapsible solar lanterns will benefit from this version. One can utilize it for various applications. On the other hand, this solar lantern is exclusively designed to charge Android phones and other Android gadgets. So, keep that in mind before getting one.
Pros
Built with a magnetic base and a red light
Equipped with an emergency backup Android charger
Multifunctional and long-lasting; bright adjustable 360-degree light
Collapsible, waterproof, and energy-saving
Engineered with three types of power supply modes
Cons
Exclusive for Android phones and devices only
Lastly, it's excellent for diverse indoor and outdoor applications and is one of the perfect solar lanterns. It's a worthwhile investment considering it does not cost an arm and a leg.
6. Roxicosly RO-CL1000-Black-Newest Camping Lantern
This solar-powered camping lantern is a superior choice because one can use it for several different applications. Engineered with a two-in-one flashlight and lantern design, it has dual modes for utilization as a standard flashlight or lantern.
This model is robust enough to supply 360-degree superb brightness that could run for an extended period. It's a breeze to operate; users only need to push or pull the handle to switch on or close the solar lantern.
Moreover, this version is a good alternative for hikers who prefer collapsible, waterproof, lightweight, and sturdy solar-powered lanterns. The foldable handles make it portable to carry anywhere and anytime. It won't require huge space for storage as well. As a power bank lantern, we find it practical for supplying emergency charging for our phone and other gadgets using the USB output port design.
Its triple power modes include hand crank, solar power, and USB rechargeable options. Hence, we can select based on our preferences and needs.
Its heavy-duty build makes it tough enough to endure inclement weather conditions, thanks to its IPX4 water resistance feature. Further, its indicator light displays red when the device is charging, and it alters to a blue color when fully charged.
Shoppers who want to invest in the right solar camping lantern that prepares them for different situations and weather conditions won't regret purchasing this item. On the negative aspect, this solar camping lantern is not designed to charge an iPhone. So, make sure to consider that before buying one.
Pros
Highly recommended for a broad array of applications
Features 2-in-1 flashlight and lantern design with 360-degree lighting
Works as a reliable power bank lantern
Easy to use, store, and transport, collapsible, waterproof, lightweight, and sturdy
Designed with triple charging modes and indicator light
Cons
Does not charge an iPhone
Finally, this rechargeable camping lantern is a hot deal. It ensures limitless applications and works like a charm in supplying users with powerful brightness and extended runtime.
7. TANSOREN LED Camping Lantern Solar
One of the top-rated outdoor solar lanterns, this product is portable, collapsible, affordable, lightweight, and compact. It offers users three different power supply options, designed with integrated rechargeable batteries and a high-quality built-in solar panel. So, we're satisfied with its capability to provide us with ample light anytime.
This collapsible lantern is also engineered with an emergency backup Android charger. This means that the USB port enables you to charge Android phones and other USB Android devices during emergencies.
This super bright lamp is dependable in terms of emitting light for up to 8 hours. Hikers and backpackers who prefer a version that comes with a longer lifespan and can save more energy will be satisfied with this unit.
Surprisingly, we didn't have to spend lavishly on a premium quality solar powered camp lantern. This unit is crafted with water-resistant and military-grade plastic; hence, it is incredibly sturdy for rugged use. Whether one intends to use it for indoor or outdoor activities, it could serve its purpose quite well. I can use it as a reading light, book light, work light, or add it to my emergency kit as well.
This solar lantern generates 60 lumens; essentially, this is a little above the suggested minimum for outdoor adventures like hiking and camping. Unfortunately, the charging cords in the package are short.
Pros
Features portable and affordable design
Multifunctional for household and outdoor applications
Designed with three different power supply modes
Comes with an emergency backup Android charger
Bright light works for up to 8 hours; durable and energy-saving
Built with collapsible, lightweight, and compact design
Right to it, this solar rechargeable camping lantern is not only for home use but also for various outdoor adventures and emergencies.
8. LuminAID 2-in-1 Camping Lantern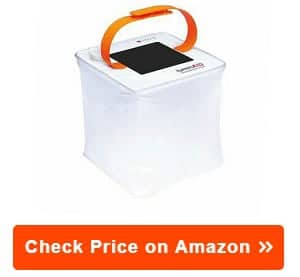 Outdoor adventure enthusiasts searching for uniquely designed lantern features will find this solar lamp worth spending for. It works as a phone charger and solar-powered LED lantern. This model is engineered with 300 lumens and five brightness settings for users to choose from. It does not require a battery, and it won't fail in fulfilling its duty during camping, power outages, and other unforeseen events.
Besides, this 2-in-1 camping gear is crafted with a red light mode. You can shift between five red levels to sustain your night vision. The red light mode is practical to light up your surroundings at dusk without disrupting other people.
Outfitted with a larger solar panel and an integrated 4000 mAH battery, it can offer a power supply of up to 100 hours of illumination at full charge.
Its twist to inflate design is quite impressive. All users need is to utilize their hands to inflate the light in no time. We can even pack it flat for more accessible storage and deflate it when traveling. As a premium quality backup phone charger, it allows us to charge our mobile phone approximately two to three times.
With it, we can illuminate a 300-square feet spot on Turbo mode. The kit includes the cord for charging; it recharges in four hours using a USB and after 16 up to 20 hours of direct sun exposure. However, buyers short on a budget will find this solar camping lantern pretty expensive.
Pros
Features a twist to inflate design, a solar panel, and a battery
300 lumens; ideal for car camping, camping trip, and emergencies
Does not require a battery and comes with five brightness settings
Works as a backup phone charger; cord included
Designed with a red light mode for nighttime illumination
Illuminates 300 square ft on Turbo mode
Cons
Quite costly compared to other solar lanterns
Conclusively, this solar lantern for camping is sterling at fully charging phones a few times. We find it specifically practical to use for emergencies, car camping, as well as camping trips.
What to Look for When Buying Solar Camping Lanterns
The following buying considerations were already introduced in the introduction section of this buying guide, but let's check them out again with more details this time.
Weight and Packed Size
When backpacking, camping, and hiking, carrying bulky gear with you can be a hassle. This is why it's critical to look for solar camping lanterns that are light, small, and compact.
When choosing solar lanterns, pick options that are portable and ideal for various outdoor adventures. This way, they are easy to store and transport.
Lighting Options
Plenty of solar lanterns for camping are designed with a blue light and a few lighting modes that range from SOS and high to low.
Please note that versions designed with high modes work excellently when washing up or cooking, while those designed with low modes provide mellow light and save battery.
Charging Modes
While it's a given that solar-powered camping lanterns utilize the sun to produce power, they should also be adept at supporting other charging modes.
Fortunately, most of the products reviewed above support different charging options, like USB input ports. Moreover, other models offer hand crank handles to produce energy when no other charging mode is available. While this might not be the most efficient means to run your lantern, it's good to have this vital feature.
Fundamentally, all solar-powered camping lanterns are made with a small panel on top. Nonetheless, since the panel is pretty small, it's not intended to be the primary charging mode. In short, it works more as a backup approach.
Hence, you must charge your solar lantern using the DC socket or USB, provided it has one, before your outdoor adventure. From there, you can utilize solar energy to keep the solar camping lantern charged. Take note that it's also helpful to carry a solar power bank with you to charge it.
How Many Lumens Does a Solar Camping Lantern Need
One hundred lumens or above is already sufficient for campers who need to light up several camp spaces. 50 up to 75 lumens will be adequate for campers who prefer a more gentle illumination.
Where Should You Place the Lanterns Around a Campsite
The good news is that you can place solar-powered camping lanterns in different locations. A model that you intend to use inside your camping tent must be designed with a high lighting mode of roughly 70 up to 100 lumens. This light output is essential to ensure a good lighting source.
Meanwhile, to enjoy chatting with someone or reading a book inside the camping tent, a version with 40 up to 50 lumens is enough. Consider positioning your solar camping lamp on the upper section of your camping tent. To use the light source as décor, you may use a string fishing line to link several solar lanterns and hang them between trees.
If you have a recreational vehicle, you can position your solar lantern on the windows. To do so, use top-quality suction cups. Use solar lamps with colors to ensure a romantic night ambiance on your dining table at the campsite.
How Will the Solar Camping Lanterns Perform in Various Weather Conditions
Many solar-powered camping lanterns are engineered with superior IP_XY protection grades, which categorize the product's performance against water and dust conditions. X refers to the minimum size of the matter that could penetrate inside the solar lamp; on the other hand, Y indicates the product's capability to perform against water conditions.
The delightful news is that many solar lanterns for camping can ensure outstanding performance against wet and rainy conditions since they're generally used in campsites. Further, some versions can even provide maximum protection against water, for instance, options with IP67 and IP68 ratings.
Keep in mind that these specs are the most substantial considerations for campers and buyers who prefer a reliable light source while sailing, fishing, or boarding.
Conclusion
Ultimately, selecting the best solar camping lanterns is just as essential as selecting the most reliable hiking compass and hiking boots. Even so, there are several buying considerations you need to go through to ensure a worthwhile investment.
We hope that the buying process won't be a struggle for you since we've provided you with the most vital shopping details you'll ever need. You might want to review each model we have tackled in this post so that you can weigh the upsides and downsides of each product.
Being a well-informed shopper can help you get the right match for your camping requirements.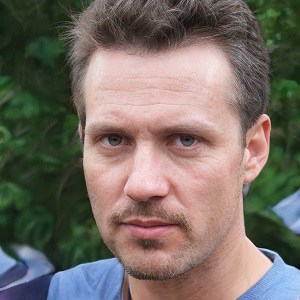 I am Kathleen Miller, staff writer and reviewer of the Avasolar team. Working with the team has been a pleasure for me so far, I hope to bring readers useful information by creating detailed and easy-to-follow contents.