Do solar panels need cleaning? Dust and other pollutants can reduce energy output from PV cells by more than 35%, so cleaning solar panels is obviously a must. But, how often should solar panels be cleaned?
Solar experts strongly suggest solar panels cleaning twice a year. However, if you find that the panels get dusty instantly, you might need to clean solar panels more often. Having a solar system installed requires you to perform regular cleaning and maintenance to ensure satisfying performance and extend their longevity.
Let's dig up more on this topic below.
Should Solar Panels Be Cleaned Regularly?
Yes. ensuring regular cleaning or cleaning as needed is vital for your solar system. Doing so will prevent premature damage, which means you can protect your investment. To answer the question "How often should I clean my solar panels?" read below.
Cleaning the panels every six months is already enough to keep them performing excellently, increase their output, and guarantee their longevity. But, if you reside in areas where the panels are prone to collecting dust, cleaning them more frequently is recommended, specifically at least three times yearly.
The same goes if you reside in areas where the panels are prone to collecting bird droppings. The bottom line here is that the frequency of solar panel cleaning may depend on your location and situation. Summer and winter seasons are usually the periods where frequent cleaning might be necessary.
Here are some detailed guides on how to clean the panels properly:
Step 1: Turn off the entire DC & AC system before the cleaning process.
To get started, you may refer to the user guide provided by the solar manufacturer. Keep in mind that AC systems need to be turned off through the main switch of the solar supply.
Step 2: Cut off or detach any gutters or rainwater collections.
Temporarily detach or cut off any gutters or rainwater collections to ensure that filthy water won't go into your tank.
Step 3: Choose a cloudy or cool day when cleaning the panels.
Since early mornings or evenings are cooler, you may consider these periods as the best time to remove the dust and particles that have collected on the panels. You won't have to worry about hot soap water leaving dirty films on the panels.
Step 4: To ensure your safety, clean the panels on a safe spot.
You can ensure your safety if you clean the solar panels on the ground, especially if you have medical conditions that limit your mobility. To begin, get a water hose with a nozzle to eliminate or soften the dirt particles. Avoid running the hose directly on the rear section of the panels to prevent any damage.
Step 5: Avoid using abrasive cleaning materials when removing dirt particles from the panels.
You can use mild cleaning agents and items when cleaning the panels. Remember that you should also protect the warranty of your solar system.
Alternatively, you may refer to this video for some solar panel cleaning ideas:
How Can You Tell When Solar Panels Require Cleaning?
It is best to conduct a monthly visual inspection so that you can see any noticeable dirt and grime accumulation. Another good way to determine if your solar panels need cleaning is referring to a solar system tracking app or electricity bill; this method can pinpoint any decline in production.
If rain occurs frequently in your region, it can help reduce the need to clean the solar panels. But, of course, this does not mean that you'll rely on the rain to do the cleaning for you. After all, proper and thorough cleaning can only be done by you or professionals.
What Are the Materials Needed for Cleaning Solar Panels Thoroughly?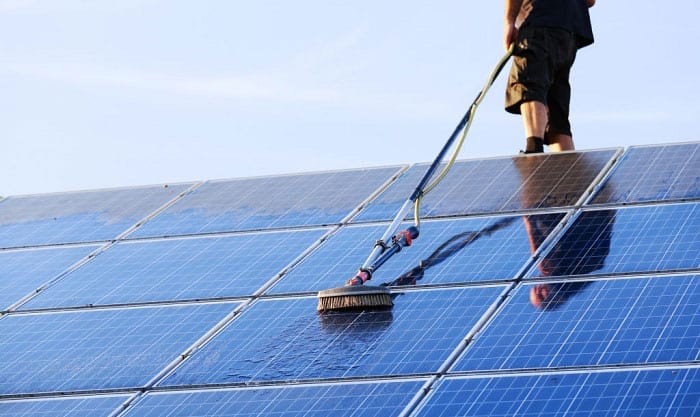 Compared to cleaning solar panels installed on taller buildings, those installed on one-story structures are safer and easier to manage. To get started with the cleaning process, you need to prepare some materials to get the job done.
The Materials Needed:
soft-bristled brush (like the ones they utilize for cleaning trucks and recreational vehicles)
glass cleaners or mild soap and water solution
squeegee or soft cloth
water hose
Luckily, all these cleaning materials are readily available in local stores, so finding them won't be a hassle for you.
Some reminders before removing the dust particles from your solar panels:
Make sure that you are cleaning the panels in a safe spot.
Thoroughly apply the mild cleaning solution to the panels.
Gingerly wash off the solar panels.
Heads Up: You might already be aware that solar systems are protected by warranties. We strongly suggest reviewing the terms and conditions of the warranty first before you clean the panels. This is especially crucial if it's your first time doing so.
A slight damage to your panels can nullify the warranty. If that happens, that is going to be a big loss on your part.
Final Thoughts
In summary, while solar systems installed at home are beneficial, owners also need to be responsible for their maintenance. Ensuring that the panels are dirt-free can help them execute and serve their purpose well. Keeping the solar panels clean also helps prevent costly replacement or repairs.
So, how often should solar panels be cleaned? Here are a few factors to bear in mind:
cleaning the panels every six months is the most recommended frequency
but, cleaning them more often might be necessary if you reside in regions with drier climates
it's best to hire a professional solar cleaner to ensure your safety and the integrity of your solar panels.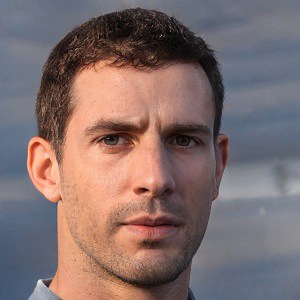 As the founder of the Avasolar team, I aspire to solve the problems for households in selecting, installing, and utilizing solar mechanical devices.