Solar water pumps operate off-grid, which is why many consumers find them better options than conventional water pumps. They are valuable stand-alone equipment that utilizes solar panel-operated power to push out water.
Indeed, you can utilize solar water pumps for many applications. To name a few, they are useful for irrigation, swimming pools, lofty buildings, and boreholes. The best solar devices are a cinch to set up, reasonable investments, and can help in cutting your electricity bills significantly.
Nonetheless, to buy the best solar powered water pump, it's sensible for you to consider the three main features below:
Flow Rate: Solar water pumps have several different uses, and their flow rates usually vary depending on the type of application you use them for. Models utilized for garden decoration commonly have a lower flow rate than models for fish tanks and fountains.
Solar Panel Power: The power produced by the solar panel operates your water pump. Hence, you should go for a solar panel that is powerful enough to produce sufficient energy to supply the voltage needed for the motor to work.
Enough power supply to your pump will ensure that it works efficiently for an extended period. The power of your solar panel should also match the power input rating for your solar water pump.
Built-in Rechargeable Battery: Some solar-powered fountain pumps will stop operating under inadequate sunshine despite their claims of extended work hours. Nevertheless, this does not need to be the case if you have a solar water pump with battery backup.
Since the battery gets charged whenever the PV system generates excess current, it could continuously run your solar device even when sunlight is lacking.
We'll provide a list of the most recommended solar-powered water pumps plus detailed reviews of each product in this post. You may also go through the buying guide section to unveil the essential features you need to inspect before making the final buying decision.
Best Overall
Sunlitec Solar Water Pump
✅ No battery and electricity required
✅ Good for ponds and other outdoor areas
✅ All-inclusive kit for a reasonable price
Premium Choice
Biling Solar Water Fountain Pump
✅ Perfect for garden decoration
✅ Easy to clean
✅ 2 methods for setting
Editor's Pick
Lewisia Solar Fountain Pump
✅ Ideal for multiple applications
✅ Different nozzles for distinct spray styles
✅ Can be placed in the shade
Best Solar Water Pump Reviews
1. Sunlitec Solar Water Pump
For those searching for an all-inclusive solar water pump kit that's ideal for beginners, this item is worth checking out. It already contains a 9.5-feet cord and sprinkler heads for a budget-friendly price. Moreover, it's easy to set up with no battery and electricity required and begins operating as soon as it captures sufficient sunlight.
This solar pump will work and look great in an outdoor garden, patio, backyard, park pool, etc. Made with premium quality materials, it operates with four head types, which allows us to pick the spray pattern we prefer best. Please note that the height of water will mainly depend on the strength of sunshine.
The solar panel is detached from the nozzle body and pump, so placing it away from the water feature while leaving the pump submerged is not a problem. Meanwhile, the built in brushless motor can guarantee an extended service of 20,000 hours. Durability, functionality, and convenience are what make this water pump a prominent option.
It's not surprising why many homeowners who have small bird tables and ponds find this solar water pump the ideal option. This product is not only user-friendly but also relatively safe to utilize. Also, we can enjoy the garden fountain pump without the need to consume electricity.
This solar water pump can only supply 1.8W of power. This means that you won't obtain the most significant power with it; however, you can rely on a dependable and long-lasting water flow that's ideal for several small-scale situations.
Pros
Consists of 4 different nozzle attachments
No battery and electricity required, user-friendly & safe
Durable and reliable brushless motor, cord included
All-inclusive kit for a reasonable price
Can be installed anywhere it could absorb direct sunlight
Good for ponds and other outdoor areas
Cons
Merely provides 1.8W of power
Overall, this garden pond pump is an all-inclusive kit that is a practical option for a small solar fountain, bird table, or small pond.
2. Biling Solar Water Fountain Pump
This solar water fountain pump is an excellent purchase for several different purposes, such as garden decoration, small ponds, bird bath, and more. It is built with a 180-degree rotatable and highly efficient solar panel and can ensure ten thousand hours of service life. The brushless motor is pretty reliable, and this water pump works like a charm in lowering our electricity usage.
Built with four different nozzles, this pump allows users to customize water flow and height. It begins operating in a few seconds the moment it's exposed to ample sunlight. The panel's easy to install and clean; I can embed it into the ground or mount it onto the wall. It's also easy to separate and clean the pump without using detachment tools.
Since we have a small pond, the size of this water pump is okay for our application. It works wonders in providing a refreshing drink for our feathered buddies and makes any outdoor space appear fascinating to behold. This eco-friendly solar fountain pump can also serve as an ideal gift for loved ones and friends.
There's no doubt that this small solar system pump does a great job in executing its purpose. Notwithstanding, it gets clogged easily. To extend its service lifetime, you might want to consider inspecting and cleaning it regularly if you don't find that a hassle.
Pros
Perfect for garden decoration, small pond, bird bath, and more
Easy to clean the panel and the pump; 2 methods for setting up the panel
Designed with efficient, long-lasting 180-degree rotatable solar panels
Manufactured with four types of spray heads
Works after seconds of sunlight exposure
Helps cut down electricity usage with reliable motor
To conclude, shoppers planning to invest in a quality solar pump for fountains will find this item's unique features and functions convenient and practical.
3. Lewisia Solar Bird Bath Fountain Pump
Solar fountain pumps that are ideal for multiple applications are undoubtedly wise investments to opt for. This solar water pump works excellently as garden decoration, for a bird bath, small pond, water circulation for oxygen, whiskey barrel, and fish tank. The multiple spray heads design also allows users to customize the water spray patterns they like.
Luckily, it's easy to assemble and clean up, and it does not require special tools, so setting it up is not troublesome. It's also designed with a 10-feet cord from the pump to the panel. Hence, users can have more flexible setup options to select from.
Since the solar panel is detachable, I can place the pump wherever I prefer, so long as the panel is exposed to direct sunlight. I can even place the water fountain in the shade if I want. Indeed, to ensure superb performance, users must consider altering the panel's placement throughout the day.
Homeowners who are concerned about a solar water pump's durability, convenience, and practicality will find this alternative a great choice. It is robust and sturdy enough not to be easily blown away by the wind.
On the other hand, the potential setback you'll need to watch out for is that this solar fountain pump comes with an unimpressive solar panel. If there's even just a little shadow covering the solar panel, this could cause it to stop working.
Pros
Strong enough not to be easily blown away
Ideal for multiple applications
Allows a more straightforward installation process
Can be placed in the shade
Designed with different nozzles for distinct spray styles
Cons
Comes with a solar panel that needs full sunlight
On the whole, buyers looking for small yet powerful enough solar powered pumps for fountains will find this option a smart purchase.
4. AISITIN AST-5.5WPump_001 Solar Fountain Pump
This solar fountain pump with battery storage is ideal for outdoor areas where I wish to add fantastic instant appeal and enjoy the sound of trickling water. In addition, this solar water pump enables me to transform anything into a fountain. It's probably one of the famous choices because it's practical for several different uses.
With six different water-style sprayers, I can satisfy different jet shape or jet height requirements. Interestingly, users can also adjust the height by altering the nozzles to impede water spilling out of the basin. Plus, the spray head is smooth sailing to replace, making the pump perfect for water circulation for oxygen.
This solar floating fountain water pump is equipped with a built-in 1500mAh battery, so it allows users to delight in the automatic storage of solar power. It is also manufactured with a top-quality and upgraded 5.5W solar panel that enables the pump to operate continuously, even when sunlight is lacking.
Furthermore, this solar aerator pump is smaller than expected; however, it surprisingly puts out a sufficient amount of water, which is just suitable for our application. What we love most about this solar water pump is the sound of running water that is quite relaxing to hear.
On the flip side, this solar fountain pump appears to be susceptible to getting clogged if not regularly cleaned. So, ensure that you check and clean the pond pump regularly to keep it free from clogging due to dirt accumulation.
Pros
Engineered with six distinct water style sprayers that are easy to replace
Great alternative for wide applications
Equipped with a built-in 1500mAh battery
Ideal for instant extra appeal and fascinating fountain sound
Designed with an upgraded 5.5W solar panel
Small but produces a substantial amount of water
Cons
Seems prone to being clogged
By and large, this product is perfect for embellishing a garden and transforming it into a more inviting and attractive one.
5. Biling Solar Bird Bath Fountain with Panel
This solar water pump kit utilizes premium quality solar glass laminates that are sturdy enough to resist being deformed, burned, or broken. Larger solar panels like the one for this option are more potent, so this solar water pump can operate well even on gloomy days. The pump is small and plain sailing to hide, so it's perfect for a pond bird bath.
Designed with dual setup methods, the solar panel can be inserted into the ground or screwed on the wall. In case the pump gets blocked, I could manually eliminate the blockage to allow better functions. Since this solar pond pump relies on the energy coming from the sun, it does not produce electricity charges and saves money.
Additionally, I can change the different nozzles as preferred. This eco-friendly and energy-efficient solar fountain is dependable when it comes to water flow regulation. The water flow is 0-200L/H; on the other hand, the water spray height is 45 to 65cm.
Shoppers looking for a solar-powered water pump that comes with a top-quality rotor will find this version a perfect choice. It works quietly, so it's unnecessary to worry about irksome noise, and its service lifetime is 10,000 hours. It is super sturdy with an IP65 waterproof grade, so it is tough enough to tolerate severe weather conditions.
On the drawback, please note that this solar-powered pond pump has no filter.
Pros
Manufactured with incredibly durable and premium quality solar panel
Enables dual installation process for the panel
IP65 waterproof capacity and long-lasting, noise-free design
Small, easy and convenient to hide; easy maintenance
Cost-saving, environmentally-friendly with excellent water flow regulation
Finally, people planning to buy sturdy, flexible, and reliable solar pumps for fountains will find this model worth considering.
6. ECO-WORTHY Solar Fountain Water Pump Kit
The thing we like most about this submersible solar water pump is that it already contains all the essentials to set up a solar-operated pond. It is outfitted with a 12-watt solar panel with a super sturdy aluminum frame and four protection angles. It is also easy to adjust the solar panel angle and embed the panel into the ground.
Please note that the water flow is determined by the amount of sunshine that hits the panel. This water pump is ideal for any outdoor use, and since it's powered by solar power, I have no electrical shock and wiring to worry about. It looks best when used with water features, hydroponics, streams, and greenhouses.
We consider this garden pump a great addition to our landscape because it makes the entire area more attractive and worth viewing. This version is quite effortless to set up and use, available in three different sizes, and can guarantee long service life. All solar panel models come with two types of fountain heads that allow me to customize the spray pattern I prefer.
We find this model excellent to use for those who have small to medium-sized ponds at home. For all that, please remember that this solar fountain water pump does not come with a battery backup. Due to this, you can only enjoy it during the daytime and cannot expect it to work at dusk.
Pros
Contains the essentials to set up a solar-powered pond
The panel has a sturdy aluminum frame and is easy to set up
Excellent for many outdoor applications
Easy to use, no electric shock and wiring
Extended serviceable lifetime and adjustable solar panel angle
Available in three different sizes, with two nozzle heads
Cons
Does not come with a battery backup
As a whole, this solar powered submersible water pump is ideal for small to medium-sized ponds, and best of all, it's sold at a reasonable price point.
7. Ankway Solar Water Pump
This solar fountain pump kit is eco-friendly, safe, and convenient to utilize. It is purely powered by solar power, so it's safe and secure for multiple applications. Such a solar bionic fountain does a great job of providing a healthy, active, and fresh bathing environment for our finned and feathered friends.
It's a piece of cake to install; I only need to set it up on wooden boards or plug it into the ground. This solar bird bath fountain will begin working within a few seconds after being installed so that users can enjoy its aesthetic appeal easily. What's more, this solar garden fountain pump is built with IP65 waterproof grade solar panels and a protective frame design.
This solar-powered pond pump utilizes polycrystalline glass lamination technology for its panel, which is built to last and minimize defect rate. In addition, the nozzle heads are utilized to modify the water height and water flow to avoid splashing.
Without any doubt, the Ankway solar fountain pump can exceptionally add more fun and appeal to our outdoor life. Its brushless motor is highly efficient, does not generate any annoying noise, and can guarantee a more extended service life than other less expensive solar-powered fountain pumps.
Even so, please keep in mind that this little solar water pump seems not that ideal for lifting water far. It works outstandingly for lifting water a few inches only. Hence, if you're expecting something beyond that, you cannot expect this pump to handle it.
Pros
Highly efficient and quiet brushless motor with different nozzle heads
Eco-friendly, safe, and convenient to use
Works quickly after installation
Highly recommended for many different applications
IP65 waterproof grade solar panels and protective frame design
Designed with polycrystalline glass lamination technology
Cons
Does not work excellently for lifting water far
Ultimately, buyers searching for solar powered pump kits that are highly efficient and reliable in executing their purpose will find this item a practical investment.
8. Viajero Solar Fountain Pump
This solar power water pump system attracts buyers because it is engineered with seven water sprayers that are effortless to use. As a result, it is adept at meeting different water heights and water flow requirements to keep water from splashing. Users can modify the spraying height from 16 to 24 in.
Built with an eco-friendly design and dual assembly methods, the panel can be embedded into the ground or mounted on the wall. We adore this model because it operates automatically, and it's user-friendly for people like us who are first-time solar water pump users. Furthermore, this garden pond pump can create a nature-like ambiance in our outdoor areas.
People can also use this solar water pump for diverse applications. Installing it in any outdoor area can create a significant transformation that would entice every guest; it is ideal for creating an impressive and soothing atmosphere. We consider it a wise investment because it can guarantee extended work time.
It's also renowned for its well-enhanced and upgraded design and features that can ensure maximum performance. It works best in circulating water for oxygen, and so long as the panel captures a generous amount of sunshine, the pump system won't fail to meet our expectations. Since it does not come with an external battery and electric outlet, it is safe for our feathered pets.
The only problem we have encountered with this solar bird bath fountain is that it quickly gets slimy. This means that if you don't inspect and clean it regularly, the pump will get clogged and be unable to provide outstanding performance.
Pros
Suitable for diverse applications, including circulating water for oxygen
Two setup methods and operates automatically
Straightforward to use with seven different types of water sprayers
Extended work time
Features well-improved design for better functions
No external battery & electric outlet
Cons
Calls for regular maintenance
Conclusively, what sets this solar water pump for fountain apart from other available options is that it offers a more extensive selection of spray heads.
9. AEO AEO-WP40SP10-KIT Solar Water Pump Kit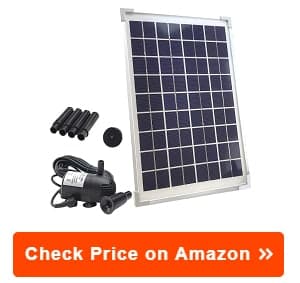 Shoppers planning to purchase safe solar fountain pumps that are a breeze to install and operate will undoubtedly find this device a great addition to any outdoor area. It does not require any wiring and is equipped with a 10W polycrystalline solar panel that's safeguarded with a solid aluminum frame. Buyers who are after durability, functionality, and reliability will find this product worth a shot.
Personally speaking, since we prefer solar water pumps that are compact, convenient, and powerful, we find this version a must-have. But, what we like best about this solar pond pump is its oil-free design that is exceptional for preventing water contamination. It is a cinch to set up because we have no complicated wires to deal with.
The brushless motor is mainly built to ensure reliable round-the-clock operation for over 20,000 hours. Besides, this energy-saving and eco-friendly water pump comes with a sturdy pre-filter cage design that shields the pump and minimizes the need for maintenance. Since this feature is easy to detach and wash, there's no need to use particular tools.
The only minor setback we have encountered with this solar-powered water pump is its lack of battery backup. So, for homeowners who prefer something that could operate at night for a stunning pond or fountain view, please note that this version won't be able to satisfy those requirements.
Pros
Comes with super sturdy 10W polycrystalline solar panel
Brushless motor allows 24/7 operation for over 20,000 hours
Compact, convenient, and powerful
Features oil-free design to ward off water contamination
Pre-filter cage for easy maintenance
Environmentally-friendly, energy-saving, and easy to install & operate
In a nutshell, this solar powered submersible pump can serve as a great solution that's straightforward to set up.
10. Solariver Solar Water Pump Kit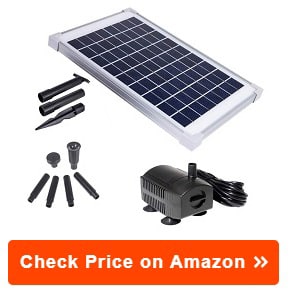 Buyers looking for the solar fountain pump can consider this item one of the most stellar choices. It does a very sterling job of moving large volumes of water, allowing users to enjoy a simple plug-and-play design. It's perfect for a wide variety of applications; we find it ideal for rainwater collection, aquaponics, waterfalls, and natural pools.
Solar water pumps that are efficient and built with submersible brushless magnetic motors are ideal alternatives. This product is designed as such; plus, it enables dry run protection and adjustable flow and can guarantee a long lifetime of 20,000 hours.
Meanwhile, its pre-filter cage is primarily for keeping residues from clogging the impeller, and is safe for different aquatic creatures.
Solariver solar water pump features a durable 12W solar panel with an aluminum frame that comes with a stake, and users could position it up to 16 feet away from the water pump. The kit already includes a power cord, but if shoppers purchase the optional 16-feet extension cord separately, they can position the panel farther away from the water pump.
Be that as it may, shoppers looking for budget-friendly solar water pumps will find this product not suitable for their budget. Compared to other available submersible solar water pump kits sold on the market these days, this version is priced much higher.
Pros
Adept at moving large volumes of water
Engineered with durable 12W solar panel with aluminum frame & a stake
Efficient and sturdy submersible brushless magnetic pump with power cord
Dry run protection, adjustable flow, and a long lifespan
Features simple plug and play design with a pre-filter cage
Best to utilize for a broad array of applications
According to countless solar powered fountain pump reviews, this solar water pump kit is a bit pricey; however, it is one of the best alternatives anyone can go for nowadays.
11. Winkeyes Solar Fountain Pump
Many buyers today opt for an eco-friendly and low energy consumption solar powered water pump for irrigation that won't break the bank. For those consumers, this alternative is a smart buy as it is suitable for diverse applications, and it is user-friendly even for first-timers in using solar-powered devices.
To operate, float the solar water fountain pump on the water, and from there, it will operate automatically once it's exposed to direct sunshine.
The kit contains four types of sprinkler heads and fitting accessories, so I can choose my desired water heights and water flows. Moreover, I can use this solar water pump for decorating my garden, small pond, fish tank, and bird bath. Adding this solar pond pump in any outdoor spot can create an instant impressive transformation.
The oil-free design of this solar fountain pump helps inhibit water contamination that won't be safe for our feathered buddies. It is also crafted with an integrated brushless motor that makes it even more energy-efficient and can promise extended service life. It operates purely by using solar energy, so it's safe for our planet as it does not require electricity to serve its function.
There's no question about how functional this solar device is; however, to ensure optimal operation, the panel should be placed in a spot where it could generously captivate sunshine. Without ample sunlight absorption, you can't expect this solar-powered pump to operate as advertised.
Pros
Beginner-friendly and a suitable option for a broad range of uses
Includes four types of sprinkler heads and fitting accessories
Engineered with an oil-free design & automatic operation
Designed with an integrated brushless motor, energy-efficient, and long-lasting
Sold at a pocket-friendly price tag
Eco-friendly & doesn't consume much energy
Cons
Performance is highly reliant on the amount of sunlight absorbed by the panel
All in all, this small solar powered water pump is a practical choice for shoppers with a limited budget who prefer a solar device that could deliver its promise.
What to Look for When Buying Solar Powered Water Pumps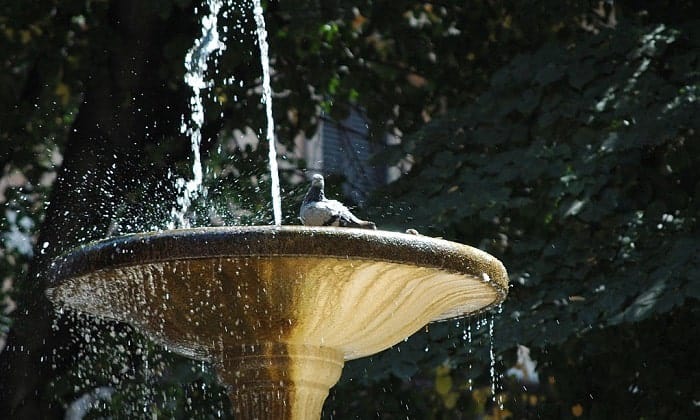 What are the vital features to search for when investing in the top-tier solar water pumps? Below are a few of the essential factors you need to consider before spending on solar pumps.
The energy produced by your solar panels operates your solar water pump. Thus, you should get a solar panel that produces adequate electricity to supply the required voltage for the motor to run.
Fundamentally, a sufficient supply of energy to your water pump will ensure that it would work efficiently for an extended time. You also need to ensure that the solar panel power is compatible with your solar-powered water pump's power input rating.
Please note that water pumps are typically classified into either surface or submersible pumps. Surface water pumps are designed for water that's 20-feet deep at most. Meanwhile, submersible water pump models are ideal for lifting water down from 700-feet below ground to the surface.
The Flow Rate of Water Pump
You can utilize water pumps for several different applications; however, their flow rate generally differs depending on the equipment you use.
Expect water pumps utilized for embellishing gardens to have lower flow rates than options for fish tanks and fountains. Keep in mind that the selection will all depend on the predetermined use for the solar-operated water pump.
Solar water pumps are engineered with several components, and each of them serves an essential function. Vital components include outlet/inlet sizes, pipe size, flow rate, voltage, fountain styles, and other bonus features.
Moreover, it's also practical to search for built-in safety features, like intensive waterproofing for deep-well submersible pumps and a built-in filter for pond pumps. As for the size of your solar pump, you need to consider your setup location and your purpose of use.
Some pumps also come with a remote control that allows users to turn them on and off. This feature is great for operating the pump from afar.
It's critical to search for a solar PV system that generates a stable current to keep the water pump working for an extended period. Ideally, it's best if you opt for solar pond pumps that work efficiently even when sunlight is insufficient or unavailable.
Built-in Rechargeable Battery
It's natural for some solar-operated water pumps to stop working when sunlight is lacking. Regardless, this won't be a problem with a built-in rechargeable battery.
The battery gets charged whenever there's an oversupply of current generated by the solar PV system. Due to this, your battery could generate the energy needed to push out water when there's inadequate sunshine.
Ease of Installation and Low Maintenance
Typically, most solar water pumps are DIY projects that don't require hiring an expert to set them up. Not to mention, a water pump designed with a removable pre-filter is an ideal option since it impedes motor damage due to debris accumulation. With a pre-filter, tidying your solar water pump is a breeze.
Are Solar Powered Water Feature Pumps Any Good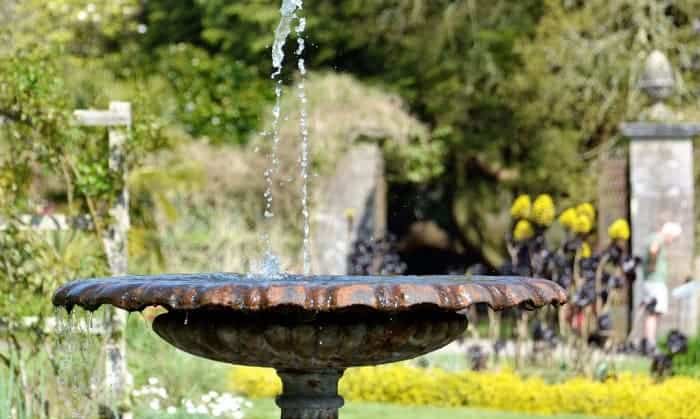 Unquestionably, solar water pumps are worthwhile solar devices. Such tools operate silently and have adequate power to run small fountains quickly. In addition, you will undoubtedly find them convenient, primarily if you reside in a location where there are sunny days.
Having a solar-powered water pump in your garden is a great addition that would create a significant transformation in your place.
How Deep Can a Solar Pump Work
When solar powered water pumps are used for domestic purposes, they can work as deep as a hundred meters. However, they would operate more excellently at a thirty-meter depth.
Please note that the flow of water is connected to the depth of operation. The deeper you have to pump, the less the water pressure would be. Solar water pump makers generally supply their system's water flow at distinct total pump head elevations.
Do Solar Water Pumps Work at Night
The delightful news is that solar-powered water pumps designed with batteries can work at night or on overcast days. This is all thanks to the stored energy in the battery. On the other hand, a water pump without a battery could work when the solar panel is directly exposed to sunlight.
How Long Do Solar Water Pumps Last
Whether your solar water pump is the surface or submersible type, it commonly lasts for roughly fifteen up to twenty years. If solar panels are the most valuable items, followed by the motors, then we could safely assert that solar water pumps are built to last.
While these powerful solar pumps are expected to last for approximately twenty years, some of the system's components, like the controller, might require replacement within this period.
Conclusion
The current energy crisis led to a serious campaign towards using renewable energy. Despite the comparatively higher upfront costs, the actual efficiency of using solar products is observed in their use over the years. It's been proven that the use of solar power is a money-saving option.
Hence, if you're planning to use solar energy for agriculture, pools, ponds, gardens, fountains, using the best solar powered water pump can provide you with countless perks. They're easy to install, low maintenance, and can help you save energy and money.
Hopefully, our buying guide and the solar water pumps reviews can help you make an informed final buying decision.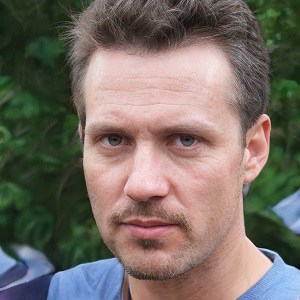 I am Kathleen Miller, staff writer and reviewer of the Avasolar team. Working with the team has been a pleasure for me so far, I hope to bring readers useful information by creating detailed and easy-to-follow contents.