What better way to show loyalty to your home country or favorite football team than displaying a valiant flag in your yard or front lawn? It's the ultimate symbol of love and pride.
But when nighttime rolls around, passers-by won't be able to see your flag unless you get a light to shine on it. However, you can't just pick any random light—you need one that will stay bright all night but will still save you money on your electricity bills.
For that, you need only the best solar flagpole lights you can find. I mean, why not? They save on energy while giving your flag the illumination it deserves.
It may seem like an easy task, but looking for the perfect solar powered flagpole lighting isn't any ordinary feat. There are many options, and it can be overbearing to pick one. So to help out, here's a list of the best ones.
Best Overall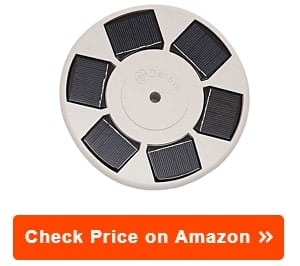 Deneve Solar Flagpole Light
✅ Lights up at around 15-20 feet
✅ 1 year warranty
✅ Fits 0.5-inch spindles
Premium Choice
Sunnytech Solar Flagpole Light
✅ IP65 waterproof
✅ Wide lighting coverage
✅ Made with 20 LED lights
Editor's Pick
Vont Solar Flagpole Light
✅ 26 LED lights
✅ Offers 100% light coverage of your flag
✅ Has an automatic daylight sensor
Top 12 Solar Flagpole Light Reviews
1. Deneve Deluxe Silver Solar Flagpole Light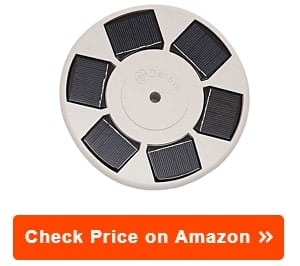 Flag pole lights are rendered useless if they don't fit in your flagpole's ball ornament spindle. Thankfully, this Deneve flagpole light is compatible with most poles, fitting a 0.5-inch spindle.
It emits an intense light that cuts through the darkness, allowing your beautiful flag to peek through and stand proud.
The light can illuminate the ground as well, covering up to 15-20 feet of space. That means it's versatile enough to be an outdoor light for a portion of your front lawn or yard too.
This flagpole light is made sturdy and durable. It's enough to withstand bad weather. It can even survive a storm of hail without breaking or getting distorted, which is a huge plus if you live in an area prone to snowstorms.
Don't worry about regretting your purchase. Deneve offers a one-year warranty to make sure you're delighted with this light. It's helpful for those who aren't well-versed yet in shopping for solar lights.
The only con with this light is that it only illuminates half of it when your flag blows in the wind. But when your flag is simply hanging down, your neighbors will see the whole flag.
Pros
Fits 0.5-inch spindles, so it's universally compatible with most flagpoles
The light's intensity cuts through extreme darkness
Lights up the ground at around 15-20 feet, so it can also be a garden light
Sturdy enough to withstand bad weather, even when it's storming hail
The brand offers a one year warranty to ensure you're satisfied
Cons
Only illuminates half of the flag when it blows in the wind
This Deneve light makes for terrific solar powered flag lighting if you want something bright and can double as an outdoor light in your lawn.
2. Sunnytech 2nd Gen Solar Flagpole Light
There are tons of solar flagpole lights made in USA, but not every single one is of pristine quality. This one by Sunnytech stands out among other American solar lights because it's high-quality.
It's made with 20 LED lights in total, which are energy-efficient and shine brightly at night. The flagpole light illuminates a wide range of your flag. The coverage is enough to light up your entire flag's surface.
The light has a built-in sensor that detects the brightness of its surroundings. When the environment is dark, it turns on automatically, so you don't have to do it manually.
It's easy to install, even if you don't have any power tools to set it up. You also don't have to worry about breakages and leaks when the weather is terrible, thanks to its IP65 waterproof technology. It even has a smart hole for water to drain out if it gets trapped during the rain.
But you may notice that this solar LED flagpole light is affected by cloudy weather. It takes on more subdued lighting when it doesn't get much sun.
Pros
A high-quality product designed in the USA
Made with 20 LED lights that are bright and energy-efficient
Provides wide lighting coverage to capture your entire flag
Has a sensor to automatically turn on when the environment gets dark
Easy to install and doesn't need any extra tools to set up
Designed with IP65 waterproof technology and a smart hole
Cons
Has subdued lighting when it doesn't get much sun
If you want a bright solar power flag pole light that is sturdy, self-sufficient, and easy to install, you can't go wrong with this one by Sunnytech. The best part is it lights up your entire flag, not just a tiny section!
3. Vont Solar Flagpole Light
This Vont light is designed with a group of 26 LED lights, a higher number than most flagpole lights you may come across. All in all, the light bulbs emit 200 lumens of light, which is quite bright.
It offers 100% coverage for your flag, which means it lights up your entire flag's surface, not just the center or one side. That way, your flag will be clear and recognizable all the time.
An automatic daylight sensor allows it to detect the environment's darkness level and turn on automatically when it's nighttime. When it's fully appropriately charged during the day, the light stays on for many hours and usually from dusk until dawn.
Your light will come with three pre-installed AA batteries, so it's perfect if you don't have a ready stock of your own batteries.
However, when the daytime weather is a bit cloudy and overcast, your solar flagpole light might not charge to the best level. During the night, it may not give off as much light as usual. For it to work best, make sure it charges under direct sunlight.
Pros
Designed with 26 LED lights that emit a total of 200 lumens of bright light
Offers 100% light coverage of your flag, so it will never be unrecognizable
Has an automatic daylight sensor that turns the light on at nighttime
When appropriately charged, it stays bright from dusk till dawn
Already comes with three pre-installed AA batteries
Cons
Doesn't give off much light when the weather during the day is overcast
This convenient flagpole light has batteries pre-installed and automatic sensors to charge and turn on without any help. It's a far cry from the usual hardwired flagpole light, so it's terrific if you want to switch over to a bright solar flag light.
4. Deneve Standard Gold Solar Flagpole Light
If you loved the Deneve light we previously talked about, you might be interested in this gold option. Its unique color gives your flagpole a fancier look that is different from the usual silver or white.
Like the silver Deneve light, this one will fit most flagpoles because it accommodates 0.5-inch flagpole ornament spindles.
The brightness level of this light is strong enough to illuminate all the way down to your flagpole's base, assuming your pole is about 15-20 feet tall. It's a great way to showcase shrubs or plants you have by the pole's base.
Setting the light up is easy. You don't need extra tools or wiring to get it done. It's perfect for lighting newbies.
But this light is not without its flaws. For one thing, it might come with pretty flimsy pre-installed AA batteries that don't charge fully, so you may want to replace them with your own AA batteries when you receive them.
Some customers have also complained about the manufacturer's customer service. It seems the company does not always reply to queries quick enough.
Pros
Has a unique gold color that's different from the usual silver or white
Fits most flagpoles since it accommodates the standard 0.5-inch spindle
Brightness level is enough to light your flagpole's base 15-20 feet below
Easy, tool-free set-up and doesn't require you to have wiring
Cons
The batteries they initially come with aren't so high-quality
Slow response to customers in some cases
If you want sleek and fancier-looking solar powered flagpole lights, you should consider this gold one from Deneve. It also makes an excellent light for showcasing your entire flagpole, not just the top.
5. Home Deputy Solar Flagpole Light
This flagpole light by Home Deputy is fashioned with a whopping 111 LED light beams, allowing for excellent coverage of your flag when it's lit up. The lights are multi-directional, which means they can light up your entire flag, not just a section of it.
The light can last up to 10 hours in the nighttime, provided that the batteries were fully charged under the sun earlier in the day.
It recharges automatically when it senses the sun is up. Later on, when it gets darker in the evening, it also turns on by itself without any manual set-up from your end.
Most flagpoles have a 0.5-inch ornament, which this flagpole light accommodates perfectly. That means it's technically universally compatible, so you don't have to worry about it not being a good fit for your pole.
Like most flagpole lights, this one is easy to install. It takes only two minutes of your time to get it up, without the use of any tools or hard-to-read manuals.
You should note that while the solar panel boards are of good quality, they may become dislodged over time, thanks to the wind and tricky weather conditions. All you have to do is open up the LED light board to fix its position, and you're golden.
Pros
Crafted with a whopping 111 multi-directional LED light bulbs
Lasts up to 10 hours when the batteries are fully charged
Recharges and illuminates automatically
Compatible with the standard 0.5-inch ornament
Takes two minutes and no extra tools and manuals to install
Cons
The solar panel boards can become dislodged over time
The bottom line is, if you're in the market for the brightest solar flagpole light, this one by Home Deputy may be the one for you. With a whopping 111-LED design, you can't beat it in terms of light coverage and brightness.
6. AOPMET Solar Flagpole Light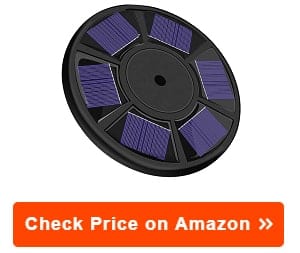 This AOPMET flagpole light model is made with a total of 111 LED light beams, allowing it to emit a strong and bright light.
It's designed with a built-in daylight sensor that allows it to detect brightness and darkness in its surroundings. That means it can automatically recharge when the sun's out and switch its stored light on during the nighttime.
Most flagpoles will fit nicely with this light because it's designed to fit the universal 0.5-inch wide flag spindles most poles have.
The flagpole light is designed with IP67 weather-resistant material. With this, you won't need to worry about damaging your light even if you leave it out during a bad storm. This is very helpful for those who live in wetter climates.
This light comes with a clip and hook in its set, in case you want to hang it up as an outdoor light on your front porch or garden instead. That makes it very versatile and multi-use.
One downside to this flagpole light is that its lifespan doesn't seem to be that long. Many users who have used this light find that it lasts less than a year or so before needing to be replaced.
Pros
Made with 111 LED light beams for a strong and bright luminosity
Designed with a daylight sensor that allows it to automatically switch on
Compatible with most flagpoles because it fits 0.5-inch flag spindles
IP67 weather-resistant, so it won't be damaged in wet climates
Comes with a clip and hook for use as an outdoor light instead
Cons
The lifespan isn't so long and seems to only last less than a year
This AOPMET model is one of the brightest flagpole light options you might find, what with its 111-strong LED light design. It's fuss-free and terrific for showcasing not just your flag but other outdoor spaces too.
7. Solar Light Mart Alpha 180X Flagpole Light
Solar Light Mart's bracketed flagpole light emits a warm-white brightness. This is more flattering for homes instead of a cool light, and it's never as stark or blinding to sensitive eyes.
It's made up of 35 LED light beams. Together, these lights emanate up to 230 lumens, which is more than enough to illuminate your flag beautifully and efficiently.
There are three brightness modes you can choose from: high, normal, and low, ranging anywhere between 60 and 230 lumens. That makes your light customizable, depending on how bright you want it to be for certain occasions.
The light fixture itself is made of cast iron, while the solar panel boasts of tempered glass. These materials make your light strong and durable.
You can also set this light up as a yard spotlight, depending on how you want to use it. It's very multi-functional that way.
But if you're a newbie, you might not enjoy the challenging set-up of this flagpole light. There are tons of bolts, nuts, and wires to deal with, as well as the ever-complicated U-bracket. It's more geared towards those with experience setting up complex lights.
Pros
Emits a neutral warm-white light that is flattering and isn't blinding
35 LED light beams create up to 230 lumens to illuminate your flag
Has three user-defined brightness levels—high, normal, and low setting
The cast-iron fixture is paired with a tempered glass panel for durability
You can use it as a flagpole light or as a yard spotlight
Cons
Set-up can be quite challenging since there are bolts and U-brackets, etc
This warm-white light by Solar Light Mart is brilliant because it's customizable (in brightness level and positioning), durable, and super luminous. It has strong flag pole lights LED power, making it a frontrunner in its industry.
8. ZIOTI Solar Flagpole Light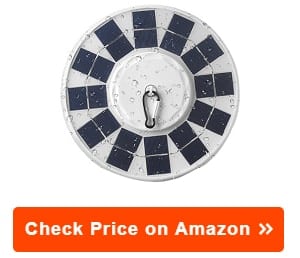 ZIOTI's flag pole light is designed with 128 LED light beams that provide bright, top-notch luminosity for your favorite flag blowing in the wind. These light bulbs are bright and save tons of energy for intense luminescence.
While most flagpole lights have the same type of solar panels, this light boasts of enhanced and new-generation ones that charge faster than most others. That way, it doesn't take too long to soak up energy from the sun.
It works on two brightness levels—medium and high. You can adjust these whenever you like, depending on what kind of light better suits your flag.
The light automatically activates as soon as the sensor detects that the surroundings are darker. No more manually turning on your hard-wired lights!
Like most high-class flagpole lights, this one is fashioned with IP67 material, making it waterproof. It's resilient against extreme climates and the occasional storm.
However, note that this flag pole light's battery storage isn't that impressive. The capacity is not large enough, so the bright light tends not to stay on all night.
Pros
Designed with 128 bright and energy-saving LED light bulbs
Has enhanced, new-generation solar panels that charge faster than others
Works on medium and high brightness levels
Automatically activates as soon as it senses that the surroundings are dark
Made with IP67 material to be resilient against extreme weather
Cons
Battery capacity is not large enough, so the light doesn't stay on all night
If you want more technologically advanced solar panels and lights to illuminate your flag, this is the light you should go for. It's designed to save energy faster, have adjustable brightness levels, and withstand insane weather.
9. FALOVE Outdoor Solar Spotlight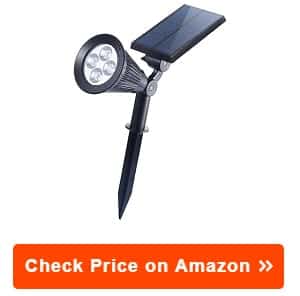 If you want a unique way to light up your flag, try out this FALOVE outdoor spotlight instead of the usual flagpole light. All you have to do is mount this light into the ground, which is super easy and doesn't require tools and wiring, and face it in the direction of your flag.
Its output comes to a total of 200 lumens emanated. The light will be bright enough to cast a luminous glow on your entire flag.
You can choose between two brightness modes—low and high, depending on your preference and lighting needs. Select the low mode for less energy consumption, and the high mode for more intensity.
Since the light is made with IP65 material, it's completely weatherproof. That means it can withstand extreme heat and a downpour of rain or snow.
The batteries that come with the light charge fairly quickly, soaking in enough sunlight in as little as eight hours on a sunny day.
However, if your flagpole is too tall and your flag too high up, this light may not illuminate all of it since it's mounted on the ground. It's better for shorter flagpoles carrying smaller flags.
Pros
Easy to mount into the ground with no tools or wiring needed
Provides an output of 200 lumens, which is enough for your entire flag
You can choose between a low and high brightness mode
Made with IP65 heatproof material to withstand harsh weather conditions
The batteries finish charging in eight hours
Cons
If your flag is too high up, this light may not illuminate all of it
If you're looking for the best flagpole light mounted on the ground instead of on top of your flag, this one is your best bet. The light's intensity is terrific, and you have more control over it since it's easier to access on the ground.
10. MegaBrand Telescopic Aluminum Flagpole
Not sold on the idea of buying a separate solar light for your flag? Do away with disc-like flagpole lights and purchase a pole with a built-in one already, like this one by MegaBrand.
The pole is 25 feet long, so it's taller than most flag poles out there. This allows your favorite flag to fly high and mighty in the sky for all to see.
It's telescopic in design, which means the pole is easy to set up and take down. A few folds into multiple rings is all it takes—just like a telescope.
The set comes with a brand new American flag so that you can display your pride for the nation as you use your pole and lights right away.
Now, let's talk about the lights. The solar light that illuminates the flag contains 26 LED beams, giving you a bright and noticeable glow. It illuminates your American flag for up to eight hours when the three AA batteries are charged fully under the sunlight.
The only con of this set doesn't have to do with the flagpole lights but more with the pole itself. It's much thinner than the usual aluminum flagpole, so much so that it bends in strong winds. If you live in a windy city, you might want to consider other options.
Pros
The pole is 25 feet long, which allows your flag to fly high in the sky
Telescopic in design, so the pole is easy to set up and fold back down
Comes with an American flag so that you can use your pole right away
The solar flagpole lights contain 26 LED beams for a bright glow
Illuminates your flag for up to eight hours per night on a full charge
Cons
The pole is thinner than average and bends in strong winds
This is a great set to buy if you don't yet have a flagpole and want to light up the American flag in your home. Its high-class, built-in solar lights that keep your flag shining are worth the purchase.
11. WeValor Solar Flagpole Light
This WeValor light is made up of 26 powerful LED lights that emanate a luminous glow. The lights have a wide circumference, providing more light coverage for your flag.
It charges automatically under direct sunlight during the day, storing all the energy it needs for the night. And when it gets dark, it turns on by itself to illuminate your flag.
Don't worry about heavy rains—this light is made of water-resistant material that makes it weatherproof. No more rushing to uninstall your light when there's a storm coming!
When fully charged in the day, these lights stay on for up to 10 hours. That makes them fabulous dusk to dawn LED flagpole lights.
This light is quite versatile, too. You can use it for other outdoor lighting needs, like on your patio or garden. It comes with a hook for you to hang up on fences and tents for your convenience. It's perfect to have on-hand for overall outdoor lighting.
On the downside, one customer received a package with missing parts after purchasing this light. Fortunately, the seller provides a one-year warranty program, so buyers can contact them about quality problems.
Pros
Has 26 powerful LED lights that have a wide circumference
Charges automatically under the sun and lights up when it gets dark
Made of water-resistant material, making it essentially rainproof
Stays lit at night for up to 10 hours, so your flag's illuminated all night
Includes a hook, so you can use it in your garden and other outdoor spaces
Cons
The light may come missing parts
Check out this WeValor light if you want powerful LED light bulbs keeping your flag looking beautiful in all its mighty glory from dusk until dawn, even when it's raining.
12. Solar Light Mart Mini 120X Flagpole Light
Don't let this mini light by Solar Light Mart fool you. It may be small in dimensions, but it packs a punch in brightness, putting out up to 240 lumens to brighten up your beloved flag all night long.
The LED lights emit a warm-white glow. This is much more flattering for home décor than the stark, cool-white lights of many other flag lights.
It's made with cast aluminum, so you can be sure your lights will be sturdy and won't be damaged so easily. The casing of the spotlight has a sleek, black finish, making it look chic and stylish—perfect for a minimalist flagpole look.
The solar panel is remote, attached to the light only with a short wire. That way, your light doesn't look so bulky. Your light can run up to 15 hours long if the batteries are charged during the day under the bright sun.
But do note that this light isn't as easy to install as the other flagpole lights on this list. You have to deal with screws and bolts to set up the pole-mounting ring, which can prove difficult for inexperienced newbies.
Pros
Small in size but offers up to 240 lumens to brighten up your flag
The LED light emits a warm-white glow, which is flattering for home décor
Made with cast aluminum and finished with a sleek, black spotlight casing
The solar panel is remote and is attached to the light fixture with a wire
Runs up to 15 hours long when the batteries are charged fully
Cons
Not as easy to set up as other flagpole lights
This sleek and stylish flag pole light by Solar Light Mart is all you need to complete your dream flag setting on your porch. Check it out if you want substance and style all at once.
What to Look for When Buying Solar Flagpole Lights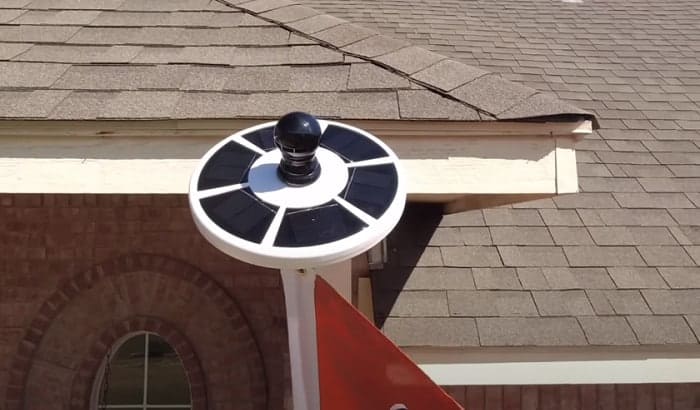 Withstands tough weather conditions, like snowstorms and intense heat
Any high-quality solar light for flagpole support should be made with material that is tough and durable. Look for a flagpole light that is waterproof so that it can withstand the elements.
You need a light that won't break down on you even in bad thunderstorms, huge snowstorms, and intense heat during the summer. Look for flagpole lights that are made with IP65-67 waterproof technology so you can be sure they'll last a long time.
Illuminates your entire flag, not just a tiny snippet of it
Some lights are affordable but can be quite disappointing when it comes to how much space they light up. Super small lights may be economical, but they may not light up your entire flag—just a small section of it.
Make sure the flagpole light you purchase can illuminate your whole flag. Otherwise, it would have been a waste of money.
Lasts for hours so that your flag shines brightly across your yard or lawn all night
Always opt for a flagpole light that stays on all night. Try to check how many hours your light can stay up when it's fully charged during the day. You want one that promises to shed light on your flag for 8-12 hours when it's dark.
Emits a high amount of lumens to be extra luminous
Look for a flagpole light that will be extra bright at around 200 lumens and more. Colors like red and blue require an intense luminosity to look vivid when lit up in the sky, so it's important that your flagpole lights illuminate them properly.
How Many Lumens Do I Need for a Flagpole
Try to look for flagpole lights that have at least 200-300 lumens. This is quite high, but it's important that your flagpole light emits bright light to capture all the flag colors. It's also nice to see your flag swing back and forth beautifully when you have a brighter light.
How Do You Install a Solar Light on a Flagpole
Installing your flagpole light will differ depending on its brand and model. But generally, all you have to do is bring the flagpole down to its lowest position and then unscrew the round ornament at the top. Insert that ornament into the solar flagpole light disk, and then screw it back into the pole.
When you lift your flagpole up high again, you can be sure your solar light will keep it bright and emphasized all night long.
Where Can I Buy
You can always check out your local home improvement stores to see if they have any flagpole solar lighting. It should be in the light fixture section. If you know a specialty store that only sells solar energy devices, you can see if they have good options as well.
But if you want a more convenient way to shop for your flagpole lights, you can always turn to major marketplaces online. It's a terrific way to shop quickly and for the best price. Plus, you get to do research on each product and read solar flag pole light reviews before you add it to your cart.
In short, you can find the most favorite solar powered flagpole light in tons of places (Home Depot, Lowe's, Amazon). The important thing is that you find a brand you trust, so your purchase will be worth it.
Conclusion
You can't just display a flag on your lawn and not fix up the best solar flagpole lights to keep it bright and shining all night—it's borderline disrespectful to that magnificent flag!
If you're looking to showcase your flag for everyone to see, check out any of these flagpole lights. They're all high-quality and are perfect for illuminating your favorite flag, so you really can't go wrong with whatever you choose.
The best part is that all of them use solar power, so charging is hassle-free. You'll get to save up some money since it won't cut into your electricity bill budget.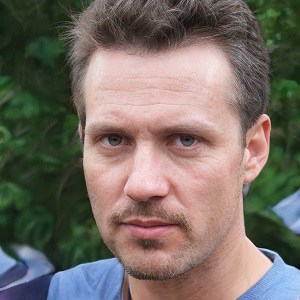 I am Kathleen Miller, staff writer and reviewer of the Avasolar team. Working with the team has been a pleasure for me so far, I hope to bring readers useful information by creating detailed and easy-to-follow contents.