Unquestionably, picking the most suitable charge controller for your battery is vital in getting maximum performance from your stand-alone PV system. At present, there are various forms of charge controllers, and each of them is designed to suit a specific solar power system.
Unfortunately, when shopping, consumers get confused about the technical details regarding the kind of unit they should opt for. So, they're more likely to end up buying the inappropriate charge controller model.
This post aims to help you be in a better position to choose the best MPPT charge controller suitable for your power system. Let's explore my favorite products.
Top 12 MPPT Charge Controller Reviews
1. Victron Energy SCC110030210 SmartSolar MPPT
We prefer a solar charge controller engineered using the fastest technology, so we consider this model the ideal pick for us. My MPPT solar charge controller review shows that this option works like a charm in sustaining and extending battery life. As you can see, the overall construction is topnotch and built to last.
Moreover, we love this unit because we can remotely regulate and monitor this charge controller's features anywhere at home. It is effortless to hook up to the panels, and the built-in Bluetooth works outstandingly and helps us see precisely how much we're generating. It instantly connects automatically up to a 50-feet distance and even inside.
Undeniably, the app is quite convenient and perfect for our needs. The wire terminals are sturdy. This solar charge controller is adept at giving us live data; it allows us to take charge of profile changes and provides performance history.
Since we are into iOS apps, this tool has made our lives easier. It's genuinely beneficial to use even when traveling because we don't have to worry about draining batteries.
On the cons, if you're going to make an MPPT solar charge controller comparison, you'll find that this version is on the expensive side. I was hesitant to spend a bit more at first, but since the features are practical and convenient, I was lured to get one for our household. Luckily, this is a beautiful tool, and it executes a great job as advertised.
Pros
Specifically engineered using the fastest technology
Helps sustain and extend battery life
Users can remotely regulate and monitor this device's extensive features
Equipped with robust wire terminals
Designed with a durable overall construction
In summary, this charge controller's overall construction is topnotch and convenient because I can check the controller using my smartphone almost anywhere at home.
2. Onesolar MPPT Solar Charge Controller
This MPPT charge controller for lithium batteries is our number one choice because, compared to other options, it is more affordable. Aside from affordability, this item is also built with four charging options that we find convenient for several applications. The entire unit is also well put together and features a solid build that seems durable enough for rugged use.
Featuring a well-designed LCD, it allows us to view the operational data and the charge controller's working condition. It displays real-time energy statistics with several load control modes. It also indicates the daily current curve and power generation curve.
This unit is also crafted with a setting known as PV control that is meant to turn the voltage output on at dusk. The maximum input voltage of this unit is 150-V PV. It is worth noting that this charge controller is engineered with multiple protections against battery undervoltage, overheat, and reverse polarity.
Plus, it is safeguarded against short circuits, overload, over-discharge, and overcharge. This solar charge controller is also built with a 98% maximum conversion rate and 99% tracking rate of maximum power.
We didn't have any issues setting it up. It does not have external devices and extra Bluetooth; however, it has a battery temperature gauge that works exceptionally for its purpose.
On the flip side, such a unit seems not the best option if you intend to buy one for off-the-grid use. This is because this solar charge controller requires constant resetting.
Pros
An affordable price
98% maximum conversion rate and 99% tracking rate of maximum power
Supports four charging options
Designed with a clear LCD and a temperature gauge
Features a durable overall construction that's easy to set up
Engineered with multiple protection features and PV control
Cons
Not ideal for off-the-grid use
Lastly, this MPPT charge controller for the money is a wise investment for homeowners on a budget but want a functional charge controller.
3. Renogy RNG-CTRL-RVR40 MPPT Charge Controller
We purchased this 40 amp MPPT solar charge controller because its programming is relatively simple. At first, it might take a bit of time to comprehend the logic behind the button sequences, but the rest is less complicated. If you read the instructions, this unit will work fine.
It is equipped with a battery temperature sensor, and the battery percentage is shown on the LCD screen.
Fundamentally, this unit is compatible with Deep Cycle battery options. It is also shielded against short circuits, overcharging, and over-discharging. Like other expensive charge controllers, this version can also offer four-stage charging methods.
This unit is engineered with a die-cast aluminum design for maximum heat dissipation. We are also impressed by its error code detection function that allows easier self-diagnoses. This charge controller is also designed to detect 12-Volt or 24-Volt DC system voltages automatically.
Essentially, this MPPT charge controller features 99% superior tracking efficiency and 98% maximum conversion efficiency.
It's good that the display utilizes large digits, and you can easily spot them. However, the unit is not designed with a backlit screen, so this can be an issue in total darkness.
Pros
Compatible with different Deep Cycle battery options
Four stage charging and automatic voltage detection
Features superior tracking efficiency and conversion efficiency
Engineered with die-cast aluminum design and electrical protection
Designed with error code detection function and battery sensor with LCD screen
The programming is pretty simple; instructions available
Cons
Not designed with a backlight screen
Conclusively, this Renogy MPPT charge controller review is proof that there is no need to break the bank because high-quality charge controllers do not need to be super expensive.
4. EPEVER MPPT Solar Charge Controller
We consider this EPEVER MPPT solar charge controller a practical option for our energy requirements because it helps improve our system's performance and extend battery life. It is not as expensive as other available alternatives, so it is just right for our budget.
This device features superb conversion efficiency and superior tracking efficiency to optimize the energy from solar panels and charge our system efficiently.
What makes this charge controller a superior choice is its provided protection against short circuits, reverse polarity, reverse current, over-discharging, overload, and overcharging. We are pleased by its capability to safeguard the battery. The solar charge regulator supports MT-50, APP, and PC software.
Moreover, this unit is outfitted with a backlight LCD screen. This feature is intended for indicating system data and working conditions. Since the charge controller is built using a die-cast aluminum design, it is ideal for efficiently dissipating heat. Its multiple load control methods and compatibility with Deep Cycle battery options are very advantageous features.
On the downside, after a period of use, this item started to make some noises when charging. I'm not too annoyed by this flaw, but people with sensitive ears might feel differently.
Pros
A reasonable price
Outfitted with a backlight LCD screen and MT-50, APP, PC support
Prevents short circuits, reverse polarity, reverse current, and more
Designed with multiple load control options and heat dissipation design
Improves system performance and supports Deep Cycle batteries
Optimizes the energy from solar panels to efficiently charge your system
Generally speaking, this MPPT solar charge controller works as advertised. Built with many valuable features and functions, this is absolutely a hot deal!
5. Outback FM80 MPPT Solar Charge Controller
This 80-amp MPPT solar charge controller is easier to utilize than expected. We prefer this unit over other options because it is programmable to charge battery voltages from 12-VDC to 60-VDC. Compared to other solar charger controllers, this version features more advanced and continuous optimal power point tracking. Hence, it is ideal for augmenting PV array output by up to 30%.
We are just beginners in using solar products, but fortunately, this charge controller did not make our off-grid life and adventures difficult. This device is adept at acquiring more amp hours from the solar panels into the batteries daily. It is equipped with excellent hardware and works fine for what it was designed for.
This MPPT charge controller is also manufactured with a backlit 80 character display that lets me know the present operational condition. You see, you get updated with the current system data.
Be that as it may, it would have been better if the manufacturer indicated in the product description what consumers are buying. In this case, a data cable that is necessary for hooking it up to a hub is missing. This one is needed to correspond with the rest of our system and provide info to any logging software we have.
Pros
Programmed to charge different battery voltages from 12VDC to 60VDC
Obtains more amp hours from solar panels into batteries daily
Designed with backlit 80 character display
Features more advanced and continuous optimal power point tracking
Not complicated to utilize
Cons
Product description should list package content
6. EPEVER Tracer4215BN-MT50 MPPT Charge Controller
Engineered with leading power tracking technology, this MPPT solar charge controller works exceptionally to maximize the solar charger systems' operation. It is built with an innovative tracking algorithm that optimizes the energy from the solar PV modules and efficiently charges the battery.
The MT50 remote meter features a wide LED screen designed to indicate real-time operational info in graphic, digital, and textual forms. Substantially, this unit is utilized for setting and monitoring the controller. It automatically determines the model, type, and applicable parameter data of solar controllers.
This solar charge controller is also compatible with all lead-acid batteries, flooded batteries, and sealed AGM GEL batteries. The multiple load modes enable me to set the load on and off in many situations. For those utilizing a power inverter, a solid-state relay is highly recommended. Meanwhile, the user mode enables owners to set their charging parameters.
This unit is also crafted with a PC communication cable and battery temperature sensor. These are for monitoring each controller on the network through the solar station PC software and updating the firmware. Such a 40-amp MPPT charge controller is regarded as a terrific option for consumers who like high tracking efficiency.
Its RS-485 communication bus interface and standard MODBUS interface are meant to satisfy different communication requirements.
Regarding negatives, it would be better if the instruction manual of this MPPT charge controller was more focused and considerate for novice installers. It took a long time for us to get the unit installed right.
Pros
Engineered with advanced power tracking technology
Compatible with many battery types
Equipped with a PC communication cable and battery temperature sensor
Designed with multiple load modes and charging parameter settings
Features a remote meter with a wide LED screen display
RS-485 communication bus and standard MODBUS interfaces
Cons
The instruction manual is slightly challenging to understand
In general, this EPEVER MPPT review proves that this unit is ideal for off-grid applications and a perfect option for budget-savvy shoppers.
7. PowMr MPPT Charge Controller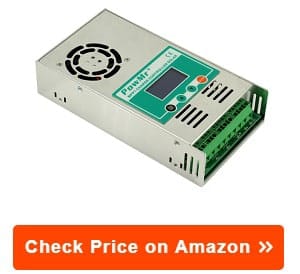 This MPPT solar charge controller price is surprisingly low. We were amazed to spot a unit designed with upgraded software that is as affordable as this option. Best of all, this device is user-programmable for load timer, low voltage disconnect, floating voltage, and absorption voltage. It allows for real-time energy recording also.
This charge controller is built with an integrated DSP controller with high-performance automatic battery voltage detection. It is essential to ensure that the voltage of the batteries is more than 12-Volt to bolster the controller and ensure that the battery has sufficient power to self-detect when linked to the controller. We prefer this unit because it is a well-made controller.
The backlight LCD with an outstanding troubleshooting function is another helpful feature. It is beneficial because it not merely inspects the entire system's operating status and data but also instantly detects system errors and adjusts parameters. Undoubtedly, this MPPT charge controller is a game-changer for our power requirements. We can enjoy solid and consistent charging all day long.
The major complaint about this solar charge controller is the weird installation instruction. We decided to search on YouTube and watched videos on how to get started with this unit. The YouTube videos were more helpful than following the weird instructions provided in the package. We wish the manufacturer would consider making the instructions easier to understand, especially for first-time users.
Pros
Affordable and constructed with an updated software
User programmable for load timer, low voltage disconnect, and more
Guarantees strong and consistent charging all day long
Backlight LCD display with troubleshooting function
Designed with integrated DSP controller with automatic battery voltage detection
Cons
Bad installation instructions
Without fail, this MPPT charge controller is an attractive deal. It is sold at a budget-friendly price, yet its features and functions are above par.
8. RICH SOLAR MPPT Solar Charge Controller
This solar charge controller for RV is manufactured with MPPT technology that comes with superb tracking efficiency by up to 99%. It can automatically discern 12-Volt or 24-Volt DC system voltages. This unit has a peak conversion efficiency of 98%.
We really like the LCD screen, and the multiple LED indicators are ideal for showcasing error codes, customizable parameters, and system operation data. The optimal solar input voltage of this unit amounts to 100 VDC.
We decided to purchase this unit because it is also adept at gauging the battery's temperature aside from being reasonably priced. We can utilize it for diverse deep cycle batteries, including lithium, flooded, gel, and sealed batteries.
More importantly, this charge controller comes with an RS232 port to correspond with the BT-1 Bluetooth module. This allows users to monitor the unit remotely. The good news is that you can easily pair this feature with a smartphone app.
The minor gripe we have encountered with this solar MPPT charge controller is the useless user manual. The instructions are poorly written and disorganized. So, we had to research on our own so that we could proceed.
Pros
Equipped with an LCD screen with multiple LED indicators
99% tracking efficiency and 98% conversion efficiency
Auto detection of 12V and 24V DC systems; 100VDC solar input
Allows users to do remote monitoring and gauge battery's temperature
Works well with diverse deep cycle batteries
Doesn't break the bank
Cons
Poor instructions on how to install and operate the charger controller
This MPPT solar charge controller is a great catch. We find it useful for remote monitoring and for measuring the temperature of the battery.
9. Victron Energy SCC110050210 SmartSolar MPPT
Many buyers consider this product the top-rated MPPT solar charge controller because it can work wonders in several applications. And, we have witnessed how reliable it is in executing its functions. This solar charger collects energy from the solar panels and efficiently stores it in the batteries. Since it makes use of advanced and fastest technology, it can maximize the gathered energy.
This product is a very convenient option because of its built-in Bluetooth that can be paired with different devices via VictronConnect. Indeed, it can be configured with a smartphone app, and it allows us to view all the parameters.
What we liked best about this item is the Bluetooth app that allows for several customized settings. Keeping track of the charge status of the batteries and power generation data is made more accessible. We are also fascinated by this unit's lightweight and compact design.
This MPPT charge controller is an excellent tool for us since we no longer have to deal with severely drained battery issues as this unit can resolve them.
However, this MPPT charge controller is not for beginners. It is necessary to consult a licensed professional first for installation, and you must ensure that you follow all the relevant electrical codes during assembly.
Pros
Utilizes advanced and fastest technology to collect and store energy
Built with an integrated Bluetooth function that can be paired with various devices
Settings are customizable
Perfect for recharging a totally drained battery
Features lightweight and compact design
Record of charging activity is quite handy
Cons
Consulting a licensed professional is required when installing this charge controller
Undeniably, this MPPT solar charger controller is unrivaled for having a superbly durable build and top-tier software quality with outstanding integration.
10. AMPINVT MPPT Solar Charge Controller
This MPPT charge controller review aims to inform buyers that this product is one of the stellar options for optimal power point tracking technology. Its optimal power tracking rate is 99%, while its optimal conversion rate is over 98%. It is also compatible with lithium, colloidal, and lead-acid batteries.
In addition, this device is manufactured with multiple protections against diverse battery charging issues. This solar charge controller displays error records to administer user troubleshooting in a timely approach. The LCD shows the current curve and the daily power generation curve. The performance of this charge controller has not disappointed us so far.
Since we prefer a unit that can ensure accurate and effective tracking, this solar charge controller is the perfect choice for our requirements. The tracking precision is over 99.73%, while the charging efficiency is over 98.5%. Meanwhile, the battery temperature sensor is specifically designed to provide temperature compensation automatically.
Notwithstanding, the minor flaw we have found on this solar charge controller is the slightly complex programming manual. It took a while for us to finally understand it. We had to research and watch YouTube videos before we could get the logic behind it. So, it takes a significant amount of patience to get started.
Pros
Displays error records to administer user troubleshooting quickly
Compatible with lithium, colloidal, and lead-acid batteries
Built with sound protection function and LCD screen
Engineered with optimal tracking technology
Battery temperature sensor with automatic temperature compensation
Cons
The programming manual is a bit complicated to understand
In conclusion, this MPPT solar charge controller is arguably the best deal. It is unparalleled in terms of tracking accuracy and charging efficiency.
11. Autoday-3C MPPT Charge Controller
Consumers all prefer the top-tier MPPT controller that is not priced expensively, just like this one. We mainly bought this item for our recreational vehicle, and we found it solid enough to survive some severe off-road bumps and jolts. It is plain sailing to wire so long as you carefully study the user manual before getting started. We don't regret spending money on a high-quality unit like this one.
What caught our attention is this unit's capability to boost efficiency by 10% up to 30%. This charge controller can take care of our batteries since it provides them with ample protection against reverse charging, over-discharging, over-charging, and other battery-related issues. It is also built with an impeccable SOC function.
In the same way, this device executes a sterling job of supplying power to the loads and controlling the charge current. The controller will automatically cut off the load from the system when the battery voltage is low. Then, if the battery voltage is back to normal, the load will start functioning again.
It takes some time to study the provided MPPT solar charge controller documentation, especially for beginners. Regardless, it is reasonably good and more valuable than the previous user manual of our old charge controller.
Pros
Capable of boosting efficiency by 10% up to 30%
Supplies power to the loads and controls charge current
Provides excellent support and protection for batteries
Designed with a flawless SOC function
Inexpensive, easy to wire, and features a rugged build
Cons
The provided solar charge controller documentation requires careful thought
On the whole, this charge controller became our companion on our frequent outdoor trips, and it has remained functional and durable for its purpose.
12. BougeRV MPPT Solar Charge Controller
We currently live in the UK, and our family loves going on outdoor trips and adventures during spring and summer. So, we find this MPPT charge controller an excellent and practical tool that we could rely on when escaping city life. This unit has made our adventures even more fun-filled and exciting since it keeps our batteries sufficiently charged even on cloudy days. You see, such a feature is hard to find these days.
Moreover, this charge controller is crafted with user-defined parameter settings and preset parameters for battery types. It is also equipped with a die-cast aluminum construction to regulate its own temperature. As you can see, the device is well-constructed and sturdy. Specifically designed for RVs, this unit can make our road trips safer and more convenient.
The well-crafted and easy-to-read LCD works well for its purpose. Plus, this device is designed with excellent electronic protection against short circuits, overcharging, reverse current, overload, reverse polarity, and over-discharging.
There's no denying that this unit is sturdy and well put together. However, the LCD is not backlit, and it lacks a temperature sensor. Luckily, this isn't a deal-breaker, considering it is sold at a budget-friendly price, and it works outstandingly in keeping batteries more efficiently charged.
Pros
Built with user-defined parameter settings and preset parameter for battery types
Die-cast aluminum construction with temperature regulation
Efficiently and quickly charges batteries even on cloudy days
Budget-friendly; well-built and easy-to-read LCD
Specifically designed for recreational vehicles
Excellent electronic protection
Cons
The LCD is not backlit, and it does not come with a temperature sensor
This unit works wonders in keeping our batteries more efficiently charged during outdoor adventures and road trips regardless of cloudy weather conditions.
What to Look for When Buying MPPT Charge Controllers
Are you wondering how to select solar charge controller? Here are a few things worth considering when picking one for yourself:
Voltage Rating
It is critical to check the voltage rating of your MPPT solar charge controller. Different battery setups and solar panels utilize distinct current voltages. These mainly include 24-V and 12-V solar panel setups that aren't compatible with each other. If possible, get a charge controller that can handle both 12 volt and 24 volt systems.
Safety
Your safety must be a priority. It is best to seek professional services if you are uncertain about handling the technical details related to your MPPT charge controller.
Maximum Current
You must inspect the maximum current rating if you wish to know more about your solar MPPT charge controller's performance. This will also help determine if it could handle high-load appliances.
While basic charge controller versions merely support 10 to 20 amps of maximum current, more excellent versions are designed to handle 30 amps or even 40 amps of electricity without any problems.
Manufacturer's Warranty
When shopping for the right MPPT charge controller, check if a product warranty supports it. A product warranty can serve as your investment protection if something goes wrong with the product you purchased.
A product backed up by at least a 1-year warranty or more is regarded as a great deal. Be sure to carefully read the terms and conditions of the product warranty so you could avoid violating any of them.
Price
You should know how much you can spend on a charge controller. This way, it will be easier to narrow down your options.
Additional Features
Many solar charge controllers come with attributes that make usage more convenient and enhance safety. For example, you can find solar products with LED screens, remote control systems, and protection against overloads, short circuits, or electric arcs.
What Size MPPT Charge Controller Do I Need
To determine the size of the charge controller you need, you'll need to take the number of panels and multiply it by watts to obtain the total watts of the solar array.
After getting the total watts, divide it by the battery bank's voltage to obtain the amps. From there, add 25% to make allowance for cold temperatures. And, the final step would be to round it up.
For instance: 2 x 140 watt solar panels in series = 280W; divide this by 12 VDC (battery bank) and add 25% = 29.18 amps.
This means that you need to pick a 30-amp 12 VDC charger. Please note that solar charge controllers are sized and graded by the solar panel's system voltage and array current.
Which is Better, MPPT or PWM
MPPT controllers are specifically engineered using state-of-the-art technology. This is the reason why they are pretty famous for countless consumers these days. They offer users a stellar combination of the most efficient features of a PWM controller, but are designed to be more functional.
On the other hand, a PWM controller provides users with an uncomplicated user experience mixed with a time-tested and proven design. It functions by transferring to the battery a streak of short charging pulses. From there, the charge controller will continually examine the charging condition of the battery and automatically modify the pulse signals to match it.
How Many Watts Can a 40 Amp MPPT Charge Controller Handle
It is best to refer to a charge controller manual to validate the actual watts that a specific charge controller model can handle. Remember that the total number of watts should be highly considered because exceeding it could damage your charge controller.
Read more about the top-rated deep cycle battery chargers here. and more, you might also be interested in solar battery maintainers.
Conclusion
Ultimately, if you already have or are planning to invest in a solar panel system, you're already aware of how valuable it is to pair it with the proper devices. Such devices can include cables, inverters, batteries, and a lot more. Nevertheless, all of these things won't function unless you have the best MPPT charge controller.
The products we have reviewed above are meant to show everyone what the market has to offer. Hopefully, the information made your shopping easier.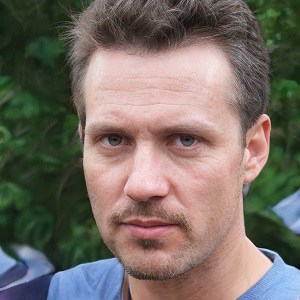 I am Kathleen Miller, staff writer and reviewer of the Avasolar team. Working with the team has been a pleasure for me so far, I hope to bring readers useful information by creating detailed and easy-to-follow contents.