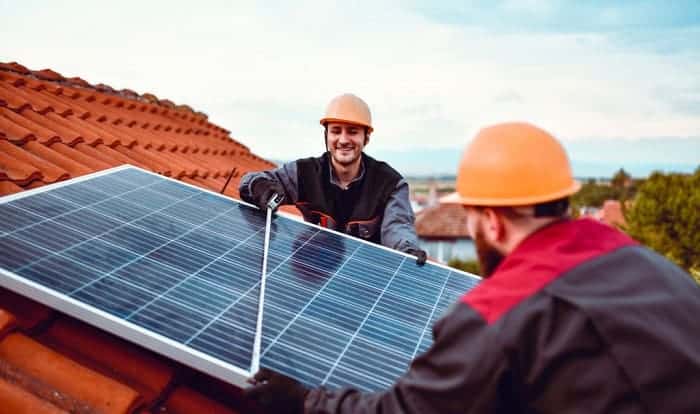 One of the most frustrating things about solar lights is that they lose brightness if they weren't charged under the hot, gleaming sun in the daytime. That poses a problem for people who live in areas that aren't properly lit, like in cloudy, gloomy cities. It's also a hassle during the rainy months.
Luckily, there are solar panels designed for low light, allowing you to store solar energy even when it's not so bright out. The best low light solar panels will efficiently provide you with power and electricity even when you're on the move and can't guarantee direct sunlight all day.
So if you're looking to incorporate solar panels in your way of life but can't always be sure you're in a sunny city, low light panels will be terrific for you. Check out some of the best ones on this list.
Best Overall
Renogy Solar Panel
✅ Long-lasting panel
✅ Iron-tempered glass
✅ Has IP67 connectors
Editor's Pick
ROCKPALS Foldable Solar Panel
✅ Comes with a handle
✅ You can fold the panel
✅ Water-resistant
Top 7 Low Light Solar Panel Reviews
1. Renogy 100-Watt 12-Volt Monocrystalline Solar Panel
This 100W low light solar panel is designed with unique bypass diodes. These diodes prevent a drop in solar power even when your panel is positioned in a shaded area. It works unlike most panels, which rely on insane sunlight just to get things running.
It's extremely durable since the solar panel is made with iron-tempered glass and is encased in an anti-corrosion aluminum frame. The panel can resist hard impact, making it very sturdy.
You can enjoy this solar panel for a long time because it's designed with long-lasting multi-layered sheet laminations, adding to its overall stability and durability. Some of its connectors are made with IP67 material, making them waterproof.
Since I wanted to install this device right away, I was happy to find that there are pre-drilled holes on the back of the panel. With just a couple of screws, you can have it mounted anywhere. It's compatible with off-grid generators and inverters, so you can use it on your camping sites and RV trips.
My only issue with this monocrystalline solar panel is that it doesn't come with mounting hardware, which you have to buy separately. It would have been more convenient to install right away if there had been a rack included in this set.
Pros
Designed with bypass diodes that prevent a drop in power in shaded areas
Made with iron-tempered glass and aluminum frame to be extra sturdy
Long-lasting panel with advanced, multi-layered sheet laminations
Ready for instant installation because it has pre-drilled holes
Compatible with off-the-grid generators, suitable for your road trips
Has IP67 connectors
Cons
Doesn't include mounting hardware
This Renogy solar panel is perfect for people looking to go off the grid for a while in a city that isn't very bright and sunny. It stores energy even in shaded places, allowing you to enjoy electricity without a drop in its efficiency levels.
2. Jackery SolarSaga 100 W Solar Panel Power Station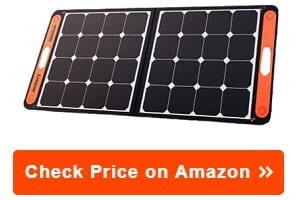 Solar panels are a huge help when you're traveling and want to cut costs on electricity. This portable solar panel by Jackery is undoubtedly one of the best solar panels for shaded areas, so it's a must for those who love to travel and camp outdoors.
It's designed with a carrying handle and is foldable, making it convenient to take with you wherever you go. The folding mechanism allows it to stand on its own, so you can position it virtually anywhere.
The panel is fashioned with ETFE material, which is very lightweight. This lets it absorb more solar energy, giving it a relatively higher light and power transmittance and solar energy conversion rate than other traditional panels.
You can even use this solar panel as a charging station at your campsite or RV. It has two built-in USB ports so you can charge devices like mobile phones and tablets on the panel.
With this panel, you don't have to worry about power mishaps. It's designed to protect you and your loved ones from short circuits, power surges, and being over-power.
But one thing you need to note about this solar panel is that, unlike traditional panels, it doesn't do so well in extreme heat. When the weather is insanely hot, it affects the energy output of the power station, making it emit a lower amount of watts.
Pros
The panel is foldable and has a carrying handle
ETFE material is lightweight and has high power transmittance
Has a higher solar energy conversion rate than most other solar panels
Contains two built-in USB ports so you can charge your mobile devices
Designed to protect you from over-power, short circuits, and power surges
Cons
Extreme heat can affect the output, making it weaker
For adventurous individuals who also prioritize style and ease, this sleek portable solar panel by Jackery is worth considering. It's perfect for planning a trip to an area that isn't very hot and sunny.
3. ROCKPALS SP002 60-Watt Foldable Solar Panel 
Here's another solar panel that's designed with USB ports for charging—this time by ROCKPALS. This panel has 5V USB output ports, allowing you to charge phones (whether it's Samsung or Apple), cameras, and any other small device.
Customers won't have to worry about overcharging their phone with this panel. It's designed with a unique smart-charging technology that optimizes your device's charge, protecting it and any other device from overheating.
The panel is foldable, so you don't have to lug around a huge panel as you travel. It also has a handle to make carrying it easy-breezy. It's also encased in Oxford cloth, which is very durable and doesn't go through wear-and-tear easily.
Its design is water-resistant, so I can use this panel even as I camp out near bodies of water. Plus, while setting up camp by the lake, I can charge my devices and use power without worrying about getting the solar panel wet and accidentally destroying it.
However, if you're planning to go for a long hike before setting up camp in the great outdoors, this solar panel may not be for you. It's quite bulky and heavy, so it could be a hassle to bring around on exhausting walks. You may enjoy something more lightweight if this is the type of camper you are.
Pros
Designed with USB output ports where you can charge devices
Smart-charging technology protects against overheating and overcharging
You can fold the panel, making it easy to carry around as you travel
Comes with a handle
Encased in sturdy Oxford cloth that doesn't tear or rip easily
The panel is water-resistant for use near bodies of water without worries
Cons
Can be very heavy, making walks with it quite difficult
Camping near beautiful bodies of water shouldn't mean you can't have power to get you through the day. Those who need a high-quality, sturdy panel to provide power at their campsite should check out this water-resistant solar panel.
4. Jackery SolarSaga Portable 60 Watt Solar Panel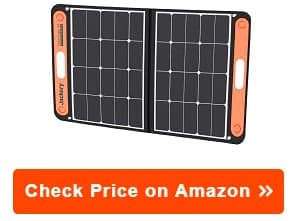 This solar panel by Jackery may produce fewer watts than the other panel from a brand we've discussed earlier, but it doesn't mean it's any less of a top-notch panel.
The panel is designed with ETFE material, which is light yet durable. This allows a higher level of light transmittance, giving you more power than the usual panel even when you're in an area that isn't well-lit.
It weighs 3.3lbs, making it easy to carry around as you hike. Since it's lightweight, it's friendly even to newbie travelers.
There are two USB ports in this panel—one USB-A port and another USB-C port. The variety in ports allows you to charge different devices from multiple brands.
The panel has a kickstand that keeps it standing upright and pointing directly at the sky. This stand also allows you to adjust the angle of the panel for added flexibility.
It's super safe to use this panel because it protects you and your devices from short circuits and power surges that can ruin your phones and other machines.
One downside to this solar panel is that it isn't waterproof. If you happen to use it in an area with rain, you have to make sure a solar panel shade completely covers it up. And if you have the panel set up near a body of water, you have to keep an eye on it to make sure it stays completely dry.
Pros
Made with light yet durable ETFE material for higher light transmittance
Weighs just 3.3lbs, making it light and easy to carry
Has built-in USB-A and USB-C ports to charge devices
Crafted with an adjustable kickstand that keeps it upright
Protects you and your devices from short circuits and power surges
Cons
The panel isn't waterproof
This lightweight powerhouse solar panel by Jackery is excellent not only for its portability but also for its device-charging benefits. Plus, it's easy to use and provides many functionalities to satisfy my power needs outdoors.
5. Newpowa Photovoltaic Polycrystalline Solar Panel
These Newpowa PV panels do everything the perfect panel does. They efficiently store energy, are completely water-resistant, and come in a set of two. The best part? Shaded areas don't lessen their efficacy.
These solar panels are made with poly solar cells, making them extra efficient when it comes to absorbing energy from the sun.
Their junction box contains bypass diodes to help ensure that your electricity at home stays strong even when the sun isn't out.
They're encased in an aluminum case that resists corrosion, making them look sleek and neat even after months and maybe even years of use. The material used for the casing makes your panel strong and sturdy.
Another testament to these panels' durability is that they're made with IP65 material. This technologically advanced material allows your panels to be waterproof and resistant to the impact of snow and hail.
You get an impressive bargain when you buy these panels. The set offers great value for money because you get two panels in one purchase.
One thing to note about these panels is that they can be quite heavy. If you're planning on setting them up on the roof of your home, it can get a bit tricky and take a while unless you have a couple of extra guys helping you out.
Pros
Has poly solar cells that are highly efficient in absorbing solar energy
The junction box has bypass diodes to ensure strong power
The panel is encased in a strong and sturdy aluminum case
Made of IP65 material, so it's waterproof and weather-resistant
You get terrific value for money because you get two solar panel pieces
Cons
They can be heavy, so it might be tricky getting these panels on your roof
Enjoy electricity all around your home with these Newpowa panels that are efficient and top-class in terms of energy absorption, even in cloudy, not-so-sunny cities. Its economical price is a steal, especially since you get two in a single set.
6. HQST Monocrystalline 200W Solar Panel 
This HQST solar panel kit provides you with two 12V panels that together make up a 200-watt double panel—that's way more than your usual solar panel.
The panels are made with bypass diodes to ensure that they perform to the utmost level, even in low-light areas. That way, you can use them when it's cloudy or even when you're at sea.
My friend wanted some long-lasting panels, and I recommended these. They're very durable since they're made with monocrystalline silicon and are encased in an aluminum framing that's corrosion-free. The panels themselves are made with iron-tempered glass, allowing them to resist cracks and damage upon hard impact.
There are already holes pre-drilled at the back of the panels to make mounting them faster and easier, so you can set up your panels instantly on your racking. They also come with an IP65 waterproof junction box to ensure your system works in any weather condition.
This panel might not be for newbies, though. While the kit comes complete with the connectors and cables for installation, it doesn't have instructions on setting everything up. This may not be an issue for experienced users but can create problems for beginners.
Pros
The double panel emits 200 watts, more than your usual solar panel
Has bypass diodes to ensure the utmost performance in low-light areas
Durable because of monocrystalline silicon and corrosion-free aluminum
Made with iron-tempered glass to resist hard impact and cracks
The back of the panel has pre-drilled holes, so it's easy to mount
Comes with a junction box made of IP65 material to be water-resistant
Cons
The kit doesn't come with a set of instructions
This HQST is immensely durable and efficient in low light areas— what more can I ask for in a solar panel for my home and travels? I believe this high-quality panel will work for quite a long time.
7. TISHI HERY 120W Foldable Solar Panel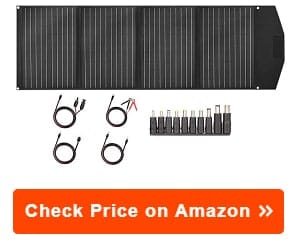 This 120-watt solar panel by TISHI HERY may look simple and basic, but it offers a lot. It's made with monocrystalline solar cells that give you a high solar energy conversion rate at 23%—much higher than other panels.
It's perfect for backpacking and camping for groups and families because it has four USB ports for charging your devices. The ports have a smart-charging technology to make sure your phones and cameras don't overcharge or catch a power surge.
The portable panel can be folded up, making it easy to set up, put down, and take everywhere. It even has a handle for easy carrying, as well as a kickstand to keep your panel positioned properly all day.
Camping in an area with bad weather or near a lake? Don't fret—this panel is durable and waterproof, so it won't be susceptible to water damage.
The only con about this solar panel is that the connector cable only stretches to 2.5 feet long, which is quite short. That means you'll always need to have your panel a foot or two away from your solar generator, which isn't always convenient and practical.
Pros
Its monocrystalline cells provide a high solar energy conversion rate
Has four USB ports with smart-charging technology
Can be folded up, making it portable and easy to bring around
Has a handle for easy carrying and a kickstand to position it properly
Waterproof, suitable for areas with bad weather or near bodies of water
Cons
The cable it comes with is only 2.5 feet long, which is quite short
This portable solar panel by TISHI HERY is great for camping and traveling not only because it provides efficient energy, but also for its number of charging ports. It's practical, stylish, and super beneficial on-the-go.
What to Look for When Buying Low Light Solar Panels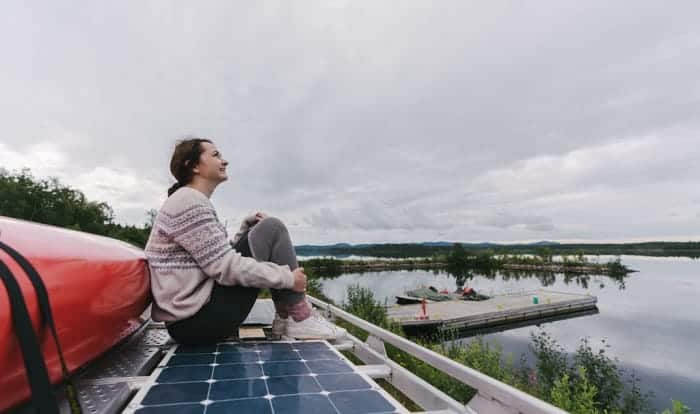 Still absorbs light and sun energy even in dark or shaded areas
If you're looking for the right low light solar panels, your number one concern should be buying panels that actually absorb energy in low-lit areas.
Keep an eye out for thin film solar panels and amorphous solar panels. These types of panels are more lightweight and can absorb more light energy than others, giving you the extra help you need to absorb energy in a shaded area.
Look for solar panels designed with PV cells or bypass diodes that allow them to store energy even when they aren't exposed to extremely hot, glimmering sunlight. Your solar panel should also prevent power from dying down just because the area you're charging at isn't well-lit.
In short, these features make your solar panels shade tolerant.
Should be compatible with off-the-grid generators for your travel needs
If you're planning to travel, go camping, or take a trip in your RV, make sure your solar panel is compatible with off-grid generators and inverters. That way, you can enjoy unlimited energy and electricity in your space without any hassle.
Made of durable and weatherproof material to withstand tough conditions
To ensure that your solar panel will last you a long time, opt for one made of sturdy materials, such as monocrystalline, iron-tempered glass, aluminum encasings, multi-layered glass sheets on the panel, and more. That way, your panel can survive impact and serve you longer.
It would also be wise to go for panels designed with IP65, IP66, and IP67 technology. This type of material allows your panel to be waterproof and heat-resistant so that it can withstand extreme conditions.
Has USB ports to charge your phone and other devices
If you're using the panel to make sure your essential devices have batteries as you travel, make sure it contains a good number of USB ports. This is a great way to ensure you won't run out of battery without relying on extra energy sources, like a power bank.
Easy to install even with intimidating mounts and racks
If you're not the biggest electricity expert, go for a panel that is easy to install. It's more convenient to purchase a panel that already includes a mount or rack so you can easily set it up right away.
If your kit doesn't include these components, when shopping for mounts and panel racks, double-check to make sure they suit your panel and that they're compatible with more unique and versatile setups like on the roof of an RV or at a campsite.
Keep your eyes peeled for panels that are pre-drilled with holes. This makes them installation-ready from the get-go, saving you more time and energy.
Will Solar Panels Work in Shaded Areas
Most solar panels require direct sunlight to store energy, so you might be confused—do solar panels work in the shade or not? The simple answer is that some do, and some don't.
There are panels designed with PV cells to absorb solar energy even in shaded areas, like many of the ones in this list. They're designed specifically for low-lit areas, allowing you to enjoy the experience of running your devices on solar power even if you're not in a bright city.
Is There a Solar Panel That Works at Night
Not at present, but it's possible that such a device will be available on the market in the future. UC Davis researchers have created solar cells that can generate power at night.
How to Install Low Light Solar Panels
First, you must choose where you want to place your solar panel. Although low light panels are designed to store energy even without a blinding amount of sunlight, it's still wise to set up your panel outdoors, on your roof, or on a balcony.
Next, you have to set up the mounts or racking that the panel comes with. This part may be tricky, depending on where you wish to set things up. It also takes some experience with screws and bolts, but it should be fairly easy.
From there, all that's left to do is attach your panel to the mount, connect it to your generator, and let it store energy to give your home some power. In no time, you'll be enjoying running electricity even if your panel can only charge in a cloudy or shaded area.
Where Can I Buy
You can buy these panels at your local, trusted home improvement store or RV specialty store. If you need help figuring out which panel is compatible with your setup and lifestyle, you might want to buy in-store to talk to expert salespeople.
But if you already know what you're doing and would like more options and brands to choose from, shopping on Amazon is your best bet. That way, you can do more research on your solar panel of choice before purchasing it. There's also a wider range of options online, so your choices are virtually unlimited.
Conclusion
There you have it—the ten best low light solar panels and a few tips on how to find the right one. Hopefully, you're more well-equipped and confident in using solar panels even if you're traveling or can only store your panels in areas that don't have the best lighting, like a shaded balcony.
These panels need minimal sunlight to store energy, so you won't have to go through the hassle of not having enough electricity for your generator. The fact that they can help you keep some extra cash instead of paying too many energy bills is merely a bonus.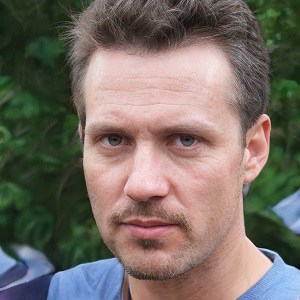 I am Kathleen Miller, staff writer and reviewer of the Avasolar team. Working with the team has been a pleasure for me so far, I hope to bring readers useful information by creating detailed and easy-to-follow contents.