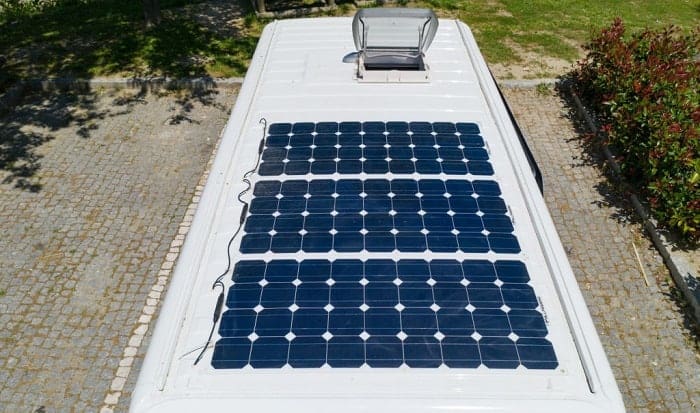 One of the best things about solar panels is that you can set them up anywhere you want. The only trouble is when you're eyeing irregular and uneven surfaces. Straight, rigid solar panels will topple over these. So for convex surfaces and roofs, flexible, bendable solar panels are the way to go.
Of course, the best flexible solar panels have to be up to a certain standard. Keep an eye out for the following things to see whether you're getting top-quality, high efficiency flexible solar panels:
Flexibility: The main point of buying flexible solar panels is ensuring that they'll be snug when mounted on curved surfaces, unlike conventional solar panels that are stiff and rigid. Flexible panels usually bend upwards of 30 degrees. If you go for one that is extremely durable and innovative in design, you can bend it at 248-degree angles.
Lightweight: Flexible solar panels should be portable and easy to bring around, especially if your vehicle is small. Try looking for ultra-light panels that go from 3-5 lbs. You could also opt for slim ones, as thin flexible solar panels are likely to bend more. Plus, when your panels are light and easy to carry, the installation will be a breeze.
Emits a good amount of solar power: While the design of your flexible solar panels is important, you can't forget that its primary purpose is to provide solar power. Look for a flexible panel that gives off at least 100 watts of energy at a time.
There are numerous other factors you need to consider when buying flexible solar panels for car roof mounts or the top of your RV, which are usually curved to a certain degree. You can check them out in the buying guide later in this flexible solar panel review.
For now, here are the top-rated flexible solar panels for RV roofs, boats, and other curved surfaces people might want to set up their renewable energy source on:
Top 15 Flexible Solar Panel Reviews
1. Renogy 175W 12V Flexible Solar Panel
In my opinion, this is one of the most flexible monocrystalline solar panels on the market. It's designed to bend by 248 degrees, which is a far cry from other flexible panels that can only go as far back as 30 degrees.
This flexible panel is built to last. The sheets are laminated in multiple layers, allowing for extra protection of your monocrystalline solar cells. It's also encased in a corrosion-free aluminum framing for even more sturdiness.
It boasts a back sheet that helps dissipate excess heat to avoid issues with overheating, which can render your solar panel useless.
I don't have to worry about losing power in low-light areas with this solar panel. Because it's made with bypass diodes, I can rest assured that there won't be power drops even when my solar panel is in a shaded area.
Installation of this Renogy flexible solar panel is also a breeze, thanks to the pre-drilled holes on the back.
The only issue we've found with this flexible solar panel is Renogy's customer service. If there's an issue with the product, you might have to wait quite long for a response.
Pros
Bends to 248 degrees, unlike other flexible panels
The panel sheet is laminated in multiple layers
Its frame is made of corrosion-resistant aluminum
Has a back sheet that diminishes heat
Built with bypass diodes so I can still use energy in shaded areas like low light solar panels
Has pre-drilled holes at the back for easy installation
These Renogy flexible solar panels are one of our top picks when it comes to longevity and flexibility. Not only can it bend up to 248 degrees, but its sturdy design allows us to use it for many years. It's way better than a rigid solar panel.
2. Topsolar 100W Flexible Solar Panel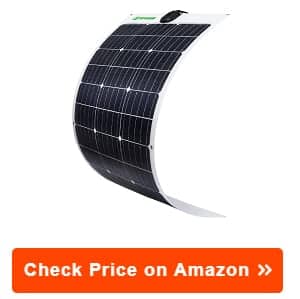 This flexible panel by Topsolar is built with efficient monocrystalline solar cells. They amp up your system's energy conversion rate by 50%, better than a standard solar panel.
The panel itself is made with ETFE material, which is durable and known to increase light transmittance. It's also self-cleaning and dirt-resistant, so it's excellent for lazy users.
To avoid overheating, the backplate is designed with TPT technology. This allows it to dissipate heat and prevent dreaded malfunction while in use.
What's awesome about this flexible solar panel is that it's ultra-thin and super lightweight. It stands at just 0.1 of an inch tall and 3.97 lbs in weight. That makes it easy to transport and set up when you're on the road.
It's also waterproof and resists high temperatures, so it's well-suited for extreme weather. It would go great in marine settings, like boats.
One minor downside to this flexible solar panel is that some of the solar cells tend to burn out quicker than others. While it's expected that these cells will burn out one day, the inconsistency may leave your panel uneven.
Pros
High-efficiency monocrystalline cells increase energy conversion by 50%
Made with durable ETFE material that is self-cleaning and dirt-resistant
Backplate is made with TPT technology to dissipate heat
Thin and lightweight at 0.1 inch in height and less than 4 lbs in weight
Waterproof and resistant to high temperatures, so it's great for marine use
Cons
Some of the solar cells burn out faster than others
Flexible solar panels 12V and 100W options are good choices for bendable solar panels, and the ones by Topsolar are among the best out there, especially for marine settings. Not only are the solar cells highly efficient, but the design is durable too.
3. SunPower 110W Flexible Solar Panel
SunPower's flexible panel has solar cells uniquely fashioned with a solid copper foundation. This allows your panel to resist corrosion and impact, extending its lifespan significantly.
This solar panel bends up to 30 degrees. While it's not one of the most flexible solar panels out there, it's perfect for spaces and surfaces that are only slightly curved.
It weighs a mere 4.4 lbs, making it a good portable solar panel. Because of that, this SunPower flexible panel isn't a hassle to bring around and doesn't add extra weight to your travels.
Semi flexible solar panels like this one come with quick-connect cables that make them easy to set up, even for newbies without experience in solar panels.
For those buying flexible panels for the first time and who want to avoid getting a bogus item, don't fret. SunPower offers a product warranty for up to two years. Plus, their warranty doesn't have a saltwater exclusion, so the brand will always assist users no matter the issue with their flexible solar panel.
The only problem with these flexible portable solar panels is that the power output isn't as strong if there is no direct sunlight hitting them. This could be a problem, especially because the panel doesn't bend more than 30 degrees.
Pros
The solar panel's cells are made with a copper foundation
Can bend up to 30 degrees for slightly curved surfaces
Weighs only 4.4 lbs, so it's a portable panel that's easy to carry around
The quick-connect cables aren't complicated to set up even for newbies
The brand offers a warranty for two years without a saltwater exclusion
Cons
Lower power output if the sun is not directly hitting the solar panel
This Sunpower panel is perfect for consumers who want durability, ease of use, and security all in one.
4. XINPUGUANG 200-Watt Flexible Solar Panel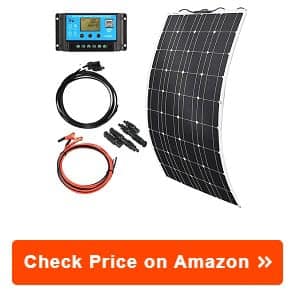 This solar panel kit by XINPUGUANG is excellent because I don't have to buy separate tools and parts to set up my flexible panel and power station. It comes complete with a charge controller, connectors, alligator clips, and other accessories to get me started right away.
The flexible solar panel is designed with five layers to enhance performance and extend its lifespan. These include a TPT backing, which protects your panel from overheating.
In the middle of the layers is the solar panel's monocrystalline solar cells. These cells allow for a higher-than-usual conversion rate of 19.5%. The monocrystalline cells also work hard to perform well even in shaded and low-light settings.
The connectors and junction box are made with IP67 technology, making them waterproof. It's fantastic since I often worry about water damage destroying my solar panel kit.
Although this is a 200 watt flexible solar panel, the panel can sometimes put out a bit less than 200 watts. To get the maximum energy output possible, it needs to charge for quite a while and under direct sunlight. That said, even when it does emit less than 200 watts, it does so very efficiently.
Pros
Complete kit comes with a charge controller, connectors, clips, and more
Panel has five layers, including TPT backing to protect against overheating
Monocrystalline solar cells that convert 19.5% of solar energy into power
Performs effectively even in shaded settings
Connectors and junction box are made with IP67 waterproof technology
Cons
Sometimes puts out a bit less than 200 watts
For customers who need a flexible solar panel and all the accessories required to set it up, this solar panel kit by XINPUGUANG is the best option.
5. ECO-WORTHY 130W Flexible Solar Panel
This 130-watt flexible solar panel by ECO-WORTHY can generate up to 520 watt-hours each day, provided that the flexible panel is charged for four hours under bright, direct sunlight.
It's built with advanced polymer, which is very sturdy but is more lightweight than a traditional solar panel or glass solar panels.
The flexible solar panel is easy to manage and install because it's very lightweight and thin. It weighs only 4.62 lbs, so it's not a hassle to lug around as you set it up. Its thickness is just 0.1 inch, so it's never bulky.
There are four installation holes that are metal-reinforced on the frame of this solar panel. They're perfect for screwing the panel into a more permanent area if you're sure of where you want to set it up for the long term.
Because it's designed with IP65 technology, your flexible solar panel can surely withstand tough weather conditions, be it harsh rains or intense snow.
A problem you may face when working with this solar panel is that the protective film on top of the panel isn't as sturdy as the rest of the panel. This layer could start to deteriorate in less than a year, leaving your panel's cells exposed.
Pros
Generates up to 520 watt-hours per day in just four hours under sunlight
Built with polymer, which is more lightweight than traditional glass panels
Weighs only 4.62 lbs and is thin at 0.1 inches, so it's easy to bring around
Has four installation holes with metal for screwing onto any surface
Designed with IP65 waterproof technology to resist damage from weather
Cons
Protective film on top of the panel deteriorates quite fast
These waterproof, lightweight, and bendable solar panels by ECO-WORTHY are perfect since I want a high energy output in my RV, campsite, or car without the heavy weight.
6. HQST 100-Watt Flexible Solar Panel
Like most flexible solar panels, this one from HQST can bend 30 degrees. It allows for a snug fit that doesn't move around or topple over on curved surfaces, like vehicle roofs and boat decks.
Since the flexible solar panel is made only with high-grade and top-quality materials, it's able to withstand harsh weather. The solar panel is made with ETFE, a durable material that isn't that heavy. ETFE also paves the way for more light energy transmittance in your solar panel.
You also have efficient monocrystalline solar cells to thank for the high energy absorption rate. This type of solar cell converts 50% more solar energy than other solar panels, assuring you of excellent power output levels.
This solar panel's junction box is waterproof because it's designed with IP65 technology. It's one of the most important components of a solar panel system, so it's terrific that it gets this extra protection.
When you get your flexible solar panel, it will come with a protective film that you have to remove before using the solar panel. While it's a good feature to protect your panel in transport, it poses a minor inconvenience. See, this protective film is difficult to peel off and can rip into tiny pieces as you attempt to tear it away.
Pros
Can flex up to 30 degrees to accommodate curved surfaces and roofs
High-grade materials let the solar panel withstand inclement weather
Made with ETFE, a material that allows for more light transmittance
Monocrystalline solar cells convert energy 50% more than other panels
The panel's junction box is waterproof, thanks to IP65 technology
Cons
Comes with a protective film that is difficult to peel off
These flexible solar panels by HQST are made with sturdy, high-grade materials and give off a high power output thanks to the monocrystalline solar cells. What more can I ask for when shopping for small flexible solar panels?
7. TopSolar 50-Watt 12-Volt Flexible Solar Panel
This flexible solar panel by TopSolar can be bent into an arc to fit curved and irregularly shaped surfaces, like those on boats, RVs, trailers, and more. The arc can go up to a maximum of 30 degrees.
It's extremely light at around 2.4 lbs, which is easy to hold and carry while you're installing it. It's also very thin at 0.1 of an inch. Because the design is slim and featherlight, set-up is very easy and relatively faster than with a conventional, rigid solar panel.
The panel is made with a special back contact technology that works to remove the electrodes blocking your solar panel from absorbing light energy efficiently.
You can charge the standard 12-volt batteries with this panel, since that's what it was created for in the first place. But when you chain up multiple of these solar panels together, you can charge 24-volt and even 48-volt batteries with no problem.
These solar panels are resistant to water and high temperatures, lessening their chances of incurring damage.
The only problem with this flexible solar panel doesn't have to do with the panel itself, but some of the accessories that come with it. The plastic retainers on some of the connectors are fragile and can break off quite easily if you're not extra careful with them.
Pros
Can be bent into a 30-degree arc to fit on irregular surfaces
Extremely light and thin, making it quick and easy to mount
Back contact technology eliminates electrodes that block sunlight
Charges 12V batteries, 24V, and 48V batteries
Resistant to water damage and high heat levels
Cons
The connectors have plastic retainers that break off easily
This TopSolar solar panel is built with innovative technologies that allow me to get the most out of my power output. This semi flexible solar panel is also durable and resistant to extreme conditions, so we can be sure it will last a long time.
8. Lensun 20-Watt ETFE Flexible Solar Panel
These flexible solar panels by Lensun are made with grade A monocrystalline solar cells, an advanced version of the usual mono cells. These cells increase the efficiency of your solar panel's energy absorption by up to 22%.
This option's also built with premium ETFE material, which is resistant to damage from harmful UV rays and corrosion. It also aids in light transmittance, giving you a shot at better power output.
There's a unique fiberglass backboard in each of these solar panels. It works to dissipate excess heat on an extremely hot day, preventing issues with overheating.
This solar panel is also ultra-thin and super light by design. That way, it won't add unnecessary weight and gravity to the roof of your car or boat deck.
Its junction box is resistant to weather damage because it's built with advanced IP68 technology, keeping it waterproof.
I'll never have to worry about malfunctions with my flexible solar panels because Lensun offers a 24-month warranty for their products.
The one thing I don't quite like about these flexible solar panels is that users cannot bend them more than 20 degrees. This makes them unsuitable for very curvy areas.
Pros
Has grade A monocrystalline solar cells that increase power absorption
Made with ETFE material that is resistant to UV damage and corrosion
The panel has a unique fiberglass board at the back for heat dissipation
Ultra-thin and light, so it won't add extra pressure or weight to your roof
The junction box is waterproof because it has advanced IP68 technology
Lensun provides a 24-month warranty for our purchase
Cons
The panels cannot be bent more than 20 degrees
I love this super thin and light panel that won't add extra pressure to my vehicle's roof or boat deck. Plus, its extra features to make it durable and long-lasting can never hurt!
9. POWOXI 100-Watt Flexible Solar Panel
These solar panels by POWOXI have cells made of monocrystalline silicon. This material allows for a higher light transmittance rate, pushing it up to about 95%.
Because this solar panel flexes and bends in an arc when positioned, it has multiple refractions of light. This allows for a faster charge of your batteries since you're getting solar energy from different angles.
The panel is built with durable yet featherlight ETFE material, which is known to have a lifespan of up to 15 years. That means your flexible solar panels will last you quite a while without needing to be replaced.
It's made with IP67 waterproof technology, so the solar panel will be sturdy enough to survive the toughest weather conditions.
Installation via screwing is very easy with this flexible solar panel. It has four holes on the corners of the frame so I can do it quickly, no drilling needed.
While this flexible solar panel is great, I do have an issue with the MC4 connector the kit comes with. It isn't too durable, so it could break off easily with one wrong connection or turbulent transport. Be extra mindful when using this cable so it doesn't get damaged.
Pros
Cells are made of monocrystalline silicon for a 95% light transmittance
Multiple refractions when bent in an arc allow for a faster charge
Durable ETFE material gives the solar panel a lifespan of up to 15 years
Created with IP67 technology, making the solar panels waterproof
Has four pre-drilled holes on the corners of the frame for easy installation
Cons
The MC4 connector it comes with isn't too durable
This 100W flexible solar panel by POWOXI is made of sturdy, high-class materials, from the ETFE panel to the monocrystalline solar cells. It's also very efficient in light transmittance and absorption, which is key for an excellent flexible solar panel.
10. Newpowa 100W 12V Semi-Flex Solar Panel
Unlike most flexible solar panels, this one by Newpowa bends more than just 30 degrees. It goes to a maximum of 248 degrees, so it's beneficial for roofs and surfaces that are extremely convex.
This solar panel is slim and featherlight. It weighs 4.2 lbs and is a mere 0.08 inch in thickness. That makes it fit on any surface, like a second skin. It's never bulky and is easy to transport.
It's designed with a high-efficiency combo of monocrystalline cells and top-notch ETFE material. Both work to give our solar panels a higher energy conversion rate to maximize solar power.
This solar panel is also made with IP68 technology, one of the most advanced waterproof grades. This allows it to survive even the heaviest rain and snowfall.
The solar panel has six holes in its frame that are reinforced with metal rings. This makes mounting with grommets or screws quick and complication-free.
There's nothing to nitpick about this flexible solar panel from Newpowa. So far, it has served me well.
Pros
Bends up to 248 degrees, making it one of the most flexible solar panels
08 inch thin and weighs less than 5 lbs, so it fits easily onto surfaces
Monocrystalline and ETFE materials for a high energy conversion rate
Made with IP68 technology, so it's resistant to heavy rains and snow
Has six holes with metal rings for uncomplicated mounting
This Newpowa flexible solar panel is one of the best out there because of its ability to bend almost 250 degrees. It's also superior because of its high-quality ETFE make and advanced IP68 waterproof technology.
11. Framy 200-Watt PET Flexible Solar Panel
This Framy solar panel is semi-flexible, meaning it can bend only to the usual 30 degrees. That said, it's perfect for irregular yet smooth surfaces on your boats, cars, or motorhomes.
It's designed with ETFE material on the top layer, as well as four EVA layers throughout the panel. This gives your solar panels added durability so they aren't too fragile.
These solar panels charge 16-volt batteries. That's a bit more powerful than other solar panels that can only charge 12-volt batteries.
Plus, this option is designed with a Schottky diode—a device that prevents the panel from experiencing reverse currents, which can render it useless or unhelpful.
Users also get a waterproof junction box. That way, it won't be susceptible to moisture damage from the harsh weather or when we're traveling near bodies of water.
While this solar panel is marketed as a 200-watt panel, it has a hard time emitting that much power all the time. More often than not, it puts out energy a bit lower than 200 watts, especially when not charging under super bright and direct sunlight.
Pros
Semi-flexible panel bends to 30 degrees for irregular yet smooth surfaces
Designed with multiple EVA and ETFE layers for durability
The panel charges 16-volt batteries, higher than the usual 12-volt charge
Has a Schottky diode installed to prevent your current going in reverse
Comes with a waterproof junction box that isn't prone to weather damage
Cons
The solar panels may emit lower than 200 watts
Because of its multiple EVA and ETFE layers as well as its ability to charge 16-volt batteries with no problem, this small yet powerful solar panel by Framy is one of our favorites on the list.
12. Suner Power 30-Watt Flexible Solar Panel
This flexible solar panel by Suner Power is made with polymer instead of glass. This makes it 30% more lightweight than traditional rigid panels.
It has an ETFE lamination to make it extra sturdy. There are also unique Suner Power cells that increase light energy absorption by up to 24% compared to other solar cells in the market.
The panel comes with a smart charge controller with a unique algorithm designed to generate up to 20% more power than regular ones. This controller also protects your batteries from overcharging, short-circuiting, and other disasters.
An LED monitor visually displays all the pertinent information about your battery. It tells you its condition and current charging levels.
The solar panel is IP65 waterproof, preventing damage from rain, snow, and other bad weather conditions. It's perfect for traveling to places where the weather is unpredictable.
Everything about this solar panel is terrific, except for how much power it gives off. It only emits 30 watts, which is relatively low compared to other flexible solar panels in the market. That said, it's perfect for people who don't need super strong power anyway.
Pros
Built with polymer instead of heavy glass, allowing it to weigh 30% less
ETFE lamination and solar cells increase energy absorption by 24%
Smart charge controller gives 20% more power than regular ones
Protects your batteries from overcharging or short-circuiting
LED monitor displays your battery's condition and charging levels
IP65 waterproof to withstand bad weather
Cons
Only gives off 30 watts of power, lower compared to other solar panels
This Suner flexible solar panel is technologically advanced. Its polymer build, smart controller, and advanced ETFE lamination should give users efficiency and durability rolled into one.
13. Winnewsun 100-Watt Flexible Solar Panel
This solar panel by Winnewsun is unique because it's bifacial, which means both sides of the panel (front and back) can absorb solar energy and store it.
It weighs just 4 lbs, so it's super light and easy to carry around when you're traveling. It also doesn't add unnecessary weight to your load as you drive around.
It has solar cells that convert up to 22% of the light energy it absorbs into stored energy for your use. That's pretty high compared to flimsy solar cells.
Unlike other solar panels that drop 10% in power over time, this one loses less than 3% of its power in ten years.
Another great thing about this panel is that it works well in shaded and low-light areas because it's sensitive even to dim sunlight.
The only problem with this flexible panel is that because it's bifacial, it can be tricky to position and set up. It would be smarter to hang it upright to maximize the "twin" panels and absorb energy front and back, but it can be hard to find an area where both sides can be exposed to sunlight.
Pros
Bifacial design allows both sides of panel to absorb and store light energy
Weighs only 4 lbs, so it's easy to bring around and transport during travel
Solar cells can convert 22% of the solar power it absorbs into stored energy
Power loss is just less than 3% in 10 years
Works well in shaded areas because the panel is sensitive even to dim light
Cons
Difficult to set up because of its bifacial design
I love to hang up this solar panel because it gives me twice the exposure to sunlight. Its high energy conversion rate and low power loss over time are awesome bonuses, too.
14. DOKIO Semi-Flexible 12-Volt Solar Panels
These DOKIO panels have a protective ETFE layer. This allows for greater light transmittance when exposed to sunlight. It also adds extra sturdiness to my panels so they can have a longer lifespan.
Each panel has eight holes evenly spaced throughout the frame. These little rings make screwing the panel with grommets during installation much easier.
It also comes with a junction box and a few connectors—all of which are IP65 waterproof. I don't have to worry about damaging these accessories even when the weather is undesirable.
The panel weighs only 4.9 lbs, so it's never a hassle to carry around and install. It's also extremely flexible; I know that it will fit snugly on any curved surface.
While there are plenty of things to be praised about these panels, they're still quite high-maintenance in low-light areas. I find that they emit less power when there's shade covering the sun. They may not be the best to use when traveling to cloudy, dim areas.
Pros
There's an ETFE layer for sturdiness and higher light transmittance
Has 8 holes on the framing that are perfect for grommets and screws
Junction box and connectors are waterproof, so weather can't ruin them
Weighs 4.9 lbs, so users can carry them around with minimal effort
Extremely flexible, so it'll fit snugly on any curvy surface
Cons
Emits less power if there's even just a little bit of shade covering the sun
These flexible solar panels by DOKIO have everything I could ask for in a high-quality panel. It's durable, makes installation easy with holes, and is super light and flexible. It's basic yet fuss-free and gets the job done.
15. ExpertPower 110-Watt Flexible Solar Panel
This solar panel is made with top-quality Maxeon solar cells made of monocrystalline. These cells boast a high energy conversion rate, ranging between 22% and 25%.
The panel is built with high-grade yet lightweight polymer, which is easier to work with than the traditional glass used to fashion solar panels.
It can be flexed and bent up to 30 degrees. That isn't as flexible as the other panels on this list, but it's enough for slightly curved areas.
There's a copper foundation under this panel. The copper allows the panel to resist corrosion and other signs of damage, such as cracking.
What's more, this panel will come with pre-drilled holes to make mounting much faster and easier. There are also MC4 cables included in the set so that connecting the panel to our controllers or batteries is a walk in the park.
There's only one thing I don't quite like about this solar panel. Because it can only bend to 30 degrees, it can't fit nicely against extremely curved surfaces. This limits how you can use your panel. So, you have to be strategic about your placement so it doesn't topple over.
Pros
Top-quality Maxeon monocrystalline cells give up to 25% conversion rate
Built with a high-grade polymer that is lighter than glass
Can be flexed up to 30 degrees, so it's suitable for slightly curved areas
The panel is built upon a copper foundation, resists cracks and corrosion
Comes with pre-drilled holes and additional connectors for quick set-up
Cons
Can't go beyond 30 degrees of bending
There's nothing like a solar panel made only with the most premium materials, from Maxeon cells to copper foundations. This flexible solar panel by ExpertPower has all these, so users know they're getting only the top-quality solar panels when they use
What to Look for When Buying Flexible Solar Panels
Made from durable material that withstands tough weather conditions
Look for the best flexible solar panels that are made from sturdy, top-quality materials like ETFE, aluminum frames, and monocrystalline solar cells. Because these materials are durable, they'll increase the longevity of your solar panels.
Conventional panels are usually made of thicker, heavier materials, like glass. But for a thin film solar panel, you need lightweight materials.
You should also keep your eyes peeled for waterproof solar panels designed with IP65-IP67 technology. This prevents water damage to your flexible solar panels when it's raining. It also keeps it resistant to impact from heavy storms or snow. This is vital if your travels require you to pass through areas with unpredictable climates.
Contains bypass diodes to keep your energy from dropping in low-light areas
Bypass diodes allow you to keep using your photovoltaic cells even when your solar panels are exposed to areas without direct sunlight. Most conventional solar panels will experience power drops when sunlight isn't available to them, but with bypass diodes, that won't be an issue.
If you're looking to use your flexible solar panels for home energy but live in a cloudy city, getting panels that operate efficiently even in the shade is extremely important.
Can provide an adequate amount of power for your needs
Solo or small group travelers who need flexible solar panels for boats, trailers, or cars will probably consume less energy than an entire household. Purchase a flexible solar panel with a power output appropriate for your need.
For example, a 100 watt flexible solar panel might be suitable for quick camping trips with one or two people. However, for a family living at home, a collection of 200W or 300W flexible solar panels might be more apt.
If you want something more intense, go for 400W flexible solar panels.
Manufactured by a top-notch brand based in countries known for quality products
Don't go for just any flexible solar panel kit. Make sure the new solar panels you purchase are from a renowned brand known to make excellent flexible solar panels that last a long time. Go for those of top brands, such as the Renogy or Sunyee flexible solar panel.
One easy way to tell that your solar panels are high in quality is to check which country they were designed and manufactured in. Some of the most efficient flexible solar panels are created in countries known for quality tech and renewable energy products, like Canada, Australia, and the UK.
How to Install Flexible Solar Panels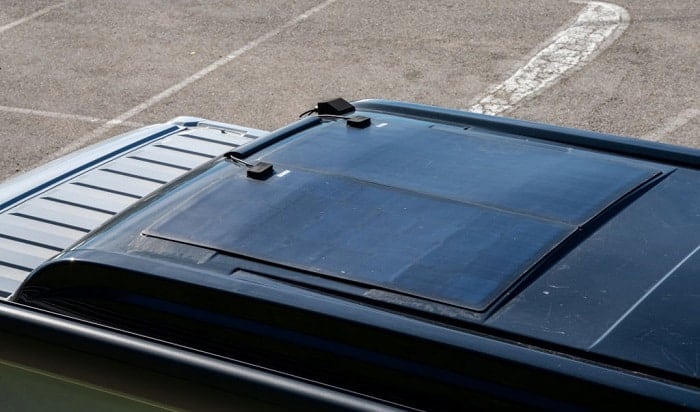 Installing flexible solar panels is very simple. It's quite similar to traditional solar panels. All you have to do is lay them down on the surface you want to mount them on. Then, you must screw on the grommets or use an adhesive to stick the clean flexible solar panels down properly.
If you go with the latter, make sure your solar panel is stuck tight to your surface, so it won't wobble or come loose. You also need to keep an eye on your adhesive placement. It should never cover your panel's flexible solar cells, or the blockage might not allow any light absorption.
It's easier to install flexible solar panels vs rigid ones because they're so versatile.
Are Cheap Flexible Solar Panels Any Good
Most solar panels that are extremely cheap might not perform up to standard. However, flexible solar panels need not be expensive to be effective.
There are many solar panel brands out there that come up with excellent, durable panels for an economical price tag. So yes, there are many flexible panels that come at a reasonable price.
That said, if you want the most affordable flexible solar panel available in the market, you'll need to invest more than a couple of bucks. Bigger, more expensive name brands utilize innovative technologies and extra sturdy materials to create top-class solar panels.
Do Flexible Solar Panels Get Hot
Unlike typical panels that aren't as bendable, flexible panels don't often get hot to the touch. That's why they don't require extra air space to cool down. If they do get too hot, they face the risk of overheating, so that's something you must watch out for regularly.
Several solar panels in this review have TPT backing, which helps dissipate heat and prevents overheating. This solar technology is beneficial if you travel to hot, tropical areas.
Conclusion
If you're planning to set up your solar projects on a curved area—say, a roof or on your RV—don't settle for those rigid, traditional panels. Go instead for those in this flexible solar panels review that will have a snug placement, so they won't come loose easily.
Plus, because the best flexible solar panels absorb solar energy from multiple angles, you're likely to get more power than you would with traditional panels. Who can say no to that? Buyers should check out any of the above flexible solar panels for camping, traveling, or even just at home.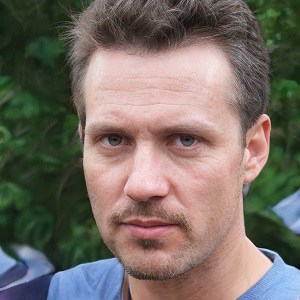 I am Kathleen Miller, staff writer and reviewer of the Avasolar team. Working with the team has been a pleasure for me so far, I hope to bring readers useful information by creating detailed and easy-to-follow contents.