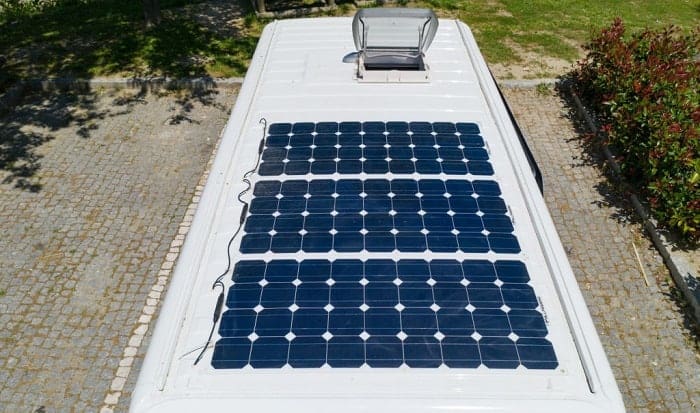 One of the best things about solar panels is that you can set them up anywhere you want. The only trouble is when you're eyeing irregular and uneven surfaces. Straight, rigid solar panels will topple over these. So for convex surfaces and roofs, flexible, bendable solar panels are the way to go.
Of course, the best flexible solar panels have to be up to a certain standard. Keep an eye out for the following things to see whether you're getting top-quality, high efficiency flexible solar panels:
Flexibility: The main point of buying flexible solar panels is ensuring that they'll be snug when mounted on curved surfaces, unlike conventional solar panels that are stiff and rigid. Flexible panels usually bend upwards of 30 degrees. If you go for one that is extremely durable and innovative in design, you can bend it at 248-degree angles.
Lightweight: Flexible solar panels should be portable and easy to bring around, especially if your vehicle is small. Try looking for ultra-light panels that go from 3-5 lbs. You could also opt for slim ones, as thin flexible solar panels are likely to bend more. Plus, when your panels are light and easy to carry, the installation will be a breeze.
Emits a good amount of solar power: While the design of your flexible solar panels is important, you can't forget that its primary purpose is to provide solar power. Look for a flexible panel that gives off at least 100 watts of energy at a time.
There are numerous other factors you need to consider when choosing flexible solar panels for car roof mounts or the top of your RV, which are usually curved to a certain degree. You can check them out in the buying guide later in this review.
For now, here are the top-rated flexible solar panels for RV roofs, boats, and other curved surfaces people might want to set up their renewable energy source on: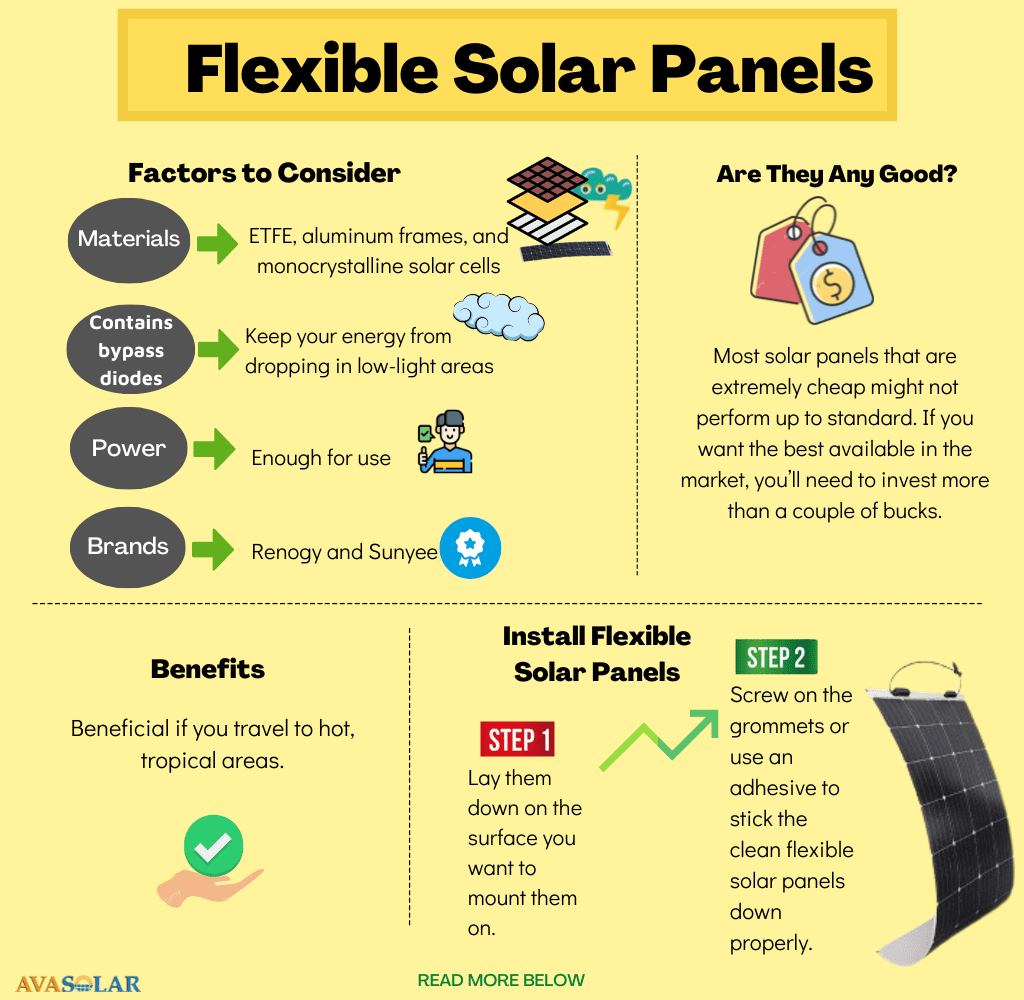 Best Overall
Renogy Flexible Solar Panel
✅ Bends to 248 degrees
✅ Laminated in multiple layers
✅ Corrosion-resistant aluminum frame
Premium Choice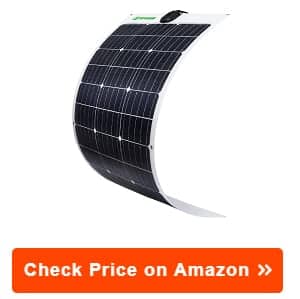 Topsolar Flexible Solar Panel
✅ High-efficiency monocrystalline cells
✅ Made with durable ETFE material
✅ Thin and lightweight
Editor's Choice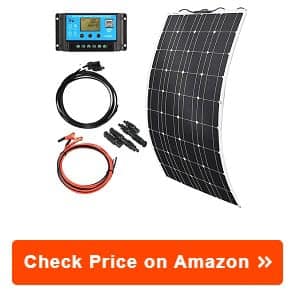 SunPower Flexible Solar Panel
✅ Copper foundation panel cells
✅ Can bend up to 30 degrees
✅ 2 year warranty
Top 4 Flexible Solar Panel Reviews
1. Renogy 175W 12V Flexible Solar Panel
In my opinion, this is one of the most flexible monocrystalline solar panels on the market. It's designed to bend by 248 degrees, which is a far cry from other flexible panels that can only go as far back as 30 degrees.
This flexible panel is built to last. The sheets are laminated in multiple layers, allowing for extra protection of your monocrystalline solar cells. It's also encased in a corrosion-free aluminum framing for even more sturdiness.
It boasts a back sheet that helps dissipate excess heat to avoid issues with overheating, which can render your solar panel useless.
I don't have to worry about losing power in low-light areas with this solar panel. Because it's made with bypass diodes, I can rest assured that there won't be power drops even when my solar panel is in a shaded area.
Installation of this Renogy flexible solar panel is also a breeze, thanks to the pre-drilled holes on the back.
The only issue we've found with this flexible solar panel is Renogy's customer service. If there's an issue with the product, you might have to wait quite long for a response.
Pros
Bends to 248 degrees, unlike other flexible panels
The panel sheet is laminated in multiple layers
Its frame is made of corrosion-resistant aluminum
Has a back sheet that diminishes heat
Built with bypass diodes so I can still use energy in shaded areas like low light solar panels
Has pre-drilled holes at the back for easy installation
These Renogy flexible solar panels are one of our top picks when it comes to longevity and flexibility. Not only can it bend up to 248 degrees, but its sturdy design allows us to use it for many years. It's way better than a rigid solar panel.
2. Topsolar 100W Flexible Solar Panel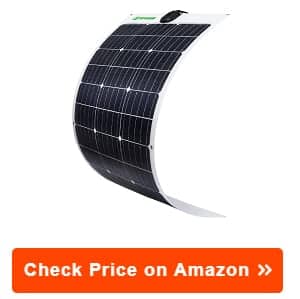 This flexible panel by Topsolar is built with efficient monocrystalline solar cells. They amp up your system's energy conversion rate by 50%, better than a standard solar panel.
The panel itself is made with ETFE material, which is durable and known to increase light transmittance. It's also self-cleaning and dirt-resistant, so it's excellent for lazy users.
To avoid overheating, the backplate is designed with TPT technology. This allows it to dissipate heat and prevent dreaded malfunction while in use.
What's awesome about this flexible solar panel is that it's ultra-thin and super lightweight. It stands at just 0.1 of an inch tall and 3.97 lbs in weight. That makes it easy to transport and set up when you're on the road.
It's also waterproof and resists high temperatures, so it's well-suited for extreme weather. It would go great in marine settings, like boats.
One minor downside to this flexible solar panel is that some of the solar cells tend to burn out quicker than others. While it's expected that these cells will burn out one day, the inconsistency may leave your panel uneven.
Pros
High-efficiency monocrystalline cells increase energy conversion by 50%
Made with durable ETFE material that is self-cleaning and dirt-resistant
Backplate is made with TPT technology to dissipate heat
Thin and lightweight at 0.1 inch in height and less than 4 lbs in weight
Waterproof and resistant to high temperatures, so it's great for marine use
Cons
Some of the solar cells burn out faster than others
Flexible solar panels 12V and 100W options are good choices for bendable solar panels, and the ones by Topsolar are among the best out there, especially for marine settings. Not only are the solar cells highly efficient, but the design is durable too.
3. SunPower 110W Flexible Solar Panel
SunPower's flexible panel has solar cells uniquely fashioned with a solid copper foundation. This allows your panel to resist corrosion and impact, extending its lifespan significantly.
This solar panel bends up to 30 degrees. While it's not one of the most flexible solar panels out there, it's perfect for spaces and surfaces that are only slightly curved.
It weighs a mere 4.4 lbs, making it a good portable solar panel. Because of that, this SunPower flexible panel isn't a hassle to bring around and doesn't add extra weight to your travels.
Semi flexible solar panels like this one come with quick-connect cables that make them easy to set up, even for newbies without experience in solar panels.
For those buying flexible panels for the first time and who want to avoid getting a bogus item, don't fret. SunPower offers a product warranty for up to two years. Plus, their warranty doesn't have a saltwater exclusion, so the brand will always assist users no matter the issue with their flexible solar panel.
The only problem with these flexible portable solar panels is that the power output isn't as strong if there is no direct sunlight hitting them. This could be a problem, especially because the panel doesn't bend more than 30 degrees.
Pros
The solar panel's cells are made with a copper foundation
Can bend up to 30 degrees for slightly curved surfaces
Weighs only 4.4 lbs, so it's a portable panel that's easy to carry around
The quick-connect cables aren't complicated to set up even for newbies
The brand offers a warranty for two years without a saltwater exclusion
Cons
Lower power output if the sun is not directly hitting the solar panel
This Sunpower panel is perfect for consumers who want durability, ease of use, and security all in one.
4. XINPUGUANG 200-Watt Flexible Solar Panel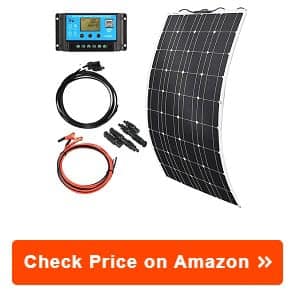 This solar panel kit by XINPUGUANG is excellent because I don't have to buy separate tools and parts to set up my flexible panel and power station. It comes complete with a charge controller, connectors, alligator clips, and other accessories to get me started right away.
The flexible solar panel is designed with five layers to enhance performance and extend its lifespan. These include a TPT backing, which protects your panel from overheating.
In the middle of the layers is the solar panel's monocrystalline solar cells. These cells allow for a higher-than-usual conversion rate of 19.5%. The monocrystalline cells also work hard to perform well even in shaded and low-light settings.
The connectors and junction box are made with IP67 technology, making them waterproof. It's fantastic since I often worry about water damage destroying my solar panel kit.
Although this is a 200 watt flexible solar panel, the panel can sometimes put out a bit less than 200 watts. To get the maximum energy output possible, it needs to charge for quite a while and under direct sunlight. That said, even when it does emit less than 200 watts, it does so very efficiently.
Pros
Complete kit comes with a charge controller, connectors, clips, and more
Panel has five layers, including TPT backing to protect against overheating
Monocrystalline solar cells that convert 19.5% of solar energy into power
Performs effectively even in shaded settings
Connectors and junction box are made with IP67 waterproof technology
Cons
Sometimes puts out a bit less than 200 watts
For customers who need a flexible solar panel and all the accessories required to set it up, this solar panel kit by XINPUGUANG is the best option.
What to Look for When Buying Flexible Solar Panels
Made from durable material that withstands tough weather conditions
Look for the best flexible solar panels that are made from sturdy, top-quality materials like ETFE, aluminum frames, and monocrystalline solar cells. Because these materials are durable, they'll increase the longevity of your solar panels.
Conventional panels are usually made of thicker, heavier materials, like glass. But for thin film solar panels, you need lightweight materials.
You should also keep your eyes peeled for waterproof solar panels designed with IP65-IP67 technology. This prevents water damage to your flexible solar panels when it's raining. It also keeps it resistant to impact from heavy storms or snow. This is vital if your travels require you to pass through areas with unpredictable climates.
Contains bypass diodes to keep your energy from dropping in low-light areas
Bypass diodes allow you to keep using your photovoltaic cells even when your solar panels are exposed to areas without direct sunlight. Most conventional solar panels will experience power drops when sunlight isn't available to them, but with bypass diodes, that won't be an issue.
If you're looking to use your flexible solar panels for home energy but live in a cloudy city, getting panels that operate efficiently even in the shade is extremely important.
Can provide an adequate amount of power for your needs
Solo or small group travelers who need flexible solar panels for boats, trailers, or cars will probably consume less energy than an entire household. Purchase a flexible solar panel with a power output appropriate for your need.
For example, 100 watt flexible solar panels might be suitable for quick camping trips with one or two people. However, for a family living at home, a collection of 200W or 300W flexible solar panels might be more apt.
If you want something more intense, go for 400W flexible solar panels.
Manufactured by a top-notch brand based in countries known for quality products
Don't go for just any flexible solar panel kit. Make sure the new solar panels you purchase are from a renowned brand known to make excellent flexible solar panels that last a long time. Go for those of top brands, such as the Renogy or Sunyee flexible solar panels.
One easy way to tell that your solar panels are high in quality is to check which country they were designed and manufactured in. Some of the most efficient flexible solar panels are created in countries known for quality tech and renewable energy products, like Canada, Australia, and the UK.
How to Install Flexible Solar Panels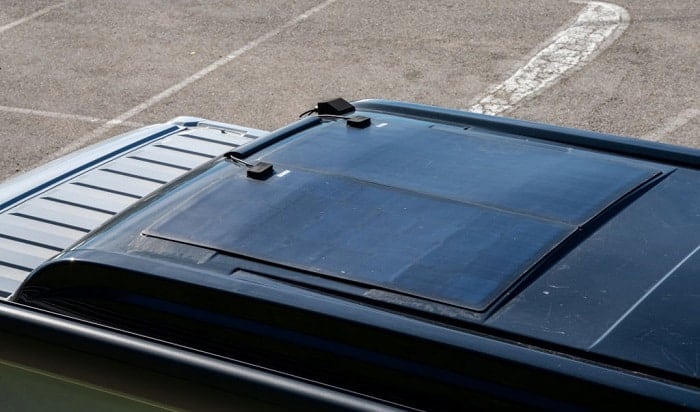 Installing flexible solar panels is very simple. It's quite similar to traditional solar panels. All you have to do is lay them down on the surface you want to mount them on. Then, you must screw on the grommets or use an adhesive to stick the clean flexible solar panels down properly.
If you go with the latter, make sure your solar panel is stuck tight to your surface, so it won't wobble or come loose. You also need to keep an eye on your adhesive placement. It should never cover your panel's flexible solar cells, or the blockage might not allow any light absorption.
It's easier to install flexible solar panels vs rigid ones because they're so versatile.
Are Cheap Flexible Solar Panels Any Good
Most solar panels that are extremely cheap might not perform up to standard. However, flexible solar panels need not be expensive to be effective.
There are many solar panel brands out there that come up with excellent, durable panels for an economical price tag. So yes, there are many flexible panels that come at a reasonable price.
That said, if you want the most affordable flexible solar panel available in the market, you'll need to invest more than a couple of bucks. Bigger, more expensive name brands utilize innovative technologies and extra sturdy materials to create top-class solar panels.
Do Flexible Solar Panels Get Hot
Unlike typical panels that aren't as bendable, flexible panels don't often get hot to the touch. That's why they don't require extra air space to cool down. If they do get too hot, they face the risk of overheating, so that's something you must watch out for regularly.
Several solar panels in this review have TPT backing, which helps dissipate heat and prevents overheating. This solar technology is beneficial if you travel to hot, tropical areas.
Conclusion
If you're planning to set up your solar projects on a curved area—say, a roof or on your RV—don't settle for those rigid, traditional panels. Go instead for those in this flexible solar panels review that will have a snug placement, so they won't come loose easily.
Plus, because the best flexible solar panels absorb solar energy from multiple angles, you're likely to get more power than you would with traditional panels. Who can say no to that? Buyers should check out any of the above flexible solar panels for camping, traveling, or even just at home.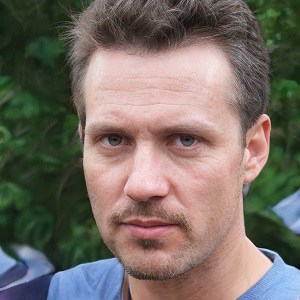 I am Kathleen Miller, staff writer and reviewer of the Avasolar team. Working with the team has been a pleasure for me so far, I hope to bring readers useful information by creating detailed and easy-to-follow contents.