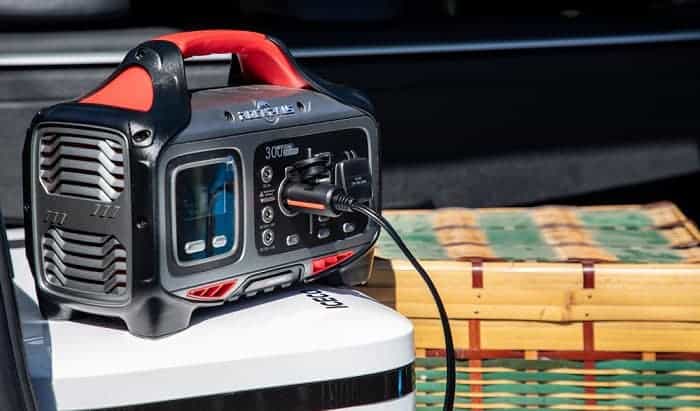 According to studies, about 22 million Americans have sleep apnea. Approximately 80% of those cases are undiagnosed. Fortunately, the advancement of technology dramatically improved these patients' quality of sleep, all thanks to CPAP devices.
While CPAP machines offer peace of mind and a peaceful night of sleep, power outages or blackouts render them useless. On top of that, camping and traveling with CPAP therapy may be a hassle, as electricity is not readily accessible outside.
The good news is, the best solar generator for CPAP offers a reliable power supply to save the day. Whether it is blackouts and being in transit, running CPAP devices is not a problem anymore. And to look for the right one that fits your needs, here're the main features you want to consider:
CPAP compatibility: As we know, traveling with CPAP becomes convenient with a reliable portable power source. Besides, the CPAP machines are sensitive devices, so make sure you pick one that works well with them to provide the best output.
Multiple output ports: For charging many devices, from laptops, phones to medical devices and cameras, we need from 4 to 6 ports to suffice. This means the power supply must have high watt capacity hours of at least 200 to more than 500.
Portability: It is good to have solar generators that weigh less not to burden our package. Besides, it should come in a compact design to avoid bulkiness when sitting in a small RV.
Take a look at the best and most trusted brands before making that check out. What's more, we included tips and information to answer common questions regarding CPAP generator.
Best Overall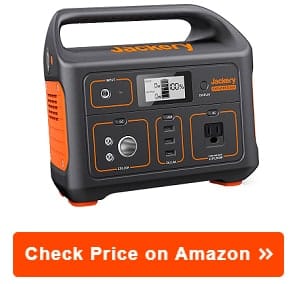 Jackery Portable Power Station
✅ LCD keeps us on track of its battery operation
✅ Noiseless and fumeless operation
✅ Allows pass-through charging
Premium Choice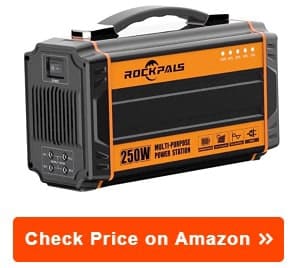 Rockpals Portable Generator
✅ Three charging methods
✅ Ideal power generator for CPAP
✅ Equipped with safety features
Editor's Pick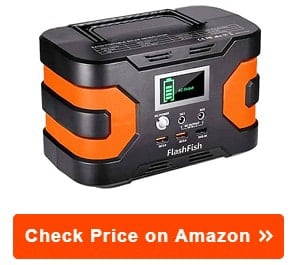 Flashfish Peak Power Station
✅ Engineered with safety operations
✅ 45000mAh capacity
✅ Includes two USB ports
Top Solar Generator for CPAP Reviews
1. Jackery Portable Power Station Explorer 500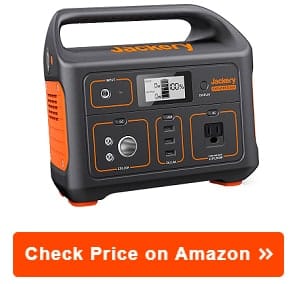 The Jackery 500 CPAP generator should be an ideal choice for any users seeking the best lightweight power source. This powerful 518Wh solar generator comes in a portable design ideal for travel and outdoor activities. Its compact design, similar to a basketball, keeps its exterior from breaking off during a trip.
Users vouched for its long-lasting endurance that allows pass-through charging. With this, we can recharge the unit and use it simultaneously.
Also, its lithium-ion battery pack maximizes its capacity, allowing us to power our CPAP, laptop, cooling fan, and more at the same time.
We can power devices in three ways, either through a wall outlet or a car charger cable that lasts five and a half hours. Meanwhile, charging through a solar panel lasts up to seven and a half hours. This is highly recommended for users who opt for effortless solar charging, as it does not require a charge controller on its panel.
It comes with a 2-inch LCD for us to keep track of its battery information. Not only that, Jackery designed it with a built-in LED flashlight, making it ultra-reliable for camping outdoors.
Its noiseless and fumeless operation is another reason to choose this model. We won't only get a reliable generator that powers you through the night; we'll also get a peaceful sleep.
One slight drawback about this product is its absence of USB-C ports, thus incompatible with charging the latest smartphones.
Pros
518Wh solar generator in a compact design i
Allows pass-through charging
Maximum 500W capacity powers multiple devices simultaneously
Noiseless and fumeless operation
LCD keeps us on track of its battery operation
Overall, this device is a convenient, powerful, and eco-friendly generator to run CPAP and other devices. This CPAP device comes with a guaranteed reputation among its customers.
2. Rockpals 250-Watt Portable Generator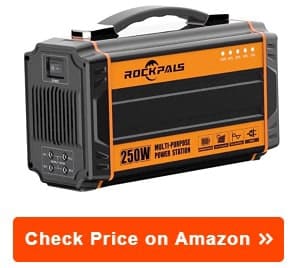 The Rockpals 250-Watt Portable Generator is a budget-friendly but reliable solar generator. From my experience, this solar generator is ideal for indoor and outdoor use. Thus, we will never face a power outage during trips.
Users can use this portable solar generator in multiple ways. Recharging through a wall outlet spans 7-8 hours, and recharging through a car charger lasts 9-10 hours.
Meanwhile, recharging through a solar panel lasts only 4-6 hours, thanks to its MPPT or Maximum Power Point Tracker. This feature allows us to charge 40% faster than other solar generators without MPPT.
I appreciate such a portable power supply with safety features. Firstly, the device is protected from short circuits, surges, and temperature control. Plus, I know my devices are secured because the solar generator comes with overcharge protection.
This portable power station for CPAP provides two ways to run our machine. We can plug it in using its 12V DC Plug or 110V AC Plug. Ideally, the DC plug should be used for this device to last for more than two nights.
Anyhow, one pitfall with this product is its inability to support pass-through charging. We may have to unplug the generator from its power source before using it to run devices.
Pros
Three charging methods: wall outlet, car battery, solar panel
MPPT allows faster charging through solar panels
Equipped with safety features: short circuits, surges, temperature control
Uses 12V DC Plug or 110V AC Plug to plug it in
Ideal power generator for CPAP that lasts for two nights
Comes with a cigarette lighter socket
Cons
Does not allow pass-through charging
On the whole, this solar generator has all my needs covered. It costs less, charges faster than its competitors, and provides space to power up all our electronics.
3. Flashfish 200W Peak Power Station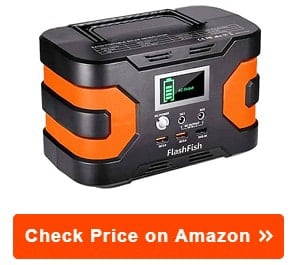 Ordinary generators offer good performance, but the ones equipped with pure sine waves perform better. And this Flashfish 200W Peak Power Station is among the solar generators that offer superb performances.
With its 45000mAh capacity engineered with a pure sine wave, we are guaranteed all our electronics shall run to their total capacity and functionality. So, whether for an outdoor enthusiast looking for a reliable power source or merely searching for an emergency generator, this is an ideal generator to fully recharge devices.
This 166Wh solar generator includes three outputs: AC outlets, USB ports, and DC ports. This way, all our electronic devices are covered. Besides, it has two USB ports for quick charging.
I love that with its incredible power, the solar portable power station only weighs 4.5lb. As we use a CPAP, we do not have to struggle to carry hefty generators. Plus, this device is among the CPAP machines that run without noise; we can be confident of a well-rested night.
Notably, we do not have to worry about electrical hazards happening to the power station. Flashfish ensures its safe performance as it is equipped with overheat protection, short circuit protection, lock-on protection, and voltage control.
Additionally, there is no need to pull any ripcords to run this device. All I have to do is push the power button, and I am good to power up my electronics.
Unfortunately, we cannot use this solar generator and charge it at the same time.
Pros
Engineered to offer pure sine wave output
45000mAh capacity that only weighs 4.5lb
Includes two USB ports for quick-charging
Engineered with safety operations: ock-on protection, voltage control, …
Simple design without the complicated wirings
Cons
Inability to use and recharge simultaneously
In essence, this device is among top tier solar generators for camping trips. It is packaged portability and usability in one.
4. BALDR Portable Power Station 330W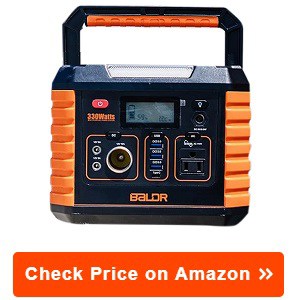 When it comes to prioritizing safety and performance, the BALDR Portable Power Station does not disappoint. Equipped with a pure sine wave, this portable solar generator maximizes our devices' capability.
Most CPAP machines are sensitive medical equipment, it is a guaranteed safe and robust power source. Aside from that, this 288Wh high capacity generator runs a maximum of nine devices simultaneously. Moreover, it boasts advanced wireless charging, which is pretty nifty.
The appeal of this device does not end with its competence. As it features a battery management system, we can be assured of our safety and our devices' function.
Also, the device maintains a stable temperature despite long hours of use. Thanks to its built-in smart mute fan that automatically turns on when the device's temperature increases.
Apart from its built-in safety features, it keeps the environment protected. I am pleased to find out that it is environmentally friendly, fumeless, and noiseless.
Plus, its innovative LED flashlight comes in handy during emergencies. This solar generator for CPAP usage also comes with a flexible handle, perfect for traveling.
On the flip side, the unit is a bit bulky compared to other portable solar generators. For buyers particularly searching for an ultra-lightweight product, I suggest they look for alternatives.
Pros
Engineered with pure sine wave ideal for CPAP machines
288Wh high capacity solar generator runs a maximum of nine devices
Equipped with LED flashlight and a flexible handle, perfect for traveling
Environmentally friendly, fumeless, and noiseless device for power draw
Battery protection system keeps us and our devices' safe
Features an innovative wireless charging
Taking everything into account, this trustworthy unit offers the most innovation for a portable solar generator in the market today. Besides its pure sine wave and reliable performance, the neat wireless charging is something to look out for with this product.
5. NEXPOW 178Wh Portable Power Station
An ultralightweight power station that includes modern connections is a rare find. Fortunately, this portable power supply device offers all that.
For users searching for an ultra-handy CPAP power supply for camping, this is all they need. This 3.3lb power generator with a 178Wh power supply can run our CPAP machine, tablet, lights, and more. The best part? It fits into our backpack perfectly.
Unlike other devices, this CPAP machine has a USB-C port to charge our latest iPad, smartphones, tablets, and other electronics. It also has an AC output and two DC outputs, making it a reliable power supply for emergencies.
This power source is engineered with a built-in management system. Thus, all devices are secured from short circuit, overpower, over-voltage, overcharge, and over-discharge. So, all the devices running on this portable power supply are guaranteed safe, whether indoors or outdoors.
I like that it comes in a light black metal case and a LED flashlight. This way, I can be confident that it is dependable during my next camping trip. Plus, I don't have to stress about doing the math checking its battery power, too. Such convenience is all thanks to the neat LCD display screen incorporated into the power supply machine.
There are four ways to recharge this solar generator. You can choose to recharge this from the sun, through a wall AC outlet, through its PD 3.0 input, and you can power it up through your car.
However, this power station does not support pass-through charging, so it takes a bit more time.
Pros
Ultralightweight and handy CPAP machine for avoiding power outage
Includes a USB-C port to charge the latest iPad, smartphones, tablets, etc
Secured power supply from short circuit, overpower, over-voltage, overcharge, …
Comes with a LED flashlight and LCD display
Rechargeable in four ways
Cons
Does not support pass-through charging
Unquestionably, this device is among portable power supplies that we can rely on to avoid a power outage. For buyers who prioritize convenience, this solar generator shall give them the best value for their money.
6. SereneLife Portable Generator 155Wh Power Station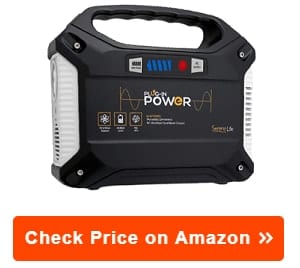 The SereneLife Portable Generator stays true to its name. It runs serenely as it powers our devices. Though silent, it is capable of powering our CPAP machine throughout the night.
We can charge this power source through three modes: AC wall outlet, car, and solar panels. We can use its 12V DC outputs, USB, and 110V AC when running and recharging our electronics.
There is no need to bring adapters for different battery types and the latest gadget models. Even better, we get the most out of our money with this investment as it includes a lighter adapter and a power cable.
Furthermore, we do not have to bring emergency lights in case of hurricanes and typhoons, as this solar technology device for CPAP use comes with a built-in LED flashlight.
Apart from that, it surprisingly powers more than I thought it would. This tiny power station packs 42,000mAh, offering more power than we need when we hit the road or spend a weekend getaway.
As I prefer a user-friendly and straightforward device, this solar energy power piece is for me. Using this is a no-brainer as it comes with light indicators, helping me keep track of its efficiency and running time.
Even so, this unit does not come with a solar panel. It may be troublesome to find one that is compatible with this device.
Pros
Weighs little and runs silently to support CPAP machines
Comes with a built-in LED flashlight for emergencies
Charges through AC wall outlet, car, and solar panels.
42,000mAh device to easily power modern devices through modern connections
Equipped with light indicators for user-friendly use of solar energy
Cons
Finding a compatible solar panel may take some effort
Altogether, this lightweight and portable solar generator for CPAP packs everything I need. It is silent, reliable, and powers more than I thought it should. Without question, this could be among my best investments.
7. Goal Zero Yeti 200X Lithium Portable Power Station
This Goal Zero Yeti Portable Power is designed to withstand outdoor adventures. We can rely on this device to run a CPAP machine for providing power during calamities and unscheduled power cut-offs.
The Goal Zero 200X CPAP generator pioneered engineering portable power stations ten years ago. This portable solar generator does not disappoint as it comes with a two-year warranty.
This generator packs all our charging options in one compact device. The best part? It can run different devices simultaneously, including phones, medical devices, fridges, cameras, and more.
Charging through solar panels is faster with this device. Since it is integrated with an MPPT charge controller, charging spans only two and a half hours. On the other hand, recharging through the wall outlet only lasts for four hours.
The best thing about this unit is its safety system. Backed up with levels of protection, we and our devices are safe from over-temperature and over and under-voltage. It also covers a unique battery management system that tracks its cell and battery health.
Unlike its solid features, this unit is surprisingly light and small. It is exceptionally devised as a lightweight, travel-friendly device that powers devices despite staying off the grid.
Be that as may, this package does not include cables. We need to purchase them separately, which could cost us additional time and money.
Pros
Includes a two-year warranty
Runs multiple devices simultaneously: phones, medical devices, fridges, cameras, etc
Integrated with an MPPT charge controller for 2.5-hour charge
Equipped with safety battery management system
Ultralightweight and travel-friendly
On a final note, this portable solar generator could be the right ultralightweight power station for our money. It is durable and built to last a long time.
What to Look for When Buying Solar Generators for CPAP
First, you need to prioritize whether the power source meets your CPAP's specifications. Second, purchase the one equipped with safety features. Third, invest in a device with a recharging time that works for you. Fourth on the list includes its travel convenience. Lastly, pick a device engineered with extra features that suit your needs.
Of course, other key factors will further help you narrow down your options. To assist you, here is a cheat sheet to ensure a no-regret investment:
Choose the one that matches your CPAP's specifications.
This factor should be at the top of your checklist. Make sure you purchase a solar generator that meets your machine's wattage. Better yet, choose the one with a greater battery capacity for security.
Furthermore, keep in mind that CPAP machines are sensitive medical equipment. I recommend you get a generator equipped with a pure sine wave to avoid damaging your device.
Invest in a model that is engineered with safety features.
Safety should be a priority as well. That is why it is always a smart idea to purchase units equipped with safety features. Preferably, select units armed with protection from over-temperature, overcharge, short circuit, and surge. This assures not only your safety but your devices' as well.
Decide on the recharging time frame that fits your needs.
Solar generators usually recharge between two to ten hours. If you do not fancy waiting for long hours, you may choose the unit that requires less time. Ideally, purchase a solar generator that is integrated with the MPPT or Maximum Power Point Tracker. This way, you'll get to recharge your power source 40% faster compared to other units.
Choose a travel-friendly device.
As stated above, portability is among the critical features that we pay attention to when purchasing good devices. Whether you need it for camping, traveling, or emergencies, a portable device is essential. For one, the Jackery 160 for CPAP generator is the smallest and lightest in the market.
Invest in a model equipped with extra features that work for you.
It is always wise to take a look at the extra features of the unit. Check the number of plugs and charging options. As for me, I recommend purchasing a unit that supports pass-through charging. Bonus points if it has a built-in LED flashlight and LCD screen.
How Many Watt-Hours Does a CPAP Machine Use
CPAP machines usually need 30-150 watts, depending on their built-in features. At large, the average ones are only between 30-60 watts. On the other hand, those with advanced features use higher watts.
To figure out how long a power source will last, all you need to do is simple math. You will have to divide the watt-hour of a generator by the CPAP machine's watts.
Let's say your solar generator has a 518Wh capacity, and your CPAP machine uses 30 watts. So, that means a 518Wh generator is enough to run a CPAP machine for more than 17 hours.
What Size Solar Generator Do I Need to Run a CPAP Machine
If your CPAP machine uses 30 watts, you need at least a 240Wh generator. This way, you could run it for eight hours which is enough to give you a good night slumber. For this purpose, you can use the 240 watt-hour Jackery CPAP generator.
However, you may opt for a more extensive power to run your other devices longer.
Conclusion
Investing in a solar generator is a literal lifesaver for CPAP users. Even so, purchasing the right one among the vast array of choices does not come easy. Rest assured, our product reviews, accompanied by their pros and cons, shall help you make the right choice.
All the same, the information and tips are geared to maximize your CPAP machine's performance despite staying off the grid.
On the whole, CPAP patients can spend a wholesome weekend outdoors without worry. As long as you have the best solar generator for CPAP, you know you'll spend your next camping getaway without limits.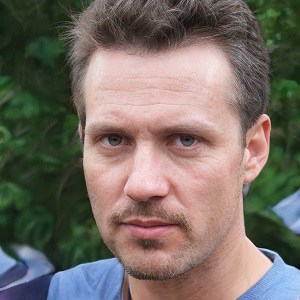 I am Kathleen Miller, staff writer and reviewer of the Avasolar team. Working with the team has been a pleasure for me so far, I hope to bring readers useful information by creating detailed and easy-to-follow contents.