Are you searching for a great solution to heating your pools without the need to spend lavishly? Then, the best solar rings for pool can bring a huge difference to your swimming experience. Such devices are effective in heating swimming pools without the use of electricity or gas. These are cost-effective alternatives that you can depend on.
It's good news that you can now save more on electricity bills and pool maintenance expenses, and at the same time, help save the environment. Since these products rely on solar power to operate, you can help promote a healthier and sustainable lifestyle as well.
If you have no idea about the valuable features, upsides and downsides of solar pool rings, this article is here to assist you. We have included a list of the chart-topping options available today. Indeed, we also shared an exhaustive buyer's guide below. So, check them out!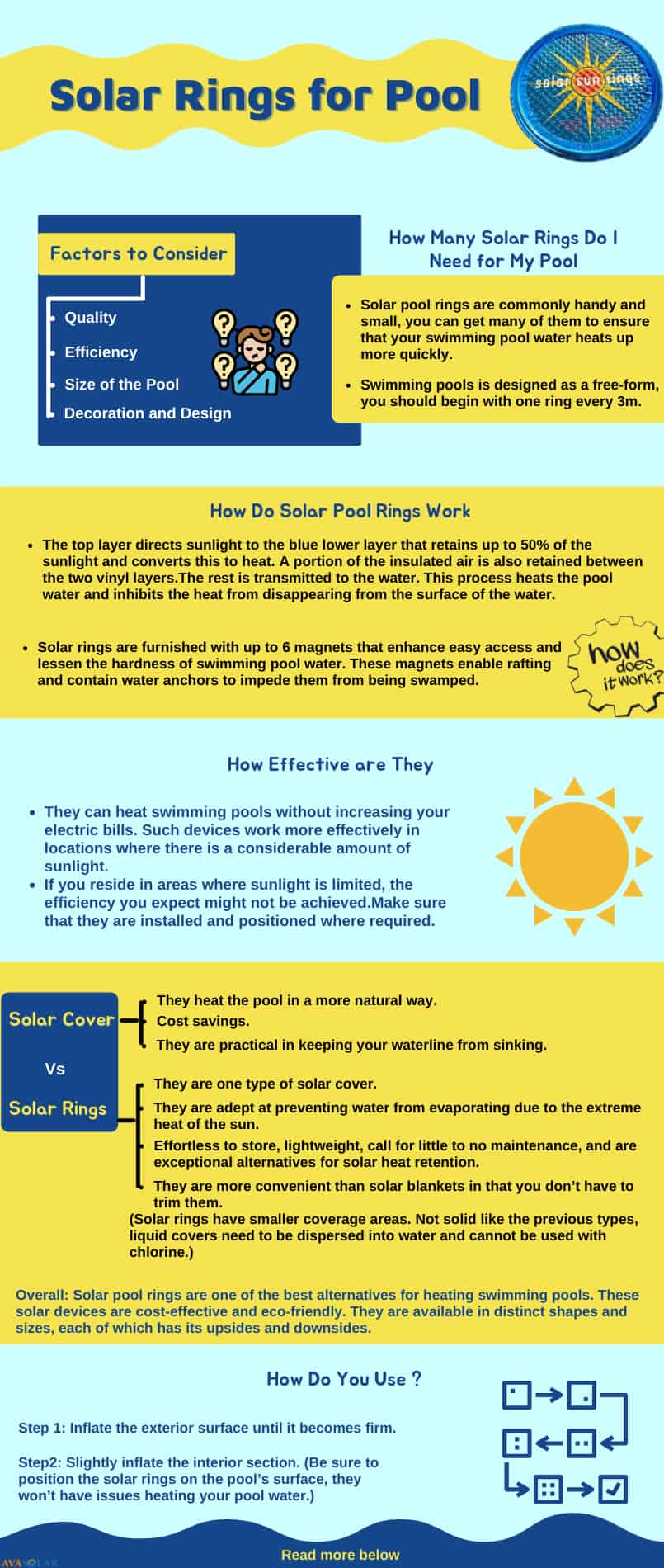 Best Overall
Solar Sun Rings SSR1
✅ Lowers electric bills
✅ Easy to follow instructions
✅ Provides 21,000 BTU/day
Premium Choice
Solar Sun Rings Solar Pool Heater
✅ Straightforward to set up and use
✅ A heavy-duty and cost-effective alternative
✅ A pack of six for small and medium pools
Editor's Pick
Solar Sun Rings SSRA-100
✅ Easy to remove
✅ Installation is a breeze
✅ Double layers of UV resistant vinyl
Top 9 Solar Ring for Pool Reviews
1. Solar Sun Rings SSR1 Swimming Pool Spa Heater
Are you planning to buy DIY solar pool rings that can provide up to 21,000 BTU per day? Then, this item is what you're precisely looking for. You don't need to worry about setting up this device because it comes with easy-to-follow setup methods for beginners.
With this sun ring spa heater, you can greatly lessen your electric bills. This vinyl disc is positioned on the swimming pool's surface, and it functions by utilizing the energy from the sun to sustain the pool's temperature.
In addition to this, you can instantly position and remove this heating disc in a snap. Hence, there is no need to ask for professional assistance to do the job for you. The device can be flipped over to lower water temperature if preferred. The magnets on the corner attract and fasten other rings together.
Besides, the more coverage you have, the more excellently these devices will work, so it's a good idea to buy more of them. There are grommets on the inner grid which are intended for effortless drainage of excess water.
This solar ring can cover almost all the pool area. It is inflatable and can transform the overall look of your swimming pool to a more attractive one. Isn't it thrilling to swim in a warm pool that looks aesthetically pleasing? For sure, you'll enjoy taking selfies too!
On the other hand, the major gripe we have encountered with this solar ring is that it sometimes blows out quite easily. It would be great if the manufacturer considered fixing this concern.
Pros
Attractive look, easy to follow instructions, effortless setup and removal
Lowers electric bills
Magnets on the corners attract and affix other rings together
Can be tossed over to reduce water temperature if preferred
Draining excess water is made easier
Provides 21,000 BTU per day
Cons
Blows out easily sometimes
To conclude, solar rings to heat pool like this one are reliable heating equipment. We find them very effective; the more coverage you have, the better the device will function.
2. Solar Sun Rings Solar Pool Heater
For buyers who need top-quality DIY solar rings for pool, this option is a great investment that is worth considering. It is not burdensome to set up and utilize, even for beginners. We prefer durable and economical options, so it is good to know that this product can guarantee that.
The solar rings are fastened with the aid of magnets and will stay connected without a complicated setup method. You don't need to call a professional to set these devices up; the process can be a do-it-yourself task that you can accomplish in minutes.
Regardless of the shape of your swimming pool, be it round, rectangular, or oval, this solar ring can provide the perfect fit. We have observed that these devices do not fail in absorbing sunlight, so they work effectively in warming our pool water. Gone were the days when we ended up penniless because of paying very high electricity bills monthly.
The package comes with six strong solar rings. These are the ideal sizes that could cover small or medium swimming pools. The rings are designed with two efficient and sturdy layers of vinyl. These are superb at absorbing sunlight and converting it to heat the water. These solar rings are powerful enough to cover almost 80% of our pool area.
The downside is that if you do not obtain a generous amount of sun where your pool is, these devices won't be able to work as efficiently as a conventional electric or gas pool heater.
Pros
A heavy-duty and cost-effective alternative
Straightforward to set up and use
Ideal to utilize for round, rectangular, and oval-shaped pools
Work outstandingly in absorbing sunlight
A pack of six for small and medium pools
Cons
Won't work effectively without plenty of sunlight
On the whole, these solar pads for pools are smart buys that pool owners won't ever regret. These units are impressive in terms of heating the pool water more quickly than expected.
3. Solar Sun Rings SSRA-100 Pool Water Heater
If you prefer solar sun rings for pool that can heat your pool instantly, this option is an excellent alternative. The rings are built using double layers of UV resistant vinyl material. The above clear layer is meant for directing the rays of the sun onto the blue layer beneath that takes in roughly 50% of sunlight, transforming this to heat.
If you prefer high-quality warming discs that work excellently in keeping your pool water warm at night, this product is a must-try. Just make sure that you utilize extra insulation like a solar blanket or solar fish to better enjoy your swimming experience.
Luckily, these units are not difficult to set up, even for beginners. As for the price, this item is good value for money since the kit already includes 6 magnets that are designed to affix the rings together. Such solar rings are not like other options that are prone to getting blown away easily.
You won't have issues removing these devices from the pool. In fact, with a few side shakes, the water easily comes out from the water weight area. These units will appear appealing in the pool while staying reliable in lessening evaporation.
On the cons, these solar rings can get quite filthy with dust and rain after a season. It is a bit of a chore to clean them. Anyhow, this is fine so long as these devices can keep our pool water warm and soothing to swim in regardless of the weather conditions.
Pros
Allows users to swim more enjoyably and comfortably
Can warm the pool in an instant and at night (when used with extra insulation)
Double layers of UV resistant vinyl
The kit includes 6 magnets intended to affix the rings together
Installation is a breeze
Easy to remove
Cons
Tends to be quite filthy with dust and rain after a season
As a whole, solar pool heat rings offer great value for money. They work like a charm in warming the pool instantly, minimizing evaporation, and aren't blown away very easily.
4. Solar Sun Rings Water Anchor
These solar sun rings 10 pack are smart options if you go for dependable heating devices that are solar activated. Since their main source of power is the energy of the sun, these are economical alternatives as they do not require the use of electricity. Hence, if you use them in heating up your pools, the process does not need to be costly.
What is more, these solar rings for inground pools are built with six sturdy magnets that connect the rings. Such devices have been tested and proven to provide the necessary heat to swimming pools no matter the current weather condition. Even first time users won't have issues with these devices' placement and removal process.
More importantly, these swimming pool heating devices are specifically manufactured to allow continuous use without growing mustard algae. These units are built with refined vinyl for the top layer, as well as a 50% density slightly frosted lower layer.
Since the time we introduced these solar rings for in-ground pools, they have done an awesome job in keeping the heat in and collecting the sun's energy to warm our pool regardless of the season. These units are definitely recommended to pool owners who prefer having warm pool water.
Be that as it may, please remember that these items must not be utilized as a flotation device. Also, check out a tutorial when filling these solar rings up so you do not over-inflate them.
Pros
Solar activated, so no need for electricity use
Equipped with strong and durable magnets
Keeps the pool warm regardless of the weather condition
No algae growth
Refined vinyl and 50% density slightly frosted layer
Ensures a plain sailing placement and removal process
Cons
Do not utilize as a flotation device
Don't over inflate
Ultimately, these pool solar discs are the real deal. They don't disappoint pool owners like us when it comes to keeping our pool water warm even at dusk.
5. Solar Sun Rings SSR SSRA-100 Pool Water Heater
This solar pool ring review aims to inform buyers how functional and reliable this option is. As you can see, this product features a wonderful design that adds more aesthetics to swimming pools. But, more than that, it works impeccably in retaining heat, particularly at night time.
So long as you put a sufficient number of these rings in the pool, the devices can effectively stop evaporation. Having more of these rings can also cover the entire pool area. As for its overall build, these units are designed with double layers that could resist UV rays. Hence, they are sure to last long.
In our case, we bought six pieces of these solar rings as we think that is what's required to cover our entire pool. From then on, we observed that our pool was heated quickly. We no longer need to wait for a long time just to have warm water. Having more of these units in the pool can speed up the heating process.
Apart from these, these units are adept at working in cold weather. Our water remains in ideal temperature even on colder days, and these devices are unaffected by salt or chlorine, making them suitable for pool use.
However, please note that these solar heating rings are not designed to be used as a floating device in swimming pools. Their lightweight feature also makes them easily carried away by strong winds.
Pros
An eye-catching design
Does wonders in retaining heat quickly, particularly at dusk
With an adequate number of rings, these units can cover the entire pool
Designed with double layers that could resist UV rays
Unaffected by cold weather, salt, and chlorine
Cons
Quite lightweight that they can be easily carried away by strong winds
Not for use as a floating device
In a nutshell, this solar pool heating ring can significantly help in heating the pool and keeping the heat from evaporating too much. We also had no issues installing it.
6. Solar Sun Rings Plain Circular Solar Cover
This solar pool cover is built with a practical design. The redesigned interior grid with extra drainage grommets enables the water to permeate through the solar rings without sinking. What made us pick this alternative is its reliability in keeping the pool water warm without spoiling our budget.
We're happy to share that since we utilized these solar rings in our pool, our electricity bill has remarkably decreased. We are stunned by the manner these devices warm our pool and retain the heat. We are grateful that they have helped minimize our utility expenses.
Moreover, these units function by utilizing sunlight to warm the pool. The thermal blanket effect greatly aids in retaining heat during dusk. The cover is also intended to minimize the evaporation of chemicals and water. As a result, the pool remains intact for an extended period.
Once you see that the pool starts to look filthy, all you need to do is to move the solar rings around while tidying the pool. As you can see, there is no need to remove the solar rings. Also, the rings easily break apart to avoid tie-ups in unexpected falls.
Even so, these solar covers are a bit challenging to get off carefully when we wish to swim compared to a single-piece cover. Fortunately, they are more effortless to return onto the water than getting a cover flattened out. This isn't a serious concern to worry about.
Pros
Features a practical design and budget-friendly price
Decreases utility bills
Works reliably in absorbing sunlight and avoiding tie-ups in falls
Aids in minimizing evaporation of chemicals and water
Can be moved around while tidying the pool
Does a great job of retaining heat in the pool water during the night
Cons
Slightly difficult to get off compared to a single-piece cover
To wrap up, this item was a cinch to set up and works exceptionally for its purpose. For buyers looking for a straightforward and economical solution, this is a safe bet to go for!
7. Noair Heat Squares NS792-10 Solar Blanket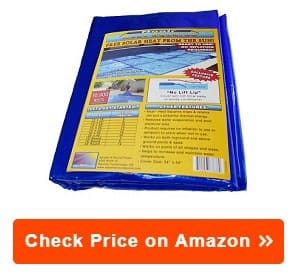 Are you mulling over solar rings vs solar blanket? If you prefer the latter, this product is a great catch in that you can use it for above-ground and in-ground pools of any size and shape. It features a lightweight, easy-to-set-up-and-store design, so this is a perfect alternative if you prefer specifications like these.
This solar blanket is famous for working excellently in trapping and retaining the powerful thermal energy of the sun. Plus, it is dependable in lessening instances of pool chemical loss and water evaporation. It looks built to last, all thanks to its super durable vinyl covers.
It is worth noting that this solar blanket is designed with a no-lift-lip feature that helps keep the squares from being easily carried away in windy spots. The closed cell foam is meant to guarantee unwavering buoyancy. You see, if stability is your top priority, this product can give you that.
What I like best about this item is that similar to conventional bubble solar blankets, it enables solar heat to pass through and warm our pool. I am at peace because it offers me a more economical means of warming the pool. So, I can finally say goodbye to expensive electric bills.
While there is no doubt to the functionality of this solar blanket, it needs a lot of sunlight to deliver its optimal performance. If you live in a very cloudy area, this might not be the best choice.
Pros
Recommended for above ground and in-ground pools of any size and shape
Excellent at trapping and retaining the powerful thermal energy of the sun
No-lift-lip feature and closed cell foam
Made of sturdy vinyl covers
Lightweight, economical, easy to setup and store
Works efficiently in decreasing pool chemical loss and water evaporation
Cons
Needs a lot of sunlight for optimal performance
In general, this product is one of the best options for above ground and in-ground pools of any size and shape. If versatility, functionality, and reliability are the main features you're aiming for, this item is the perfect pick for you.
8. Sun2Solar Rectangle Solar Cover
This solar cover is a practical item to get for covering above and in-ground pools. Unlike other similar products out there, this item is not a pain to put on and take off. It is not hard to manage even though it comes with heavy-duty build; it is lightweight enough to set up even for first-timers.
We really appreciate this solar cover because it is trouble-free to trim to obtain the required fit. Plus, this item helps inhibit up to 95% pool water evaporation. We're glad that we purchased this cover as it greatly helps us fill the pool less often and revel in possibly year-round swimming activities.
If you don't find this item in local stores, you can easily get it from Amazon or Walmart. This product is available in a broad array of sizes. If you take a closer look, you'll see that it is crafted with a durable film of compact bubbles. These are meant to absorb and capture heat to ensure a round-the-clock enjoyable swimming experience.
The stunning blue design of this solar cover can make your swimming pool look more attractive as well. And if you don't like blue, the seller also offers a clear option.
On the cons, this solar cover is prone to breaking down from ultraviolet exposure in extreme sun areas. Well, perhaps this is expected, since no matter how durable the material is, if the tool is exposed to extreme UV exposure, degradation could happen.
Pros
Reduces water evaporation by up to 95%
Highly recommended for efficiently covering above and in-ground pools
Hassle-free to put on and take off
Designed as heavy-duty yet lightweight, with bubbles for capturing heat
Can be trimmed to get the accurate fit
Has many sizes and two colors
Cons
Has the tendency to break down from ultraviolet exposure in extreme sun spots
Lastly, this solar cover is a smart choice as it can be easily trimmed to obtain the precise fit. It is a great alternative to solar rings for above ground pool.
9. Intex Solar Cover
For buyers who are dreaming of a longer and warmer swimming season, this solar cover can help you experience that. The air bubbles it is designed with are exceptional at retaining and transferring the powerful heat of the sun into the pool water. It floats and fits well inside the pool's edge.
It performs an outstanding job in insulating pool water, and it helps reduce heat loss from water evaporation. In fact, this tool significantly decreases water evaporation by up to 95%. These days, it is no longer a pain in the neck for us to keep the dirt out of the pool. Not only that, this cover also works to minimize the consumption of chemicals.
When not in use, you can easily remove this cover. Once purchased, the kit includes a carry bag that makes it easier for users to store the cover easily and conveniently. Since it is made of lightweight material, it is painless to manage. You can put it on and take it off effortlessly in a few minutes.
Nevertheless, the major glitch of this solar cover is that it is not ideal for rugged and extended use. Many pool owners who have used this cover claimed that it only lasted for a few years. This is probably because of too much sun exposure, which could ruin the material of the solar cover over time.
Pros
Helps reduce water evaporation by up to 95% and lowers chemicals use
Doesn't attract dirt
Works reliably in absorbing, transferring, and retaining heat
Floats and fits inside the edge of a pool
Lightweight, easy to remove and put on
Includes a carry bag to allow easy and convenient storage
Cons
Not ideal for rugged and extended use
All things considered, this round solar cover is worth its small investment for a couple of years. Its ability to retain heat is commendable.
What to Look for When Buying Solar Rings for Pool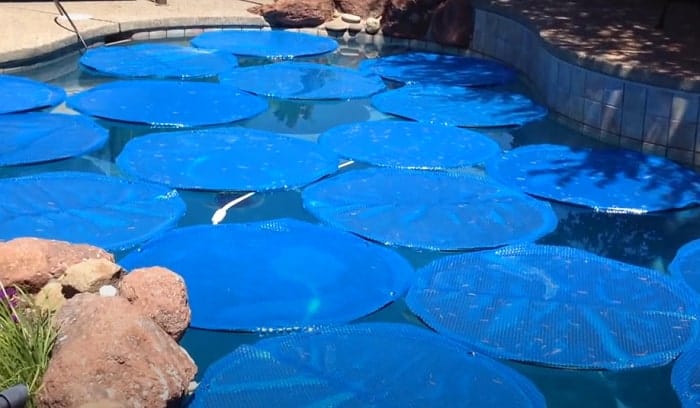 Searching for the best solar rings for pools is not a cinch at first glance. Aside from affordability and warranty, it is a must to look into other factors to be able to purchase a functional, reliable, and effective solar pool ring for your needs.
Let's delve into the significance of the key features before getting the desired product for your swimming pool:
Quality
The construction materials of the device are a very vital factor to inspect. This is because they help solar pool rings absorb sunlight to produce the energy they need to warm swimming pools.
Besides, they also keep swimming pools warm at dusk, and do not lose the heat that's generated at daylight. Such a process is accomplished with the aid of two sheets of super sturdy vinyl.
Hence, a solar ring that comes with thick vinyl layers can guarantee extended heat and safeguard the ring from the ultraviolet rays of the sun. A premium quality solar pool ring can last approximately four years.
Efficiency
Sure thing, you can't overlook the performance and efficiency of a solar pool ring while comparing its functions as well as features.
An efficient device is capable of retaining more sunlight within a short time and is adept at providing optimal heating solution to a swimming pool.
Pick a ring that could produce adequate heat to satisfy your expectations together with an extended using capability. Doing so will guarantee the anticipated service and make warm water for a more comfortable and soothing swimming experience.
Size of the Pool
The size of the swimming pool is another crucial factor. It is necessary to pick a design and model that is precise for your swimming pool. For large pools, opt for alternatives that have powerful rings with heavy-duty heating capacity.
For small swimming pools, consider a ring that is easy to set up, store, and is compact. As you know, a small pool contains less water space compared to larger-sized ones.
Decoration and Design
Typically, most solar pool rings are engineered with triangular or circular shapes. It is important to go for a design that considers the position and shape of your swimming pool.
If your swimming pool comes with a square shape, consider a shape that could effortlessly fit in it. Meanwhile, for other shapes, consider circular-formed solar rings.
Keep in mind that a solar pool ring with a suitable design will make the pool appear more attractive. Surely, a captivating décor enhances the exterior aesthetics of the pool.
How Do Solar Pool Rings Work
Solar pool rings are specifically designed to provide users with warm pool water amidst chilly and other extreme weather conditions. Such devices have the capability to contain solar heat between their two layers that are built using UV resistant vinyl material.
The top layer intends to direct sunlight to the blue lower layer that retains up to 50% of the sunlight and converts this to heat. A portion of the insulated air is also retained between the two vinyl layers. Meanwhile, the rest is transmitted to the water.
This process heats the pool water and inhibits the heat from disappearing from the surface of water. As a matter of fact, these devices greatly help bolster the water temperature by 4 degrees while minimizing evaporation.
Solar pool covers also provide a great shield for swimming pool pumps. Best of all, they are money-saving devices since they don't add up to your electric consumption. They work excellently regardless of the type of weather conditions.
They can also be utilized for heating the water again the next day. Solar rings are furnished with up to 6 magnets that enhance easy access and lessen the hardness of swimming pool water. These magnets enable rafting and contain water anchors to impede them from being swamped.
As you can see, these units are heavy-duty devices that could be spread effortlessly. They work like a charm in absorbing heat impeccably, and provide users with warm pool water, even if it is not summer.
How Many Solar Rings Do I Need for My Pool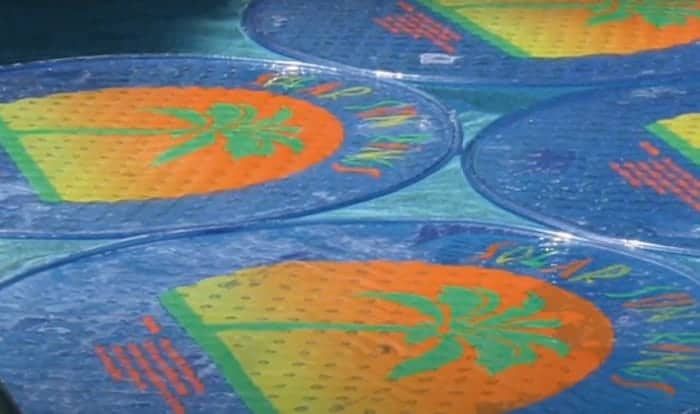 The answer to this question actually differs from one pool measurement to another. Generally, you could look into different sizes to suit your swimming pool requirements.
Moreover, while solar pool rings are commonly handy and small, you can get many of them to ensure that your swimming pool water heats up more quickly. This is also to retain the heat for an extended time.
For swimming pools designed as free-form, you should begin with one ring every 3m. From there, observe if you'll require more of them.
How Effective are Solar Pool Rings
Solar pool rings work efficiently; there is no doubt to that. They can heat swimming pools without increasing your electric bills. Such devices work more effectively in locations where there is considerable amount of sunlight, so they can retain the energy of the sun for heating pools.
If you reside in areas where sunlight is limited, the efficiency you expect might not be achieved. As the name implies, they work effectively when they can get generous amounts of sunlight. Hence, make sure that they are installed and positioned where required.
Solar Rings vs. Solar Cover: What's the Difference
Solar pool covers are particularly manufactured to heat the pool in a more natural approach. They do so without making your electric and water bills steep. In addition to this, pool covers are practical in keeping your waterline from sinking.
The bottom line here is that pool covers keep swimming pools heated without the need to spend extravagantly, unlike when operating a conventional pool heater.
Solar pool rings are one type of solar covers. Solar pool rings are adept at preventing water from evaporating due to the extreme heat of the sun. They are known as floating disc heating devices.
The other types of solar covers are solar blankets and liquid solar covers. Solar pool rings are more convenient than solar blankets in that you don't have to trim them. However, solar rings have smaller coverage areas. Not solid like the previous types, liquid covers need to be dispersed into water and cannot be used with chlorine.
Overall, solar pool rings are one of the best alternatives for heating swimming pools. These solar devices are cost-effective and eco-friendly. They are available in distinct shapes and sizes, each of which has its upsides and downsides.
Some studies revealed that each solar ring could produce up to 21000 BTU of heat per day. While it is true that this is the primary objective of solar pool rings, they also function in pool chemicals and offer more reliable and extended performance.
Solar rings are effortless to store, lightweight, call for little to no maintenance, and are exceptional alternatives for solar heat retention.
How Do You Use Solar Sun Rings for Pool
When using solar rings, see to it that you inflate them first; this is for them to become buoyant before they are positioned on the surface of the swimming pool. All you need to do is to inflate the exterior surface until it becomes firm.
Afterward, slightly inflate the interior section. Be sure to position the solar rings on the pool's surface, so they won't have issues heating your pool water.
Some models are equipped with magnets on their edges. This makes it smooth sailing for them to remain connected and be able to cover more areas in your pool. Such magnets are also meant to keep the pool water clear. They also help prevent the rings from overlapping.
Squares or rings won't cover every section of the pool, so you could still operate your pump. This is helpful because it enables the sunlight to permeate; as a result, this effectively minimizes the accumulation of algae.
Meanwhile, this could also be a disadvantage because leaves and other specks still find their way into the swimming pool. Luckily, these devices are a breeze to remove, all you have to do is to disconnect the magnets and take them out of the water.
When you are looking for solar rings for pool, maybe you also will be interested in the list of the top solar pool ionizer. Also if you're planning a picnic, don't forget to check out the list of solar ovens and outdoor solar showers.
Conclusion
Solar rings are made to generate heat for different types of pools. Everything considered, the best solar rings for pool are meant to provide you with warm water to guarantee a more relaxing and worthwhile recreation activity with loved ones and friends.
We understand that it could be hard to pick the right option for yourself, considering there are lots of choices to select from. The options we have listed above are what smart consumers worldwide generally purchase. But, we still recommend that you compare their features, pros and cons, so that you can be more confident when making your decision.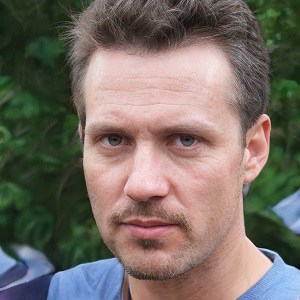 I am Kathleen Miller, staff writer and reviewer of the Avasolar team. Working with the team has been a pleasure for me so far, I hope to bring readers useful information by creating detailed and easy-to-follow contents.