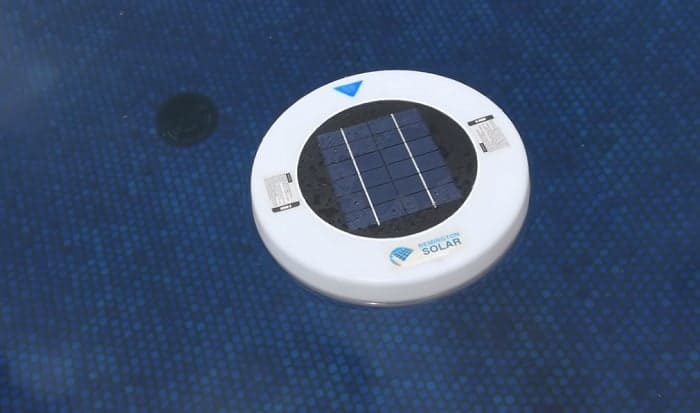 While it is true that swimming pools serve as a very refreshing way of cooling us off, particularly during the hottest seasons, they are also exhausting to clean up and maintain. This is because bacteria can accumulate instantly without proper cleaning.
It is good to know that with the help of advanced technology, there are reliable tools and devices to make the task simpler and more effective. Surely, we do not prefer the use of hazardous cleaning agents.
The good news is that by buying the best solar pool ionizer, you can effectively clean your pool and lessen the usage of dangerous cleaning agents.
Are you interested to learn more about the top-notch solar pool ionizer options available today? Then, you may check out the product reviews and shopping tips we've shared below!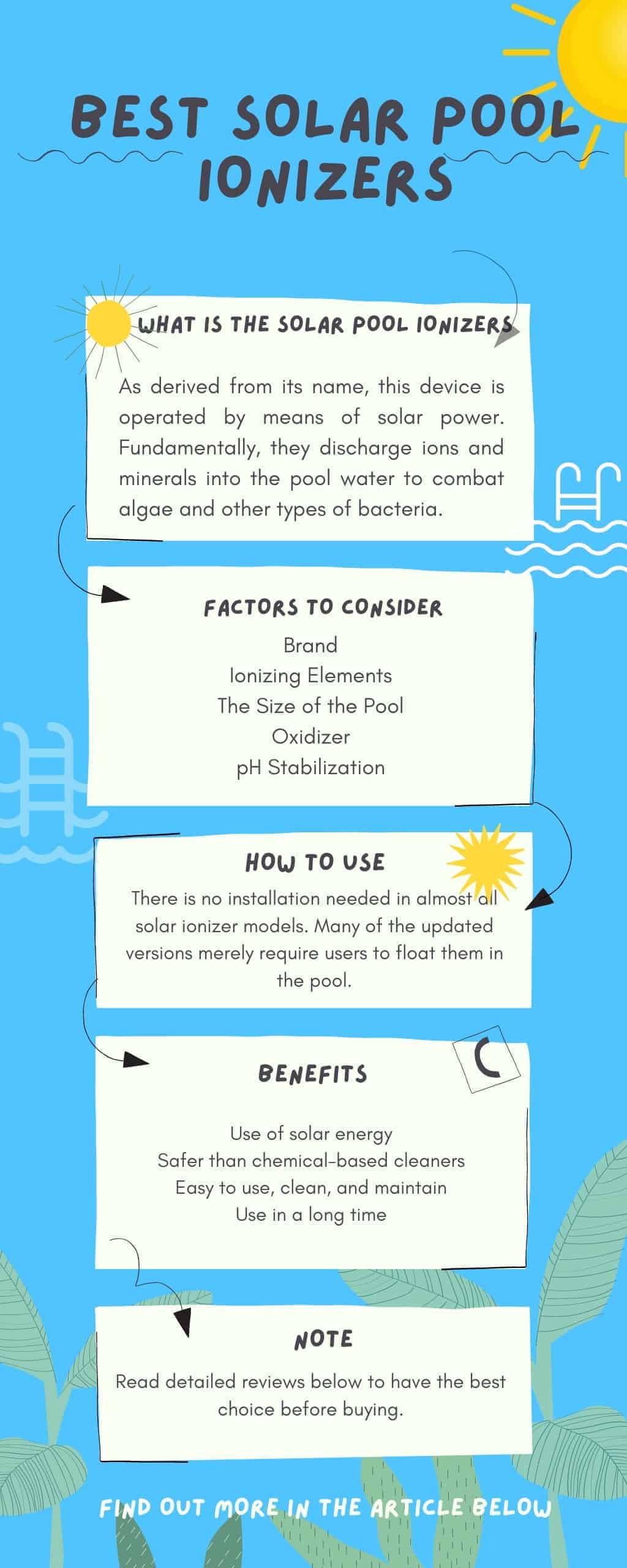 Top 12 Solar Pool Ionizer Reviews
1. XtremepowerUS 90120 Pool Solar Ionizer
Would you like to invest in a high-quality solar ionizer for swimming pools? If yes, this model is worth checking out. This option is deemed as one of the most cost-effective choices available today. It is highly recommended for smaller, screened, and shaded swimming pools. This perfectly worked for our small pool at home!
It is also compatible with above-ground pools, chlorine, in-ground pools, and salt. The first time I used this, I instantly observed visible results. Please note that it is vital to strictly follow the user manual when caring for your pool. It is also a must to test the water after 24 hours when introducing this device to your pool.
Since I used this ionizer in our pool, I had no worries about algae and other microorganism buildups. It is indeed one of the most reliable alternatives for combating hazardous elements present in the pool. More importantly, it helps me minimize chlorine levels quickly.
What I thought was a complex problem is no longer a major concern for me now. I am thankful that I was able to discover this solar ionizer sooner. Without it, I would probably still be in despair looking for more effective yet safe algae elimination solutions.
Nonetheless, I am not sure why other users claimed that they had problems with the floating function of this device. Fortunately, I have not encountered a situation like this since I started using this solar ionizer.
Pros
Compatible with in-ground and above-ground pools, chlorine, and salt
Can guarantee visible results
Ideal to use for smaller screened and shaded pools
Works effectively in exterminating algae and microorganisms present in the pools
One of the most cost-effective options
Minimize amount of chlorine used
Cons
Some users complained about the device's incapability to float at times
Ultimately, this solar-run pool ionizer works incredibly well. I found it a wise investment and well worth every single cent I spent on it. It made an awesome transformation in our pool.
2. Remington RSI-1000 Water Purifier
Are you feeling exhausted dealing with endless swimming pool ionizer problems? Then, you can find the relief you're looking for if you invest in this item. It is an economical option in that it helps users save money because it utilizes 80% less chlorine. Thú, there is no need to spend lavishly to keep your pool clearer and biologically healthy.
This definitely does an excellent job of fighting algae and microorganism growth in the pool. As a matter of fact, this is the reason why I picked this product. Aside from this, it is not exhausting to care for and maintain because it works without much supervision. Since I have a very hectic schedule, this works perfectly for me because I don't need to do frequent pool cleaning and brushing.
I am at peace even when my kids stay longer in the pool. This ionizer is reliable in terms of not bleaching hair and fading swimsuits. Additionally, we are safe from eyes and skin irritations because this device utilizes 80% less chlorine. You see, this is a smart choice for swimming pool owners out there.
On the other hand, this device comes with a lower pool capacity of 22,000 gallons only. Fortunately, this isn't a problem for me because we have a smaller pool. So, for those who own smaller swimming pools like us, this is a good option.
Pros
Executes a great job of combating algae and microorganism growth in the pool
Utilizes 80% less chlorine
Saves you more time because you're guaranteed less pool cleaning and brushing
Helps prevent bleached hair and fading swimming outfits, eyes and skin irritation
Transforms swimming pool water into a clearer and biologically healthy water
Cons
Designed with a lower pool capacity
In a nutshell, I highly recommend Remington solar pool ionizer for smaller swimming pool owners. This model is the one you're searching for if you prefer a reliable and versatile alternative.
3. BLUE WORKS Solar Ionizer
If you're going to read some copper ionization pool system reviews, you will find this item as one of the most selected alternatives.
It is eco-friendly, helps keep your swimming pool clean and clear, and can control algae buildup without the need to utilize electricity and costly batteries. Personally, these are the attributes that I found admirable about this product.
In addition to these, it is efficient in lessening the amount of pool chemicals and chlorine by 80%. This is made possible by an underwater ion-diffusing anode and solar power. I also like it because I can rest assured that my family and I can enjoy swimming since this device helps avoid red eyes, itchy skin, and bleached hair.
So, if you are a meticulous mom like me who wants to ensure that your family swims in a bacteria-free pool, this option is worth a shot. It is straightforward to operate, all you need to do is to drop it in your pool, and you are all set. It does not require maximum maintenance, either. As you can see, the ease of use and convenience this unit offers is irresistible.
On the cons, this device works a little slowly, so you should be a little patient while using it. Other than this, there aren't any serious issues you have to worry about.
Pros
Designed by consolidating solar energy and underwater ion-diffusing anode
Environmentally-friendly, no need for electricity and costly batteries
Easy to use with little to no maintenance required
No bleached hair, red eyes, and itchy skin
Effectively clear away algae and other microorganism issues
Overall, what I like most about this product is that it is one of the healthiest alternatives to consider. My family and I are safe staying longer in the pool without irritations and bacteria to worry about.
4. No More Green Technologies Original Solar Pool Ionizer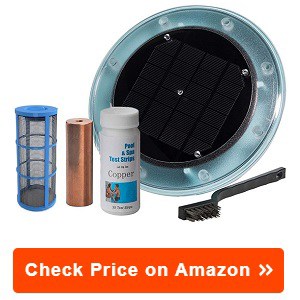 I recommend No More Green Technologies original solar pool ionizer for your list if you are looking for a reliable, efficient, and durable option. This item helped me a lot since I no longer need to feel anxious about ionizing my pool to eliminate excessive algae formation. With this device, my pool stays clean and safe for my family to enjoy.
One of the best features of this unit is that it does not require the use of expensive batteries that need replacements over time. What's more, it also works as a first-rate pool clarifier. And, since I am also concerned about the appearance of my pool, this is my choice because it does not damage the vinyl liner or finish of my pool.
Also, what's amazing is that this item is reasonably priced yet it is built with decent quality. It is also supported by a lifetime replacement warranty, making it an attractive option compared to other available alternatives. I noticed that the solar panel is under a dense covering, so it seems built to last as well.
One downside I have seen though is that this unit is hard to clean with the included brush. I recommend using a wire-brush drill bit; it will make maintenance much easier.
Pros
Does not require the use of batteries
Can greatly minimize algae buildup in the pool and make water clear
Has a dense covering
At a reasonable price
Backed up by a lifetime replacement warranty
Won't impair the vinyl liner or finish of your pool
Cons
Hard to clean with the included brush
To conclude, this is one of the
top-rated solar pool ionizers
for 35,000-gallon pools. It comes with a budget-friendly price tag, yet it does not compromise quality. This is a must-try if you are short on budget.
5. floatron SPWP Solar Powered Ionizer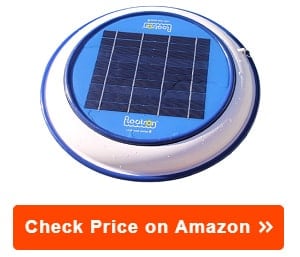 This floatron review aims to share to pool owners how functional, eco-friendly, and portable this device is.
In fact, this floating cordless water purifier is manufactured with a super sturdy state with no moving components design. I am happy to share that since the time I used this unit, our pool water has naturally transformed into crystal clear water.
More than that, this unit works exceptionally in minimizing chlorine levels. Since I am also particular with our household budget, this device helps me save more on expensive electricity bills and pricey batteries.
I am grateful that I can relax and enjoy swimming time with my loved ones more often. We don't experience skin and eye irritation problems anymore. My kids can play and swim for longer hours now.
As for our swimming outfits, I don't need to replace them more often because they don't fade instantly as before. This ionizer is a great investment for me. I am satisfied with its safe and natural approach to resisting the formation of algae in swimming pools.
Hence, I highly recommend this brand to all buyers out there! Believe me, there is no better way of solving algae problems naturally than what this unit offers.
If you plan to get this item for yourself, I suggest you buy it online. I had problems buying this product in local stores like Costco several times before because it was often out of stock. You can easily find this at Amazon.
Pros
Works like a charm in minimizing chlorine levels
Helps users save more on steep electric bills and pricey batteries
Offers a more natural and safe method of inhibiting algae growth
No more fading swimming clothes, skin and eye irritations
Features a portable and eco-friendly design
Cons
Might be difficult to find in local stores
To wrap up, this water ionizer or purifier is a piece of cake to operate and maintain, plus it does not require high levels of additional pool chemicals to work effectively. It is a wonderful purchase because of its eco-friendly design, too!
6. XtremepowerUS 90119 Solar Purifier
This pool ionizer review intends to inform shoppers out there that this option is well worth the money. Such an ionizer works excellently in lessening chlorine usage or demand in swimming pools by 80 up to 90%. You can be at peace because it can offer cleaner and healthier water that's safe for everyone to use and enjoy.
Do you want to save more? Well, this device can help you do that. With it, you could save more on electric bills and chemical-based cleaning agents yearly. Gone were the days when I had to deal with extreme algae growth issues in our swimming pool.
This device functions well in in-ground and above-ground pools, as well as with chlorine and salt. I have no regrets about investing in this product because it is a complete set that works outstandingly in helping me keep our swimming pool clean and safe to use for me and for the whole family.
The minor gripe I had with this item is that it did not come with a user manual. I am not sure if this was merely a mistake when the manufacturer packaged this product, or this is just the way it is. Anyhow, I was still able to install and use this unit without much difficulty since it is easy to operate.
Pros
A complete set
Works as an incredible solution to reducing algae formation in the pool
Helps users save more money
Remarkably lessens chlorine consumption and demand
Recommended for in-ground and above-ground pools, with salt and chlorine
Cons
Did not come with a user manual
In summary, this solar-run ionizer is definitely a smooth-sailing solution to a complicated issue, with irresistible benefits. I highly recommend it for screened, shaded, and 35,000-gallon pool owners who prefer a decent quality and pocket-friendly pool ionizer.
7. Hilltop Solar SN-2A2B Solar Pool Ionizer
This ionizer is manufactured with a LED ionization indicator. The light radiates blue if the device is functioning, and is OFF if it isn't.
In the same way, the LED also indicates if the basket requires emptying and if pool chemistry is problematic. Since it comes with a premium quality copper anode, users don't need to worry about steep electric bills and complex installation requirements.
Personally, I find this item quite economical. Unlike before, I no longer need to spend lavishly on pool operating expenses that might be more than 900 per year. It is efficient for up to 14,000 gallons in maximum conditions. Such a device is compatible with above ground pools, in-ground pools, chlorine, and salt.
This unit is also practical to utilize for minimizing chlorine levels; you can use it for screened and shaded pools. But, please note that you might need 2 or more units for this application.
On the drawback, this unit works fine in eliminating algae problems in our pool, but it took some time for us to see visible results. If you are not in a hurry to get rid of algae buildup, this won't be a serious matter for you.
The good thing is that once it starts working, you'll be satisfied with the result even if you need to wait for some time. You won't need to scrub off algae formation in the pool, and just enjoy crystal clear pool water.
Pros
Each device is efficient up to 14,000 gallon in maximum conditions
For above-ground pools, in-ground, screened, shaded pools, chlorine, and salt
Designed with LED ionization indicator
Helps users set aside some bucks on pool operating costs
No complex installation and electric costs for users to worry about
Decreases chlorine levels
Cons
Visible results might take a while
All things mulled over, since this unit is user-friendly, and it is one of the best options for those who prefer solar pool ionizer DIY. It is loaded with useful features that make pools clean and clear as well.
8. Sunsest Solar Ionizer
What's amazing about this device is that compared to other alternatives, it is built with a powerful solar panel that's large enough for the whole unit. If you are looking for an ionizer that is safe and effective to utilize for fish ponds, swimming pools, and other types of pools, this product is one of your safest and excellent choices.
Since the time I began using this ionizer in our pool, I was stunned by the big savings I got annually because I stopped spending more on purchasing chemicals. In fact, I was able to set aside almost a thousand dollars per year. As you can see, this is a huge sum of money that you could use for other purposes. I'm glad I made a smart buying decision.
I never had issues using this unit the first time because it is furnished with a LED indicator that tells me whether the ionizer is working or not. I find this feature very useful and convenient.
Not only that, this item is supported by a 180-day warranty and 24/7 urgent response to any queries. Should you encounter any issues with the item, you can instantly contact customer service.
Regardless, the only complaint I have with this solar ionizer is that it is at times unavailable in local stores here in Canada. So, I suggest browsing some online shopping sites to easily find one for yourself. I uncovered that you can find more of this model online than wasting your time going to local stores as they're always out of stock.
Pros
Equipped with a powerful solar panel that's big enough for the entire unit
Safe and effective option for fish ponds, swimming pools, and other types of pools
Helps users to significantly save more on chemical expenses
Built with a LED indicator
Backed up by a 180-day warranty and 24/7 customer response
Cons
Sometimes unavailable in local stores
Lastly, if you want to save more on chemicals and prefer a more user-friendly option, this model is a sure investment you won't ever regret.
9. CopperFlo Solar Pool Ionizer
All buyers prefer an ionizer that would help them save more on chemical, maintenance, and electric costs. So, if you want to set aside some bucks, give this item a try.
It can spike roughly 25% more ions at the pool and it can cover larger water areas. It helps minimize chlorine by 85%. There is no electricity connection and wiring required in operating this ionizer.
This solar pool ionizer is a famous option because it is highly acclaimed in terms of efficiency and quality. Compared to other ionizers, this unit does not come with a limited scope. It can cover pools with a capacity of 45,000 gallons. It does not cause any damage or discoloration in pools because it blends well with the construction materials used in pools.
Such a device can guarantee users that they can swim and dive in a safer and cleaner pool. It is a great alternative in that it even goes well with salt pools. When it comes to a high-quality copper anode, this item is outstanding. It works like a charm in exterminating bacteria and algae in pools. Hence, it is known for being an A1 water cleaner.
For all that, I came across a solar pool ionizer review stating that this version is not effective at delivering its promise. But, I find this contrary to what I have experienced. I personally witnessed how capable this unit is in purifying water bodies, and its capability to cover wider areas is a big plus. So, I don't understand why a few users question its efficiency.
Pros
Doesn't damage or discolor pools
Exterminates bacteria and algae
Spikes about 25% more ions
Exceptional at saving costs for chemicals, maintenance, and electric bills
Offers larger water area coverage
Can decrease chlorine content by 85%
Cons
There are a few complaints about the inefficiency of this ionizer.
In conclusion, this ionizer is a smart purchase if you wish to transform your swimming pool into a safe and clean place. You can do this without the need to break the bank.
10. SUNTOUCH TREASURES Solar Pool Ionizer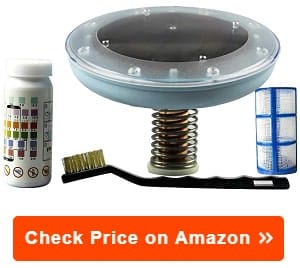 Since we have kids at home, I prefer an ionizer that is not only safe, fast, non-toxic but also kid-friendly. I am pleased to have this device in our pool since it does a wonderful job of keeping our pool safe.
This solar-operated purifier is my savior in keeping my pool maintenance expenses low. I don't need to buy more hazardous additives and chemicals to clean the pool water. Hence, I can finally relax and don't need to worry about toxicity when I swim.
I am grateful to know that for every purchase of this item, a portion of the proceeds goes to The Ocean CleanUp organization. This means that it also offers buyers like me the opportunity to be part of a very important planet-saving movement.
You only have to throw this ionizer into the pool, and then just allow it to float. You will be stunned by how capable it is of doing the cleaning task for you instantly and efficiently. No more chemical smell and red eyes. There's no bleached hair and faded swimsuits to worry about, either.
You have nothing to lose if you buy this ionizer. You are supported by very friendly and responsive customer service. You can also request a refund or replacement in case you encounter issues with this item.
However, this model comes with a minor glitch. It leaves a copper ring surrounding the pools' waterline. So, this needs to be scrubbed off at times. Other than that, this unit is a wise purchase that won't make you disappointed in the long term.
Pros
Safe, fast, kid-friendly, and non-toxic option
Helps users save money
A portion of your purchase goes to The Ocean CleanUp organization
No chemical smell, red eyes, bleached hair and swimsuits
Refund and replacement possible
Starts working once thrown in the pool
Cons
Tends to leave a copper ring surrounding the pool's waterline
This ionizer is definitely a perfect investment for those who wish to keep their pool water safe. Best of all, you can help support the Clean Planet movement.
11. Generic Solar Pool Ionizer
Are you fishing for a solar-powered water purifier that works outstandingly in balancing water ions and minerals in a beneficial and healthy approach? If yes, this unit can satisfy your expectations. This device is equipped with a super durable ionizer, a replaceable anode, and can efficiently treat 35,000 gallons of water.
Apart from these, it utilizes less chlorine and works great for ponds, water fountains, spa, and swimming pools. When we introduced this ionizer to our pool, we started to enjoy clean, clear, and blue pool water without the need for optimal maintenance.
In addition, our swimming outfits and hair were no longer prone to fading, and we stopped experiencing red eyes. I now allow my kids to enjoy swimming for an extended time because I know the pool water is safe for them.
I am thankful that I was able to invest in my family's health. This ionizer is really a great device to own if you have a pool at home. It greatly helps me to save more time in manually scrubbing the dirt and algae growth in our pool. More importantly, I don't have to spend much money on ensuring that the pool water quality is clean and safe for my family.
There is no doubt that this ionizer can fulfill its duties well. Nevertheless, it requires some maintenance. You need to clean the copper ion at least once a day to obtain maximum results. To do so, you need a cleaning solution and a wire brush.
Pros
Ideal to use for ponds, water fountains, spa, and swimming pools
Balances water ions and minerals
Works exceptionally at treating 35,000 gallons of water
Equipped with a built to last ionizer and replaceable anode
Utilizes less chlorine, doesn't fade clothes or irritate eyes
Has an affordable price
Cons
Requires maintenance every day for maximum results
Unquestionably, if you want your pool to be free of algae growth yet you do not wish to do this manually, then this solar ionizer can quickly and efficiently do the job for you.
12. Peak Products Solar Pool Ionizer
By simply going over the pool ionizer pros and cons, you can tell how awesome this product is. Once you utilize this unit, your pool will appear clean and more appealing to the eyes.
There is no need to use high levels of chlorine just to keep the pool water safe and clean. This device is one of the best in terms of limiting the formation of microorganisms and algae in the pool.
Homeowners who have pools at home surely prefer ionizers that utilize less chlorine. If you feel the same, this is your perfect match because it can reduce chlorine use by up to 85%. In addition, this unit can treat up to 35,000 gallons of pool water, so it will work on bigger pools.
This product is an environmentally-friendly and economical choice. This spa sanitizer kit comes complete, so you receive more than just an ionizer. I think this is one of the reasons why it remains one of the top options today.
This device does a great job of keeping your pool clean; it is ideal for users with sensitive skin, and it won't cause eye irritations. This brand is renowned for manufacturing ionizers that transform your pool into an algae and bacteria-free place without the use of any harsh chemicals.
Yes, it is true that the power and capacity of this ionizer to deliver its promise is superb. Notwithstanding, it appears that the copper part needs to be cleaned every two weeks.
Pros
Minimizes the consumption of chlorine by up to 85%
Doesn't irritate eyes and skin
Can treat up to 35,000 gallons of pool water
Comes in a complete kit
Certified eco-friendly and cost-effective alternative
Cons
Copper part needs to be cleaned every 2 weeks
Finally, this ionizer can offer users lots of benefits. If you want to limit algae growth in your pool, this item is a sure buy.
What to Look for When Buying Solar Pool Ionizer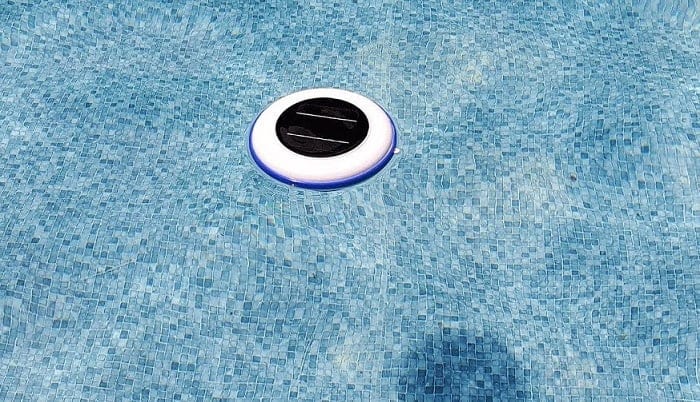 As you know, there are lots of options when looking for solar-powered ionizers these days. Primarily, this makes picking the right alternative a very challenging task, especially for first-timers.
Of course, no one wants to invest in poor quality items, so it is helpful if we are armed with essential info before we take the plunge.
Let us talk about some shopping tips when purchasing a solar pool ionizer:
Specific brands that specialize in solar-operated pool ionizers and other related products generally manufacture chart-topping products compared to brands that don't.
So, before buying one, check out the most recommended brands when it comes to manufacturing solar pool ionizers.
A pure copper anode is proven to be more efficient though it is pricier than the standard solar pool ionizers. If you do not prefer a pure copper ionizer, just pick the one with at least a 90% copper component. This is to ensure that the device can work effectively.
It is critical to consider your pool's size so that you'll know how frequently the cells need changing. The size of your swimming pool would point out the number of anodes you're required to set up, and the number of times you'll require to replace the cells.
This device helps keep the swimming pool clear. So, if you seriously prefer a clean and clear pool, it is necessary to supplement your solar ionizer with a top-quality oxidizer.
Since cleaning and clearing pool water requires a considerable amount of power, an ionizer needs to be equipped with an amount of solar energy that is extended and robust enough to enable the device to operate through the night.
Take note that at least a 12-hour battery lifespan is sufficient to accomplish the task.
This feature is specifically essential in artificial pools because a natural mechanism is not present to stabilize the pH frequently.
Keep in mind that it is better to conduct research first before you add a certain product to your shopping cart. Make sure to read a buying guide before picking an item. It is not advised to simply choose a product just because it is cheaper.
How Do Solar Pool Ionizers Work
As derived from its name, this device is operated by means of solar power. Fundamentally, they discharge ions and minerals into the pool water to combat algae and other types of bacteria.
Solar-run ionizers are effective in sustaining and controlling the accumulation of algae and bacteria in the pool. They accumulate solar power through their solar panels. Then, they transform the energy from the sun into electricity.
Such a device adheres to the principle of electrolysis. When ions and minerals are discharged, they stay in the water for a significant amount of time. Basically, you can save on utilizing chemical-based cleaning agents in keeping your swimming pool free of bacteria.
The role of the said minerals is to actively resist the bacteria and microorganisms present in the pool. To make them work, it is necessary to situate them on top of the water; from there, they will do the job for you.
Since they are operated by solar energy, they use a natural and more cost-effective method of combating unsightly and unhealthy elements lingering on the pool water. Hence, they won't cause any unfortunate incidents to users.
Are Solar Pool Ionizers Any Good
Yes. So long as you choose the right and top-quality device, you're good to go. Solar-operated ionizers are great devices because they are environmentally-friendly. You can be guaranteed that you're utilizing renewable and clean energy from the sun.
Besides, they are cost-effective in that they help lessen your household expenses since they don't require electricity and they minimize your chlorine consumption too. They work effectively in combating various types of bacteria and microorganisms, yet they are not complicated to maintain. They do almost all of the work for you, so they are ideal for busy swimming pool owners, too.
Lastly, since these devices discharge ions and minerals, pool ionizers are safer than chemical-based cleaners like bromine and chlorine. This makes them more advantageous because you won't have to worry about bleaching your hair and fading your bathing suit while swimming.
Even if you have young kids who frequently use the pool, they can be protected from skin and eye irritations, too. Solar ionizer devices are built to last, work excellently for what they were designed for, so you have nothing more to ask for!
Do Floating Pool Ionizers Work
According to my research, floating pool ionizer users have found these devices to be functional, reliable, and effective in accomplishing their jobs. They don't require more chemical-based cleaning agents to keep the pool water free of any harmful elements and microorganisms.
Yes, it is true that such a device is not an alternative for chlorine; however, users have significantly minimized their chlorine consumption by up to 50%. This is why they help users reduce their household expenses in a remarkable way.
Furthermore, floating pool ionizers have been proven to help lessen surface stains and unsightly buildup surrounding the swimming pool. Some versions can even help in making the pool look more well-kept and intact because they don't damage the vinyl liner or finish of the pool.
Swimming pool heating is also quite important to improve your experience and health, so you can refer to our recommended list of solar rings for pool or solar heater for above ground pool.
How Do You Use Pool Ionizer
Luckily, there is no installation needed in almost all solar ionizer models. Many of the updated versions merely require users to float them in the pool. Indeed, it is unnecessary to hire a professional to set it up for you.
While it is true that such a device does not call for a complicated installation method, it is important to carefully read and strictly adhere to the user manual instructions provided in the package.
How Long Do Solar Pool Ionizers Last
To ensure the longevity of your solar-powered pool ionizer, it is a must to pick models that come with a durable and reliable build. This way, you can be guaranteed that they are built to last.
Generally speaking, decent quality versions can last for two years and beyond. Just make sure to handle and use them with proper care and follow the user manual instructions.
In doing so, you can rely on a functional, reliable, and long-lasting device that will work for your pool for an extended time.
How Do I Clean My Pool Ionizer
As mentioned, solar ionizers are easy to use, clean, and maintain. Just follow your product's manual; it should tell you how to clean the ionizer's anode and cathode.
Some versions may require you to replace a few components when they malfunction. In general, the most outstanding brands manufacture solar-run ionizers that come with sturdy parts that do not need frequent replacements.
Conclusion
In summary, utilizing the best solar pool ionizer is the most effective solution to keep swimming pools free of any bacteria and dirt. This device is practical in that it could exterminate algae and minimize the consumption of chemical-based cleaning agents like chlorine.
Additionally, an ionizer helps ward off the fading of swimming outfits and prevent the skin and eyes from getting irritated. As you can see, such a device is very beneficial not only for pools but for us too.
Hopefully, the products we have reviewed in this post can offer you the best possible option for your needs. Happy shopping!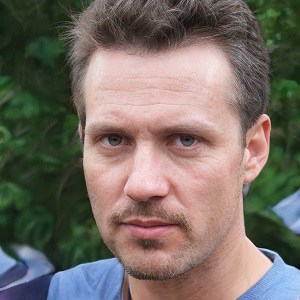 I am Kathleen Miller, staff writer and reviewer of the Avasolar team. Working with the team has been a pleasure for me so far, I hope to bring readers useful information by creating detailed and easy-to-follow contents.