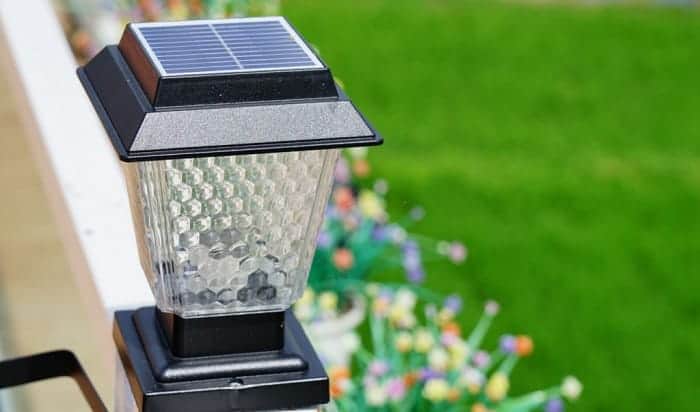 Solar post lights, unlike traditional post lights, are energy-efficient. This is because they use the sun's power instead of electricity. Plus, solar lamp posts usually contain LEDs, which can provide extended illumination for many years. For these reasons, it's easy to see why this lighting source has become popular.
If you need more ideas about choosing the best solar lamp post for your needs, continue reading this article. We have listed some of the top-rated solar lamp post options that you can check out below. There's also a buying guide with answers to common questions regarding this type of solar LED lights.
Best Overall
Greluna Solar Lamp Post
✅ Easy to install
✅ 2 brightness levels
✅ Work time more than 6 to 8 hours
Premium Choice
Gama Sonic Anchor Lamp
✅ Designed with an EZ anchor base
✅ Auto work mode function
✅ Perfect option for DIY enthusiasts
Top 9 Solar Lamp Post Reviews
1. Greluna 67″ Solar Lamp Post
For buyers fishing for exquisite solar powered lamp posts lighting, this option is worth a try. It is a newer 67" version and does not require electricity to operate. There are two levels of brightness for you to pick from, low and high levels. Make sure that you fully charge the solar lighting units to enjoy long-lasting work time.
Besides, this solar-powered vintage post light is wireless. This means you can set it up where you desire. Installing it is plain sailing. Since it is built with an automatic operation mode function, it executes its job well without maximum supervision.
We're glad that we can delight in an extended lighting performance that can last for over 6 to 8 hours. These solar lamp posts are not solely ideal for adorning our landscapes, but also in heightening the safety and security of our outdoor areas.
My family can take pleasure in a peaceful ambiance at dusk. Our visitors also enjoy unwinding in our outdoors where these solar fixtures are installed. Ordinary days and nights were transformed into more special ones since the day we set up these solar lamp posts.
Although we have tried drilling more holes and utilized tent
stakes to anchor this solar light
, it did not provide the required stability. So, we ended up anchoring this solar garden lamp post with heavy rocks.
Pros
Easy to install and completely wireless; no electricity necessary
Comes with two brightness levels to select from
Feature dusk-to-dawn operation mode
Ideal for decorating and increasing safety in outdoor spots
Work time can extend to more than 6 to 8 hours
Cons
Anchoring this solar lamp post may require heavy rocks
This solar lamp post light fixture is the right bet for decorating and increasing safety in outdoor spots.
2. Gama Sonic GS-105S-G Anchor Lamp
Solar LED lamp posts like this one are manufactured with an EZ anchor base. Hence, you can set it up on many surfaces, excluding concrete.
The EZ anchor system is ideal because it keeps the light on the ground. The integrated indicator will point out when the post level is secure and balanced.
Additionally, we find this kind of solar street post lights a great accessory for decorative outdoor illumination. They look wonderful in our outdoor area, and they light up the outdoors efficiently. Since these are designed with an auto work mode function, they are convenient to use and low maintenance.
Their main source of energy is sunlight. They are furnished with a lithium-ion battery pack that charges when the solar panel absorbs ample sunlight.
Interestingly, they can illuminate your place and at the same time transform the atmosphere into a cozier and more secured one. These are wireless, so setting them up is surely a breeze. For DIY enthusiasts like me, these solar lamps are splendid.
On the other hand, the charging speed of this model will differ depending on weather conditions. It won't charge if there's a lack of sunlight on the solar panels. Avoid installing
the solar lights in shady spots
.
Pros
Designed with an EZ anchor base
Great accessory for decorative outdoor illumination
Built with an auto work mode function
Furnished with a top-quality lithium battery
Perfect option for DIY enthusiasts
Cons
Charging efficiency is affected if placed in shady locations
In summary, these solar powered lamp post lights are the real deal. The EZ anchor base feature of this item is what makes it a more prominent option than others.
3. Sterno Home GL42309 Outdoor Solar LED
This LED lamp post light is surprisingly sturdy enough to combat inclement weather conditions. Its vintage design is captivating and makes our place look more elegant in daytime and nighttime. Since it is powered by the sun, we don't have to worry about increasing electricity bills.
Also, the kit contains warm white LEDs that come with 60 lumens. This means that homeowners can be guaranteed increased brightens in their outdoor areas. This convenient and retro-inspired solar lamp is equipped with an amorphous solar panel that operates on batteries charged by sunlight.
This LED light bulb is a great way to illuminate your outdoor areas at dusk without spending extravagantly. The kit includes cement and wood screws to allow different anchoring options. Amazingly, these solar lamps operated well even when there was a series of cloudy and rainy days in our area.
This product is supported by a one-year warranty program. So, in case you encounter any issue or defect with the product received, you can directly address the matters to the seller.
The minor issue we have encountered was installing this solar lamp post. The installation process took a little while. We needed to drill holes in the cement to precisely secure the solar-powered fixture. Luckily, once installed, it worked well for its purpose.
Pros
Tough enough to fight off inclement weather conditions
Energy-efficient with vintage style
Warm white LEDs with a 60-lumen output
Supported by a one-year warranty program
Can work on cloudy and rainy days
Equipped with an amorphous solar panel and installation screws
Overall, if my friends ask for outdoor solar lamp post lights that are brighter and built with practical features, I'd recommend this option.
4. Greluna 72″ Solar Lamp Post
For shoppers planning to purchase solar lantern posts for home outdoor convenience, safety, and decoration, this option is worth checking out. Since it is solar-powered, it won't add up to your electricity consumption. You can also utilize it for several distinct applications.
This classical solar lantern is eco-friendly and energy-efficient. Built with a super sturdy construction, it can repel frost, heat, and water. So, even if this solar lamp post is installed outdoors, it won't be easily damaged by rugged weather conditions. Having it installed in your outdoors can safely light up your path.
Plus, first-time users won't have trouble installing this solar lighting post because it is wireless. This also reduces the likelihood of accidents.
This solar street lamp is operated by a solar-charged AA replaceable battery. See to it that the device is fully charged if you wish to enjoy extended illumination all through the dusk. The solar lights come with 15 lumens, which are ideal for emitting soft illumination. We installed this solar lamp post in our garden, and they look great.
On the weak point, this solar post light for the garden comes with a small base. This makes the solar-powered lamp slightly tippy. We had to affix it to something, otherwise it would blow over in a robust wind. Hopefully, the manufacturer can do some upgrades on the base of this solar lamp post.
Pros
Appropriate for home outdoor convenience, safety, and decoration
Features a classical and eco-friendly design with soft illumination
Safe and easy installation process
Can resist frost, heat, and water
Energy-efficient and ideal for a broad range of applications
This outdoor solar lamp post is a beast. Its sophisticated design, convenient and useful functions make this solar lighting device a smart purchase.
5. Kemeco ST4311AHP Solar Lamp Post
While looking for energy-saving solar light posts for driveways, I came across this option. Built with well-improved 12 SMD LED, this solar lamp post can light up at 130 up to 150 lumens.
The level of brightness will largely depend on the weather conditions and your geographical area. So, be sure that it is situated somewhere exposed to sunlight. As for the planter, it is necessary to fill it with some stones, soil, and plants. Just follow the setup procedure, and you'll find the installation method safe and painless.
Equipped with 3x Ni-MH 2300mAh rechargeable batteries, this solar lamp post has an auto work mode. You only need to turn on the button underneath the solar panel's roof to operate it. This model is designed to allow a less complicated installation process. You have no wires to deal with, so even novices can do the setup task.
Having these solar lamp posts installed in our pathway gave us so much satisfaction. We find their 6 to 8 hours of work time outstanding. Built using ripple glass panels and a cast-aluminum metal lamp, this LED light bulb does not call for maximum maintenance.
Unfortunately, extremely low temperatures can affect this item's battery capacity. Other than that, I have no complaint.
Pros
Easy to install with no wiring
Great illumination performance for roughly 6 to 8 hours
Emits energy-saving outdoor illumination
Can work automatically
Calls for little to no maintenance
Cons
Low temperatures can affect battery capacity
Brightness depends on the location and the weather
To conclude, this solar lamp post with planter stays lit the entire night and emits adequate illumination to provide both decoration and security to our pathway.
6. SUNGATH Outdoor Solar Lamp Post
This solar street lamp post is constructed with a high-quality steel lamp arm. Its retro design appears timeless in our outdoor spots. The classic lantern design is great for different adornment applications. We like the way this solar lamp post generates a warm atmosphere for different outdoor locations at home and in the workplace.
Furthermore, this item is an upgraded version. If you're going to look at it closely, you will notice that the solar panel is larger, comes with better quality, and can charge more efficiently. The light duration is 6 to 8 hours, provided that the batteries are full.
Luckily, we were able to set up this solar-powered lamp post without much trouble. Since it is wireless, we can simply install it where we preferred and where we thought needed. We're glad to have such a convenient and practical solar lighting system in our landscape area.
On the flip side, the product description states that this solar lamp post emits white or clear illumination, which is contrary to what we observed when it lights up. This item emits a yellow glow. Fortunately, this isn't a deal-breaker, considering it works well.
Pros
Built with top-quality steel lamp arm
Furnished with larger, better quality, and upgraded solar panel
6-8 hours of work on full batteries
Features a timeless and vintage lantern design that creates a warm atmosphere
Can bring diverse decorating options
Convenient and easy to install with no wiring
Cons
A slight error in the product description
In general, this vintage-looking solar yard lamp post is an excellent option that I can't ignore. Its distinguished features and more upgraded functions are certainly satisfying.
7. Lovus SF-001 6000k Solar LED Post Lights
While looking for post mounted solar lights, I came across this wonderful option. It is wireless, environmentally friendly, and can be mounted almost anywhere. You can mount it in two distinct methods. The kit includes the pier mount adapter that is ready for use for both pier mount and posts mount. I did not have any problem setting things up.
As for the control system, this wireless solar post light will work automatically at night, switch off and charge in the daytime. Since its source of energy is solar, you don't need to worry about steep electricity bills. Built with tough plastic material and anti-oxidation die-cast aluminum, it is durable enough to repel rust and diverse weather conditions.
In addition, it is outfitted with a premium quality monocrystalline silicon solar panel. It comes with a 25% photoelectric conversion efficiency that allows quick charging. Rated with an IP65 waterproof grade, it is suitable for outdoor environments. It appears sturdily engineered and looks stunning wherever installed.
The minor gripe that we have observed on this solar lamp post is its smaller size. We did not expect it to be smaller in person. Fortunately, it's capable of delivering its promises. Some users might want to install more of them to achieve the desired level of brightness.
Pros
Wireless, eco-friendly, and can be installed almost anywhere
Automatic and cost-saving
Built with a high-quality monocrystalline silicon solar panel
Work well in diverse weather conditions and outdoor environments
Allows straightforward dual installation options
Engineered using anti-oxidation die-cast aluminum and tough plastic material
This solar lamp post is a wise investment. Its durability, functionality, and satisfying performance can please many customers.
8. Home Zone ELI0993V Solar Lamp Post Light
For shoppers who want solar pole lights in their garden or other outdoor spots at home, it's a smart move to take a closer look at this item. This outdoor solar-powered lamp post is highly recommended for enhancing outdoor areas with elegant accent lighting. Its height is extendable up to 65 inches with the included steel pole.
Engineered with an automatic-on sensor, this solar fixture lights up automatically at night, switches off and charges at sunrise. You see, there's not much supervision on your part.
To add, you can select from dual modes of brightness: 60 lumens or 30 lumens to perfectly fit the illumination effect. We like this model's effortless and fast installation procedure with no electrical wiring needed. To set up, you just need to utilize the mounting screws and anchors.
Assuredly, wherever you wish to install them, they will look stunning day and night. Backed up by a one-year no-hassle warranty program, your investment is safe. Any issues regarding the product purchased can be directly addressed and resolved by the seller anytime.
One demerit found in this solar-powered lamp post is its construction material. The plastic in the light head should be thicker or replaced with metal.
Pros
Supported by a one-year no-hassle warranty program
Can be extended up to 65 inches in height
Two modes of brightness to suit your preference
Engineered to ensure excellent dusk-to-dawn performance
Easy to install with screws and anchors
Ideal for upgrading outdoor spots with elegant accent illumination
Cons
The manufacturer should make the plastic thicker or replace it with metal
All in all, for home adornment and security, this solar street light is a sure buy.
9. Melunar 69″ Solar Lamp Post
Our family prefers the brightest solar lamp post that can provide us with a serene and relaxing ambiance at night. To our surprise, this option exceeded our expectations. Whether the switch is high or low, this LED solar fixture operates automatically at dusk, turns off and charges in the daytime. This version is furnished with four solar panels to ensure optimal sunlight absorption.
Furthermore, this 69-inch solar lamp post is built with dual brightness modes for users to pick from. See to it that the solar lighting unit is fully charged so you can enjoy extended lighting at dusk. Plus, you can set this lamp post up in a few minutes without any special tools.
Essentially, this solar vintage street light is manufactured with an IP45 waterproof rating. It can fight off heavy downpour, extreme heat, and snow. Regardless of the outdoor conditions, you can be at peace knowing this solar fixture can withstand all of those.
The classic look and modern design of this solar patio light make it a great addition to any type of home or workplace. Buyers will fall in love with its welcoming glow in lighting up their dwelling place and other outdoor areas.
When securing this solar lamp post on the ground, be sure to look for all possible means to secure the base. This is to ensure that the solar garden light becomes more stable and not easily carried away by a strong breeze and other extreme outdoor conditions.
Pros
No tools required for installation
Features classic look and modern design with four solar panels
Lights up various outdoor locations
Provides a soothing atmosphere at sunset
Combats heavy downpour, extreme heat, and snow
Designed with dual brightness modes and automatic operation
Cons
The base needs to be carefully secured
Ultimately, we find this solar-powered LED lamp post a second-to-none accessory for our driveway and garden.
What to Look for When Buying Solar Lamp Posts
There are so many solar lamp posts available on the market today. This is why picking the right solar light model for yourself can be tricky.
Due to this, it is helpful to compare the available options based on your requirements to come up with the best possible decision.
Here are the buying factors you need to look at:
Solar lamp posts differ in terms of their build materials. Some options are built using steel, aluminum, plastic, or a combination of these.
Be sure to select the build material that could last for extended usage. Check if the solar lights are tough enough to resist scratch, corrosion, UV, and rust.
It is critical to examine the solar lamp post's IPX rating. This refers to the waterproof capacity of the product.
The higher the IPX grade is, the higher the level of water and other liquid protection it can provide.
Pick options that are durable enough to tolerate extreme heat and rains.
Brightness and Light Output
When comparing solar lamp posts, you must inspect their light output and brightness. Light output is linked with the level of brightness that the light of the solar lamp post can offer.
Examine the lumens. Higher lumens mean brighter light produced.
Pick options made with designs that are based on your place's decoration and theme.
This way, the solar lamp posts won't only illuminate your place, but also embellish your home or workplace.
Run Time and Recharge Time
Check the work time and charging time of the solar lights. Charging time refers to the number of hours the product requires to obtain its maximum capacity.
Meanwhile, the run time refers to the total number of hours that a solar lamp can work at dusk. Note that this is figured out by the charging efficiency as well.
Of course, it is better to select options that offer shorter recharge time but can operate longer.
A product that is supported by a warranty is a good option.
This is because in case there is a product defect or any related issue, you can directly contact the seller for a replacement or refund.
Make sure that you read the terms and conditions of the warranty.
Will My Solar Lamp Post Really Be As Bright As A Normal Lamp Post
Yes, solar lamp posts can be very bright. If you prefer a lantern with incredible illumination, consider buying the right solar lamp post lights with over 150 lumens.
Or, you might want to buy several solar-powered lamp posts to light up a broader section of your outdoor area.
Can the Solar Lamp Post Be Charged And Used Inside
For lightweight solar lamp posts, it is possible to bring them indoors to charge them. You can do so by positioning them near windows, or you can utilize standard light bulbs.
Alternatively, you can charge them by utilizing solar power banks or your laptop if the lights are manufactured with a USB charger.
How to Safely Change the Lamp's Battery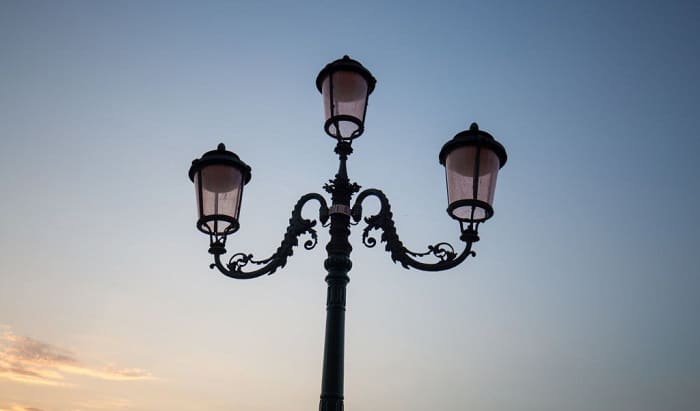 Utilize batteries of the same chemistry and physical size when replacing batteries.
Carefully open the solar lamp by unfastening its top. Many solar fixtures have their batteries and solar panels sheltered in their top sections, right on top of the bulb.
Meanwhile, some solar fixtures do not have screws. Refer to the user manual on how to access the battery.
To ensure your safety, see to it that the light is turned off before you touch the batteries inside the housing.
Then, you may remove the batteries from the housing. Put in the same type of battery. Switch the fixtures back on to inspect if the new batteries are working.
The batteries might be drained if the solar powered light does not turn on. In this case, consider leaving the solar lamp under the sun for some time before you test it again.
Do Solar Lamp Posts Come with Light Bulbs
Yes. Solar-operated lamp posts are manufactured with light bulbs. Usually, they come in the form of LED lamps to ensure that they can help save more energy.
In addition to this, these types of bulbs are graded for their heavy-duty performance and extended service.
Conclusion
We hope that you have learned some useful information about the essential factors you need to consider when buying the best solar lamp post.
Having this solar lighting solution installed can truly make life more convenient since it is ideal for decorating and lighting the way.
The solar power sources can also dissuade burglars and other intruders without increasing your power consumption.
Consider the product reviews and shopping tips we have shared in this article so you can come up with the most appropriate decision for your requirements.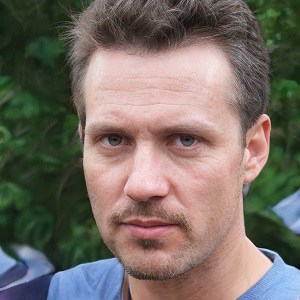 I am Kathleen Miller, staff writer and reviewer of the Avasolar team. Working with the team has been a pleasure for me so far, I hope to bring readers useful information by creating detailed and easy-to-follow contents.