Whether you are illuminating your garden or any outdoor area to ensure proper lighting and security, investing in the best solar flood lights can be one great solution.
Essentially, solar powered LED lights are becoming more and more popular nowadays because they're energy-efficient, eco-friendly, and money-saving.
So, for people who are looking to upgrade lighting systems around their home or in the workplace, it is strongly suggested to check out the top-rated solar flood light options below.
The products we have listed are some of the most durable, cost-effective, and premium quality solar powered flood lights that are worth purchasing.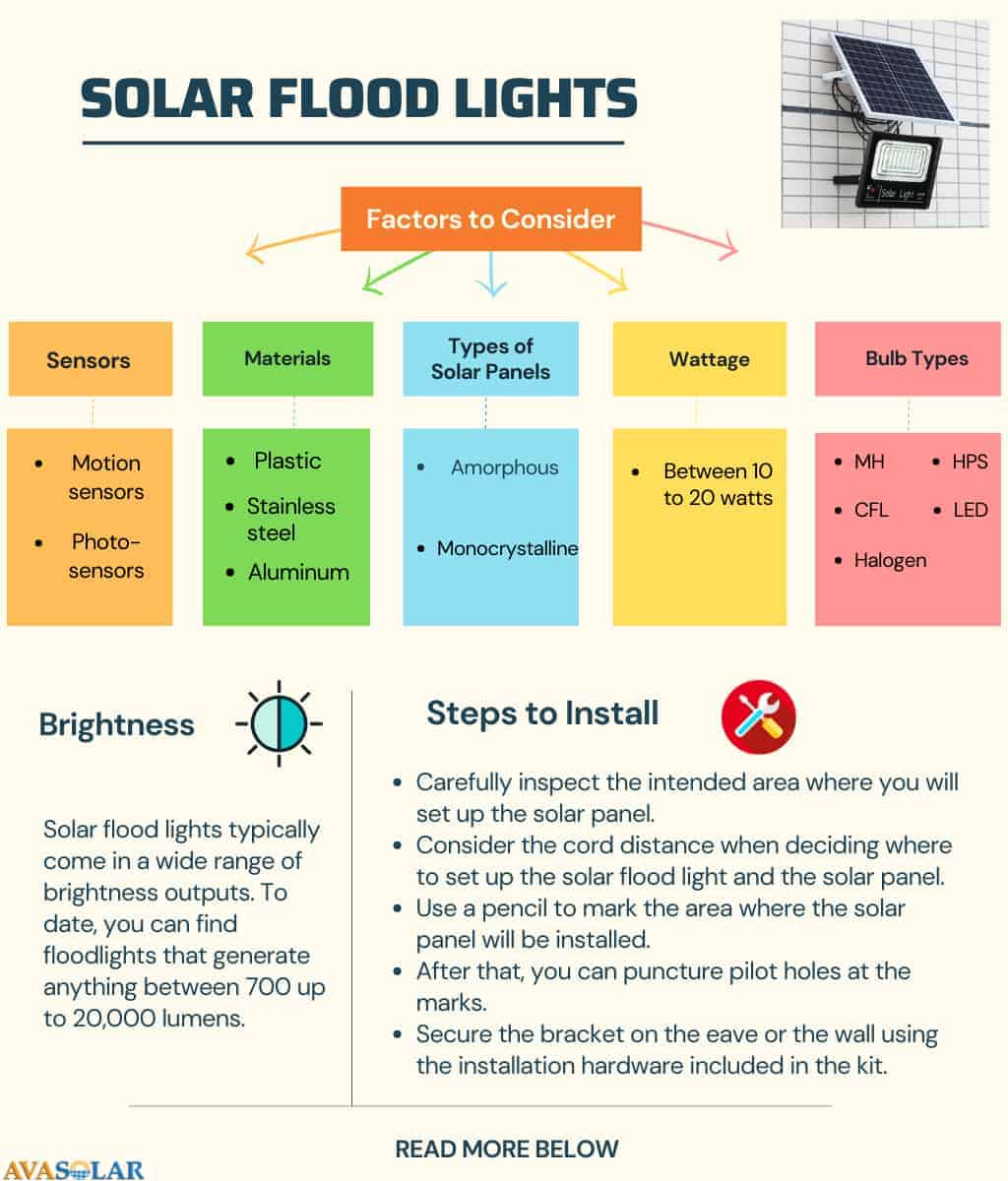 Best Overall
Otdair Solar Security Lights
✅ 118 super-bright LEDs
✅ Built with low light sensor
✅ 360-degree rotatable spotlight
Premium Choice
INCX Solar Lights Outdoor
✅ Straightforward to install
✅ 2200mah 3.7V battery
✅ Motion sensor and 3 heads
Editor's Pick
ATUPEN Solar Lights Outdoor
✅ Durable solar panel
✅ 210 bright LED beads
✅ All-weather-ready solar light
Top 11 Solar Powered Flood Light Reviews
1. Otdair 3heads-Black-2pcs Solar Security Lights
This solar flood lighting outdoor option works as a 360-degree rotatable spotlight. You can adjust it to any angle based on your needs. Equipped with 118 bright LEDs, this unit can offer a more flexible range of illumination. It operates automatically at dusk, turns off and charges automatically in the early morning.
Solar motion flood lights like this model come with a low light sensor and a body motion sensor function. This solar light is capable of discerning distances up to 33 feet and has a range amounting to 120-degrees. During motion detection, it lights up for half a minute and then switches off by itself.
Designed with an IP65 weatherproof rating, this effortless-to-install solar security light is ideal for various outdoor uses. We find it easier to affix on the wall using screws. It is ideal to utilize for any weather conditions and can withstand various outdoor elements.
This solar lighting system comes with a rechargeable lithium 2200mAh battery that guarantees full charge in cloudy conditions. To add, it can extend for up to thirty hours of night illumination. Meanwhile, its glare can extend for about six hours. The light can operate for more than 5,000 hours.
But, this solar floodlight seems not suitable for illuminating larger outdoor spots. Their size is not big enough to cover a wider area. Maybe it would be possible to illuminate larger locations if you're going to install more of them.
Pros
Automatic on at twilight and automatic off at daylight
Backed up by an IP65 weatherproof grade and long operation time
360-degree rotatable spotlight and 118 super-bright LEDs
Built with low light sensor and body motion sensor
Ideal to utilize for any weather conditions and outdoor elements
Cons
Not suitable for lighting up larger outdoor locations
Assuredly, this solar floodlight is a smart investment that every homeowner can consider. It's way better than other similar options available today.
2. INCX Solar Lights Outdoor
These solar LED flood lights are famous for being functional and easy to install. Such a 3 head solar security light is built with an upgraded motion sensor that can diffuse adequate lighting without delay. It automatically starts operating at dusk, turns off, and charges in the morning.
During motion detection, the fixture will illuminate for half a minute, and when there's no motion discerned, it will switch off automatically. Plus, it is outfitted with 70 LEDs that have 550 lumens and are furnished with 2200mah 3.7V lithium-ion batteries.
Its premium quality battery can diffuse 1,500 times of lighting when fully charged. To ensure better charging capacity, set up this solar light under direct sunlight. We got this solar floodlight with a motion sensor because we find its overall construction tough and stable. Rated with an IP65 waterproof rating, this unit can repel frost, heat, and water.
It's easy to affix on the wall using screws. It was our first time setting up solar lighting systems at home, but we didn't have any problem with this product. We didn't even need to hire an electrician to set up the solar floodlights.
We had a minor issue with the range of the motion sensor. We had to carefully determine the angle we installed the fixture at. The panel that's equipped with the sensor comes with a limited upward range because the solar panel is on top of it.
Pros
Straightforward to install and self-operating
Equipped with 70 LEDs with 550 lumens and 2200mah 3.7V lithium-ion battery
Can fight off frost, heat, and water
Designed with upgraded motion sensor and 3 heads
Can be affixed on the walls with screws
Cons
Requires carefully evaluating the angle where you set up the solar fixture
For buyers who need a solar floodlight that allows a quick assembly process and can endure any weather conditions, this item is a must-try.
3. ATUPEN LS-TYN Solar Lights Outdoor
For shoppers looking for outdoor solar LED flood lights that are reliable for multiple applications, this superbly bright motion sensor light is a sterling choice. It is outfitted with 210 bright LED beads that generate 1,500 lumens and 6,500K superior brightness output.
We find this product practical because it can ensure additional brightness and more visibility wherever installed. Plus, it is an all-weather-ready solar-powered light that comes with a three-head design. I can instantly take the solar fixtures outdoors off to set them up wherever I prefer, including my parking lot.
Additionally, we didn't have a hard time swiveling the spotlights and solar panel to any angle we wanted. The PIR motion inductor comes with a 270-degree broad illumination angle and a 26-feet sensing distance. We didn't have issues adjusting the lens hoods, light heads, and motion sensor to distinct angles as per our requirements.
The rechargeable 2200 mAh lithium-ion battery works excellently for its purpose. It is designed with superior charging efficiency. Meanwhile, the monocrystalline silicon solar panel lessens charging time and stays in an outstanding condition during heavy rains or winter seasons. With an IP65 waterproofing feature, we are worry-free to install it outdoors.
On the flip side, the remote seems designed as a line of sight only. It does not function well in the daytime, and you'll need to stand directly in front of the light to make it work.
Pros
Designed with PIR motion inductor and broad-angle illumination
Built as an all-weather-ready solar light
Highly recommended for several applications
210 bright LED beads that generate 1,500 lumens and 6,500K lighting
Battery with superior charging efficiency
Durable solar panel that charges quickly
Cons
The remote could be more functional
Conclusively, there are plenty of solar flood lights with remote options today. This one, in particular, is worth checking out.
4. A-ZONE AZ-JJ-W000022 Solar Motion Sensor Light
This solar floodlight is built with a photocell sensor. This enables the fixture to switch off in daylight. Then, it will automatically switch on in weak light mode at dusk. When it discerns movements around 10 to 26 feet, it will light up to high light mode.
It is essential to set up this solar lighting unit facing south. This is to ensure that the panels can acquire a good amount of solar energy. Surely, this PIR motion sensor light helps us save more on our energy costs. It is a great way of lighting up our outdoors without spending more.
Since we prefer solar flood lights with a motion sensor mode that give off super bright light output with extended work hours, this option is perfect for our needs.
Its durable overall construction and replaceable lithium-ion battery design make it an exquisite addition to our outdoor lighting accessories. As you can see, it is made using sturdy ABS material and top-quality aluminum alloy. This means that it could tolerate diverse outdoor elements.
For all that, we find the solar panel not as flexible as advertised. It merely folds like an elbow, and it's hard to rotate like a shoulder to target the spot where it could obtain ample sunlight. We had to make some adjustments to get a generous amount of sunlight.
Pros
Built using solid ABS material and top-quality aluminum alloy
Replaceable lithium-ion battery
Engineered with a PIR motion sensor light and a photocell sensor
Emits super bright light output with extended work hours
Designed with dual work modes
Right to it, we find these solar powered motion flood lights superb at lighting up brightly and offering different work modes. They are worth purchasing.
5. Westinghouse SR33AD32H-08 Security Light
This outdoor solar flood light utilizes smart solar technology. So, it could discern the battery capacity by gauging the charge available. Aside from this, it oversees the performance and energy to produce 8 hours of sufficient illumination. The heavy-duty build and IPX4 waterproof design of this version is proof that it is ideal for rugged outdoor applications.
What's more, it comes with 40 SMD LEDs that diffuse very bright illumination and can deliver up to a thousand lumens. You see, it is brighter compared to other floodlight options. We bought this solar lighting unit because it satisfies all our outdoor security and lighting needs.
This LED solar flood light is made with a larger solar panel. Plus, it is furnished with a rechargeable 2000mAh 18650 lithium battery. Due to this, this unit can guarantee maximized performance and significantly minimize charging times. Fortunately, we didn't have a series of troubles in setting up this solar light.
Motion is detected up to 8 meters within a discerning angle of 120-degrees. When movement is discerned, the light lights up to a thousand lumens for optimized safety, security, and protection. It can cover more than 700 square feet. And, after half a minute, once movement has passed, the fixture would switch off automatically to preserve battery power.
This motion activated flood light has its dusk-to-dawn sensor in the solar panel. As a result, if the solar panel is in an area with illumination, the light won't come on.
Pros
Utilizes smart solar technology
Features an IPX4 waterproof design and heavy-duty build
Plain sailing assembly process and motion sensor
Comes with 40 SMD LEDs that emit incredible brightness
Guarantees optimized performance and minimized charging times
Cons
Placement of the dusk-to-dawn sensor
All in all, it is wise to choose high powered solar flood lights like this one because they have superior lumen output. We find them worth every penny we spent for them.
6. TBI 216leds-2pack Security Solar Lights
Buyers searching for bright solar flood lights should check out this item. Equipped with incredibly bright 216 LEDs that come with 2200 lumens of brightness, this solar light can illuminate a wider outdoor area. Designed as wireless, it is broadly rotatable at a 355-degree angle.
We find this solar flood LED light quite easy to configure and install. Since our backyard is spacious, the light brightness coverage that this solar light can diffuse is satisfying. We can effortlessly manage the solar motion lights outdoors to view the entire backyard. The upgraded PIR motion sensor can cover up to 40 feet.
This solar outdoor waterproof flood light is built with a large capacity 2200mAh battery. It comes with an extended lifespan of over 30,000 times on & off compared to other options. We adore this solar fixture even more because it operates automatically when it detects movements under 130 degrees.
We can delight in an excellent vision at dusk with this solar light's four-side illumination style. Even if it's dark outside and our backyard is wide, it remains sufficiently lit up when darkness comes.
On the other hand, the light only stays incredibly bright for roughly 30 seconds during motion detection. It would have been better if it remained extra bright a bit longer.
Pros
Outfitted with a large capacity 2200mAh battery
Can light up a wide area
Easy to configure and install
Equipped with superbly bright 216 LEDs
Designed with upgraded PIR motions sensor and a long lifespan
Cons
The light remains superbly bright for less than a minute during motion detection
Overall, these solar power motion sensor flood lights are recommended for buyers opting for bright illumination and a whole night operation.
7. GLORIOUS-LITE YY01C-WH Solar LED Security Lights
Buyers who want high-quality motion sensor flood lights might want to inspect the practical features and functions of this outdoor solar light. Outfitted with a rechargeable lithium-ion 2400mAh battery, this unit can operate for up to 90 minutes of night use if fully charged.
The well-enhanced motion sensor head is capable of discerning movements instantly at a wide detection angle of 180-degree. It is engineered with an amorphous silicon solar panel and can acquire low current charging amidst terrible weather conditions.
Furthermore, this light allows 3 optional modes: the test mode, the normally on-mode, and the auto-mode. The filter lenses and LED beads are great features as well. This solar lighting unit generates up to 1,000 lumens 5,500K anti-glare, soft, and incredibly bright illumination. And, the good news is that it can last for 50,000 hours.
This IP65-rated waterproof solar floodlight is easy to install. Notwithstanding, the minor gripe we have seen in this solar floodlight is that it can be too sensitive; trees moving in the wind could activate the motion sensor, so we had to change where we placed it.
Pros
A breeze to set up with an IP65-grade waterproofing feature
Built with 3 optional modes for users to select from
Superbly bright anti-glare 1000-lumens solar-powered outdoor fixtures
Furnished with a rechargeable lithium-ion 2400mAh battery
180-degree motion detection and 50,000 hours lifespan
The solar panel can charge in bad weather; great filter lenses and LED beads
Cons
The sensor can be too sensitive
In summary, this solar powered motion sensor light is the real deal. It is built with amazing features and useful functions that benefit homeowners like us.
8. KUFUNG TE-KP7W-LN6W Solar Lights Outdoor
Fundamentally, this solar powered fixture is a high-sensitivity photosensitive device. This means that it could instantly discern any movement in 10 to 25 feet with a range of 120-degrees. This solar light responds swiftly to safeguard us in a dusky environment. It can also deter burglars since it works as a security motion fixture outdoors, too.
Crafted with more efficient and premium quality polysilicon solar panels, it has 1.2 up to 1.25 times higher conversion efficiency. So, we are worry-free because we are confident that it can work well even under heavy rains.
This version is furnished with a rechargeable 2200mAh lithium battery that can ensure an excellent battery life. You'll need to charge it for about six hours in direct sunlight.
This outdoor solar light is designed with three distinct work modes. These include the auto "always on" mode, the auto motion detection mode, and the auto motion detection and dim light mode. Note that all modes operate only from sunset to sunrise.
We like this alternative because it is smooth sailing to set up, and it can combat heat and water. It is made with dual 180-degree active joints. This means that I could change it to any angle I prefer.
Nonetheless, we were surprised to see this solar security flood light smaller in person. But, it is good to note that even though it did not come in an expected size, its lighting performance is exceptional.
Pros
A high-sensitivity photosensitive device
Built with more efficient and premium quality solar panels
Easy assembly process, can repel heat and water
Manufactured with flexible angle adjustment and excellent lithium battery
Features three different working modes
For shoppers planning to buy highly recommended solar powered outdoor flood lights, solar lighting items like this one is worth the money.
9. AmeriTop Solar Lights Outdoor
All homeowners certainly want the top-rated outdoor solar flood lights. In our case, we prefer solar flood lights that are built with an upgraded PIR motion inductor, which this item has. This feature can discern movements up to 26-feet within a 120-degree angle. The innovative broad angle is a huge plus.
It operates automatically when it detects motion at dusk, and switches off during the daytime. The light will switch off after half a minute if it does not detect any motion. The light will stay on when people stay active in the location where the sensor is.
Additionally, this three-head solar flood light is painless to assemble, and you won't require an adapter and electrical wiring. It is crafted with 128 bright LED beads that come with 800 lumens. It features excellent heat dissipation and superb 6,500K brightness output.
This solar flood light seems to last long because it is designed as an-all-weather-ready solar lighting system. Also, since it is engineered with a 18650 2200 mAh rechargeable li-ion battery, it can emit brighter lighting for an extended period.
All the same, this solar flood light's brightness is ideal for small outdoor locations only. It is not intended to cover wider and bigger outdoor areas.
Pros
Does not require electrical wiring, adapter, and easy to install
Outfitted with 128 superiorly bright LED beads with 800 lumens
Built as an all-weather-ready 6500k solar-powered flood light
Crafted with 3 heads design and innovative broad angle
Manufactured with an upgraded PIR motion inductor and heat dissipation
Automatic operation and rechargeable, long-lasting battery
Cons
Brightness works excellently for small areas only
We find this product quite reliable for our outdoor lighting needs. Such a solar flood light looks impressive and works exceptionally for providing adequate illumination.
10. URPOWER SL-002 Solar Lights Outdoor
For homeowners planning to purchase a solar powered flood light outdoor, this option manufactured by URPOWER is a great choice. It is built with a PIR motion sensor that illuminates your way home and your front door. We are fascinated by its unique design, and it can be used for various outdoor applications.
This model is built with an automated switch. It operates at dusk when the motion sensor discerns something. Then, this heatproof and weather-resistant solar light switches off after motion halts. It has a sensing range of ten feet with a 120-degree sensing angle.
Additionally, this energy-saving solar flood light emits superbly bright illumination and can guarantee an extended operating period. It is equipped with 8 LED fixtures that are brighter compared to 4 LEDs. Indeed, it can operate longer compared to 12 LEDs. It does not have a dim mode, so it could prolong the operation time.
This outdoor solar light certainly looks stunning in our garden area. We are glad to have purchased this product since it can beautifully illuminate every corner of our dwelling place. It can serve as a security light on outdoor spots too such as lawn area, patio, step, porch, pathway, etc.
Nevertheless, some users reported that they had problems with the way this item charges. They complained that they tried to charge the solar lighting unit for several days but it failed to power itself. Luckily, we didn't experience this problem.
Pros
Crafted with a PIR motion sensor function
Heatproof and weather-resistant
Energy-saving with an automated switch
Illuminates brightly and ensures extended operation time
Ideal for diverse outdoor uses
Cons
Some consumer reports on charging issues
Ultimately, this solar flood light is a great investment for any home or workplace. It does its job well, and we're satisfied with its performance.
11. ENGREPO BX-48LED Solar Lights Outdoor
I have been using these solar flood lights with camera for security, and they have not disappointed me. This 48 LEDs wireless security flood light model is one of the leading options for sufficiently illuminating and securing various outdoor spots. It is flexible, and the assembly method may only take a short time.
We were able to affix it a few inches away from our home so that the solar panel is free of overhangs and rain gutters. This is to ensure that it can acquire more excellent lighting. Since it's flexible, we didn't have a tough time altering the angle quickly.
The PIR motion sensor is so sensitive that it could help keep our residence secure when intruders approach. Note that the recommended assembly height is 6 to 14 feet. Moreover, the trigger range is 10 to 26 feet. This solar light is furnished with a 2200mAh lithium-ion phosphate battery and an upgraded solar panel.
This wireless solar fixture can provide three modes of consistent illumination for three hours. Plus, its IP65 rating and heavy-duty ABS casing make this solar floodlight durable enough to tolerate harsh weather conditions and other environmental elements.
Please note that there's no mode indicator on this solar flood light. It's possible to adjust the brightness and illumination duration, but there's no way to know which setting you're using.
Pros
Super flexible and a breeze to set up
Outfitted with large-capacity batteries and highly-efficient solar panels
Safe and ideal to utilize for extreme weather conditions
Emits consistent illumination for three hours with three modes
Engineered with a very sensitive PIR motion sensor
Sure thing, just like the Cyberdax solar flood light, this solar floodlight model is a practical investment that won't disappoint users in the long run.
What to Look for When Buying Solar Flood Lights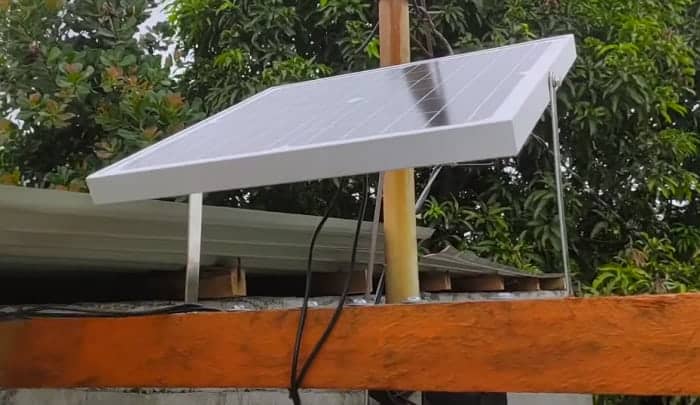 Here are some of the things you need to review before buying the best solar flood lights:
Sensors
We have options that come with motion sensing functions. Options with motion sensors can discern movement from a specific distance away, and illumination takes place after that.
There are a few sensor alternatives to select from, and these include PIR sensors that can detect movement using distance and range. Usually, they could discern movement from 180 up to 360-degrees.
Lastly, we have the dusk-to-dawn sensors, also known as photo-sensors. When it's dusky outside, the lighting unit begins to operate. It turns off on its own when the sun rises.
Construction Materials
Solar-powered LED floodlights commonly come in several distinct sizes. However, for the build materials, aluminum, stainless steel, or plastic are the most common options.
Plastic material is sturdy and less expensive compared to aluminum materials. But, the aluminum casing is more excellent in safeguarding the solar lighting unit from various outdoor elements.
Types of Solar Panels
Different types of solar panels include amorphous, monocrystalline, and polycrystalline.
Among the different types of solar panels, monocrystalline is deemed the most efficient because it accumulates more solar energy, about 15 to 21% of what the sunlight emits.
However, monocrystalline solar panels are the priciest among the three.
Wattage
Outdoor floodlights that use solar energy operate on different wattages. For example, a 10W solar security light can generate 10 watt-hours of electricity per hour.
The more powerful the light is, the more watts are needed for illuminating purposes.
Take note that larger-sized LED lights commonly run between ten to twenty watts. Meanwhile, lower solar fixtures run on one to five watts.
Bulb Types
The good news is that there are limitless bulb options when searching for solar-operated floodlights.
The available options include MH, HPS, Halogen, CFL, and LED. If you want something more energy-efficient and eco-friendly, opt for LED light options.
How Bright Should a Floodlight be
Solar flood lights typically come in a wide range of brightness outputs. To date, you can find floodlights that generate anything between 700 up to 20,000 lumens.
The floodlight suitable for your needs will largely depend on how big the outdoor area that you wish and need to light up is.
An outdoor floodlight with a comparably low lumens output will be sufficient for driveways and patios (for example: 700 up to 1,500 lumens).
On the other hand, larger spaces such as small fields and car parks will certainly require superiorly-powered flood lights that can generate more lumens than that.
Are Solar Lights Bright Enough to be Floodlights
Yes. Solar flood lights nowadays usually range from very dim to incredibly bright. The reality that they are solar-operated does not have any significant impact on their capability to produce brightness.
However, take into consideration that when it comes to brightness and solar-powered fixtures, brighter fixtures require more energy.
Hence, bigger solar panel kits require an extended charging time for their batteries. If not, don't expect them to last for an extended period.
How Do I Need to Install the Solar Panels
Carefully inspect the intended area where you will set up the solar panel. Consider using a compass app or a compass to figure out the suitable spot to assemble the solar panel.
Consider the cord distance when deciding where to set up the solar flood light and the solar panel. Most fixtures allow some feet of cord between the solar fixture and the panel to ensure quick assembly and flexibility.
Use a pencil to mark the area where the solar panel will be installed. Consider utilizing the brackets on the panel as a guide.
After that, you can puncture pilot holes at the marks. Keep in mind that the bit must be suitable for the material you are puncturing into — for instance: wood, concrete, masonry, etc. It should also be a little smaller in diameter compared to the mounting hardware.
Finally, you can set up the solar panel. To do so, just secure the bracket on the eave or the wall using the installation hardware included in the kit.
From there, you can slide the panel onto the bracket.
How Long Do Solar Flood Lights Last
Solar-powered outdoor flood lights will last for an extended period; however, the mileage will commonly vary. The primary component that users may worry about is the battery, which can become worn out.
Remember that each battery, including the rechargeable ones, comes with a particular number of charge cycles it could undergo before manifesting indications of reduced performance.
Apart from this, diverse weather conditions, such as intense moisture and extreme temperatures might also cause a decline in the performance of the battery.
And, this could remarkably affect the lifespan of the solar-powered fixture.
Conclusion
Finding the best solar flood lights for your home or workplace can be daunting. This is because there are plenty of buying factors to consider.
Premium quality solar flood lights are great products that can help you in saving more on your energy consumption. Indeed, these solar lighting units are safe to use and environmentally friendly.
However, with countless different options sold on the market today, trying to figure out which alternative is suitable for you is a tough process.
Hopefully, the shopping tips we've included in this article can help you end up with the right choice.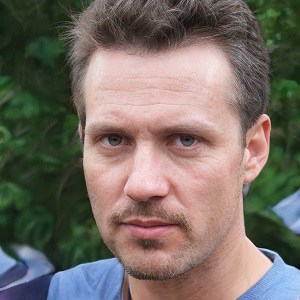 I am Kathleen Miller, staff writer and reviewer of the Avasolar team. Working with the team has been a pleasure for me so far, I hope to bring readers useful information by creating detailed and easy-to-follow contents.