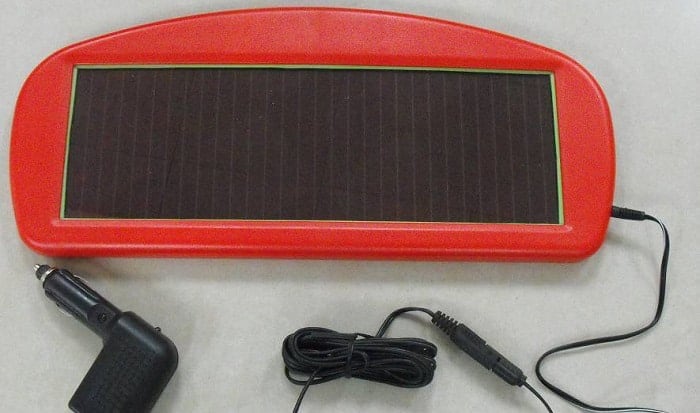 Whether it's a solo portable battery you use for camping or your vehicle's battery, solar maintainers help you to power them up anywhere conveniently. These devices are precisely designed for maintaining the charge of the battery. They also help keep the electricity at maximum levels, which is critical for stored batteries.
The best solar battery maintainer is user-friendly and works like a charm in maximizing your battery's performance. Knowing what features to look for when picking a suitable model can help you make a well-informed decision.
To give you an overview when picking the suitable solar battery maintainer, consider the following features:
Durable Overall Build: The solar battery maintainer should be well-constructed since you're more likely to move the device in different spots. This is also necessary for maintaining or charging opportunities. A model that is sturdy enough to tolerate any potential bumps or shocks is a good option.
Auto Shut-off Feature: Most options are designed with a built-in shut-off diode. This feature is purposely designed to inhibit potential damage to your maintainer and the battery.
Charging Capacities: Most solar battery maintainers offer buyers different charging options. Some models allow you to charge directly into the cigarette lighter outlet using a cigarette lighter plug. Or, you can charge directly to the battery with battery leads or opt for models that allow you to charge even on cloudy days.
Meanwhile, countless brands offer diverse solar battery maintainer models at different price ranges. We understand that choosing the suitable model for you can be tricky at times. So, we've conducted comprehensive market research to save you from trouble and compiled a list of the most recommended solar battery maintainers available on the market today.
Feel free to read our product reviews and buying guide below so you can select the right product for your applications.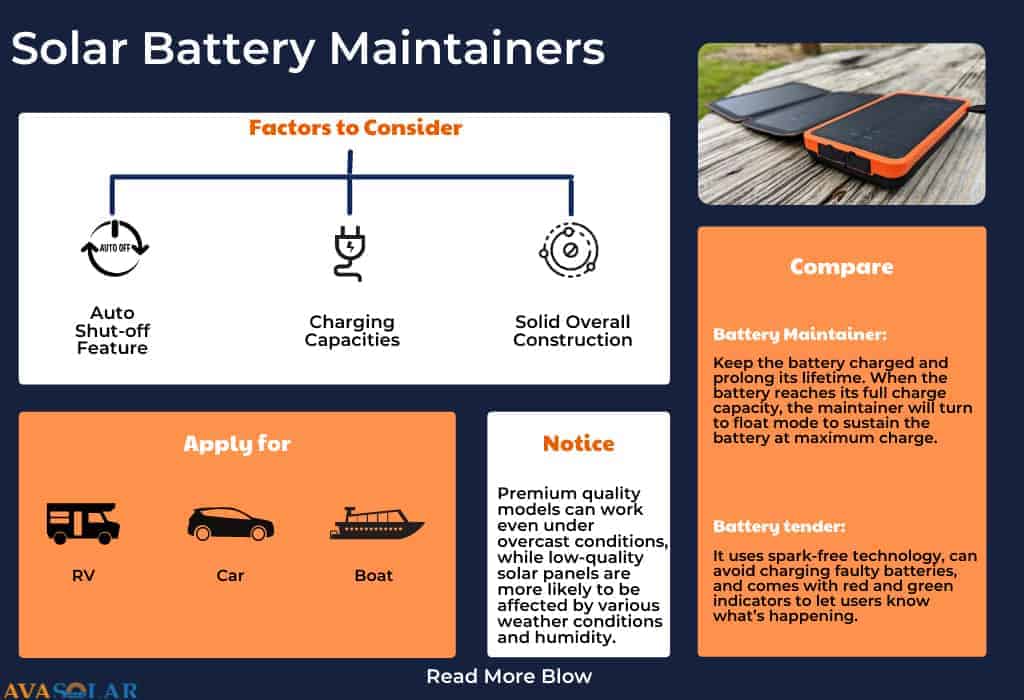 Best Overall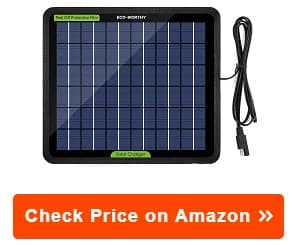 ECO-WORTHY Solar Trickle Charger
✅ Easy to install
✅ Built-in blocking diode
✅ Requires minimal maintenance
Premium Choice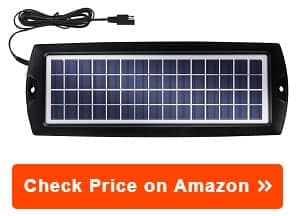 Sunway Solar Trickle Charger
✅ Lightweight
✅ Convenient to store
✅ Top-quality body
Editor's Pick
Battery Tender Battery Charger
✅ Easy to operate
✅ Portable design
✅ Works as a charger and a maintainer
Top 10 Solar Powered Battery Maintainer Reviews
1. ECO-WORTHY L02EP5BB18V-1 Solar Trickle Charger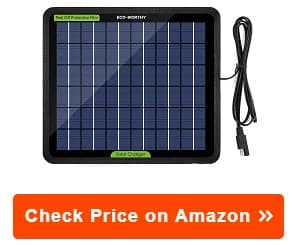 There are so many available solar powered trickle chargers on the market today, yet this version is among the best. It is manufactured with an integrated blocking diode that helps impede reverse discharge.
In addition, it is a breeze to install and does not require frequent maintenance. The kit already contains a cigarette lighter adapter and a pair of battery clips. You can use this device in several different applications as well, either for camping or household needs.
What's more, this eco-friendly and energy-saving solar battery maintainer can maintain the battery's life. So, we'll have no worries about draining dead batteries anymore.
We find this trickle charger and maintainer practical for charging 12-Volt batteries during emergencies. This device has also been our companion in our frequent camping and other outdoor adventures. The unique design and the high-quality clips serve a vital role in warding off the possibility of short circuits.
On the flip side, this solar battery charger does not come with long cables. So, to fix this minor issue, we needed to add an extension to set things up correctly. Fortunately, apart from this minor glitch, this trickle charger maintainer has served its purpose well.
Pros
Designed with a built-in blocking diode, eco-friendly, and energy-saving
Ideal for camping and other outdoor activities
Easy to install and requires minimal maintenance
Maintains battery life and extend its useful life
The kit includes a cigarette lighter adapter and a pair of battery clips
Cons
Short cables that require extension
In a nutshell, buyers looking for a 12V solar battery maintainer that works outstandingly in maintaining battery life and extending its useful life will find this option a worthwhile investment.
2. Sunway 4W Solar Trickle Charger for Battery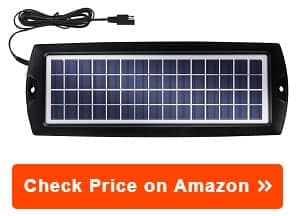 This solar battery maintainer for RV is reliable for quickly filling up car batteries in direct sunlight. We specifically bought it for our tractor and other cars, but it's also great for camping purposes.
With it, it's now a cinch for us to manage 12-Volt battery drain issues wherever we are. Undoubtedly, the incredibly sturdy body and solar panel construction of this device is impressive.
Buyers searching for lightweight, compact, and convenient-to-store versions will find this item a good deal. This eco-friendly solar battery trickle charger works exceptionally in safely maintaining charges of different types of 12V batteries. Since the time we had it, we no longer struggled with charging our cars and tractor on the farm.
Its built-in diode does an outstanding job of impeding reverse charging from batteries. This unique feature leaves us worry-free because we know that we don't have to worry about overcharging and damaged batteries.
Designed with a LED light indicator, we can quickly determine when the device is charging. The kit also includes alligator battery terminal clamps and a cigarette lighter adapter.
Nonetheless, one weak point we have observed about this solar battery maintainer is that it's not ideal to use in rainy areas and during winter seasons.
Pros
Quickly fills up a car battery in direct sunlight
Helps prevent reverse charging from batteries
Features top-quality body and solar panel construction
Lightweight, compact, and convenient to store
Includes alligator battery terminal clamps and cigarette lighter adapter
Cons
Appears challenging to use in rainy locations and during winter seasons
3. Battery Tender 021-1163 Battery Charger
This solar battery tender is a good choice for indoor and outdoor applications, as it is wide, large, and available in multiple sizes. We can select from 15, 10, and 5-watt options. More importantly, it also works both as a charger and a maintainer. As for its overall construction, it's spark-proof and weatherproof.
Further, this portable solar battery maintainer comes with an integrated temperature compensation sensor. The solar panel offers users three-step smart charging functions, and it helps keep the battery damage-free due to overcharging. We think this is why it's considered one of the most recommended options nowadays.
This easy-to-operate solar battery charger and maintainer are easy to operate. It can also provide us with reverse polarity protection. We are impressed by its capability to provide better current flow.
Since we love outdoor activities, we can rely on this solar battery maintainer. It also works excellently in different conditions daily, be it changing weather or build-up vapor and gases.
Also, such a device offers a trickle charge to keep batteries at maximum charge levels while we're camping or going off-road activities.
On the cons, we have noticed that the LED light indicator of this device does not always display the correct light color for the charging status.
Pros
Ideal for indoor and outdoor applications
Engineered with a built-in temperature compensation sensor
Works as a charger and a maintainer
Easy to operate, spark-proof and weatherproof
Portable design with reverse polarity protection
Cons
Minor issue with the accuracy of the LED light indicator
Overall, this solar powered battery tender is worth a shot. We can have peace of mind that it won't damage our batteries due to overcharging.
4. Schumacher SP-200 Solar Battery Charger

This solar battery trickle charger is straightforward to use. Its eco-friendly and simplified design offers users convenient plug-and-play usability. Luckily, we didn't have much trouble installing this device. We only had to mount it, plug it, and it starts doing its job.
Thankfully, unlike other options out there, this version is not high maintenance. This device can deliver a 2.4-Watt trickle charge to various types of vehicles. Moreover, it performs exceptionally in both cloudy and sunny conditions. Its water-resistant design makes it sturdy enough to tolerate water splashes and light rain.
Not to mention, we find this charger quite useful for our applications. It does a great job of extending the battery life, and we can use it on our RV and boat. Likewise, its durable housing makes this solar battery charger and maintainer solid enough to stand abuse. Buyers who especially require a device to charge and maintain 12-Volt batteries will indeed find this brand very practical.
On the other hand, the main downside we found on this solar battery maintainer is that it does not come with suction cups. So, we find this slightly inconvenient because we can't place it on the windshield. Regardless, we don't consider this a severe deal-breaker.
Pros
Features eco-safe, easy to use, and simplified design
Ideal to use for different types of vehicles
Constructed with water-resistant features and durable housing
Works like a charm in extending battery life
Performs well in both sunny and cloudy conditions
Cons
Does not come with suction cups
As a whole, this 12-volt solar battery maintainer is a smart investment. We can quickly charge in daylight, and it can perform well even under gloomy conditions.
5. ALLPOWERS AP-18V5W Solar Panel Battery Charger
Compared to other options, this ALLPOWERS solar car battery maintainer features a more stylish and modern design.
And, since it is small and compact, we can efficiently allocate it inside our vehicle, and it doesn't get in our way when placed in a tight space.
Surprisingly, this efficient solar battery maintainer does not necessarily require full bright sunlight since it can work well even on gloomy days. Also, the device creates 5-watt of energy to charge 12V batteries.
Additionally, it is equipped with a mono-crystalline silicon panel; hence, it can perform excellently in all daylight conditions. It is also designed as weatherproof and offers great performance in averting reverse discharge.
Due to its long-lasting function, this solar battery charge maintainer is ideal for tractors, motorcycles, automotive, boats, cars, and more.
We're surprised to see that the kit already includes what we need to get started. The package contains the battery charger, clip line, cigarette lighter plug, user guide, and suction cups. For the price, this is a valuable investment for buyers short on budget. We are lucky to have a reliable solar battery charger and maintainer without spending lavishly.
The major setback we have uncovered about this device is that it's not entirely rainproof. So, while it can endure a few raindrops, it is prone to breaking down if exposed to heavy downpours.
Pros
Equipped with a mono-crystalline silicon panel
Features a stylish and modern design
Averts reverse discharge
Compact, small, and creates 5-watt of energy
An affordable package comes complete when purchased
Cons
Not designed as completely rainproof
Ultimately, this RV solar battery maintainer is a good catch. It is reasonably priced and designed with practical features that are beneficial for users.
6. SUNER POWER BC-6W 12V Solar Car Battery Charger
This Suner power 12V solar car battery charger & maintainer is highly recommended for safely charging different batteries. It has a blocking diode that helps hamper power draining and overcharging.
We adore the durable build of this device due to its solid ABS frame and top-quality solar glass materials. The sturdy housing makes it built to last and weather resistant.
With a highly efficient crystalline solar panel, this device works excellently in direct sunlight. Since it comes with an integrated blocking diode, you won't have to deal with serious battery draining.
In terms of use, the panel is easy and quick to connect and disconnect; it allows an easy plug-and-play setup process. And, just like other high-end versions, this item does not require high maintenance.
Moreover, you can use this solar battery maintainer for various applications, such as RVs, snowmobiles, automotive, trucks, marine, and tractors. We find it particularly useful for our tractor, as it is lightweight, portable, and durable enough to stand high loads. The kit comes with two interchangeable clamps and cigarette cables and four suction cups for an effortless mounting process.
For those who prefer solar chargers and maintainers that can ensure quick charging even during cloudy days, this item might not be the best option for your application.
Pros
Ideal for safely charging different types of batteries
Designed with a superbly sturdy overall build
Guarantees zero battery depletion
Easy to set up and use with no maintenance needed
Outfitted with a highly efficient solar panel
Cons
Charges slowly on overcast days
Chiefly, this solar battery maintainer review asserts that Suner Power is a reliable brand that we can bank on when it comes to premium quality solar battery chargers and maintainers.
7. Topsolar 10 Watt 12 Volt Solar Panel Battery Charger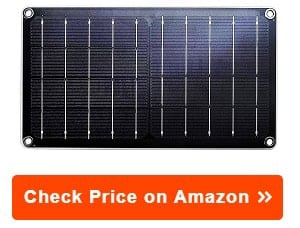 We decided to purchase this solar battery maintainer for boat because of its affordable price tag and the fact that it's stuffed with unique features. In addition, it is less complicared to install and use since it offers us flexible mounting options.
Notably, this solar car battery charger seems built to last. We like its super sturdy overall construction, and it is also waterproof.
Furthermore, it's designed with a built-in circuit board to prevent overcharging and reverse discharge. For shoppers looking for a 12V solar battery charger that is reliable in maintaining multiple vehicles, this model is one of the top choices. It is crafted with an indicator light, so it's easy to tell if it's working.
Lightweight, easy plug-and-play function and portability are also a few of the admirable features of this solar car battery charger. The kit also contains the necessary equipment for setting up this device. It can precisely fit your windshield, or you can also mount it in an ideal spot in your car that's directly hit by the sun.
However, the suction cups that came with it did not meet our expectations. We find them not capable of holding firmly. So, we had to buy top-quality suction cups to fix this issue. Alternatively, users might also want to consider using a different mounting option.
Pros
Features a built-in circuit board
Reasonably priced yet filled with practical features
Uncomplicated to use and comes with an indicator light
Highly recommended for maintaining multiple types of vehicles
Offers flexible mounting options
Cons
Poor quality suction cups
Lastly, what made this solar panel battery charger one of the chart-topping options are its beneficial features and affordability. It's dependable in fulfilling its claims.
8. SOLPERK 12V Solar Trickle Charger
This solar battery charger and maintainer is manufactured with thin amorphous solar cells so that the battery could work well even during rainy or gloomy days.
It charges the battery using a small current to ensure more excellent maintenance for automobile batteries. Besides, charging anywhere is what we liked most about this device, making it the ideal solar-powered battery tender for various vehicles.
What's more, this solar motorcycle battery tender is engineered with an integrated blocking diode that works supremely for obstructing battery reverse charging and reverse discharging. It is a safe option for charging and maintaining different types of 12-Volt batteries.
This unit is also designed with green indicator lights to notify the current state of charging. The easy-to-manage design makes it a perfect choice for people who are novices in using solar trickle chargers.
Another perk of this battery maintainer is its solid ABS plastic house that's rainproof and windproof. But, users should note to avoid immersing it in water. The good news is that this eco-friendly unit does not require extra maintenance.
Despite its simple design and practical use, in our opinion, this device is not the best option for a saltwater environment. In our case, the spray from the saltwater penetrated the battery compartment and corroded the alligator clips that came with the solar panel.
Pros
Works as a charger and a maintainer in one
Features a sturdier overall construction
Easy to handle for first-time users
Lightweight and straightforward to install
Deter battery reverse discharging and reverse charging
Works normally even on rainy or overcast days
Cons
Not the best option for the saltwater environment
Right to it, this solar car charger and maintainer works exceptionally for keeping a battery sufficiently charged on our snowmobile. We are now always all set to go wherever we want.
9. POWOXI Amorphous 12V Solar Car Battery Maintainer
This solar battery tender for RV allows users to delight in powerful charging even during overcast weather conditions. This is mainly due to its ultra-convenient amorphous solar technology feature. The battery charging solar panel employs an integrated barrier diode that thwarts back discharge. This unit's practical choice is highly recommended for various indoor and outdoor usages.
Not to mention, this solar battery maintainer is engineered as weather-resistant since it comes with a supremely durable plastic housing to ensure longevity. We don't need to worry about its maintenance because it does not require one.
With its eco-friendly design, this solar trickle charger provides a safe approach to maintaining the charge of different types of 12V battery vehicles.
This unit is jam-packed with valuable features despite its affordable pricing. It is heavy-duty enough to combat inclement weather conditions, and we're surprised to see that it remains in good shape and in perfect working condition. Since we purchased this device, we did not encounter serious trouble in effectively maintaining our car battery's charge.
All the same, shoppers fishing for a solar battery charger and maintainer in one version won't find this option the perfect alternative. It works as a battery maintainer only and not a primary charging device.
Pros
Guarantees a more robust charging
Eco-friendly design that's ideal for various types of vehicles
Weather-resistant and maintenance-free
Intended for many indoor and outdoor applications
Designed for any 12-Volt rechargeable batteries
Cons
Merely works as a battery maintainer
All in all, this solar battery maintainer is a top-notch gadget that allows users to enjoy powerful charging even on overcast days. Users can safely utilize it for indoor and outdoor applications.
10. POWISER 3.3W Solar Battery Charger
It's helpful to read some solar battery tender reviews to be well-informed on certain products you are considering. Luckily, this solar battery charger and maintainer check all the excellent feature boxes.
In detail, it charges efficiently even under inclement weather conditions. It does wonders in terms of charging all types of 12-Volt batteries and different kinds of vehicles.
Further, this solar trickle charger is practical and durable. It comes with robust light transmission, easy to clean, and the tempered glass's surface can tolerate strong impact, snow, hail, rain, or force.
This device is also not high maintenance, does not need any extension lines, and its interfaces are simply plug-and-play. Hence, it is straightforward to connect.
Buyers looking to invest in a device that can efficiently charge trucks that utilize batteries and electric cars will find this item the perfect match. Fundamentally, this unit did not fail to meet our expectations regarding maintaining the service life of our batteries. You can also use the solar panels as a maintainer to charge your vehicle's lead-acid battery.
With an integrated thermoelectric module, the battery's temperature can be regulated in a specific range; hence, enhancing charging efficiency. Best of all, the charge won't disappoint you when you need it the most. However, please note that there's no additional extension cord that comes standard with this device.
Pros
Charges efficiently even under inclement weather conditions
Comes with a built-in thermoelectric module
Designed with simple plug-and-play function and easy connection
Highly recommended for charging trucks that use batteries and electric cars
Does an exceptional job of maintaining the service life of batteries
Cons
No additional extension cord
To wrap up, this solar battery maintainer is perfect for maintaining car batteries; it's easy to use and packed with outstanding features.
What to Look for When Buying Solar Battery Maintainers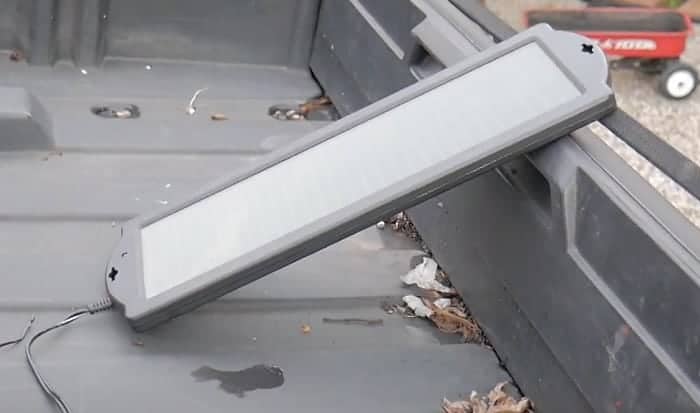 When investing in the top-rated solar battery maintainer, you might want to consider going through the following buying factors first:
Auto Shut-off Feature
Many solar battery maintainer models are manufactured with integrated diodes. This feature helps stop the device from charging after the battery is fully charged and reverse electrical flow back to the maintainer.
In the same way, this unique feature significantly helps impede potential damage to your maintainer and battery.
Charging Capacities
You can choose different options like charging directly into the cigarette lighter outlet in your SUV, truck, or car using a cigarette lighter plug. Alternatively, you can charge directly to the battery with battery leads.
Options that enable you to charge during cloudy days are ideal. So long as you have light, even when it is gloomy, the device should produce power. The sun's UV light is all that you need.
Solid Overall Construction
A solar maintainer should be well-engineered. It should come with a durable ABS plastic frame and premium quality glass panel. A solar battery maintainer with a sturdy build is solid enough to combat moving it to different areas and maintain and charge opportunities. Not to mention, a device that is durable enough to avert any potential bumps or shocks is ideal for rugged applications.
On the other hand, other buying considerations include the size of the solar maintainer. Be sure to check the device's portability and the number of solar panels that will be exposed to sunlight. As for the shape, square or rectangular ones are ideal choices. Of course, this will depend on your purpose of use.
Lastly, inspect the mounting options, such as stand, bracket, or those with suction cups. Options with suction cups on the rear of the solar panel allow easy mounting on a car's dashboard or boat deck. Meanwhile, options with a durable stand offer a more stable mount.
Will a Solar Battery Maintainer Charge a Battery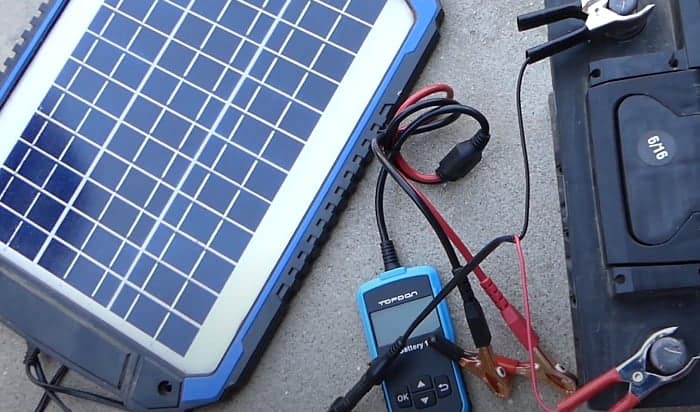 Yes. However, a battery maintainer will merely send a charge to a battery when the battery can accept a charge. Hence, when the battery is fully charged, the maintainer halts charging the battery. This means that it does not send a steady charge that could cause overcharging.
What is the Difference Between a Battery Tender and a Battery Maintainer
A battery maintainer will keep the battery charged and prolong its lifetime. When the battery reaches its full charge capacity, the maintainer will turn to float mode to sustain the battery at maximum charge. So, this implies that a battery maintainer will merely charge the battery when it drops below a specific voltage.
On the other hand, a battery tender provides a continuous voltage supply, but processors regulate it. It uses spark-free technology, can avoid charging faulty batteries, and comes with red and green indicators to let users know what's happening.
Do I Have to Place a Solar Battery Maintainer Under Direct Sunlight
Most solar-powered gadgets work exceptionally during daylight; nonetheless, it's unnecessary to place them under direct sunlight exposure. Premium quality models can work even under overcast conditions, while low-quality solar panels are more likely to be affected by various weather conditions and humidity. It's best if you'll consider this before purchasing a specific product.
Conclusion
As mentioned, when buying the best solar battery maintainer, the three significant factors that you need to consider are the overall construction, auto-shut-off feature, and charging capacities of the device.
Luckily, solar-powered battery maintainers are pretty easy to use. Hence, you can freely opt for the brands you trust and go for models that obtain the highest ratings from customers who've used the product already. Just be sure that the product you choose perfectly matches your applications.
Hopefully, the list of the products we've reviewed and the buying guides we have shared in this article can help you make a well-informed buying decision.
In addition, Is your farm equipped with an electric fence? If you're still undecided about which solar fence charger is best for you, I recommend our list of solar fence chargers. I believe you will find the best choice.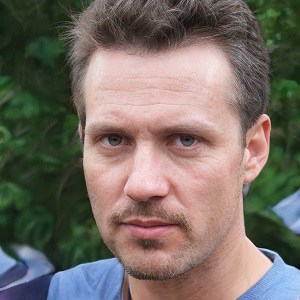 I am Kathleen Miller, staff writer and reviewer of the Avasolar team. Working with the team has been a pleasure for me so far, I hope to bring readers useful information by creating detailed and easy-to-follow contents.