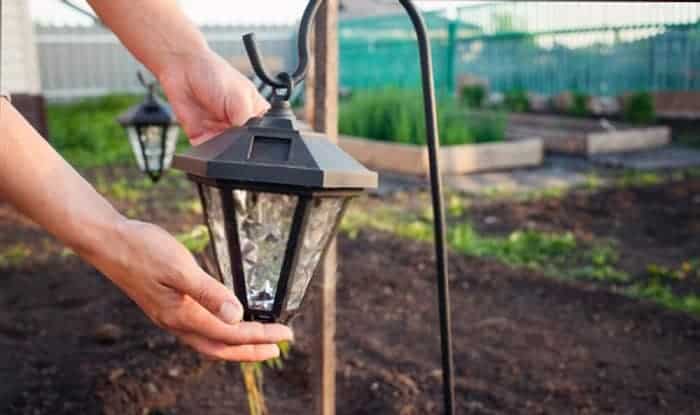 Most of us love spending more quality time with loved ones and close buddies in a comfy and cozy ambiance. There's no denying that doing outdoor evening activities with our favorite people is memorable and enjoyable. But, that would be impossible without investing in a high-quality light source.
This is why we decided to compile some of the most preferred and recommended outdoor solar lanterns below. The product reviews and other related information in this post are aimed at helping buyers make an intelligent and confident final buying decision.
Without further ado, let us compare the best outdoor solar lanterns available on the market today. Be sure to carefully examine the essential features and functions that you're seeking.
Best Overall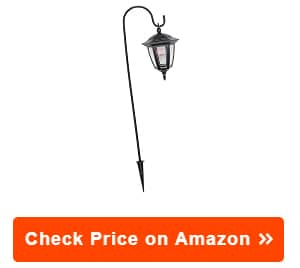 Maggift Hanging Solar Lights
✅ Waterproof IP44-rated
✅ Run time up to 10 hours
✅ Easy to install
Premium Choice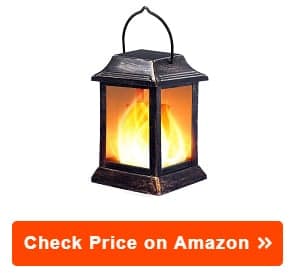 TomCare Solar Lights
✅ Water and rustproof
✅ Durable metal
✅ 1-year warranty offer
Editor's Pick
Maggift Mag330 Solar Lights
✅ High-quality materials
✅ No wiring required
✅ Eco-friendly and waterproof
Top 12 Outdoor Solar Lantern Reviews
1. Maggift 34 Inch Hanging Solar Lights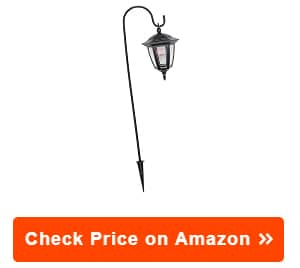 Most of us prefer outdoor hanging solar lanterns that are straightforward to set up and stylish. These solar lights are built with sensors, so they work automatically. You don't need to check them frequently.
What's more, built using premium quality plastic, these outdoor solar lanterns are durable enough for outdoor applications. The solar panel is crafted with IP44-graded waterproof capacity. So, you can rest assured that the solar lights won't get damaged easily regardless of the weather conditions.
Indeed, if you are fascinated by outdoor solar lights that can guarantee extended work time, this version is ideal for that requirement. They can operate for 10 hours, which should be long enough for your evening activities. You can also use these solar lanterns by hanging them without the hook included in the kit.
Since they are solar-powered, you can still save money because they don't add up to your electricity expenses.
On the cons, it would have been better if
the stakes of these outdoor solar-powered lanterns
had been thicker. Since they're mainly used outdoors, we are a bit afraid that the stakes won't be sturdy enough to support the solar lights when harsh weather conditions strike.
Pros
Easy to install and looks stylish
Built with premium quality plastic
Equipped with durable and waterproof IP44-rated solar panels
Extended run time up to 10 hours
Features an eco-friendly, economical, and energy-saving design with sensors
Cons
The stakes appear too thin
Overall, these solar lanterns outdoor fixtures are great investments. They look stylish, can brighten up the area where you install them and guarantee extended work time.
2. TomCare Solar Lights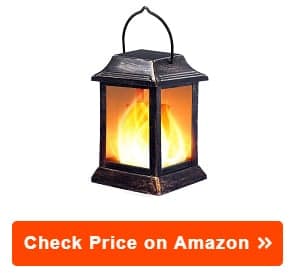 Are you currently looking for reliable and classic-looking outside solar lanterns? If so, you finally found your match. This outdoor solar lantern is one of the most famous options because of its incredible performance. Many users who have used this product are impressed by its various lighting effects.
This model is waterproof and is built using super sturdy metal material. It can also resist rust, and it can withstand rainy and snowy conditions. The kit contains two packs of solar lanterns that are furnished with a top-quality 2000 mAh integrated battery. The battery lifespan can extend from 10 up to 12 hours.
Furthermore, this outdoor solar lantern is also manufactured with a grab handle on the top, making it easier and more convenient to use where preferred. You will certainly be amazed by the flickering and flame effects that these solar lanterns emit. The lighting they provide can transform your place into a more stunning view.
If you're buying a solar lantern to create a captivating and cozy atmosphere in your outdoor areas, this product is a sure investment you can go for. Decorating and illuminating various spots in your home is made easier with these outdoor solar lanterns.
On the other hand, the price of this item is a bit higher compared to other available options. Luckily, you are provided with a one-year warranty.
Pros
Can provide various lighting effects wherever installed
Backed up by a one-year warranty offer
Famous for delivering long-lasting performance
Designed with a grab handle on the top
Features durable metal, water and rustproof
Cons
Priced higher than other similar options
Ultimately, these reliable solar lantern lights outdoor are smart purchases, although they could be a bit pricey. This version is a good catch since it is built with premium craftsmanship and performance.
3. Maggift Mag330 Hanging Solar Lights Outdoor
For shoppers who prefer retro-style and eco-friendly outdoor solar hanging lanterns, this option will be your perfect match. Not only built durably, but these outdoor solar-powered lanterns are also famous for their excellent workmanship and superb performance. Since these lighting devices are manufactured using high-quality construction materials, they are built to last.
Besides, they can work continuously for 10 hours provided they are fully charged for roughly 6 to 8 hours. Once bought, these outdoor solar lights come with a hanging ring, making it easier for them to be set up everywhere you desire. Alternatively, you can place them on desks or tables if you do not wish to hang them outdoors.
Additionally, these outdoor solar-powered lanterns do not require any special wiring, so they are a breeze to install. Each lantern is also equipped with 1 AAA 400mAh NI-MH battery. Not only that, these lighting devices are waterproof, so they are sturdy enough to withstand any rugged weather condition outside.
Decorating and lighting up your place indoor or outdoor is no longer a pain in the neck if you have these solar lights installed. You can enjoy warm and cozy illumination every time you light them up.
Be that as it may, don't worry too much if you experience some issues with the way these solar lanterns charge. Take note that their charging capability might be reliant on the weather conditions in your area.
Pros
Constructed using high-quality materials
Equipped with 1 AAA 400mAh NI-MH battery
Painless to install and no wiring required
Eco-friendly and waterproof, made with an impressive retro design
Can operate for 10 hours if fully charged
Cons
The charging capability of this lighting device depends on the weather conditions
As a whole, these outdoor solar lanterns can provide a very captivating light cast. Such solar-powered lights look so warm and inviting at dusk.
4. Esgarden Solar Light Outdoor
Your outdoor areas will certainly be transformed into a very welcoming ambiance if you install these solar garden lanterns. As you can see, their design is elegant and gives off a subtle glow and stunning hollowed-out pattern when lighted up. These items do not require maximum supervision since they are engineered with an automatic on and off function. They are plain sailing to install because no intricate wiring is needed.
Moreover, these solar outdoor lights are ideal for adorning and illuminating any place. Whether you intend to use them for special events or ordinary days, they can create a huge difference in the areas where they're installed. Crafted with an environmentally-friendly and sturdy design, these are ideal gifts to give away too.
Beautiful and functional as they are, you won't get dismayed using them in several applications. You can use them for indoor and outdoor spaces, and they will function as expected. They can also be hung on pergolas, trees, and porches with the handle. Alternatively, you can put them on the ground or on a table to enable the light pattern to reflect more beautifully.
To ensure that they last for an extended time, make sure that they receive full sun in the daytime to be fully charged. While the overall construction of this solar-powered lantern is excellent, it being lightweight seems to be a disadvantage when there are strong winds. So, we prefer to put them inside whenever the weather outside isn't good.
Pros
Built with environmentally-friendly and sturdy design
Allow several ways of applications
Emit a subtle glow and a stunning hollowed-out pattern
Come with an automatic on and off function
No wiring required
Cons
Too lightweight to withstand strong winds and other extreme weather conditions
Full sunlight recommended for charging
In a nutshell, these outdoor solar lanterns are dependable enough to give off a nice accent light in areas where you install them. Best of all, they create an elegant and warm atmosphere.
5. Pearlstar Hanging Solar Lights Outdoor
There are so many available hanging solar lanterns for garden these days. But, if you prefer something that is designed with a vintage look, this version is an ideal choice. The glow and color that these solar lanterns emit can bring a subtle hue of classic style to your outdoor spots.
But, please note that these are suitable for decorating only and not much for brightly lighting up outdoor areas.
There's no need to hire an electrician when installing these outdoor solar lamps because the installation method is a cinch. Built with a sturdy handle, you can instantly hang these solar lights on trees and walls. If preferred, these can be placed on pergolas, tables, shelves, patios, and porches.
These solar-powered landscape lights are manufactured with durable ABS plastic material to combat rugged weather conditions. These are also engineered with an integrated light sensor that works automatically at evening time and recharges when daylight comes. The waterproof rating of this product is IP44.
On the downside, if you prefer outdoor solar lanterns that are built for larger areas, this option might not be the one for that purpose. They are a bit smaller than expected. Fortunately, even if they are slightly small, they can deliver their function quite well.
Pros
Crafted with a super sturdy handle
A breeze to set up anywhere desired
Waterproof ABS plastic
Built with an integrated light sensor
Designed with a timeless vintage style and a captivating light pattern
Cons
A bit smaller than expected
For decoration only
To conclude, these outdoor solar lanterns are the real deal. They are unmatched when it comes to decorating your outdoor areas with timeless and elegant themes.
6. Home Zone Security ELJ6792V Solar Lights
These outdoor solar wall lights are the solution if you want to save more on energy costs and beautifully decorate your outdoors. Their overall construction is heavy-duty enough to last long and withstand rugged use. They feature rechargeable and built-to-last LED lights and crystalline solar panels.
Plus, regardless of where you wish to install these outdoor wall lights, they will look great and function as expected. The installation is quick, for there are no wirings involved. The installation screws and brackets are already included in the package. This version is crafted with a dusk-to-dawn sensor that guarantees automatic operation and automatic charging functions.
The distinctive hanging design of these solar outdoor wall lanterns enables each lantern to work as portable lights too. Decorating and upgrading your home is no longer a painful and costly project to manage. This is because these solar lanterns are economical to invest in, and are so easy to set up.
These solar-powered outdoor lamps are approved for rugged outdoor use. And, since they are weather-resistant, they can repel any outdoor elements well. Once purchased, you are protected by a one-year product warranty, so you can buy with more confidence.
Notwithstanding, if you are looking for solar wall lanterns that could illuminate brightly, this option might not be suitable for that requirement. The light these solar outdoor lanterns give off is slightly dim as they are specifically for decoration purposes.
Pros
Economical, energy-efficient, and built to last a long time
Portable, easy to mount anywhere needed or preferred
Supported by a one-year product warranty
Comes with durable rechargeable LED lights and crystalline solar panels
Designed with an automatic sensor function
Cons
Not the brightest solar lanterns
Surely, these outdoor solar lamps are smart buys. They feature a heavy-duty construction that makes them long-lasting, and they function efficiently without any hassle.
7. Kaixoxin 1 pack Solar Lantern Lights
There are limitless options to select from when buying solar powered decorative lanterns. If you're fishing for items that are multifunctional, unique, and comes with sophisticated designs, this product is a foolproof investment. You can use this outdoor solar lamp for indoor and outdoor applications.
Its durable build and weather resistance features are clear indications that this solar lighting unit is appropriate for any outdoor environment. It can withstand corrosion and comes with an IPX4 waterproof grade. This version is not time-consuming to set up in any place you prefer or need to decorate.
Best of all, this outdoor solar light can efficiently cast a wide decorative pattern when lit. Hence, it can make your special event more special and welcoming for everyone to enjoy. And, even on ordinary days, the spot where this solar lantern is installed can bring a unique atmosphere that would calm you down.
This item is sold at a budget-friendly price. It even comes with a one-year limited product warranty and a 30-day money-back guarantee offer, so it is a safe investment. This alternative can certainly provide you with efficient, wonderful, and lovely illumination at dusk.
Please take note that if your purpose is to buy solar lighting devices that could brightly illuminate the place where you install them, this model is not the appropriate alternative. This is because this outdoor solar lamp is ideal for decorating purposes only and not for security and proper outdoor lighting.
Pros
Ideal to utilize both for indoor and outdoor applications
Durable construction, corrosion and weather-resistant
Easy to set up and affordable
Features a multifunctional, unique, and sophisticated design
A one-year limited product warranty and a 30-day money-back guarantee offer
Efficiently casts a wide decorative pattern when lit
Cons
Too dim for security lighting
Lastly, this outdoor solar lantern is the best bang for the money. Its overall construction, design, and function are second to none.
8. SHYMERY Outdoor Garden Hanging Lanterns
These solar garden lights are energy-saving and ideal for protecting the environment because their primary energy source is sunlight. What makes them a practical choice is that you can use them for several different purposes. The installation process is a DIY project, so installing them won't consume much of your time.
Besides, these outdoor solar lamps are designed with waterproof features. Even if they remain outdoors for an extended time, they will work just fine. Be sure to position them in direct sunlight, so you could be guaranteed reliable lighting at night. When lit up at dusk, they can transform your outdoor area into a cozier ambiance.
These decorative solar outdoor lanterns are crafted with upgraded integrated solar panels. At sunrise, they absorb sunlight automatically. If fully charged, their working time is extended. These solar lanterns automatically illuminate when evening comes, and shut off automatically when daylight comes.
More importantly, this item is equipped with top-quality solar-operated plug-in battery capacity. And, in case you encounter some issues with your purchase, don't worry because this product is backed up by an 18-month product warranty. This means that your investment is safe.
Meanwhile, to ensure that these outdoor solar lamps work excellently, make sure that they are installed not too close to other superbly bright lighting devices
and street lights
. Otherwise, the illumination they emit can be affected by the brightness of other close-by lighting units.
Pros
Solar-operated, energy-saving, and eco-friendly
Recommended for a wide array of applications
Waterproof and equipped with a top-quality solar-operated plug-in battery capacity
Built with upgraded solar panels and a painless setup method
Backed up by an 18-month product warranty
Cons
Must be kept away from superbly bright lighting devices and street lights
Unquestionably, these outdoor solar lamps are one of the best deals. They don't fail to deliver an outstanding performance where necessary.
9. Go2garden Large Lantern Hanging Lights
If you want to enjoy a magical walk path during nighttime, these large outdoor solar lanterns are great items to have. These models are famous for providing an elegant and warm glow that does not attract bugs. The amount of illumination they emit is just right to create a subtle hint in a large outdoor spot.
Also, these solar lanterns work automatically at night. They are wireless, so the installation process is a do-it-yourself task. Just ensure that the button is turned on before charging it in the sun. This solar lighting device must be situated in an area with direct sunlight for it to charge completely.
More importantly, aside from lighting up your patio, yard, or garden, you can also use this outdoor solar lantern when doing some outdoor activities like camping. It is handy and lightweight, so it is not inconvenient to carry around even when you're on the go. The antique finish of these waterproof and corrosion-resistant solar lights makes them ideal for creating a more sophisticated ambiance where installed.
All the same, these energy-saving outdoor solar lamps do not create a pattern on the ground as shown in the picture, probably because there is merely one small LED bulb for each light.
Pros
Emit a subtle and warm glow and do not lure bugs
Built with an antique finish for a more sophisticated and pleasant atmosphere
Work automatically at night
Ideal to install in outdoor areas since they are wireless
Portable, energy-saving, waterproof, wireless, and corrosion-resistant
Can serve as practical lighting for some outdoor activities
Cons
Do not create a pattern on the ground as shown in the picture
Chiefly, these solar garden lights are first-rate when it comes to decorating an ordinary-looking outdoor spot, and can be used for some outdoor activities as well.
10. Solpex 30 LEDs Hanging Solar Lights Outdoors
These solar powered outdoor lanterns are highly recommended for various decorating purposes. They are ideal as indoor and outdoor decorations. Their weatherproof and waterproof design makes them safe and durable enough to be used even during rainy nights and snowy periods. They are wireless and feature auto switch on and off functions.
Moreover, even if it is your first time using solar lighting devices, you won't have a hard time installing these options. These outdoor solar lights are painless to set up anywhere you need and desire. The nice-to-behold illumination they give off every night is surely breathtaking.
As for the price, these outdoor solar-operated lamps are surprisingly affordable. The package contains six 30 LEDs mason jar lights. As you can see, these are more than enough to decorate an outdoor spot. If you are on a budget, these options won't hurt your pocket. This item is also supported by a three-month warranty program.
On the other hand, please do not expect these decorative outdoor solar lanterns to light up brightly at dusk. Unfortunately, they are not designed for that purpose. As previously mentioned, these solar lights are more intended for decorating applications only. Rather than expecting superbly bright lighting, expect a more subtle hint when you use them at night.
Pros
Features wireless and auto switch on and off function
Highly recommended for various decorating applications
A budget-friendly product
Not burdensome to set up and utilize
Supported by a three-month warranty
A weatherproof, waterproof, and durable build
All things considered, these decorative outdoor solar-powered lanterns are unrivaled in terms of beautifying your outdoor areas at night with warm and subtle illumination.
11. ROSHWEY 30 LED Outdoor Solar Lanterns
Sometimes, it is a bit tricky to find the brightest outdoor solar lights because most options are not super bright. This item shines brilliantly and emits warm illumination, making it perfect for decorating an outdoor spot for special occasions as Christmas adornment. If you plan to create a more romantic, warmer, and cozier ambiance, this product is a surefire investment.
These LED outdoor solar lanterns are energy-efficient, so they won't increase your electricity consumption. They are built with an auto function design, so it is unnecessary to monitor them. This model is built using stainless steel and ABS plastic material, so you won't question its durability.
This outdoor solar lamp is waterproof, and it is not prone to chipping; it can even resist heat and other outdoor elements. Additionally, this solar lantern is safe and perfect for a broad range of uses. It can add more color and sophistication wherever installed.
If you want, you can hold this solar-powered lantern in your hand. It could also subtly light up the road and add a more festive atmosphere.
While this solar lantern is designed to be waterproof, please avoid dipping it directly in water. This might affect the way this solar lighting device lights up and charges.
Pros
Features an all-weather ready, no-chipping design
Energy-efficient and automatic
Allows multiple applications and ideal for decorating purposes
Creates a more romantic, warmer, and cozier ambiance
Constructed using top-quality stainless steel and ABS plastic materials
Can be held by hand
Cons
Not advisable to dip directly in water
To sum up, this outdoor solar lantern is a nice addition to any outdoor spot. The subtle and warm illumination it gives off can bring a significant difference in the way the surroundings appear at night.
12. Smart Solar 3900KR1 Solar Lantern
If you plan to purchase premium quality solar patio lanterns, this product won't disappoint you. This outdoor solar lamp sits on any flat surface, or if preferred, you can hang it using the built-in loop. This item is engineered with an auto function, making it easy and convenient to operate.
The pillar candle situated within the lamp comes with a single amber LED to produce a warm glowing effect. This is operated by a built-in monocrystalline solar panel as well. It is equipped with replaceable and rechargeable Ni-MH 3x AAA 600mAh batteries. The capacity of the battery is heavy-duty enough to provide roughly 8 hours of continuous illumination.
This outdoor solar lantern is lit up by two superbly-performing warm white LEDs on the top. This elegantly designed solar lantern is built using all-weather poly plastic material that comes with real seeded glass. Its sturdy construction makes it one of the top choices when it comes to suitability for rugged outdoor use.
Anyhow, if you are short on budget, you might find this option quite expensive compared to other similar products out there. But, if you're going to observe this solar light closely, you'll understand why it is priced more expensively than others.
Pros
Can be hung using the built-in loop or sat on any flat surface
One amber LED emits a warm glow, a built-in monocrystalline solar panel
Designed with an automatic function
Replaceable and rechargeable Ni-MH 3x AAA 600mAh battery
Lit up by two superbly-performing warm white LEDs on the top
All-weather poly plastic and seeded glass
Cons
Not for buyers who are short on budget
To wrap up, this outdoor solar lantern is the best when it comes to creating an ambient, subtle, and warm glow. It's expensive, but an investment worth considering.
What to Look for When Buying Outdoor Solar Lanterns
Here are a few vital features to consider when getting the top-rated outdoor solar lanterns:
Because weather can affect charging, a good option is a solar lantern with an extended battery capacity. Take note of the amount of time required to charge the solar lighting device and the amount of time it can operate every day.
In general, solar lanterns usually last between eight and ten hours, but you can find products that claim to last a day.
Your solar lantern may not charge quickly enough for your needs, especially if there's little sunlight where you live. In that case, you can buy solar lights with USB ports for electrical charging.
Solar lanterns are often made of metals, ABS plastic, or glass. The metal chosen is often aluminum, which is usually lightweight and rust-resistant. Manufacturers may also use iron and stainless steel.
Like aluminum, ABS plastic also resists corrosion. It can handle low and high temperatures and is easy to clean, making it convenient to use.
Another option worth checking out is glass lanterns, which are durable and nice to look at. However, if you plan to bring your solar lanterns on camping trips, I would not recommend these.
Design and Overall Appearance
The primary objective of outdoor solar lanterns is to create a subtle, impressive, and cozy atmosphere for various outdoor spots. Hence, it is critical to go for options that would look sophisticated, elegant, and unique wherever installed.
Nowadays, there are countless aesthetics options to select from that could perfectly match your taste and needs.
Color and Lumens of the Outdoor Solar Lantern
The majority of solar-powered lanterns will have between 5 up to 40 lumens. Note that the former isn't meant for lighting applications, but more for decorating purposes. This is why its light intensity isn't high.
How Many Outdoor Solar Lanterns are Needed to Light an Average Size Yard
If you prefer to have a superbly bright yard, it is strongly suggested to get solar lanterns with high lumens, at least 20 lumens. Then, set up a minimum of 5 solar-powered lanterns per 10 square-feet. This is already sufficient for decorative purposes.
How Long Do Outdoor Solar Lanterns Last
The longevity of solar lanterns largely relies on either the type of solar panels or batteries used. Solar-powered batteries commonly last approximately two to four years. LED lights utilized in solar are rated to last for about ten years.
Will My Outdoor Solar Lanterns Charge If There is No Sunlight
If there's no sunlight at all, then no. But if you want to place your solar panels in shaded areas, it's possible to charge them. Consider using an amorphous solar panel. This is renowned for being an excellent alternative to polycrystalline or monocrystalline solar panels.
While an amorphous solar panel is not as effective as polycrystalline or monocrystalline solar panels, it is capable of absorbing sunlight even if the weather is slightly gloomy outside.
Conclusion
In summary, choosing the right spot to set up your solar-powered lamp is crucial. Without fail, this is certainly helpful in creating the most stellar effect wherever you wish to install it.
But, of course, when picking the best outdoor solar lanterns, you've got to be aware of whether you'll use them for decorating or lighting up your outdoor spots.
Regardless of your purpose of buying, hopefully, the product reviews and shopping tips we have provided in this article can help you find the best match for your requirements and preferences.
It is wise to do research first before spending your hard-earned money on solar lighting solutions.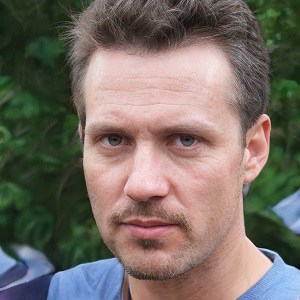 I am Kathleen Miller, staff writer and reviewer of the Avasolar team. Working with the team has been a pleasure for me so far, I hope to bring readers useful information by creating detailed and easy-to-follow contents.