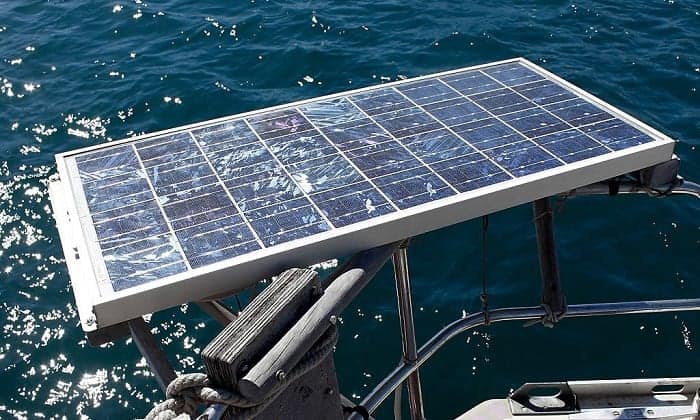 There's nothing like kicking back and relaxing in a boat all to yourself. But while sailing the waves and soaking in the sun is an awesome getaway, you'll still need to think about how to generate electricity while on board, especially for running your boat battery.
Get free power through solar energy with the best marine solar panels. Not only are they easy to set up and use, but you also save money by relying on renewable energy instead of paying expensive electricity bills like usual.
But how do you look for the most suitable solar panels for boats if there are dozens of solar panel types out there? Well, you've come to the right marine solar panels review. There are three key things you need to keep your eyes out for when choosing marine solar panel kits for your beloved boat.
Waterproof: Since you'll be traveling across bodies of water, you have to anticipate that your solar panels could get wet. Make sure your solar panels are resilient against water damage through waterproof designs.
Flexible: Boats have curved surfaces, unlike roofs that are flat and can do with rigid panels. Marine solar panels can be straight and conventional, but it would be a big help if they were flexible so that you can mount them on tricky surfaces on your boat. Flexible solar panels hug irregular surfaces, ensuring they don't topple over as your boat moves.
Thin: Boats are small spaces as it is. You don't need bulky, rigid panels occupying more space than necessary. Go for ones that are about an inch or so thick. Thinner solar panels are sleek and don't take up too much space, so they're a must for marine solar solutions.
There are many other factors you need to consider when looking through boat solar panels for sale. Check out the rest of the important factors in our buying guide below.
Need more help picking out a good boat solar panel kit? Look through this rundown of solar panels for boats reviews to see some of the most popular options.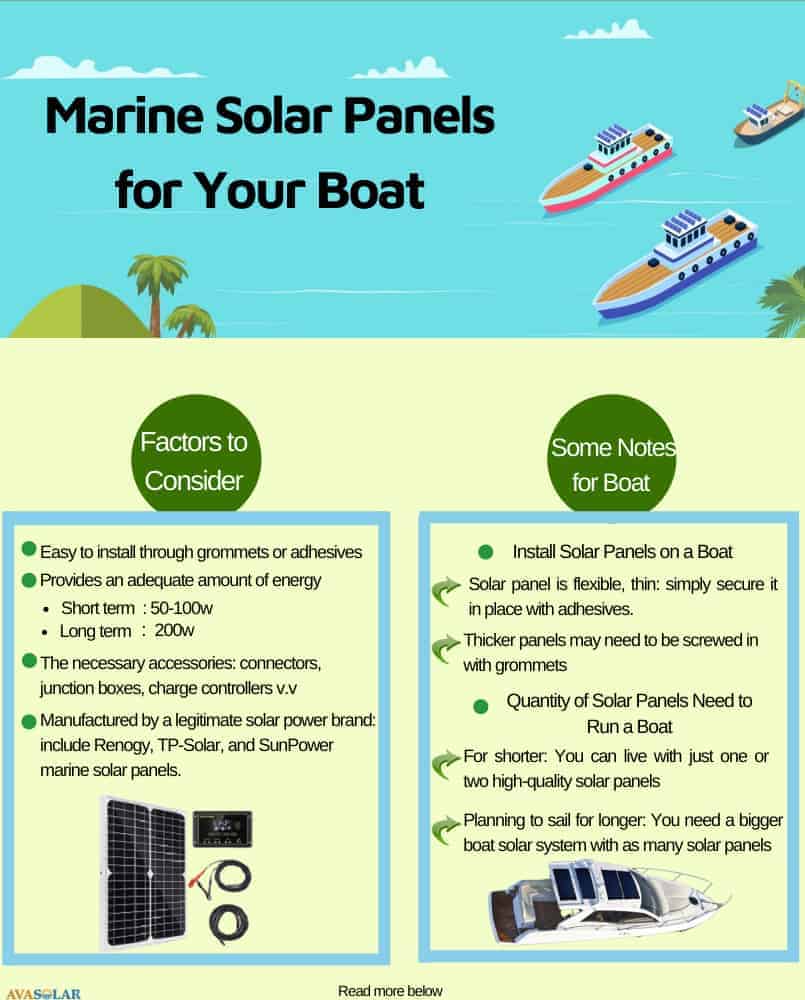 Best Overall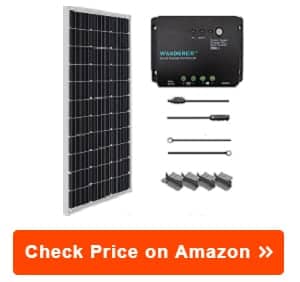 Renogy Monocrystalline Solar Panel
✅ The solar panel has a durable frame
✅ Power production is quite
✅ Stops overcharging and short circuits
Premium Choice
Topsolar Solar Panel
✅ Weighs only 4.8 lbs
✅ Resistant to harsh weather
✅ Has pre-drilled holes
Editor's Pick
ECO-WORTHY Solar Panel
✅ 1-year warranty
✅ Connector cables are quite long at 9.84 feet
✅ Charge controller has power indicators
Top-rated Marine Solar Panel Reviews
1. Renogy 100W 12V Monocrystalline Solar Panel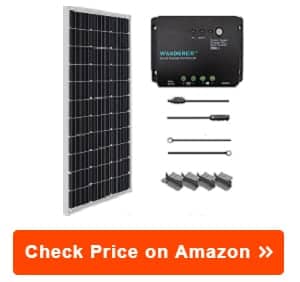 This solar panel kit by Renogy is awesome because it's an all-in-one solar system. It includes all the necessary cables and accessories to get the show on the road.
The convenient kit includes a 100-watt solar panel, the Wanderer 30A PWM controller, and connectors and adapters. It even has Z brackets for mounting your solar panel. I like that I didn't have to purchase all these separately.
I like that the Wanderer charge controller is negative ground, which means it prevents any overcharging and short-circuiting issues with our batteries.
Now, for the solar panel itself, I appreciated how the frame was made of sturdy, high-quality, corrosion-resistant aluminum, making the panel extra durable.
Its monocrystalline solar cells can convert 21% of the solar power to free energy you can use on your boat. That's pretty high compared to other solar panels.
Plus, the production power of this solar panel kit is quiet, so it won't bother you when you need silence.
The only thing I didn't like about this solar panel kit has to do with the charge controller. It didn't have an LCD screen to tell me how far along my battery was charging. It would have been more helpful if it did, so I could keep tabs on my charge.
Pros
Includes the necessary connectors, controller, and mounting brackets
The negative ground controller stops overcharging and short circuits
The solar panel has a durable, corrosion-resistant aluminum frame
Monocrystalline cells convert 21% of solar power into free energy for you
Power production is quiet, so it will never disturb users
Cons
The charge controller has no LCD screen
This Renogy solar panel kit is an excellent solar system for boating because it comes complete with the connectors and controller it needs to function properly.
2. Topsolar 20-Watt Monocrystalline Solar Panel
This Topsolar solar panel kit is another one that offers a lot of accessories. It comes with a charge controller, some alligator clips to hold your cables and connectors properly, and even an O-ring terminal.
The solar panel itself is made of thick, high-class tempered glass to protect the cells inside. It's framed with aluminum for extra sturdiness as well. I love that it's made of such premium materials, so I never have to worry about it being too flimsy or break apart easily.
All in all, the solar panel weighs a mere 4.8 lbs, making it easy to carry around. It's lightweight enough for effortless lifting and transporting when I'm about to install it or move it to another area.
This marine solar panel is resistant to harsh weather, thanks to its maximum static load of 2,400 Pa. Because of this, you can use it worry-free, even in inclement climates.
There are pre-drilled holes at the back of the panel to make it easier to set up with screws and grommets.
However, I didn't like how this seemingly complete set didn't have any mounting brackets, which would have made the solar panel kit a one-stop-shop for setting up solar panels on the boat. Instead, you'll have to find brackets and screws on your own.
Pros
Comes with a charge controller, alligator clips, and O-ring terminal
The panel is made of tempered glass and an aluminum framing
Weighs only 4.8 lbs, so it's easy to lift and carry around
Resistant to harsh weather like wind or snow
Has pre-drilled holes at the back to make set-up easier
Cons
Doesn't include mounting brackets
Durability and ease of use are among my top priorities when shopping for marine panels, and this one by Topsolar doesn't disappoint.
3. ECO-WORTHY 25W Off-Grid Solar Panel
A long lifespan is one of the top factors I consider when looking for a marine solar panel. This one by ECO-WORTHY ticks off that box because it is built to last.
It's made with highly efficient cells to give me adequate power output. The framing is designed with aluminum to make it sturdy, increasing its longevity.
This off-grid solar panel kit comes with a convenient charge controller. Its interface may not have a modern display screen, but it does have light indicators that update in real-time so you can tell how far your charge is coming along. It also has a USB port to let you charge your phones and other small devices.
The solar panel set comes with SAE connector cables to help users set up. They're quite long and stretch to 9.84 feet, giving us maximum flexibility for moving our panel and charge controller around.
ECO-WORTHY offers a one-year warranty for this kit. You'll also have access to the brand's 24/7 hotline in case you have questions or concerns with your solar panel.
While this solar panel is super convenient for boat trips and excursions, the reality is that one 25-watt panel might not be enough to power up bigger appliances and lights, especially if you're traveling as a group. One easy fix for this, however, is to set up multiple solar panels.
Pros
Made with high-efficiency solar cells and aluminum for longevity
Charge controller has power indicators that update in real-time
There's a USB port on the charge controller for small devices
The SAE connector cables are quite long at 9.84 feet
A one-year warranty with 24/7 technical support from ECO-WORTHY
Cons
One 25W solar panel might not be enough to power multiple appliances
When it comes to the most convenient accessories and secondary features,
this off-grid solar panel
by ECO-WORTHY is as good as they come.
4. Renogy Extremely Flexible Solar Panel
Setting up solar panels on curved surfaces is tough, but with these Renogy flexible solar panels for boats, it's never a challenge.
These flexible solar panels bend to a 248-degree arc, which is a lot more flexible than other bendable panels. This is excellent for boat and yacht decks that are curved.
The panels are made of monocrystalline cells that emit 100 watts, ensuring a strong and reliable power supply for our consumption.
Transporting and setting up these flexible solar panels is a walk in the park, thanks to its lightweight and super thin design. They're never bulky and retain the smooth silhouette of your boat.
They're thin and light because they're designed with advanced polymer, which is 70% lighter than other materials traditionally used to build solar panels.
These flexible panels are made to withstand bad weather. They resist impact and don't get damaged in heavy loads of rain. You'll find that they even tolerate up to 5,400Pa of snow.
An inconsistency I don't find beneficial is that the cables that come with these flexible solar panels aren't the same in length. One cable can be three times the length of another.
Pros
Bends to a 248-degree arc to fit irregular and curved surfaces and decks
Monocrystalline panels emit a consistent 100 watts
Super lightweight and ultra-thin, making it a breeze to transport
Made with advanced polymer that is 70% lighter than traditional materials
Resists impact and damage from heavy loads of rain and snow
Cons
The cables in the solar panel kit aren't the same length
These marine flexible solar panels by Renogy are a dream for boat lovers. They fit snugly into any curved surface, which is common in boats. Plus, their ultra-light and thin design is ideal for a smooth, hassle-free sail.
5. SUNER POWER 30W Polycrystalline Solar Panel
These solar panels by SUNER POWER are built with high-efficiency polycrystalline cells, giving me great performance even with the small energy output. They emit up to 30 watts of power to use as free energy on the boat.
This kit charges our batteries safely. It goes through a strict three-step intelligent algorithm to make sure our battery doesn't go through overheating and short-circuiting, so I know I'm extra safe.
You'll also find bright LED lights on the charge controller that indicate how the charge is coming for easy monitoring. It's a convenient way to make sure our charging is right on track even when we're doing other errands on the boat.
Tough weather conditions are nothing when it comes to this marine solar panel. It's built with IP65 waterproof technology, so I don't have to worry about the climate damaging my solar panel kit. It can even resist erosion, rusting, and damage from the sun's UV rays.
If there's one thing that could be improved, it's the wires that come with the solar panel. I wish they were a bit longer.
Pros
Polycrystalline cells emit 30 watts of power to use as free energy
Charges our battery safely with an intelligent three-step algorithm
Has bright LED light indicators so you can see how your charging is going
Withstands tough weather because of IP65 waterproof technology
Resists erosion, rusting, and UV damage in finicky weather
Cons
The wires could be longer
Thirty watts might not be enough for some people. But for those who have a low power consumption anyway, this SUNER POWER panel is an excellent solar panel for boat battery and other charging needs.
6. Newpowa Monocrystalline 100-Watt Solar Panel
This Newpowa monocrystalline panel is smaller in size compared to most other panels. It comes up to about 45 x 20 inches, making it more manageable than bigger ones.
It's made of monocrystalline cells that are highly efficient in turning power from the sun into free energy for our consumption and charging.
The panel's aluminum framing prevents any corrosion, which extends the lifespan of the solar panel kit. That means I won't have to constantly replace it.
The marine solar panel and some of its accessories are made to be waterproof. That way, they'll survive even the most horrible weather conditions as you sail.
Venturing to areas and cities without much bright sunlight is no problem for this marine solar panel kit. The junction box is equipped with bypass diodes that ensure users don't get any power outages even in cloudy, shaded areas.
One thing I've noticed about these monocrystalline solar panels is that I don't get the rated 100-watt output every single day. Instead, it's quite inconsistent. On some days, I find that I get less than 100 watts of charging power, even if my solar panel is under direct sunlight.
Pros
Smaller in size and more manageable than other solar panels
The monocrystalline panels are efficient in converting power into energy
Aluminum framing prevents corrosion, extending the solar panel's life
These monocrystalline solar panels can survive horrible weather
Junction box has diodes to let your power work even in low-light areas
Cons
You don't get the rated 100-watt output every single day
These Newpowa marine grade solar panels are excellent for efficiently turning power into electricity on our boat. Users get durability and efficacy all in one, so these smaller panels are definitely worth the buy.
7. RICH SOLAR Polycrystalline Solar Panel
This RICH SOLAR panel is one of my favorites for travelling. I love it because it allows for more sunlight absorption. The panels' anti-reflective, high-transmission film also helps make energy conversion more efficient.
Because of these factors, this panel works extremely well even in areas that are low in sunlight. So when I know I'm going to be sailing to cloudy shores, I make sure to bring this panel along.
This set uses quick-connect cables that don't take more than a few seconds to fix up. It makes installation fast and easy even for beginners.
There are also about 14 holes on the panel so that you can simply screw it onto your mount. That means you can set it up without the complication of drilling the holes yourself. The design is also compatible with a variety of mounts, further adding to user's convenience.
I just wish this marine solar panel included mounting brackets to make installation even more simple and hassle-free. Instead, you'll have to purchase your own brackets for setting the panel up.
Pros
Its anti-reflective panels are high-transmission for even more efficiency
High conversion efficiency even in areas without bright sunlight
Uses quick-connect cables, so setting up is fast and easy even for beginners
There are 14 pre-drilled holes on the panel for quick installation
Works with many types of mounts
Cons
Doesn't include mounting brackets, so you have to purchase some
With its quick-connect cables and thoughtful, high-transmission design, this RICH SOLAR panel might be one of the top-rated marine solar panel options out there. It's super easy to set up, too, which is a bonus for solar panel newbies.
8. Topsolar 100-Watt 12-Volt Solar Panel Kit
This solar panel by Topsolar emits 100 watts of power to charge any 12-volt battery while you're on the go. It's perfect for cars, RVs, and a huge range of off-grid uses, but it works excellently for boats too.
The panel is made with monocrystalline cells, protected by a coating of high-quality tempered glass. This protective layer also prevents wear-and-tear in the long term. Meanwhile, anodized aluminum frames the panel, protecting the edges from corrosion.
You get a V-shaped bracket along with your panel in this kit. This bracket allows users to tilt the panel in whatever direction they desire. It's very helpful when we're trying to position the panel to face the sunlight directly.
The charge controller this solar panel comes with is made with IP67-rated waterproof technology. This means it prevents any water damage from ruining our solar system.
If I had to nitpick something I don't like about it, it's that it was a bit heavier than the usual panel. It comes in at 15.84 lbs, which can be tiresome to lug around and carry to the boat deck during the installation process.
Pros
Charges any standard 12-volt battery while you're on the go
A wide range of uses
The mono cells are protected with wear-resistant tempered glass
The framing is made of anodized aluminum to protect the panel's edges
Comes with a V-shaped bracket to tilt the panel in the direction of the sun
The charge controller is made with IP67 technology to avoid water damage
Cons
The panel is quite heavy at almost 16 lbs, making it heavy to carry
This Topsolar solar panel is designed to protect itself from water damage and wear, so I know I'll have it with me for the long run.
9. Newpowa Monocrystalline 30-Watt Solar Panel
This Newpowa panel emits 30 watts of power. That may sound small to some people, but it's perfect for charging small devices and running just a few appliances on a short boat ride.
It's made with high-efficiency monocrystalline cells. These cells allow for a more compact panel design that is smaller and more manageable than the brand's polycrystalline panels.
Multiple layers of the panel protect its cells. This includes an ethylene-vinyl-acetate encapsulation, iron tempered glass, and even a TPT back sheet that can help with heat dissipation.
There are wires already pre-attached to the panel, one at 3 ft and another at 1 ft. Both of these have Anderson connectors as well, so users don't have to fuss about setting them up themselves.
The panel also has holes pre-drilled in them, so it's ready to be screwed into your mount or bracket of choice.
The only thing I would change about this solar panel is making it weatherproof. It's not designed with any waterproof technology, so I suggest using it only on sunny days to prevent any damage.
Pros
Provides 30 watts of power, perfect for small devices and short trips
Made with high-efficiency mono cells that allow for a compact design
Cells are protected by multiple layers, like tempered glass and TPT backing
The wires and connectors are pre-attached, which is great for beginners
Comes with mounting holes already drilled on the back of the panel
Cons
The solar panel isn't weatherproof, so you can only use it on sunny days
This Newpowa panel may only emit a modest 30 watts of power, but its high-efficiency cells and protective layers make it one of the most suitable solar panels out there for my boat excursions.
What to Look for When Looking Through Marine Solar Panel Options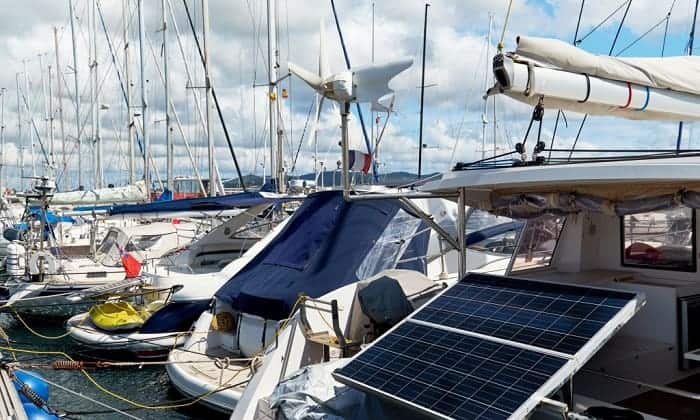 Easy to install through grommets or adhesives
Setting up traditional solar panels on regular surfaces like walls and roofs can be difficult as it is. It might be trickier on a moving, swaying boat.
Make sure your marine solar panels are a breeze to set up. Look for ones that are okay to simply stick onto surfaces with adhesives, or have pre-drilled holes so you can screw them onto a mount quickly.
Provides an adequate amount of energy to power up your batteries and appliances
Select marine solar panels that will give you the right amount of solar power to meet your energy requirements.
For example, if you only need solar power on the boat to charge devices in the short term, 50W or 100W might be enough for your trip.
However, if you intend to use your solar panel to charge marine battery, you'll definitely need one that converts a higher amount of solar energy—perhaps some 200 watt marine solar panels.
Comes with all the necessary accessories, like connectors and junction boxes
Don't put yourself through the hassle of buying each part of your marine solar system separately. Look for solar panels that provide all the necessary cables, boxes, and accessories to get you set up immediately. Ensure that your panel comes with connectors, junction boxes, charge controllers, and more.
Manufactured by a legitimate and respectable solar power brand
You must always purchase solar panels from legitimate brands that will give you top-notch and high-quality panels. There are many bogus panels in the market today, so double-check to make sure the solar panels you're buying come from good, renowned manufacturers
If you're not sure which solar panels to buy, it's wise to go for classic, tried-and-tested brands. These include Renogy, TP-Solar, and SunPower marine solar panels.
Plus, buying from bigger brands will increase your chances of getting a product warranty that lasts years.
How Many Solar Panels Do I Need to Run a Boat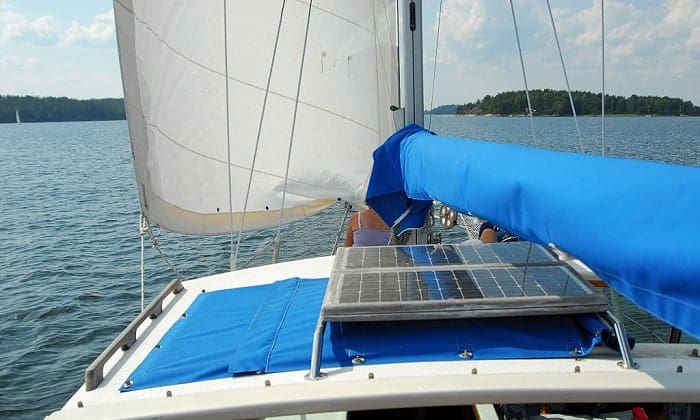 It depends on how much power you need to keep your appliances and gadgets up and running.
For shorter, one-day excursions, you can live with just one or two high-quality solar panels to provide some electricity to charge your phones and maybe a mini-fridge for the day.
But if you're planning to sail for longer and live on the boat 24/7, you'll probably need a bigger boat solar system with as many solar panels as you need. This is because you'll likely have to run bigger appliances and lights, which demands more solar energy.
How Many Amps Does a Marine Refrigerator Use
If you have a 12V marine refrigerator, it will likely only use up anywhere between 2-6 amps per hour. One solar panel emitting a usual 100 watts is more than enough power for such a fridge.
How Do You Install Solar Panels on a Boat
There are many different ways to set up solar panels on boats. If your solar panel is flexible, thin, and ultra-light, you can simply secure it in place with adhesives.
Thicker panels may need to be screwed in with grommets. If this is the route you're going for, make sure you have sturdy mounting hardware to place your solar panels in.
Conclusion
Traveling through water may be relaxing and stylish, but the excursion is never complete without the best marine solar panels to provide solar energy and battery power during your trip. Hopefully, this round-up of traditional and flexible marine solar panels reviews help you out on your hunt to find the best panels.
Just make sure your panels are efficient in providing high power, waterproof to avoid damage from the sea, and thin and lightweight for easy mounting and storing. If you tick all those boxes, your sailboat solar panels should be all good.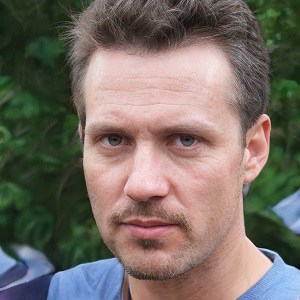 I am Kathleen Miller, staff writer and reviewer of the Avasolar team. Working with the team has been a pleasure for me so far, I hope to bring readers useful information by creating detailed and easy-to-follow contents.