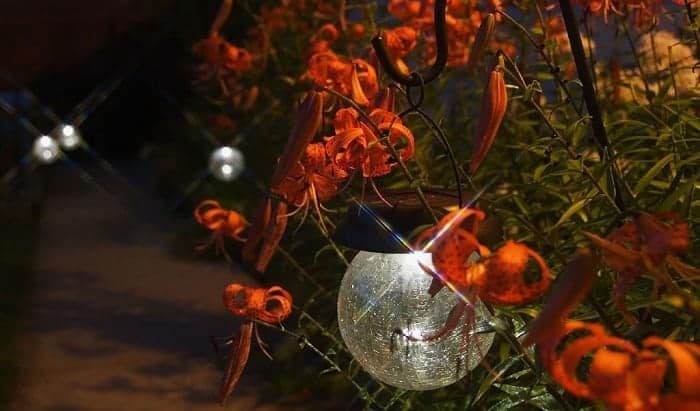 A premium quality hanging solar light comes with essential features that will ensure the usability, durability, and qualifications of the solar lighting device.
Fundamentally, solar-powered hanging lights are primarily utilized for illuminating households, gardens, patios, special events, and other indoor or outdoor places at dusk.
This is why it is imperative to check out the valuable features and quality before making the final purchasing decision.
In this article, we have compiled some of the best hanging solar lights that will help you find the most suitable device for your requirements.
Hopefully, you'll find the right match for your needs!
Best Overall
Maggift Mag330
✅ On and off switch on the lantern cover
✅ 6 lumens LED light
✅ Easy-to-replace rechargeable battery
Premium Choice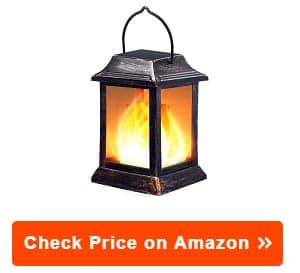 TomCare Solar Lantern
✅ 1-year warranty
✅ Premium quality metal material
✅ IP65 waterproof grade
Editor's Pick
Pearlstar Powered Lanterns
✅ High-impact ABS plastic material
✅ IP44 waterproof grade
✅ 180-day replacement or refund program
Top 14 Hanging Solar Light Reviews
1. Maggift Mag330 2 Pack Hanging Solar Lights
Are you fishing for vintage style hanging solar globe lights outdoor to transform your place into a cozy ambiance everyone will love? If yes, this option is a great alternative.
You can hang it wherever desired and it can be utilized as awesome Christmas décor. And, it comes with an on and off switch on the lantern cover.
This version can guarantee additional brightness given it is furnished with 6 lumens LED light. It is equipped with an easy-to-replace rechargeable AAA 400mAh NI-MH battery which is a huge plus.
Manufactured with sturdy plastic and white finish, this product will work superbly as an adornment light that could offer a soft, subtle, and splendid glow with serenity feels.
Sure thing, if you wish to transform a dull-looking landscape into a nice-to-behold one, this solar lighting lantern will be a perfect companion to achieve that purpose. It's small yet surprisingly powerful enough to deliver its promise.
This beautifully engineered solar lantern is smooth sailing to hang on pergolas, trees, and porches. You can use a hanging ring to do so or allow this solar light to rest on a shelf or tabletop. It can operate for roughly 8 hours or beyond at night time if fully charged.
On the drawback, please be guided that this rustic solar-powered light won't charge if the power button is set to off. So, make sure to check and turn on the power button before charging to avoid any interruption. Following the user manual can ensure the product's maximum performance.
Pros
Equipped with 6 lumens LED light to ensure additional brightness
Can be hanged wherever desired and used as Christmas adornment
Furnished with easy-to-replace rechargeable AAA 400mAh NI-MH battery
Guarantees soft, subtle, and serene glow feels
Designed with an on and off switch on the lantern cover
Cons
Won't charge if the power button is off
Overall, rustic hanging solar lanterns like this item are one-of-a-kind. The vintage design looks sensational and the rechargeable battery is easy to replace when it gets weathered.
2. TomCare Metal Flickering Flame Solar Lantern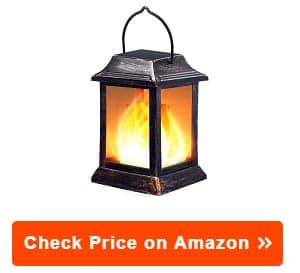 Do you need reliable and functional hanging solar pathway lights? If yes, this item will serve as a stellar outdoor adornment to your pathway, garden, or patio. You will surely be impressed by its distinctive flickering and dancing flame feature.
This is great to use outdoors since it is crafted using high-quality metal material with a rust proof finish.
This product would serve as an excellent alternative for a candle. This solar hanging light's warm yellow glow can guarantee a more inviting atmosphere wherever you place it. The real flame effect looks truly stunning and can make your outdoor areas look more welcoming, especially when you have guests around.
Many buyers consider this product as a cost-effective solar lighting device that significantly helps in reducing electric expenditures. You only need to place it under direct sunlight for it to charge sufficiently. Since it features an IP65 waterproof rating, you can be at peace whether it's snowing or raining outside.
It is also backed up by a 12-month warranty and a 45-day money-back offer.
What's more, this solar-powered hanging light comes with a hook for easy installation. Its vintage design is quite attractive and guarantees a classier look in your place. This is a great option to go for since it is sturdy enough to be utilized outdoors all-year-round.
Nonetheless, if you are short on budget, and prefer an affordable solar hanging light option, this product might not be the ideal pick.
Pros
Designed with unique flickering and dancing flame feature
Built using premium quality metal material with a rust-proof finish
Equipped with a sturdy hook and comes with vintage design for a more classy look
IP65 waterproof grade with a 1-year warranty and 45-day money-back offer
A very cost-effective approach to cut down electricity expenses
Cons
Slightly more expensive than other similar options
Lastly, if you're buying the right hanging solar lights for gardens, this product is worth considering. Built with amazing, attractive, and functional features and functions, what else could you ask for?
3. Pearlstar Powered Landscape Lanterns
For buyers looking for unique and vintage-style hanging solar garden lights, you don't need to search elsewhere because this item might be the one you've long been searching for.
The moment you positioned the solar lighting device on the ground, it could cast an attractive pattern. This in turn makes your surrounding a wonderful view to behold at night.
The warm light and color of solar lantern coating could bring a nice impression of vintage style to your outdoor areas. If you wish to embellish your outdoor ambiance without much effort, this will work great for that purpose. You can install it on flat surfaces, or you can hang it on trees or walls.
You can rest assured that the solar lantern can endure outdoor application because it's engineered using high-impact ABS plastic material with IP44 waterproof grade. Besides, it is built with an integrated light sensor that automatically turns on at sunset and charges on its own at sunrise.
As for the price, it is affordable and it's even supported by a 180-day replacement or refund program. This solar lantern can make your special occasions look more welcoming as well. Arranging them can be done in a snap!
However, the downside of this
solar-powered lantern
is that it is ideal only for decorating your outdoors. This implies that if you want to illuminate your outdoor areas to ensure safety and security, this item won't serve that purpose.
Pros
Features a distinguished and vintage solar lantern design
Can be hanged on trees and walls, or placed on flat surfaces
Manufactured using high-impact ABS plastic material with IP44 waterproof grade
Supported by a 180-day replacement or refund program
Designed with an integrated light sensor that turns on and charges automatically
Cons
Merely intended for decorating purposes only
To sum up, while hanging solar lamps like this version are not meant for lighting up your outdoors to ensure safety and security, they are second to none when embellishing the atmosphere in your garden, patio, or pathway.
4. GIGALUMI 6912 8 Pack Hanging Solar Lights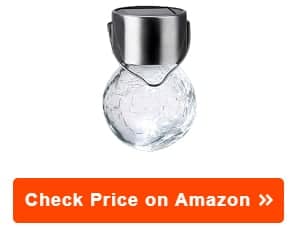 Are you searching for multi-color altering hanging solar lights for trees that could bring a huge difference in how your outdoor spaces look? Then, give this product a shot. It is not quite adequate to illuminate an entire patio; however, it adds a very appealing view when installed. The cracked glass design makes them look even more unique.
Built with durable materials and rated as weatherproof, it can fight off rainy, sunny, and snowy days. As you can see, this makes this item appropriate to use for pathways, patio, trees, garden, and yard. You won't have to worry regardless of the weather.
Also, since the lights come individually, you could hang them separately or together with other lights, both indoor and outdoor. You can set it up instantly by turning the switch on. Just make sure to hang it on areas where it could take in direct sunlight. This model comes with a large hanger, so you could hang it on a tree branch or a hook.
Indeed, you'll love the superb light effect on your patio once you install this solar light. During holiday seasons, you can also use it for decoration purposes. Many buyers prefer to install this solar-powered light on their driveway, fence, or balcony. Sold at a reasonable price tag, this is a smart purchase to consider.
Nonetheless, this solar-powered light tends to blink or flicker on and off if it doesn't obtain adequate sunlight. Luckily, this can be resolved if you change the location until you find a suitable spot.
Pros
Manufactured with premium quality material
Designed with 4 color-altering style
Can combat various types of weather conditions
Plain sailing to set up in preferred locations
Highly recommended for indoor and outdoor decorations
Cons
Tends to blink or flicker on and off without sufficient sunlight
In a nutshell, if you're one of those who prefer hanging solar ball lights that can provide a nice accent to wherever you place them, this product is the safest bet to opt for.
5. Maggift 34 Inch Hanging Solar Lights
If you're planning to buy hanging solar lights outdoor, check out the advantages of this option. This unique style solar lantern is ideal for outdoor applications; it can transform your ambiance into a more stunning one and provide sufficient lighting wherever necessary. Indeed, you can hang it in other spots without a shepherd hook.
Additionally, this solar lantern is a piece of cake to install. You only need to assemble the hook by tightening the poles together, afterward, stake them into a soft ground where it could be exposed to sunlight. From there, the solar lights can be hanged. This is the one for you if you prefer a more energy-efficient and environmentally-friendly option.
Engineered with an IP44 waterproof grade solar panel, this outdoor solar hanging light can withstand any weather condition. It's also made of top-quality thick plastic material so you'll have no worries installing them outside. With 4 lumens high-quality LED bulbs, this version offers brighter illumination compared to other brands.
On the other hand, don't expect this solar hanging light to work excellently at night, if it was not able to absorb an adequate amount of sunlight, and if the required charging time is not satisfied. Be sure to follow the proper placement of the solar panel to avoid issues with charging and working functions.
Pros
Comes with 4 lumens top-quality LED bulbs
Ideal for lighting up, decorating, and securing your outdoor spaces
Less complicated to set up where preferred
Crafted with an eco-friendly and energy-efficient design
Furnished with an IP44 waterproof grade solar panel
Cons
Does not work at night if charging time and sunlight exposure is not enough
Ultimately, if you want hanging lantern solar lights that you can rely on when it comes to illuminating, adorning, and securing your outdoor areas, this alternative will work wonders for you.
6. BOAER Hanging Solar Lights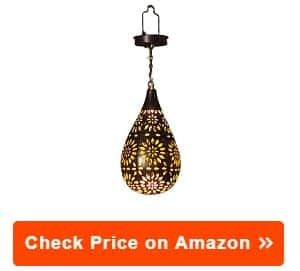 Are you a bit frightened of dusky terraces or streets? If yes, you can beat that concern by investing in this outdoor solar hanging chandelier. This solar lantern can light up your path and allow you to enjoy a warm and cozy atmosphere.
Many buyers pick this item because it looks classy and subtle. Apart from this, it is an ideal choice for a broad array of outdoor applications.
As for the setup method, this solar lantern is less complicated to install and is designed as waterproof. Dealing with wiring is no longer needed, hiring an electrician is unnecessary since it is certified user-friendly.
This item is made with 8 lumens soft and warm white LED. It works with minimal supervision since it lights up automatically in the evening, and turns off automatically as daytime comes. This eco-friendly and energy-saving solar light can work for approximately 6 to 8 hours when charged for roughly 6 to 8 hours too.
Additionally, it comes with an IP65 waterproof-rated stand and is sturdy enough to deal with any type of weather. Its hollow appearance looks fancy and one-of-a-kind. While it can be hanged anywhere, it is critical to ensure that the solar panel is placed under direct sunlight exposure.
On the weak point, this decorative hanging solar light is not the brightest. But, it is adept at offering a classy adornment to your outdoor area. The light output it emits is already enough to deal with the darkness in the spot where you installed it.
Pros
Highly recommended for a broad range of outdoor applications
Equipped with an IP65 waterproof rated stand
Features a hollow appearance that looks fancy and extraordinary
Eco-friendly, operated by solar energy, and uncomplicated to install
Works automatically and can run for about 6 to 8 hours if full-charged
By and large, this product is a must-try among the best hanging solar lights for gazebo. It certainly looks elegant in the daytime and illuminates just the right amount of light at night.
7. EOYIZW Solar Flame Lights Hanging Lanterns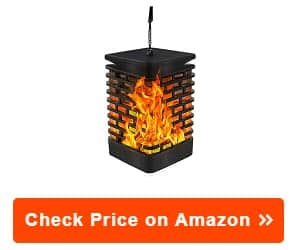 If you're trying to buy the top-tier outdoor solar hanging lanterns, you can end your search now because this item might be right for you.
You won't question its durability because it's made using incredibly sturdy ABS plastic material and comes with an IP65 waterproof grade. That said, it is suitable for rugged outdoor use and can stand snow, rains, frost, and hail.
You will be captivated by the flickering solar flame design of this solar-powered lantern. It is designed with upgraded LED chips, 99 LED lights and an integrated 1500mAh battery. This item is ideal for creating a wonderful and romantic atmosphere outdoors.
Since it is purely operated through solar power, you don't need to worry about steep electric bills and no need to spend extra on replacing the battery. This solar hanging light is furnished with a durable dual top-fastened solar panel that charges on its own under direct sunlight exposure at daylight and lights up on its own at sunset.
Make sure to charge it for about 8 to 10 hours so that the solar lighting device can illuminate for roughly 10 to 12 hours at dusk. You can instantly give your outdoor spaces a different overall look once this solar flame lantern is properly set up.
Interestingly, there are different colors available for you to select from such as purple, yellow, and blue. Regardless of the color you choose and think can best match the place where you intend to install this solar hanging light, you will certainly love the outcome.
On the flip side, charging and working time are largely influenced by weather conditions.
Pros
Manufactured using durable ABS plastic material and IP65 waterproof grade
Engineered with flickering solar flame lantern design
Can illuminate for roughly 10 to 12 hours
Equipped with a sturdy dual top-fastened solar panel
No more high electricity bills to settle and battery to replace
Cons
Charging and working time can fluctuate
This solar hanging light is the real deal. It's capable of delivering its promise and can help you instantly transform a simple-looking ambiance into a more fascinating one.
8. Otdair 201111-Lantern Solar Wall Lantern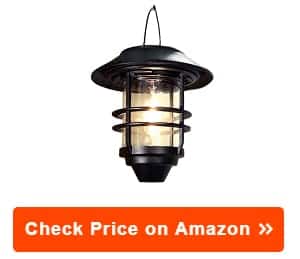 For shoppers who want incredibly durable decorative hanging solar lights, this option is a good catch. Gone were the days when you needed to spend lavishly on electricity just to illuminate your outdoor areas. Since this product is solar-operated, it is energy-efficient and does not call for maximum supervision.
More importantly, you won't regret spending on this solar-powered outdoor lantern because it is durable and less complex to set up in areas that need proper lighting. It is crafted with an innovative and advanced solar panel to add a more contemporary décor to your home.
Likewise, equipped with a built-to-last LED bulb, glass casing, and stainless steel, this product is ideal for outdoor uses. It is sturdy enough to resist different weather conditions. Since the kit contains two packs of this solar-operated lantern, the price tag is reasonable enough for those with a limited budget.
To install, drill a couple of holes on the wall and fasten the solar lantern with the included screws and brackets. As for the integrated sensitive light sensor, this feature allows the solar lighting device to illuminate automatically when evening comes and automatically turns off when daylight comes.
All the same, it is a bit disappointing that this solar lantern does not last as long at night as we expected it to be. We are unsure if this is the way it is, or there is a problem with charging or the solar panel, or if there is a lack of adequate sunlight exposure.
Pros
Durable build, decorative, and energy-saving
Can be set up in a few minutes
Engineered with innovative and well-improved solar panel
The solution to adding a modern adornment for your place
Furnished with built-to-last LED bulb, glass casing, and stainless steel
Cons
Appears not ideal if you prefer long-lasting illumination at night
Solar hanging patio lights like this version are the real deal. You can decorate and illuminate your outdoor spots without the need to break the bank. But, be sure that it is fully charged to ensure longer work time.
9. SUNWIND Hanging Solar Ball Lights
If you like small hanging solar lanterns better, this version is worth checking out.
Built with a new style, this item comes with an alligator clip. The clip is a useful accessory for fixing or hanging. This solar-powered light offers white illumination and can add a captivating atmosphere to your fence, yard, tree, garden, patio, and special events like weddings.
Not to mention, this is a wise purchase because it can guarantee a dependable LED power source and low power usage, saving you more in the long run.
This eco-friendly solar light alternative is a breeze to set up. Simply slide the switch to the "on" button before hanging the lantern on any area that could take in full and direct sunlight.
Meanwhile, it is designed as weatherproof and features solid stainless steel and a sturdy glass build. Plus, it is equipped with a rechargeable and replaceable solar panel battery.
Such a decorative solar-operated light can stay illuminating for about 6 to 10 hours if fully charged. But, take in mind that to do so, the solar lantern must be directly exposed to sunlight during the daytime.
This solar crystal ball is an ideal pick for buyers who are looking for economical solar lighting options. It can serve as the ideal solution to lighting up your outdoor spaces and special occasions without breaking the bank.
One gripe that we have observed on this solar light is that the hanging loops are slightly loose. They seem to pop off quickly, making us wonder if this solar-powered lighting device is solid enough to withstand strong winds.
Pros
Excellent option for outdoor use and special events
Guarantees low power consumption and reliable LED power source
Manufactured with weatherproof and durable stainless steel and glass material
Environmentally-friendly and installation process is a breeze
Equipped with rechargeable and replaceable solar panel battery
Cons
The hanging loops are slightly loose.
In summary, this solar decorative light option is unrivaled when it comes to a wide range of applications, new styles, and practical functions.
10. Solpex 30 LEDs Hanging Solar Lights
This solar hanging lantern kit includes 30 solar-powered LED lights. Such lights are highly recommended for your garden, driveway, home, special occasion decors, and outdoor adornments. This alternative does not come with any wiring system. It is a sure investment given its durable build and suitability for multiple applications.
You don't need to be tech-savvy to install and operate this wireless solar lantern. It works automatically on its own making it unnecessary to supervise it more often. Even if you place it outdoors for a long time, it is not prone to get easily damaged. It's all thanks to its dependable waterproof and weatherproof features.
It is good to note that this solar hanging light can operate for approximately 8 hours when fully charged. You have nothing to lose if you purchase this item because it is supported by a 90-day product warranty offer. Be reminded that the solar panel must be positioned somewhere it could collect extreme sun exposure.
The design of this solar mason jar light is fancy and inviting. Hence, your guests will feel more welcomed and can enjoy the party in a cozy and comfy atmosphere. Transforming an ordinary-looking outdoor place is made easier if this solar lantern is installed.
Regardless, this solar-powered mason jar light is slightly costly. While this might be considered as a disadvantage to others, if you're going to think deeply, this item is well worth the price.
Instead of focusing on the price tag, it is strongly suggested to check the long-term benefits that this solar light can offer. You'll realize that it's indeed a cost-effective product for you to go for when slightly illuminating and decorating indoor and outdoor areas.
Pros
Recommended for various weather conditions
Hassle-free to set up and utilize
Crafted using top-quality construction materials
Backed up by a 90-day product warranty
Designed with auto on and off feature
For shoppers planning to buy lantern style solar lights, this model is the best bang for your bucks. Usability, reliability, and functionality are guaranteed for your satisfaction.
11. MZD8391 2Pack 60LED Pineapple Solar Lights
Shoppers with unique preferences will certainly find uniquely and practically-designed solar hanging lantern lights as top alternatives. Just like this option, it is made with a pineapple shape that makes it an ideal gift to give away since it comes with a distinctive style that can be used for several purposes.
This upgraded solar hanging light is stronger, brighter, and larger than the previous version. It emits a warm white glow at dusk, comes with a portable hook, and can be easily hung on a yard, porch, vine, or tree. Setting it up wherever preferred is so easy to do. It is a must for other outdoor activities too.
If you're wondering whether this is meant to last long, don't worry because this item features an incredibly sturdy build, comes with an IP65 waterproof grade making it an all-weather ready solar hanging light alternative for outdoor goers and homeowners who prefer lighting up and decorating their homes.
The package contains two packs of 60 LED pineapple solar lights; so for the price, this product is considered economical than similar options. Moreover, if versatility is what you're searching for, this version can guarantee you that.
Unlike other solar hanging lights that are specifically designed for illuminating and decorating purposes, this model is also great for emergencies, camping, barbeque parties, and other special gatherings.
Anyhow, the size of this pineapple-shaped solar lantern is a bit disappointing. The photo advertisement makes them appear much bigger than they are in person. While we were surprised to see them smaller than expected, we are still grateful that its cute size does not interfere with the way it executes its function.
Pros
Features a more upgraded style and design
Ideal and practical to utilize for several different indoor and outdoor uses
Durable construction, IP65 waterproof grade, and all-weather ready function
Gives off a warm white glow at night
Versatile and reasonably priced solar lighting option
Conclusively, you won't go wrong if you choose this versatile, practical, and multifunctional solar hanging light.
12. YiaMia Outdoor Hanging Solar Lanterns
For buyers who prefer large outdoor hanging solar lanterns, this model can work like a charm for you. It works as a dependable adorning light that could ensure a soft, subtle, and tranquil glow in the area where you installed it. If elegance and rustic style are what you're aiming for, this is perfect for you.
There is an on and off switch on the solar lantern's cover. Remember to switch on the "on" button before charging. This solar hanging light is furnished with an AA 600mAh NI-MH battery. It automatically illuminates in the evening for relatively 8 hours when fully charged.
Featuring 7 lumens warm white LED light; this version can serve as a stellar decorative hanging solar lantern. It is rated as ideal for indoor and outdoor decoration, and its sturdy build and superb waterproof feature make it powerful enough to resist diverse weather conditions.
Once seeing it in person, you will instantly realize that it can serve as an exquisite landscape accessory. This item can also give your place a unique holiday feel during the Christmas season. Or you can buy more of this to give it a special gift for various occasions.
Surprisingly, this product is priced affordably. It's rare to encounter good quality items sold at a reasonable price these days. It is even supported by a two-year after-sale service. You see, you have more to gain if you invest in this solar lantern.
All the same, if you like solar hanging light options that are designed with dimmable features, this alternative won't be able to provide you that. While this version is not dimmable, you won't be disappointed by its illuminating function.
Pros
Equipped with top-quality AA 600mAh NI-MH battery
Perfect for special occasions and other wide range of applications
Guarantees reliable and long-lasting performance under different weather conditions
Crafted using superbly sturdy stainless steel metal
Create more elegance and vibrancy to outdoor areas
This solar hanging light is unmatched when it comes to ensuring dependable and long-lasting performance amidst rugged weather conditions.
13. GIGALUMI 6913 Solar Hanging Lights
Installing reliable and useful hanging solar lights for fence entails checking out the product's features and functions first. Since a multifunctional version is more practical, this item can be your go-to.
You can place this solar-powered light on the ground, table, steps, or you can hang it wherever you like using the stainless steel hook included in the kit.
This solar hanging light is user-friendly. It is powered by the sun, no socket or wiring required, all you need is to turn it on, and hang the solar lamp in an area where it could be fully exposed to direct sunlight. Don't worry, the installation process is a DIY task for you to deal with. Thus, even if you're a novice, there's no need to hire an electrician.
This item is among the top selections, especially for buyers who are looking to embellish their yard, patio, garden, lawn area, or when decorating for the holidays. This solar lantern is made to last long mainly because of the premium quality construction materials.
Its weatherproof rating also makes this solar hanging light a great companion regardless of how tough the weather condition is. It can help you to easily create wonderful mood lighting outdoors. This can make every occasion a more memorable, cozy, and welcoming one.
Fortunately, this item is not priced expensively and is supported by a 180-day product warranty.
On the other hand, please take note that this solar hanging light is incapable of diffusing much light. This is because it is more for decorating purposes. See to it to consider this minor gripe before making the final purchase.
Pros
Reliable, practical, and multifunctional
DIY installation process and a user-friendly option
Unrivalled in terms of decorating indoor and outdoor spaces
Engineered using premium quality build materials to ensure longevity
Comes with a weatherproof rating and offers nice mood lighting
Cons
Does not diffuse much light
All in all, this solar hanging light is decorative and the crackle glass globe design is quite captivating. It will surely look pretty wherever you place it.
14. Pearlstar Solar Lantern Outdoor Hanging
Installing this solar lighting device can give your outdoor area an exceptionally-transformed look in a snap. If you're the romantic type and would like to create a cozy, inviting, and glamorous ambiance, this solar hanging light can help you do that. Your guest will be delighted to experience a soothing atmosphere.
The automatic light sensor function of this solar lighting device saves you more energy. It works automatically at sunset and turns off automatically at sunrise.
This solar lantern can work for relatively 8 hours in the evening when fully charged. This is probably why this version is highly recommended for reliably decorating indoor and outdoor spaces.
What makes this solar hanging light a great alternative is the extended service life. It is manufactured using premium quality metal with an IP44 waterproof rating. Compared to other similar products, this is better because it can also resist heat.
Its vintage style is one of the most alluring features. That unique feature makes it a catchy investment.
The warm LED Tungsten light bulb and conventional marine-style design of this item are also what set it apart from other available options out there. You can hang it in your desired outdoor or indoor areas. Once installed, you can immediately see a huge difference inside your place and in your outdoor landscape.
Unfortunately, if what you're looking for is a hanging solar lantern that could light up brightly, this item is not made for that application. For a fact, it is a bit dim, not much more than a glow. So, be sure that you're aware of this mini concern before picking this model.
Pros
Crafted with replaceable battery design
Ideal choice for creating a romantic and cozy ambiance
Engineered with auto sensor function
Features warm LED Tungsten light bulb and a conventional marine-style design
Designed with IP44 waterproof and heatproof feature
Without fail, if you are searching for an awesome solar hanging light that puts off a warm glow, and not bright white, this alternative is worth investing in.
What to Look for When Buying Hanging Solar Lights
Before you spend on solar hanging light, it is practical to be well-informed first. This is for you to end up with a more worthwhile and smart shopping decision.
Here are some of the buying hints for you to check out:
The Amount of Light Needed
To know the amount of light required, check the size of the area where you intend to place the solar-powered hanging light.
Take note that the bigger the place, the brighter the light that you might require. You should also consider the purpose of the light when buying one.
For example, the amount of light required for outdoor reading might not be the same as the light required for security purposes.
In other words, different applications call for different amounts of lighting.
Aside from security, the aesthetic appeal of a solar hanging light should also be examined.
Luckily, there are numerous artistic hanging lights available today that could match the area where you plan to install the solar lighting device.
It is strongly suggested to go for solar hanging lights that are offered with an extended warranty offer.
This is because not all manufacturers are sincere about the extent of time the solar lighting device can serve you.
The solar hanging light you buy should at least serve you for about 5 to 10 years.
Pick options that are built using durable materials to ensure that they could last for years and can work better even under rugged use.
Charging and Working Time
It is necessary to purchase solar lights that come with an extended work time and shorter charging period.
Moreover, choose solar lamps that could provide you with 10 to 12 hours of consistent lighting.
Meanwhile, the solar panels must be capable of fully charging the battery within a short period of exposure to sunlight.
This is particularly helpful in the event there is a sudden change in weather conditions.
Solar Hanging Lamp's Weight
Since solar hanging lights are hanged, it is just right to pick options that are designed as lightweight to prevent accidents in the long run.
If the solar hanging lamp is bulky, the string might break gradually over time and it's more likely to fall, which might cause injuries and other unfortunate incidents.
Instead of buying solar-powered hanging lights that are installed using a string or a wire, you can buy the ones with hooks since they allow easier, safer, and more convenient placement.
The Mode of Switching On and Off
Some solar hanging lights come with remote control. Hence, it is vital to keep the remote controller in an excellent functioning condition.
Furthermore, some solar lamps are designed with auto motion sensors that urge the lighting device to turn on anytime they discern any movement.
These alternatives are ideal for security lighting. They could also help you prevent intruders by notifying you when someone enters your place.
Lastly, there are manual options that you can turn on through a cord hanging from the lamp, or through a switch on the wall.
It is good to note that most solar-powered lamps at present are built with more than one alternative control method.
How Can I Hang Up My Hanging Solar Light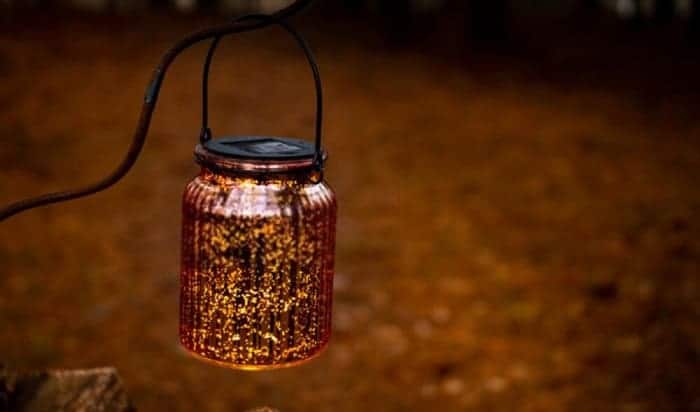 In general, solar hanging lights do not require outlets or wiring. Hence, there's no need to worry about a complicated setup process.
Since various solar hanging lights are equipped with a convenient hook to ensure easy placement, all you need to do is to turn the solar lighting device on and hang the lantern on an area where it could absorb a sufficient amount of sunlight.
Are Hanging Solar Lights Weatherproof
It is important to check if the option you're planning to buy is engineered with a weatherproof feature. This is because not all hanging solar lights are designed with the capability to resist rugged weather conditions.
Sometimes, it depends on the brand. Most solar-powered hanging lights are designed as waterproof though. Luckily, nearly all solar-operated hanging lights designed for outdoor use come with a weatherproof feature.
But, of course, it is still advisable to confirm this first on the product description.
What are the Best Places to Buy
The good news is that solar-powered hanging lights are easy to find these days. You can find some of them in various local stores, but you might be provided with limited options to check out.
So, it is strongly suggested to look for them online. Home Depot, Lowe's, and Amazon are a few of the most reliable online shopping sites that can offer you numerous selections to browse. You can also get some good deals from The Lakeside collection hanging solar lantern.
You can check out models made from different styles, features, and functions, and are sold at a different price range.
Oftentimes, shopping online can also offer you some discounts, promos, and freebies. Indeed, you'll get the chance to discover more credible brands that you didn't know before.
Conclusion
Finally, now that you've learned about the key features and functions of what the best hanging solar lights should possess, make sure to check out the buying tips first before you head to a local store, or add an item to your cart when shopping online.
The product reviews we have noted in this post intend to assist you to get the right solar hanging light for whatever application you'll need it for. We sincerely hope that you could find the appropriate model from the list we posted above.
With plenty of high-quality selections to choose from, you can get the real value of every single cent you spent on solar hanging light.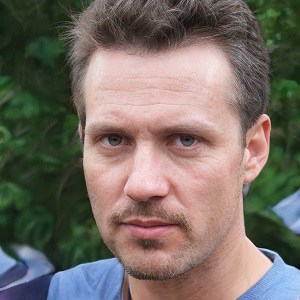 I am Kathleen Miller, staff writer and reviewer of the Avasolar team. Working with the team has been a pleasure for me so far, I hope to bring readers useful information by creating detailed and easy-to-follow contents.